Pressure Ulcer Devices Market Outlook (2022-2032)
Revenue from the global pressure ulcer devices market reached US$ 4.7 Bn in 2021. With the market projected to expand at a steady 5.5% CAGR, industry valuation is set to top US$ 8.4 Bn by the end of 2032.
| Attribute | Key Insights |
| --- | --- |
| Pressure Ulcer Devices Market Size (2021) | US$ 4.7 Bn |
| Projected Market Value (2032) | US$ 8.4 Bn |
| Global Market Growth Rate (2022-2032) | 5.5% CAGR |
| Top 5 Countries by Share | 52.8% |
Sales Analysis of Pressure Ulcer Relieving Devices from 2017 to 2021 Vs Market Outlook for 2022 to 2032
Sales of pressure ulcer devices accounted for nearly 57.9% of the global diabetic ulcers treatment market in 2021. As per Persistence Market Research's projections, stage 1 wounds accounted for a substantial share of 47.5% in the global market.
The occurrence of pressure ulcers as an impeding factor in patient care is well established worldwide. Lack of mobility or presence of physical disability affects blood circulation, leading to the occurrence of bed sores and pressure ulcers. Additionally, mental illnesses such as dementia or factors such as urinary incontinence, fecal incontinence, poor nutrition, low diastolic pressure, or persistent hemodynamic instability are associated with increased risk of pressure ulcers.
Effect of the development of pressure ulcers or injury to a patient's functional recovery is a major cause of concern as the care continuum is interrupted by raising complications such as infection and pain. This factor is associated with elongated time period of hospital stay. Management of pressure ulcers and the sales value of pressure relief devices are thus augmented by the presented concern of ensuring optimal patient outcome with each hospital visit.
Increasing incidence of pressure ulcers is set to propel demand for pressure ulcer relief devices wherein, Hospital-Acquired Pressure Ulcers (HAPUs) are increasingly gaining attention at healthcare facilities. Moreover, the presence of HAPU contributes to a surge in the cost of admission. This extra cost can be the result of an increased duration of stay or more complex care needs.
High cost of treating HAPU poses a substantial encumbrance to patients as well as the healthcare facility. Therefore, the need for rapid treatment and significant initiatives to decrease the rate of HAPUs are being gradually engaged.
The aging population is more prone to skin wounds due to higher skin fragility and thinning of the cell layers with decreased vascularization and cell proliferation, and therefore, a delayed healing process. Increasing geriatric population and obese patients is expected to drive pressure ulcer device usage over the coming years.
The global pressure ulcer relief devices market expanded at 3.9% CAGR over the past 5 years, and is expected to expand even faster over the next ten years at a CAGR of 5.5%, and offer an absolute $ opportunity of US$ 254.9 Mn.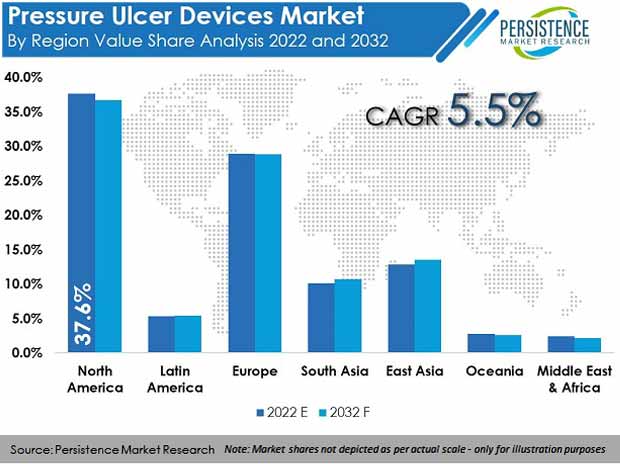 What are the Key Opportunities Awaiting Pressure Ulcer Relieving Device Manufacturers?
"Rising Government & Entity Support"
Increasing awareness regarding pressure ulcers in the wound management market is a prominent market driver. Internationally recognized entities, such as the National Pressure Injury Advisory Panel (NPIAP), committed to the prevention and treatment of pressure injuries, have provided the market with opportunities for growth, while subsequently reducing the burden of bed sores and elongated hospital stays.
Additionally, government authorities in Asia Pacific and MEA have been encouraging MNCs as well as start-ups to boost the growth of healthcare and biopharmaceutical industries.
"High Focus on Working of Acute Care Settings"
Hospitals are focusing on refining their acute care settings to manage pressure ulcers. In the present scenario, changes in the skin of patients, such as swelling or soreness, are immediately taken into account by doctors and nurses. Many hospitals utilize pressure ulcer systems to look after patients' skin and prevent and treat pressure sores.
These devices include seat cushions, protective mattresses, heel wedges, and limb protectors. Hence, growing emphasis at acute care settings to ease hospitalization costs by evading lengthy patient stay due to pressure ulcers projects lucrative opportunities.
"Growing Medical Tourism in Countries of Asia"
Additionally, medical tourism also delivers an opportunity for patients to receive proper quality of care within well-established medical facilities. The growth rate of medical tourism in Asia is rising at a fast pace, and in developing countries, medical tourism is cost-effective and allows for affordable treatment options, immediate services, high-quality medical care and treatment facilities, and well-connected flights and excellent communication services.
Growing medical tourism in developing countries thus offers great opportunities for the sale of pressure ulcer devices in respective regions.
How are Sales of Pressure Ulcer Relieving Devices being Adversely Affected?
"Rising Government & Entity Support"
"High Cost of Pressure Ulcer Relief Devices"
A restrictive factor associated with pressure ulcer devices is the cost, which is relatively high. This poses a great challenge to the growth of the pressure ulcer devices market, as the management of pressure ulcers presents a high financial cost to healthcare settings and patients worldwide.
As per the Agency for Healthcare Research and Quality, "data displays other hospital-acquired conditions such as adverse drug events and surgical site infections to have gone down, but the number of pressure ulcers continues to climb" (2019 data).
Thus, in addition to the unreasonable financial costs, the treatment of pressure ulcers takes up valuable nursing time and can have a substantial bearing on a hospital's performance ranking. This leads to an increase in unaffordability of treatment, thus obstructing the growth of the pressure ulcer treatment devices industry.
"Lack of Reimbursement Policies for Pressure Ulcer Treatment"
Furthermore, health insurance companies do not have a defined provision of reimbursement and subsidized guidelines for certain treatments. This has affected the affordability of patients for their treatment. Multimodal therapies, which are time-consuming and costly, are not always reimbursed by insurance companies.
Absence of social health insurance combined with the disbarring delivery of private health insurance schemes is a major factor restraining the sales of pressure ulcer devices.
Country-wise Insights
What Makes the U.S. the Largest Market for Pressure Ulcer Relieving Devices?
The U.S. pressure ulcer devices market dominated the North American region with a market share of 84.5% in 2021, and is expected to continue its high-growth trajectory going forward.
The U.S. projects high need for pressure ulcer treatment as a consequence of growing number of chronic diseases such as diabetes. The country is expected to hold a majority of the global market share for pressure ulcer device consumption throughout the forecast period.
Why is Germany a Lucrative Market for Pressure Ulcer Devices in Europe?
Germany dominated the Europe market for pressure ulcer devices, with a share of 18.7% in the year 2021.
Germany enjoys considerable institutional funding for R&D, due to which, the quality of research has intensified across the European region, thus adding to the global manufacturing value of pressure ulcer devices. Additionally, high establishment of nursing care facilities within the country has further promoted the market stance of Germany for pressure ulcer treatment.
Will the Emerging China Pressure Ulcer Devices Market Be Profitable for Market Participants?
China holds 42.3% share in the East Asia pressure ulcer devices market, which is projected to increase over the decade.
The China pressure relief devices market experienced rising demand with the advent of the COVID-19 pandemic. Market growth is supported by China investing 15% of revenue in research & development activities.
What is the Outlook for Japan Regarding Pressure Ulcer Device Consumption?
In 2021, Japan held 36.7% share in the East Asia pressure ulcer devices market, and the market is projected to expand at a CAGR of 6.2% from 2022 to 2032.
Japan projects significant growth in the global pressure ulcer devices market, owing to rising prevalence of infectious diseases and growing healthcare infrastructure. Moreover, presence of major players in the country, aiming for expansion and larger geographical presence, has driven market growth in the country.
Category-wise Insights
Which Pressure Ulcer Equipment is Driving High Market Growth?
By product, speciality beds project lucrative growth at a CAGR of 5.7% through the forecast period.
Specialty beds promote patient comfort with the availability of variable pressure mattresses for patients under critical care as well as observation. They prevent bed sores and related wounds, thus reducing the length of patients' stay at a healthcare facility.
Which Stage of Pressure Ulcers Account for Most Demand?
Stage I pressure ulcers accounted for a revenue share of 47.5% in 2021, with the segment projected to hold on to this high market share through 2032.
Prevalence of superficial wounds as well as sores is commonly observed in a vast majority of inpatient admissions. Thus stage I pressure ulcers hold a large share in the market.
Impact of COVID-19 Crisis
Onset of the COVID-19 pandemic and infections had a positive impact, to some extent, on demand for pressure ulcer devices. This was due to increasing incidence of hospitalizations as a consequence of infections associated with the COVID-19 virus.
With ICU patients more likely to be at a higher risk of developing pressure ulcers, the advent of COVID-19 and infections associated with it displayed a positive impact on the pressure ulcer devices market. This also promoted a positive stance for the forecast period, as awareness and prevention of pressure ulcers is gaining traction globally.
Competitive Landscape
Key medical device manufacturers are focusing on the development of innovative pressure ulcer treatment devices to enhance their product portfolios and gain profits. Innovations by pressure ulcer device manufacturers also concentrate on compliance and safety regulations.
October 2020: Paramount Bed Holdings Co., Ltd. introduced its low-height medical electric bed - ALIUS Series ICU Bed - with the ability to support critically-ill patients in the ICU (Intensive Care Unit) stand during early recovery, and received the "2020 Good Design Award," sponsored by the Japan Institute of Design Promotion.
March 2021: Talley Group Ltd. was acquired by Direct Healthcare Group (DHG), a leading European manufacturer of pressure care, specialist seating, patient handling, and bathroom safety solutions; strengthening its current pressure ulcer prevention portfolio and providing it entry into the Negative Pressure Wound Therapy (NPWT) and Intermittent Pneumatic Compression (IPC) therapy markets.
Similarly, recent developments related to companies manufacturing pressure ulcer products have been tracked by the team at Persistence Market Research, which are available in the full report.
Pressure Ulcer Devices Industry Report Scope
Attribute
Details

Forecast Period

2022-2032

Historical Data Available for

2017-2021

Market Analysis

US$ Mn for Value

Key Regions Covered

North America
Latin America
Europe
South Asia
East Asia
Oceania
The Middle East & Africa

Key Countries Covered

U.S.
Canada
Brazil
Mexico
Germany
Italy
France
U.K.
Spain
Russia
BENELUX
China
Japan
South Korea
India
Thailand
Indonesia
Malaysia
Australia and New Zealand
South Africa
GCC Countries
Turkey
Northern Africa
South Africa

Key Market Segments Covered

Product
Stage
End User
Region

Key Companies Profiled

Stryker Corp.
Smith & Nephew Plc.
Hill-Rom Services Inc.
Paramount Bed Holdings Co., Ltd.
ArjoHuntleigh
Talley Group Limited
Drive DeVilbiss Healthcare Ltd (Sidhil Limited)
Apex Medical Corp.
Medtronic
PROMA REHA, s. r. o.
Linet spol. S R.O.
DARCO International
DeRoyal Industries
BSN Medical (Essity)
Mölnlycke Health Care
TrueKAST (Wound Kair Concepts)
Thuasne SAS
DJO Global
ORTHOSERVICE AG
Breg, Inc.
Advanced Orthopaedics
ALGEOS
Hollister Incorporated
ConvaTec Group plc
Coloplast A/S
Medline Industries Inc.
Invacare Corporation

Pricing

Available upon Request
Key Segments Covered in Pressure Ulcer Devices Industry Research
Pressure Ulcer Devices Market by Product:
Mattress Overlays
Pressure Relief Mattresses

Foam-based Mattress
Gel-based Mattress
Fiber-filled Mattress
Water/Fluid-filled Mattress
Air-filled Mattress

Speciality Beds

Kinetic Beds
Air-Fluidized Beds

Pressure Relief Cushions
Alternating Pressure Wheelchair's Cushions
Off-Loading Devices

Total Contact Casting Systems

Casting System with Boots
Casting System without Boot

Off-loading Shoes

Post-Operative Offloading Shoes
Wedge-based Shoes
All Purpose Shoes
Off-loading insoles

Pressure Relief Accessories
Advanced Wound Dressings

Alginate Dressings
Collagens Dressings
Films Dressing
Foam Dressings

Anti-microbial Foam Dressing
Non-Anti-Microbial Foam Dressing

Hydrocolloids Dressing
Hydrofibers Dressings
Hydrogels Dressings
Superabsorbent Dressing
Wound Contact Layers
Pressure Ulcer Devices Market by Stage:
Stage I Pressure Ulcer Devices
Stage II Pressure Ulcer Devices
Stage III Pressure Ulcer Devices
Stage IV Pressure Ulcer Devices
Pressure Ulcer Devices Market by End User:
Hospitals
Long-term Care Centres
Skilled Nursing Facilities
Home Care Settings
Pressure Ulcer Devices Market by Region:
North America Pressure Ulcer Devices Market
Latin America Pressure Ulcer Devices Market
Europe Pressure Ulcer Devices Market
East Asia Pressure Ulcer Devices Market
South Asia Pressure Ulcer Devices Market
Oceania Pressure Ulcer Devices Market
Middle East and Africa (MEA) Pressure Ulcer Devices Market