Market Snapshot
Latest data on global pressure relief valves for water & wastewater treatment industry analysis by Persistence Market Research shows that demand recorded a year-on-year (YoY) growth of 4.1% in 2021 to reach a sales volume of 3.3 Mn units. The industrial segment grew 3.7% to total sales revenue of US$ 354 Mn in 2021, while the municipal segment was up 4.1% to US$ 450 Mn.
Key Points Covered in Pressure Relief Valves for Water & Wastewater Treatment Industry Survey:
Market Estimates and Forecasts (2016-2031)
Key Drivers and Restraints Shaping Market Growth
Segment-wise, Country-wise, and Region-wise Analysis
Competition Mapping and Benchmarking
Brand Share and Market Share Analysis
Key Product Innovations and Regulatory Climate
COVID-19 Impact on Pressure Relief Valves for Water & Wastewater Treatment and How to Navigate
Recommendation on Key Winning Strategies
Sales Analysis of Pressure Relief Valves for Water & Wastewater Treatment from 2016 to 2020 Vs Demand Outlook for 2021 to 2031
Revenue from direct acting spring relief valves grew at a robust 4.7% year over year in 2021, giving the overall market year-over-year growth of 4.2% in 2021, according to the Persistence Market Research's report.
Historically, from 2016 to 2020, use of pressure relief valves for water & wastewater treatment increased at around 1.9% CAGR, wherein, developed countries such as the U.S., Canada, Germany, and Australia held a significant share in the global market.
On a global scale, healthy growth has been witnessed in the past few years, which can be attributed to rising expenditure on R&D activities conducted by major players in the supply side industry.
After a year of slowing due to the global oil price fall in 2015, 2017 was a year of rebirth for pressure relief valves and devices business. During 2018, the global market saw a considerable increase in shipments across parts of North America, Asia, and the Middle East. Customers in oil & gas pipe as well as refining industries saw an increase in demand for pressure relief solutions as oil prices rose throughout 2018.
With an increase in replacement sales, maintenance, repair, and other digital lifecycle maintenance services, the aftermarket and service area saw significant growth as well.
With growing number of accidental incidences (overpressure) in several industries, there has been a greater demand for enhanced safety in any industrial operation. Regulatory bodies have formed numerous regulations to improve operation safety, and thus, there has been greater demand for high-performance pressure relief valves.
Considering these statistics and shift in dynamics, the market for pressure relief valves for water & wastewater treatment is forecast to expand at a healthy CAGR of close to 5% over the coming 10 years.
What are the Key Opportunities for Manufacturers of Pressure Relief Valves for Water & Wastewater Treatment?
Water plays an important role in many industrial processes, from the extraction of natural resources in oil and gas or mining, to produce high-quality food and beverage products. Water used in various process is generally contaminated and is a carrier for several oil, chemicals, metal and polymer particulates and others, which can be harmful for both, the environment and living beings.
Assessing the severity of industrial effluents, governments keep on revising the effectiveness of existing regulations and update them regularly.
Recent laws in various countries have been mainly focusing on regulating the industrial discharges. The European Union, United States Environmental Protection Agency (EPA), and various other governments have recently updated regulations in order to channelize waste and effluents from industry as well as power plants.
Do Suppliers of Pressure Relief Valves for Water & Wastewater Treatment Face Any Roadblocks?
Water supply and sanitation infrastructure is majorly hold by public/ government authorities in majority of countries. The governments in these countries generally function through releasing tenders for companies, which are either state-owned and follow government guidelines or are privately-owned but have to follow government guidelines in order to run the business smoothly.
Tendering process is being implemented by a variety of different ministries and levels of government through different policies, laws, and decrees, which sometimes might be overlapping or leave gaps, making it quite difficult to identify who is really responsible for any of the given aspect of water management.
Also, governments in these nations have implied certain sets of regulations that are often found favoring local companies, making it difficult for foreign players to enter.
Will Sales of Pressure Relief Valves Gain Traction Due to Ideology of Smart City and Smart Water Adoption?
Smart cities encompass six important sectors that need to work in unison to achieve a common goal of making a city more livable, sustainable, and efficient for its residents. These sectors are smart energy, smart integration, smart public services, smart mobility, smart buildings, and smart water.
Smart water is a very crucial vertical of a smart city plan, due to the fact of limited natural resources and increasing per capita consumption. Smart water technologies include those that automate monitoring and metering, treatment and distribution functions, loss and leakage, and metering and usage. These 'smart' components are a suite of automation and monitoring technologies tied together by a network-based human interface and control component.
In utility and industrial settings, smart water is governed by supervisory control and data acquisition (SCADA) systems while consumer interfaces can take the form of any combination smart meter and consumption management technologies, including web-enabled versions for personal mobile devices. These technologies are expected to escalate demand for remote operated pressure relief valves.
How is Limited Availability of Fresh Water Driving Demand for Pressure Relief Valves?
Over the past decade, availability of fresh water has declined significantly across the globe. In addition, water pollution has witnessed steady increase. Moreover, growing industrialization has, in turn, resulted in significant increase in volumes of generated waste water, especially from energy & power generation, municipal water, and effluent treatment plants.
According to the UN Water report, out of the total water available on the Earth's surface, only 0.5% is fresh water that can be used for consumption, and 60% of this available fresh water is unevenly distributed, with a major share concentrated among ten countries in the world. As a result, many regions suffer from water scarcity and water stress.
For instance, MEA accounts for a mere 1% share of the available fresh water resources across the globe. The region, thus, faces severe water scarcity and water stress.
Efforts toward conservation and water treatment are, in turn, expected to drive demand for produced water treatment systems across the globe.
Which Region Offers the Largest Opportunity for Sales of Pressure Relief Valves for Water & Wastewater Treatment?
With an absolute dollar opportunity of around US$ 170 Mn, East Asia is expected to be the most lucrative market for pressure relief valve for water & wastewater treatment suppliers.
China is leading the East Asian market, and is expected to witness growth that would multiply 1.6X during 2021-2031. China, being one of the largest reservoirs of shale gas, wherein, requirement for pressure relief valves for steam handling becomes one of many important measures for safety. China has high demand from its domestic market, and also earns significantly through exports.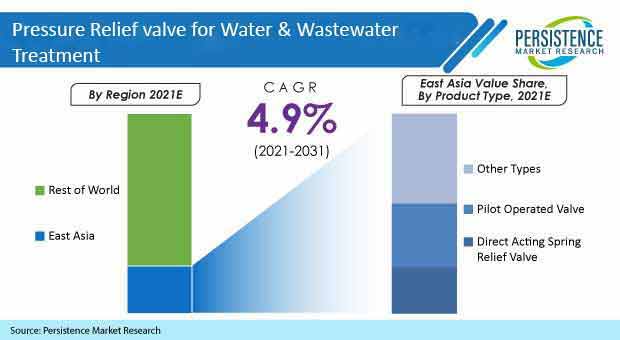 Country-wise Analysis
Why is the Market for Pressure Relief Valves for Water & Wastewater Treatment in the U.S. Attaining Maturity?
The market in the U.S. grew 2% from 2016 to 2020. The nation's more than 16,000 wastewater treatment plants are operating at 81% of their design capacity on average, with 15% exceeding it.
Growing urban surroundings indicate that these facilities will be able to handle a higher share of the nation's wastewater demand in the future indicating that there are less chances of fresh procurement for pressure relief valve on a large scale.
Moreover, in 2019, overall capital spending on water infrastructure at all levels was at US$ 48 Bn compared to US$129 Bn in capital investment needs, resulting in a US$ 81 Bn shortfall. This exemplifies a long-term trend of under-investments in key water infrastructure such as drinking water and wastewater systems.
Only 37% of the nation's total water infrastructure capital needs were met due to this deficit. If the water and wastewater sectors continue on their current trajectory, the total shortfall will reach US$ 434 Bn by 2029.
What Makes GCC Countries a Hub for Pressure Relief Valve for Water & Wastewater Treatment Demand?
In 2020, GCC countries accounted for over 28% share of the Middle East & Africa market for pressure relief valves for water & wastewater treatment. The region is known to have fresh water scarcity, therein, pressure relief valves are expected to have constant demand.
Imports of these valves were seen even in the year 2020 with a drop less than majority of countries across the world. The countries of the Gulf Cooperation Council region are considered as some of the most water-stressed locations in the world.
Kuwait has the highest water dependency rate in the world; meaning, it depends on importing 100% of its water from neighbouring countries. According to the Middle East Economic Digest, around US$ 80 Bn-worth of water and wastewater projects are currently planned or underway by members of the Gulf Cooperation Council (GCC). This will significantly allow flow of cash into the market for pressure relief valves for water and wastewater treatment.
Category-wise Insights
Why are Pilot Operated Pressure Relief Valves the Most Used?
Pilot operated pressure relief valves account for around 33% share of the global market. These are also known as pilot-operated safety valves (POSVs), pilot-operated pressure relief valves (POPRVs), or pilot-operated safety relief valves (POSRVs), depending on the manufacturer and the application.
This type of valve has numerous advantages such as smaller package on larger pipe sizes, more options for control, seals more tightly as the system pressure approaches but does not reach set pressure, and control pilot can be mounted remotely.
This type of valve is mostly used where hot water or steam is the transferred medium.
Which Size of Pressure Relief Valves Generates Most Revenue?
6 to 12 inch pressure relief valves accounted for over 50% demand in 2020. The size of the valve must match the size of the input and discharge pipes. Both, the intake and discharge pipes linked to the valve must be at least as large as the inlet/discharge opening on the valve itself, according to the National Board.
Majority of pipes in the oil & gas industry as well as in municipal water facilities come under the bandwidth of 6 to 12 inches of pressure valve ratings, thereby driving demand for this size.
Which Flow Rate Bandwidth Holds Lucrative Opportunities for Pressure Relief Valve for Water & Wastewater Treatment Manufacturers?
By flow rate, 2,500 to 5,000 gpm pressure relief valves held as much as 1/3 of the market share in 2021. This is because of the same fact mentioned above, most end users have such large flow rate pressure relief valves. Urban wastewater treatment plants install these valves with larger flow rate in order to cope up with surging waste produced each day round the year.
What Operating Pressure is Most Popular for Pressure Relief Valves?
100 to 300 psi pressure rating valves are the most sold and will expand at a CAGR of 4.5% during the next ten years. Water supply & distribution, water treatment plants and municipal sewage treatment plants operate mostly in this range of pressure, making the 100 to 300 psi range a lucrative segment.
With growing number of accidental incidence (overpressure) in several industries, there has been greater demand for enhanced safety. Regulatory bodies have formed numerous regulations to improve operation safety, and thus, there has been greater demand for high-performance pressure relief valves.
Which Operation Type Has the Greatest Demand for Pressure Relief Valves?
The manual operation dominates the market with over 70% share. Conventionally manual operated valves are the first choice of customers, but in the recent past, this choice has shifted toward remote operated valves, owing to their benefits and credibility.
Growth in digitalization and increasing need for remote applications have enhanced demand for smart pressure relief valves that help in improving durability and minimizing product loss.
Has COVID-19 Slowed Sales of Pressure Relief Valves?
COVID-19 has significantly led to a plunge in the sales of these equipment. The pandemic brought many challenges that caused manufacturing to stop and supply chain constraints caused shipments to get delayed. This created a drop in the market by -1.1% in 2020.
COVID-19 has had a significant impact on manufacturing industries, ranging from oil & gas to processing and paper & pulp, as well as the capital goods industry. Global economic activity is slowing, with GDP growth in 2020 expected to be as low as -4.9 percent.
Because of its complicated supply chains, labor-intensive procedures, and interdependencies, the manufacturing industry, which is the largest end user of pressure relief valves, has been the hardest hit. The manufacturing industry is the most vulnerable due to division of labor, modular production processes, and outsourcing to lower costs and improve the efficiency, uniformity, and quality of each operation.
Competitive Landscape
Majority of companies discussed in the report have focused on product launches and expanding their manufacturing units in developing regions. Strategies include innovation, collaborations with key players, partnerships, strategic alliances, and strengthening of regional and global distribution networks. Some of the key developments are:
In April 2020, Baker Hughes announced the release of the new patented 2900 Series Generation II Pilot-Operated Pressure Relief Valve (PRV).
In September 2019, IMI PLC acquired PBM Inc. (PBM) for a cash consideration of $95.9m. PBM is a market leading manufacturer of ball valves and flow control solutions based in North America.
In April 2018, Curtiss-Wright Corp. completed the acquisition of the Dresser-Rand government business, a business unit of Siemens Government Technology.
In March 2017, Weir Group acquired KOP Surface Products, a provider of advanced pressure control wellhead systems and services.
Similarly, recent developments related to companies manufacturing pressure relief valve for water & wastewater treatment have been tracked by the team at Persistence Market Research, which are available in the full report.
Pressure Relief Valves for Water & Wastewater Treatment Market Report Scope
Attribute
Details

Forecast Period

2021-2031

Historical Data Available for

2012-2020

Market Analysis

US$ Mn for Value

Key Regions Covered

North America
Latin America
Europe
MEA
East Asia
South Asia

Key Countries Covered

United States
Canada
Brazil
Mexico
Germany
U.K.
France
Spain
Italy
BENELUX
South Africa
GCC Countries
Northern Africa
China
Japan
South Korea
India
ASEAN
Australia
New Zealand

Key Market Segments Covered

Product Type
Valve Size
Operating Pressure
Flow Rate
Operation
End Use
Region

Key Companies Profiled

Parker Hannifin Corp
CIRCOR International, Inc.
AVK International A/S
Emerson Electric Co.
IMI plc
Watts Water Technologies, Inc.
Curtiss-Wright Corp.
Mueller Water Products
Flowserve Corp.
KSB AG
The Weir Group PLC
Baker Hughes
Crane Co
LESER GmbH & Co. KG
Goetze KG Armaturen
Zurn Industries LLC
Alfa Laval Corporate AB
TechnipFMC Plc.
Forum Energy Technologies, Inc.
Groth Corporation
Flowmatic Valve

Pricing

Available upon Request
Key Segments Covered in Analysis of Pressure Relief Valves for Water & Wastewater Treatment Market
By Product Type
Direct Acting Spring Relief Valves
Pilot Operated Valves
Combination Valves
Anti-Cavitation Valves
Three Way Solenoid Valves
By Valve Size
6 to 12 Inch Pressure Relief Valves
12 to 24 Inch Pressure Relief Valves
24 to 36 Inch Pressure Relief Valves
36 to 48 Inch Pressure Relief Valves
By Flow Rate
500 to 1,000 gpm Pressure Relief Valves
1,000 to 2,500 gpm Pressure Relief Valves
2,500 to 5,000 gpm Pressure Relief Valves
5,000 to 10,000 gpm Pressure Relief Valves
10,000 to 25,000 gpm Pressure Relief Valves
By Operating Pressure
50 to 100 psi Pressure Relief Valves
100 to 300 psi Pressure Relief Valves
300 to 600 psi Pressure Relief Valves
600 to 1,000 psi Pressure Relief Valves
1,000 to 2,000 psi Pressure Relief Valves
2,000 to 5,000 psi Pressure Relief Valves
By Operation
Manual Pressure Relief Valves
Remote Pressure Relief Valves
By End Use
Pressure Relief Valves for Private Water Supply & Distribution
Pressure Relief Valves for Oil & Gas
Pressure Relief Valves for Industrial & Manufacturing

Process Intake Water Treatment
Wastewater & Effluent Treatment Plants

Pressure Relief Valves for Municipal Use

Water Supply & Distribution
Water Treatment Plants
Municipal Sewage treatment Plants