Plastic Valves Market Outlook (2022-2032)
According to Persistence Market Research, the global plastic valves market reached US$ 2.2 billion at the end of 2021. Worldwide demand for plastic valves is expected to reach US$ 3.96 billion by 2032, increasing at a healthy CAGR of 5.6% from 2022 to 2032.
The top 4 manufacturers of plastic valves in the world accounted for a market share of 42% at the end of 2021. Revenue from the sales of plastic valves accounts for 3.4% share of the global industrial valves market.
| Attribute | Key Insights |
| --- | --- |
| Plastic Valves Market Size (2022E) | US$ 2.3 Bn |
| Projected Market Value (2032F) | US$ 3.96 Bn |
| Value CAGR (2022-2032) | 5.6% |
| Collective Value Share: Top 3 Regions (2022E) | 64% |
Demand Analysis of Plastic Valves (2017-2021) Compared to Market Forecasts (2022-2032)
The global plastic valves market is expected to grow at a healthy rate due to increasing demand for usage in water treatment plants, construction and building infrastructure, water distributions, irrigation and pipelines, and chemical & food processing.
The addition of plasticizers and other additives has helped increase durability under demanding conditions such as field temperature, stress, and other factors. With recent innovations in polymer technology, as well as thermoplastics incorporated with excellent mechanical properties, engineering valves to serve a variety of water-related tasks has become possible.
The residential and agriculture sectors are prominent end-use sectors of plastic valves, which are expanding synchronously with the increasing population of the world.
The global market for plastic valves is projected to expand steadily at 5.6% value CAGR during the forecasted period (2022-2032).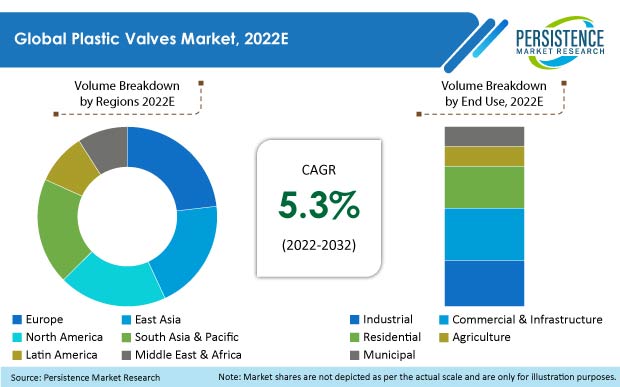 Which Key Factors are Influencing Demand Growth for Plastic Valves?
"Food & Chemical Processing Industries Driving High Demand for Plastic Valves"
The food and chemical industries majorly use plastic valves and utility service valves. The material used in valves is chlorinated polyvinyl chloride, which has the property of being corrosion-resistant.
Chlorinated polyvinyl chloride valves are used in handling corrosive fluids, salted waters, acidic wastages, and other non-food-related resources. Ball and gate valves are widely used in the food and chemical processing industry as they withstand the humid environment and extreme room temperatures; they are used in salmon packing lines, fish fillet preparation systems, etc.
"Easy Installation & Maintenance and Cost-Efficient Aspects of Plastic Valves"
Plastic valves are much lighter and easier to handle during installation. Metal parts and components tend to weigh more than plastic, which can make them more difficult to transport, store, and install.
Also, operators are less likely to purchase special equipment or carriers when they opt for thermoplastics and thermoplastic valves. On the other hand, using plastic valves to install systems with plastic materials eliminates the problems of galvanic and chemical corrosion.
When it comes to cost, plastic is the best option. Plastic valves are cheaper to produce than metal, both, in terms of raw material used and the manufacturing process. As it is much lighter than metal, plastic also costs less to transport.
Which Regional Market Offers High Opportunity for Plastic Valve Manufacturers?
"Plastic Valve Sales Highest in North America"
North America consists of the U.S and Canada, and is one of the most prominent plastic valves markets as the region is homespun to a few of the biggest multinational corporations such as Emerson (U.S), Flowserve Corporation (U.S), and others.
Continuous R&D by leading players in the region has led to the high use of actuators in valves for actuation. Growing demand for safety and effortless applications is also an important factor driving the PVC valves and CPVC valves market in the region.
Country-wise Insights
Why is the U.S. an Attractive Market for Plastic Valve Producers?
The U.S government is seeking to diversify its economy by boosting growth in the industrial sector. It is projected that the consumption of natural gas will rise faster than that of oil & coal at 1.6% Y-o-Y growth rate between 2015 and 2030. This growth is expected to be majorly driven by shale gas production, which will be responsible for more than 60% of the natural gas supply.
This increasing exploration of shale gas, which constitutes onshore exploration, is, in turn, expected to increase the demand for plastic valves. In the U.S., there are more than 130 projects in progress related to natural gas exploration and transportation pipelines. The number of active oil and gas wells in the U.S. is growing in number after crude oil prices increased, and it led oil and gas operators in the U.S. to invest in deep drilling activities, in both, onshore and offshore operations.
Over the forecast period, it is expected that the U.S. will remain a leading producer of oil and gas with new investments for the exploration, production, and distribution of oil and gas. This will compel market players to acquire more orders or contracts.
The U.S plastic valves market is projected to expand steadily at 5.6% CAGR over the forecast period.
Why are Sales of Plastic Valves Surging in China?
China's construction market has recently experienced unheard-of expansion, and with a projected 5.9% growth rate; it has reached US$ 968 billion in value. As a result, China now has the largest construction industry, which is expected to change the plastic valves market in the country.
The government's 13th five-year plan includes projects for water supply and treatment facilities, urban metro systems, road improvements, and the creation of public parks. These initiatives are projected to boost the construction market, which, in turn, will benefit plastic valve suppliers.
High demand for infrastructure on the back of the robust commercial and industrial sectors in the country is likely to create numerous opportunities for the construction industry, which is likely to propel the sales of plastic valves in the building and construction sector.
Category-wise Insights
Why are Ball Plastic Valves in Such High Demand?
The plastic valves market is segmented into six valve types – ball valves, butterfly valves, check valves, gate valves, globe valves, and customized valves. Among all these types, ball valves hold a major market share in 2022.
Ball valves are those that use a ball to control the flow of fluid from one opening to the next. These valves allow holes to be opened, blocked, or partially opened to regulate the flow of liquid. Ball valves are the ideal choice for use with fluids as they can offer better sealing.
These valves are widely used in the water distribution and agriculture irrigation industry, but also find a place in many manufacturing sectors, food and chemical processing, and even residential use.
The ball valves segment is expected to expand at a CAGR of 5% to reach a market valuation of US$ 1.08 Bn by 2032.
Will Universality of PVC Drive Plastic Valves Market Expansion?
The plastic valves market is segmented into polyvinyl chloride, chlorinated polyvinyl chloride, polypropylene, and others.
The PVC material segment is estimated to be valued at US$ 1.18 Bn by 2032, exhibiting a CAGR of 4.7% through the decade.
PVC plastic valves are more widely used in a majority of industries. Properties of PVC materials such as high durability, corrosion resistance, and lower cost make these valves more ideal for usage.
Will Electric Plastic Valve Usage Continue Increasing at a Rapid Pace?
Several factors have been recognized for the demand growth of plastic valves in the world. One of the major factors influencing the market is the adoption of electric actuators.
Advanced control systems, actuators, and valve combinations are now being installed in new plants. An increase in R&D has resulted in the introduction of actuators in valves, where several critical services are used where manual operation is either dangerous, not safe, or takes more effort and long duration. A minor error can lead to severe complications.
The electric actuation segment is projected to expand rapidly at 6.9% CAGR through 2032.
Competitive Landscape
Over the past few years, increasing acquisition and expansion activities have been witnessed to improve the supply chain of the plastic valves market. Several key manufacturers of plastic valves are focusing on developing new technology-driven equipment. The emergence of various manufacturers has also been witnessed in this space.
Plastic Valves Industry Report Scope
Attribute
Details

Forecast Period

2022-2032

Historical Data Available for

2017-2021

Market Analysis

USD Million for Value
000' Units for Volume

Key Regions Covered

North America
Latin America
Europe
East Asia
South Asia and Pacific
The Middle East & Africa

Key Market Segments Covered

Valve Material
Valve Type
Actuation Type
End Use
Region

Key Companies Profiled

Georg Fisher AG
Parker-Hannifin Corporation
Emerson Electric Co.
Watts Water Technologies, Inc.
Asahi Yukizai
CIRCOR International, Inc.
Flowserve Corporation
KITZ Corporation
Hayward Holdings, Inc.
Techno Plastic Industry LLC
Safi Thermoplastics Valve Solutions
AVK International A/S
American Valve, Inc.
Process Development & Control LLC
Valtorc International Inc.
MVS Valves
Colonial Engineering Inc.
Ipex Inc.
The Specialty Mfg. Co.
Zhejiang Xier Plastic Valve lead co. Ltd.

Report Coverage

Market Forecast
Company Share Analysis
Competition Intelligence
DROT Analysis
Market Dynamics and Challenges
Strategic Growth Initiatives

Customization & Pricing

Available upon Request
Plastic Valves Industry Research by Category
Plastic Valves Market by Valve Material:
Polyvinyl Chloride
Chlorinated Polyvinyl Chloride
Polypropylene
Others
Plastic Valves Market by Valve Type:
Ball Valves
Butterfly Valves
Check Valves
Gate Valves
Globe Valves
Others
Plastic Valves Market by Actuation:
Manual Valves
Pneumatic Valves
Electric Valves
Plastic Valves Market by End Use:
Industrial
Commercial & Infrastructural
Residential
Agricultural
Municipal
Plastic Valves Market by Region:
North America Plastic Valves Market
Latin America Plastic Valves Market
Europe Plastic Valves Market
East Asia Plastic Valves Market
South Asia & Pacific Plastic Valves Market
Middle East & Africa Plastic Valves Market