Introduction
Plastic cards gave various opportunities across countries on the backdrop of an increasing number of banks and financial institutions, worldwide. Moreover, growth in the usage of mobile phones have resulted in the increased demand for plastic cards. This has encouraged manufacturers to come up with more novel products in the market.
A recent Persistence Market Research study predicts the plastic cards market to record expansion at a 7.4% CAGR over the forecast period (2018-2026). Plastic cards continue to witness increased traction in banks and SIM cards. However, growth in gift card application is also expected to be impressive.
In today's era, it is impossible to visualize modern banking operations, commercial transactions, and other payments without using plastic cards. Plastic cards are now gradually becoming the custom across the globe, as people nowadays are choosing plastic as compared to paper, since there are numerous compensations. The rising intrusion of smart phones has made expertise much more accessible to users through technological applications. Governments are also moving forward for a 'Digital World', and the focus on growing e-payments is a significant driver in replacing physical payments with new innovative solutions.
But, at the same time, in existing ecosystems, the use of plastic cards is growing at an unprecedented rate, globally. People are looking towards hassle-free techniques. Smart cards have many innovative features, which may spurt their use. Smart cards are safer to use in an electronic form than the present form of cards.
Increasing Technological Developments in Developing and Developed Countries Creating the Demand for Plastic Cards
APAC holds a high market share in plastic cards market when compared to other regions, owing to the increased number of financial institutions present in the region. The increasing usage of financial cards has created the demand for plastic cards in the region. Manufacturers are focusing on meeting consumer demand for plastic cards in the APAC region.
Plastic Cards Replacing Cash and Coins
Owing to a decrease in the cash flow between retailers and consumers, there is an increased demand for plastic cards. Plastic cards give consumers certain offers for any purchase, which eventually creates a demand for them. Consumers in North America use gift cards, as this helps the person to make a variety of purchases according to requirement. Gift cards are a good replacement for buying gifts/presents.
Increasing Growth in the Debit Card Sector
Debit cards are the most common card types, which makes up nearly 71% of the worldwide total. The share of debit cards is expected to rise further, mainly as a result of financial inclusion initiatives in developing markets in Asia Pacific, the Middle East and Africa, and Latin America.
Plastic Cards Market Analysis by Technology
The chip enabled cards segment is expected to be valued at US$ 31,293.5 Mn by 2026, and is projected to register a CAGR of 7.5% over the forecast period. Furthermore, the segment is also the primary revenue generator in the global plastic cards market. This segment accounts for 81% market share in the overall plastic cards market in terms of technology, and is anticipated to continue to maintain its significant market share during the forecast period.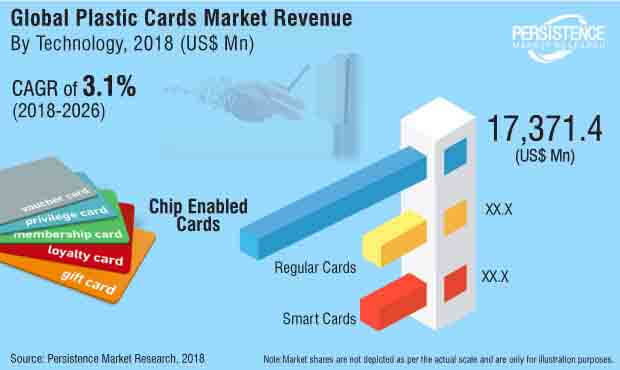 Plastic Cards Market Analysis by Application
In terms of value, the payment cards application segment is anticipated to register a CAGR of 8.6% over the forecast period. The payment cards segment is further categorized as credit cards, charge cards, debit cards, and prepaid cards. The debit cards segment accounts for a high market share in terms of value.
Plastic Cards Market Analysis by Region
On the basis of region, Asia Pacific is projected to remain dominant in the global plastic cards market throughout the forecast period. The chip enabled cards segment is estimated to account for a significant market share of 79% in the APAC market by 2018 end.
Market Segmentation
By Technology

Chip Enabled Cards
Regular Cards

Barcode Cards
Magnetic Strips Cards

Smart Cards

Contact Cards
Contactless Cards
Hybrid Cards
Dual-interface Cards

By Application

Payment Cards

Credit Cards
Charge Cards
Debit Cards
Prepaid Cards

Government/Health

National Identity Cards
Driving Licenses
Public & Private Health Cards
Others

SIM Cards
Transportation Cards
Gift Cards
Access Cards
Others

By Region

North America
Latin America
Europe
Asia Pacific
Middle East & Africa
- Companies Covered in This Report -
Gemalto N.V.
CPI Card Group Inc.
Giesecke & Devrient GmbH
American Banknote Corporation
IDEMIA France SAS
Perfect Plastic Printing Corporation
Goldpac Group Limited
Inteligensa Group
Marketing Card Technology, LLC
dz card (International) Ltd.
TAG Systems SA
TAG Systems SA
QARTIS S.A.
Teraco, Inc.
Tactilis Pte. Limited
Arroweye Solutions, Inc.
CardLogix Corporation
CardLogix Corporation
Toppan Printing Co., Ltd.
Others.