Introduction
Flexible packaging is one of the growing trends in the packaging industry. Flexible plastic packaging involves various types of plastic material used for packaging of different products. The type of material to be used in packaging depends upon the application and type of product to be packaged. Generally, plastic material such as Polyethylene, Polypropylene, polystyrene, polyvinyl chloride etc., are used in flexible plastic packaging.
Flexible packaging is considered to be the most convenient and economical way to preserve, distribute and package food items, beverages, pharmaceutical products and several consumables. In a way, flexible plastic packaging ensures a prolonged shelf life of the products that helps in efficient distribution and minimizing losses.
Persistence Market Research has come up with an exhaustive, insightful research report on plastic flexible packaging market by studying various market components that have an influence over the growth of the market on a global basis.
These components include various trends, macroeconomic factors, developments and innovations that have a fuelling effect on the growth of the market as well as a restraining impact. The impact analysis covering these factors delivers value with which new strategies can be devised with a view to overcome hurdles in the market and look forward to future expansions. The report also gives a glimpse of the future market scenario, with forecast projections for five years, from 2017 to 2022.
According to Persistence Market Research, the global flexible plastic packaging market is expected to grow at a robust CAGR throughout the period of forecast, and is estimated to reach a value of around US$ 202 Bn by the end of 2022.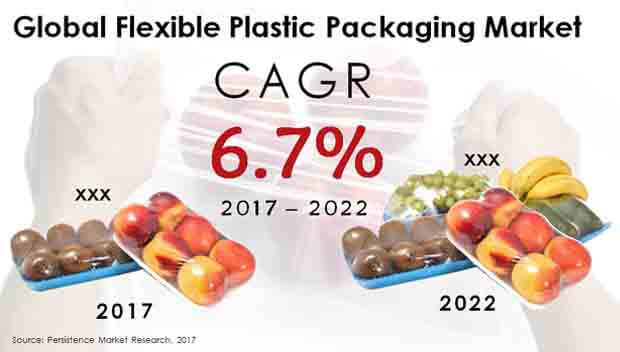 Sachet and Pouches to Favor the Growth of the Global Flexible Plastic Packaging Market
By Pack type, the sachet and pouches segment reflects a high potential from revenue as well as growth perspective. This segment, since 2016, has contributed towards the overall growth of the global plastic packaging market.
According to the research study, sachet and pouches are expected to continue to grow at the highest rate and also estimated to portray a high revenue share in the global market space, thus pushing the growth of the global flexible plastic packaging market. This segment is poised to register a high CAGR of 7.7%. To add, this segment is anticipated to show a high BPS by 2022 end.
BOPP to Show High Pace in the Coming Years; Polyethylene to Cement High Market Share
BOPP material is extensively used in flexible plastic packaging. This segment, since BOPP is largely used in packaging of potato chips, reusable woven bags for shopping, used in layers in packaging of various snacks, in labels and wrapping films, is projected to grow at the highest CAGR of 10% throughout the forecast period 2017-2022 and expected to gain a high BPS by the end of the forecast period.
Conversely, the polyethylene segment by material type is expected to continue to preserve its status quo as it shows high market share in 2017 and is expected to continue with this trend during the 2017-2022 timeline. It enjoys a high market share as it is widely used in packaging of several FMCG products such as beverages, foil pouches, in metallized lids used for packaging of yoghurt, in confectioneries, carton windows etc. in 2017, the polyethylene segment reflected a high 50% market share in the global flexible plastic packaging market.
Global Flexible Plastic Packaging Market: Competitive Scenario
The global flexible plastic packaging market research study focuses on various key players involved in flexible plastic packaging industry. The research study covers various factors of the key players such as company overview, SWOT analysis, product portfolio, key financials and developments. Key players such as Amcor Ltd., Bemis Company, Inc., Sealed Air Corporation, Berry Global Group, Inc., Mondi Group plc, Sonoco Products Company, Huhtamaki Oyj, Constantia Flexibles Group GmbH, Ampac Holdings LLC and Bischof & Klein GmbH & Co. KG are profiled in this research report.
Market Taxonomy
Region

North Americ
Latin America
Europe
Japan
APEJ
MEA

Pack Type

Sachet and Pouches
Bags
Tubes
Films and Wraps
Other Pack Types (Squeezable Bottles, Liquid Packaging)

Material Type

Polyethylene
Polypropylene
BOPP
Cast Polypropylene
BOPET
Polyamide
Poly Vinyl Chloride
Ethylene Vinyl Alcohol
Polystyrene

End-Use

Food and Beverages
Personal Care Products
Pharmaceuticals
Tobacco Products
Industrial and Institutional