Oral Solid Dosage Contract Manufacturing Market Outlook (2022-2032)
The global oral solid dosage contract manufacturing market reached a value of US$ 23.4 Bn in 2021, and is predicted to expand at a CAGR of 5.9% to climb to a valuation of US$ 43.6 Bn by the end of 2032.
| Attribute | Key Insights |
| --- | --- |
| Oral Solid Dosage Contract Manufacturing Market Size (2021) | US$ 23.4 Bn |
| Estimated Market Value (2022) | US$ 24.7 Bn |
| Projected Market Value (2032) | US$ 43.6 Bn |
| Global Market Growth Rate (2022-2032) | 5.9% CAGR |
| Market Share of Top 5 Countries | 46.6% |
As projected by Persistence Market Research, the immediate-release mechanism accounted for a market value of US$ 12.5 Bn, which was more than 50% share of the market in 2021.
In 2021, the oral solid dosage contract manufacturing revenue accounted for approx. 12% share of the global contract manufacturing market, mainly due to increasing R&D activities to develop novel technologies in the formulation of oral solid dosage forms and rise in long-term contract manufacturing partnerships between biotechnology companies and CDMOs.
Revenue Analysis of Oral Solid Dosage Contract Manufacturing from 2017 to 2021 Vs Market Outlook for 2022 to 2032
The global oral solid dosage contract manufacturing market expanded at a CAGR of 4.5% over the last five years (2017-2021).
Rising incidence of viral and chronic diseases has driven demand for new therapeutics to secure and cure the affected population across the world. Pharmaceutical products are treatments or therapies generated from metabolites that occur naturally in living forms. High use of pharmaceutical drugs by patients suffering from a variety of diseases has created the dire need for the large-scale manufacture of novel therapeutics.
With increased demand for large-scale production, major pharmaceutical companies are increasingly outsourcing contract manufacturing. As a result, the need for oral solid dosage contract manufacturing will increase as demand for novel therapies grows.
Furthermore, rising economic prosperity and increased health awareness are also likely to boost market development in the years ahead.
Companies nowadays are concentrating on acquiring and merging with others in order to expand their market share and capitalize on shared technology. Manufacturing costs are rising all the time. As a result, both large and small pharma and biotech businesses are concentrating their efforts on CDMOs in order to form long-term contract manufacturing agreements. This will assist enterprises in sticking to fixed manufacturing rates and CDMOs in improving manufacturing quality.
In March 2021, Piramal Pharma Solutions (PPS) signed a Master Services Agreement (MSA) with Plus Therapeutics, Inc. to outsource services related to the development, manufacture, and supply of the Plus Therapeutics RNL Liposome Intermediate Drug Product.
The global market for oral solid dosage contract manufacturing is expected to expand at a CAGR of 5.9% and record sales worth US$ 43.6 Bn by 2032.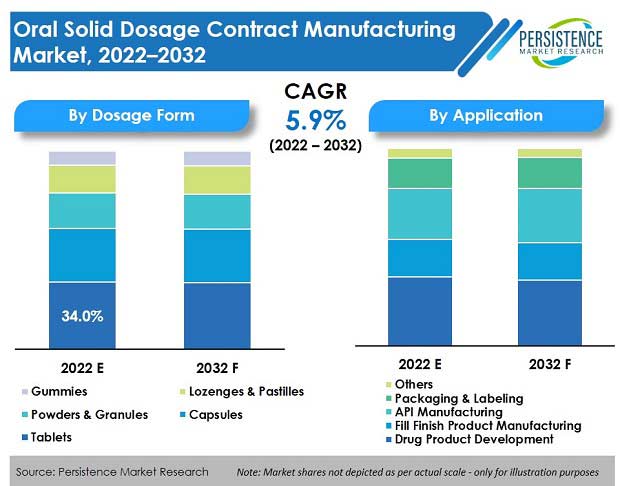 What are the Opportunities for Oral Solid Dosage Contract Manufacturing Devices Manufacturers?
"Technological Advances in Oral Solid Dosage Forms"
The forecast period is set to witness many lucrative opportunities for oral solid dosage contract manufacturing companies around the world. These companies can concentrate on technological advancements in oral solid dosage forms to improve their stability, yield, bioavailability, and morphological characteristics, as well as to develop various types of oral solid dosage forms such as enteric-coated, extended-release, controlled release, and others.
For example, Catalent's Biologics domain offers cell-line development based on the company's GPEx Boost platform. The GPEx platform helps in achieving stable, high-yielding mammalian cell lines for biosimilars.
Despite these developments, there are still many shortcomings, such as the market is still divided and has many small CMOs, and due to this, there is no prime provider of pharmaceutical solid dose contract manufacturing. This provides significant opportunity for consolidation, which can aid companies with better operating margins and high potential for faster growth in the market.
Furthermore, contract development and manufacturing firms can concentrate on creating adaptable business models. A flexible business model will lure both, large and small pharma and biotech firms.
The particle engineering technique is used by many CDMOs to create oral solid dose forms. CDMOs may be able to expand their market share by acquiring this technology.
What Hurdles Do Oral Solid Dosage Contract Manufacturers Encounter?
"Strict Approval Criteria by Regulatory Authorities"
Every country has a significant number of regulations that are laid down by regulatory authorities. Furthermore, tiny CDMOs, without cutting-edge equipment, are more prone to see increasing process errors, poor quality, and pricing issues.
As a result of the rigorous rules imposed by regulatory agencies, there has been a decrease in the approval of small molecules in developed countries, which has hampered demand growth of contract development and manufacturing.
Several small and major CDMOs use a variety of techniques to gain market strength, including manufacturing growth, collaborations, partnerships, and acquisitions.
Lonza, for example, expanded its mammalian product development services in Singapore, in October 2021.
Because the cost of development in poor countries is lower than in developed countries, most pharma and biotech corporations award contracts to CDMOs in these countries. Language hurdles, cultural differences, and different time zones can all slow down the communication process and cause delays in product delivery.
Country-wise Insights
Why is Oral Solid Dosage Contract Manufacturing Huge in the U.S.?
"Advanced Healthcare Sector in the U.S."
In 2021, the U.S. accounted for 83.4% share in North America oral solid dosage contract manufacturing market due to the expansion of manufacturing facilities and growing emphasis on drug discovery.
Additionally, ongoing advancements in the pharmaceutical sector and increasing demand for superior quality products place a strong emphasis on drug research, and, as a result, growing number of pharmaceutical businesses are turning to CMOs in the U.S.
Why is China Emerging as a Prominent Market for Oral Solid Dosage Contract Manufacturing?
"Cost-effectiveness - Key Driver for Market in China"
The China market for oral solid dosage contract manufacturing accounted for more than 50% of the market share in East Asia in 2021. The market in China was recorded to be worth US$ 1.9 Bn in 2021.
Outsourcing of pharmaceutical manufacturing is developing the fastest in Asia. Chinese CMOs have emerged as ideal outsourcing partners for a variety of reasons.
Improved regulatory oversight and adherence to CGMP standards, skilled Chinese workforce, and cost containment are some of the key factors that will positively drive the growth of this industry in China over the coming years.
Category-wise Insights
Which Dosage Form Accounts for Highest Market Growth?
"Tablet Dosage Form Accounts for Major Market Share"
The tablet form is driving most demand in this market, wherein, it accounted for approx. 34% market share by product in oral solid dosage contract manufacturing in the year 2021.
Tablets are non-invasive and have the ability to pass the first pass metabolism. Increasing demand for tablets as compared to capsules and powder is the primary factor contributing toward this high segment share across regions
Which Mechanism is Mostly Adopted by Oral Solid Dose Contract Manufacturers?
"Immediate-release Mechanism Most Popular"
The immediate-release mechanism is most commonly adopted by oral solid dose manufacturers. The immediate-release mechanism holds a market share of 53.7% by value, in the global oral solid dosage contract manufacturing market, and is expected to expand at a CAGR of 5.6% over the forecast period.
High segment growth is due to the fact that immediate-release tablets work by quickly relieving pain and discomfort, and they also have the ability to provide advantages of liquid medication in the form of solid preparation.
COVID-19 Impact Analysis
The COVID-19 pandemic and lockdowns across the globe affected most industries. The healthcare industry experienced extreme ups and downs during these lockdown periods. Most pharmaceutical and biotechnological industries experienced both, positive and negative trends during the pandemic.
The healthcare sector across the globe witnessed major changes during this time. Approval of many oral solid dosage forms pertaining to treatment of viral infections was given preference, and this led to overall growth of the oral solid dosage contract manufacturing industry.
Competition Analysis
Demand for pharmaceutical manufacturing is increasing day by day, and therefore, companies are focusing on the expansion of their manufacturing units.
Additionally, key providers of oral solid dosage contract manufacturing products have adopted the strategies of acquisitions and expansions as a part of their efforts to consolidate their market presence.
In September 2018, Aurobindo acquired the dermatology and oral solids businesses from Sandoz Inc., U.S. This will support Sandoz's strategy of focusing on complex generics, value-added medicines, and biosimilars to achieve sustainable and profitable growth in the U.S. over the long term.
In June 2019, Piramal Pharma Solutions (PPS), a leading CDMO, announced the grand opening of a new wing at the riverview site dedicated to the production of High Potency Active Pharmaceutical Ingredients (HPAPIs) with Low Occupational Exposure Levels (OELs).
Oral Solid Dosage Contract Manufacturing Industry Report Scope
Attribute
Details

Forecast Period

2022-2032

Historical Data Available for

2017-2021

Market Analysis

US$ Million for Value

Key Countries Covered

U.S.
Canada
Germany
U.K.
France
Italy
Spain
BENELUX
Russia
China
Japan
South Korea
India
Thailand
Malaysia
Indonesia
Australia
New Zealand
GCC Countries
Turkey
South Africa

Key Market Segments Covered

Dosage Form
Mechanism
Application
End User
Region

Key Companies Profiled

Recipharm
Aenova Holding
Catalent
AbbVie
Patheon N.V. (Thermo Fisher Scientific)
NextPharma
Capsugel (Lonza Group AG)
Aurobindo Pharma Limited
Siegfried AG
Piramal Pharma Solutions
Corden Pharma
Kremoint Pharma Pvt Ltd.
HERMES PHARMA GmbH
Medipaams India Private Limited
Alpex Pharma
Abaris Healthcare Pvt Ltd
Ardena Holdings N.V
Aphena Pharma Solutions
Actiza Pharmaceutical Private Limited
Sunwin Healthcare PVT. LTD
Saffron Medicare PVT. LTD
Kosher Pharmaceuticals
Dr Reddy's Lab
GlaxoSmithKline Plc
Boehringer Ingelheim BioXcellence

Report Coverage

Market Forecast
Competition Intelligence
DROT Analysis
Market Dynamics and Challenges
Strategic Growth Initiatives

Customization & Pricing

Available upon Request
Key Segments in Oral Solid Dosage Contract Manufacturing Industry Survey
Oral Solid Dosage Contract Manufacturing Market by Dosage Form:
Tablets

Conventional Release
Modified Release
Chewable Tablets
Effervescent Tablets

Capsules

Hard Gelatin Capsules
Soft Gelatin

Capsules/Softgels
Powders & Granules
Lozenges & Pastilles
Gummies
Oral Solid Dosage Contract Manufacturing Market by Mechanism:
Immediate Release
Delayed Release
Controlled Release
Oral Solid Dosage Contract Manufacturing Market by Application:
Drug Product Development
Fill & Finish Product Manufacturing
Packaging /Labelling
Others
Oral Solid Dosage Contract Manufacturing Market by End User:
Big Pharma/Biotech Companies
Smalls & Medium-size Pharma/Biotech Companies
Emerging/virtual Pharma Companies
Nutraceutical Companies
Oral Solid Dosage Contract Manufacturing Market by Region:
North America Oral Solid Dosage Contract Manufacturing Market
Latin America Oral Solid Dosage Contract Manufacturing Market
Europe Oral Solid Dosage Contract Manufacturing Market
South Asia Oral Solid Dosage Contract Manufacturing Market
East Asia Oral Solid Dosage Contract Manufacturing Market
Oceania Oral Solid Dosage Contract Manufacturing Market
Middle East & Africa Oral Solid Dosage Contract Manufacturing Market