Oncology Mice Models Market Outlook (2022-2032)
The global oncology mice models market is set to record a market value of US$ 390.3 Mn in 2022, with an estimated growth rate of 6% over the decade. Syngeneic tumor mice models are expected to reach a market value of US$ 219.3 Mn, which accounts for more than 50% of the overall oncology mice models market.
| Attribute | Key Insights |
| --- | --- |
| Oncology Mice Models Market Size (2021) | US$ 370.9 Mn |
| Estimated Market Value (2022) | US$ 390.3 Mn |
| Projected Market Value (2032) | US$ 696.4 Mn |
| Global Market Growth Rate (2022-2032) | 6% CAGR |
| Market Share of Top 5 Countries | 65.8% |
Sales Analysis of Oncology Mice Models from 2017-2021 VS Market Outlook for 2022-2032
Sales of oncology mice models increased at a CAGR of 4.3% between 2017 and 2021. The immuno-oncology (IO) for cancer treatment and development of combination IO therapies are expected to drive the sales of oncology mice models over the forecast period.
In 2021, the global oncology mice models market accounted for approximately 31.2% share of the global mice models market.
Emerging evidence indicates that one of the mechanisms of action of chemotherapy is via activation of the immune system. Cytotoxic cell death and subsequent antigen release are also thought to provide immune stimulation.
The dual role of cytotoxicity and immune activation from chemotherapy has provided a biological rationale for the development of combinations with immunotherapy. For example, one of the earliest combinations tested was ipilimumab and dacarbazine in a large phase 3 trial comparing dacarbazine alone to dacarbazine with ipilimumab.
Until recently, surgery, chemotherapy, radiation, and targeted therapy were the only four options were available for the treatment of cancer. But the success of ipilimumab set an example that the immune system could also be weaponized against cancer.
PD-1 and PD-L1 emerged as standard care for many types of cancers, and are being used as first-line treatment options for lung cancer, kidney cancer, and melanoma.
Researchers are continuing to explore immunotherapy and more than 1,200 new immuno-oncology drugs have been tested, and around 2,000 others are in preclinical trials. Rapid evolution of the immuno-oncology field can boost the growth of the oncology mice models market.
Pharma companies, with the help of new distribution methodologies and innovative patient interface technologies, can establish successful immuno-oncology therapies in emerging markets.
As such, the global market for oncology mice models is predicted to expand at a CAGR of 6% through 2032.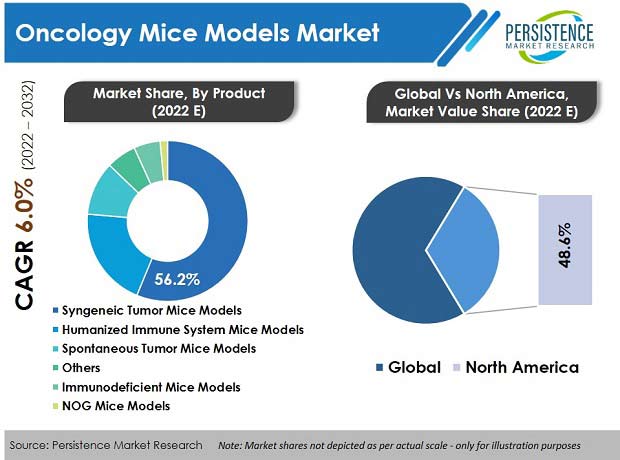 What Lied Ahead for Oncology and Immune-oncology Mice Models Suppliers?
"Foray into Emerging Economies Can Benefit Market Players"
The forecast period is set to witness many lucrative opportunities for suppliers of oncology mice models around the world. The industry is consolidated by a few key players who supply mice models specifically for oncology studies, which are of gold standard. Emerging economies of the world are offering many opportunities for these key players to expand their businesses around the world.
Immuno-oncology is changing the paradigm for clinical trials and it can be an opportunity for key players to drive the consumption of mice models. Since its early beginnings, the landscape of Immuno-oncology (IO) has undergone various profound changes. The current drug development pipeline consists of thousands of new IO drugs and drug combinations, many of which are already evaluated in clinical trials.
Efficient and successful development of these assets requires the investment and utilization of proper techniques that can facilitate rapid transitions from preclinical evaluation to clinical evaluations.
"Preclinical Trials of Humanized Mice Models"
Additionally, to get insights from human biology, humanized mice are important; therefore, pharma companies focus on doing their preclinical trials on humanized mice models.
Several mice models such as NOG and NOD can be particularly of interest for such studies. CROs can focus on the development of a large number of humanized mice models to increase their market share value.
What is Hurting Demand Growth of Oncology Mice Models?
"Opposition from Animal Welfare Organizations"
Whenever there is development of new medications, they are always tested on animals before humans, without any warranty of their survival. Therefore, for securing the life of animals, welfare organizations such as PETA, Humane Society International, law, RSPCA, World Animal Protection, etc., are opposing the use of animals in preclinical trials.
The opposition from welfare organizations is the main restraint for this market, which can directly affect the growth of the market.
Animal rights advocates have pushed for the use of alternatives for animal testing. They have suggested that animals can be replaced with something else, such as non-sentient material or less sentient animals, reduce the number of animals used for testing, and refine the living conditions and experimental procedures for animals to reduce pain and discomfort.
Country-wise Insights
What Makes the U.S. the Largest Market for Oncology and Immune-oncology Mice Models?
The U.S. accounted for more than 91% market value share in the North America oncology mice models market in 2021. This is due to the presence of a large number of contract research organizations that do pre-clinical studies for oncology and immune-oncology diseases.
They launched new mice models to increase their product strength, which is directly affecting the growth of the oncology mice models market in the U.S.
In January 2022, Taconic Biosciences announced the launch of the huNOG-EXL EA (Early Access) Humanized Immune System (HIS) mouse.
In December 2020, Taconic Biosciences launched ExpressMODEL®: Random Integration Transgenic (RITg) service, which reduces animal model generation costs and timelines.
How is the U.K. Emerging as a Prominent Market for Oncology Mice Models?
The U.K. oncology mice models market accounted 20% market share value in Europe for the year 2021. Many researchers are working on the development of new oncologic treatments for specifically targeted cancers.
For instance, researchers from the Cancer Research U.K. Beatson Institute and the University of Glasgow have published one article on colon cancer research. They have used various mice models to study colorectal cancer biology in animal models.
Such specific types of cancer studies in various institutes in the U.K. is a key factor that is driving market growth in the country.
Will China Rise to Be a Lucrative Market for Industry Participants?
China accounted around 29.5% market revenue share value in the APAC oncology mice models market in 2021.
Government-funded institutes are focusing on the development of new treatments for cancer patients and collaborating with other institutes to carry out detailed studies on cancer.
For instance, The NCI Center for Global Health (CGH) has been working closely with the Chinese National Cancer Center (NCC) and Chinese government to strengthen cancer research in the U.S. and China.
Category-wise Insights
Why is Market Growth Dominated by Syngeneic Tumor Mice Models?
Syngeneic tumor mice models dominated the global oncology mice models market with a revenue share of around 56.2% in the year 2021. This is because syngeneic tumor mice models are specifically used for cancer studies.
Syngeneic mice retain an intact immune system; therefore, they are specifically used in immune-oncology studies. Cancer immunotherapies are designed to work in conjunction with a patient's immune system to increase natural anti-tumor response.
Conventional xenograft models lack relevance due to the animal's immuno-compromised status.
Which End User Benefits the Most Through Employment of Oncology Mice Models?
Contract research organizations dominated the market for oncology mice models globally and accounted for 35% market share in 2021.
Various contract research organizations are present in the market that provide preclinical and clinical studies for various diseases, such as cancer, inflammatory diseases, obesity, diabetes, etc.
They provide custom-designed studies to meet each client's requirement. They take care of all animal models, regulations, FDA approvals, etc. Because of all these reasons, big and small pharma companies gave their contracts to contract research organizations to carry out preclinical and clinical studies.
Competitive Landscape
Companies are focused on providing various types of mice models to be used in oncology and immuno-oncology preclinical trials, including the development of advanced and cost-effective models.
Additionally, key market players are focusing on product launches, acquisitions, and expansions to strengthen their market presence.
For example:
In February 2021, Charles River acquired Cognate Bioservices to expand its cell and gene therapy programs.
In November 2019, Envigo acquired the research models business unit from Horizon.
Oncology Mice Models Industry Report Scope
Attribute
Details

Forecast Period

2022-2032

Historical Data Available for

2017-2021

Market Analysis

USD Million for Value

Key Regions Covered

North America
Latin America
Europe
Asia
MEA

Key Countries Covered

U.S.
Canada
U.K.
China
Japan
Germany
France
India
Spain
Italy
BENELUX
Australia
New Zealand
Russia
Brazil
Argentina
Mexico
GCC Countries
South Africa

Key Market Segments Covered

Key Companies Profiled

The Jackson Laboratory
Charles River
Taconic
Shanghai Model organism
Envigo
Biocytogen
Cyagen
Genoway
Applied stem cells
Ingenious targeting labs
PolyGene - Transgenic mice model company
Creative Biolabs
TransCure Bioservices
Champions oncology
Certis oncology
Sygnature Discovery
Pharmaron
Labcorp
Gempharmatech
Janvier Labs
Harbour Biomed
Crown Bioscience Inc. (JSR Corporation)

Report Coverage

Market Forecast
Competition Intelligence
DROT Analysis
Market Dynamics and Challenges
Strategic Growth Initiatives
List of CRO's
oncology and immuno-oncology drugs pipeline analysis
list of pharma companies that have ongoing immuno-oncology clinical trials
list of academic & research institutes involved in ongoing immuno-oncology clinical trials
parent market analysis

Customization & Pricing

Available upon Request
Key Segments Covered in Oncology Mice Models Industry Research
Oncology Mice Models Market by Product:
Humanized Immune System Mice Models
Syngeneic Tumor Mice Models
Immunodeficient Mice Models
NOG Mice Models
Spontaneous Tumor Mice Models
Others
Oncology Mice Models Market by End User:
Contract Research Organizations
Pharma and Biopharma Companies
Academic and Research Institutes
Oncology Mice Models Market by Region:
North America Oncology Mice Models Market
Latin America Oncology Mice Models Market
Europe Oncology Mice Models Market
Asia Pacific Oncology Mice Models Market
Middle East and Africa (MEA) Oncology Mice Models Market