Introduction
Widely adopted, traditional chemotherapy has remained the cornerstone for first-line treatment for advanced cancers traditionally. There is an abundant interest in the idea of dodging such modestly effective but potentially toxic approach with vaccine targeted cancer therapies or virus immunotherapies that hold significant promise of superior efficacy and improved quality of life.
While forerunners such as Bristol-Myers Squibb, Merck, and Roche have the most developed portfolios of immunotherapy drugs, AstraZeneca and Glaxo are known for excellent portfolios of early checkpoint-based immunotherapy approaches. The revenue expectation for most of these drugs is approximately US$ 1 Bn.
Amgen has an existing product portfolio of oncolytic virus, and combination trials with other cancer therapies are in the pipeline. Certain estimates dictate the overall immunotherapy market to gain as much as a 50% share of the overall cancer treatment market within the next decade. It is an expectation that is coming into reality with every regulatory approval obtained by the key players in this field.
A new study by Persistence Market Research predicts that the global oncolytic virus immunotherapy market will be valued at ~ US$ 214 Mn by 2029-end, expanding at a promising CAGR of ~12% during the forecast period of 2019-2029.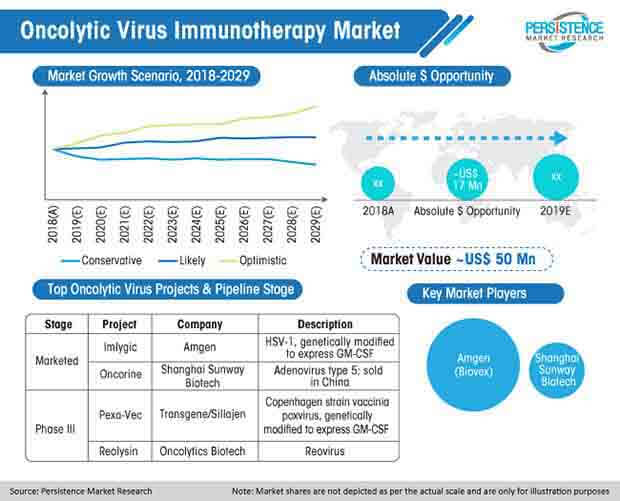 Over the past five years, more than 70 new cancer treatments have been launched and are utilized for treatment in over 20 different types of tumor. Moreover, new treatment options are available since the past five years, and the surge in innovation is anticipated to increase the number of candidates in clinical stage development by an outsized and varied group of biopharmaceutical companies. Further, the pipeline of cancer drugs in early clinical development has increased by more than 60% over the past decade, with almost 90% of the focus on targeted agents.
These new oncology treatment options have resulted in nearly 18 tumor categories being cured with one of the 6 new cancer therapies or drug, which have been launched over the past five years.
Imlygic's (Talimogene laherparepvec) FDA approval in 2015 marked the beginning of new era in Oncolytic Virus Immunotherapy.
The onset of skin cancer has also increased the rate of melanoma skin cancer affected patients. According to a data published in National Cancer Institute (NCI), a significant reduction in the cancer growth and a well-tolerated immune response have been generated during the studies signaling positive adoption from researchers and clinicians.
This, in turn, is propelling the demand for oncolytic virus immunotherapy products. Oncolytic virus immunotherapy has become a choice of adjuvant therapy in treatment of melanoma skin cancer.
Awareness Campaigns by Governments for Early Cancer Detection
Governments in various developing countries have been taking initiatives to spread awareness regarding different causes of cancer. In order to reduce mortality and morbidity rate, governments in developed and developing countries are conducting awareness campaigns to encourage people to opt for early diagnosis of cancer, which in turn are expected to increase the pool of patients likely to opt for various immunotherapies.
For instance, Public Health England – an executive agency of the Department of Health and Social Care in the U.K. – started "Be Clear on Cancer" campaign aimed to improve early diagnosis of cancer by raising public awareness. The growing awareness is likely to fuel the demand for advanced treatment and novel therapies for the treatment of cancer, melanoma and breast cancer being the most prevalent cancers.
The availability of oncolytic virus immunotherapy drugs for melanoma therapeutics and definitive pipeline for breast cancer is projected drive growth of the oncolytic virus immunotherapy market over the stipulated timeframe.
Increasing Number of Clinical Studies in Oncolytic Virus to Propel the Oncolytic Virus Immunotherapy Market Growth
Activities in oncolytic research has surged over the past few years. Number of publications on oncolytic and immunotherapy research has increased by 400% between 2012 and 2018. The global oncolytic virus immunotherapy market holds huge growth potential, and multiple clinical studies are underway with over 35 companies operating in this space.
However, 90% of these oncolytic drug candidates are in the late stage of discovery or in preclinical phase, where there is great uncertainty around the success of these molecules to reach the clinical phase and launch a new drug molecule. Failure of these molecules in late stage of clinical developments may be leveling off for companies operating in the oncolytic virus immunotherapy market.
Majority of oncolytic virus immunotherapies of leading companies are for breast cancer, melanoma and glioblastoma. However, there exists an error between industry sponsored and independently run clinical trials for oncolytic virus immunotherapy, which is expected to delay the availability of these drugs in the global market. Thus, the increasing clinical research on oncolytic virus is projected to boost the growth of the oncolytic virus immunotherapy market.
North America to Capture Significant Share in Oncolytic Virus Immunotherapy Market
In terms of value, North America is estimated to be the prominent region for the global oncolytic virus immunotherapy market in 2019, and is expected to grow at a significant CAGR over the predefined timeframe, owing to high prevalence of cancer, specifically melanoma cancer in the region.
In addition, strong presence of leading manufacturers and high rate of manufacturer's sponsorship are contributing to greater availability of oncolytic virus immunotherapy in the region. Growth prospects of the oncolytic virus immunotherapy market are also expected to be high in Europe.
Leading Players Bringing Traction in the Oncolytic Virus Immunotherapy Market
Amgen and Shanghai Biotech are some of the major players currently accounting for substantial share in the global oncolytic virus immunotherapy market. Furthermore, definitive pipeline products from other manufacturers such as Transgene/Sillajen, and Oncolytics Biotech are projected to offer significant growth opportunities.
Seeking approval for multiple indications as an adjuvant-line therapy, immunotherapy is gaining increasing momentum in the overall oncology drugs market. Expanding the product pipeline is one of the important factors to expand the profit margin.
The key strategies adopted by major manufacturers participating in the oncolytic virus immunotherapy market are focused on acquiring a head start in the oncolytic virus immunotherapy market. Additionally, seeking approval for multiple adjuvant-line therapies is one of the primary strategies the key players are adopting. The key players are also focused on expanding their oncolytic virus immunotherapy businesses in nations other than their regional market.
For instance, in February 2018, Merck & Co acquired Viralytics for a significant sum of approximately USD 400 Mn providing growth to their oncolytic virus immunotherapy business.
In September 2018, Boehringer Ingelheim acquired Viratherapeutics completely for the sum of USD 245 Mn as an upfront payment and expanded their business of oncolytic virus immunotherapy specific VSV-GP project, which is in the early stage of preclinical development.
Analyst's Viewpoint
A comprehensive perspective of the oncolytic virus immunotherapy market has led our analysts to infer that the market is growing at a remarkable rate, with Europe and North America leading the global market.
The rising number of clinical studies involving oncolytic virus (OV) are anticipated to provide huge growth opportunities for the key players in the oncolytic virus immunotherapy market. Also, the problem of post-cancer treatment relapse remains a contributing factor in the growth of the global oncolytic virus immunotherapy market.
In addition, the growing inclination of venture capitalist on early stage startups in oncolytic virus are about to fuel the competition in the global oncolytic virus immunotherapy market.
Key Segments of the Oncolytic Virus Immunotherapy Market
PMR's research on the oncolytic virus immunotherapy market provides information organized into four critical segments - indication, end user, and region. This report compiles extensive market research information and data on the important business dynamics and development parameters linked with these classifications.
Attribute
Details
Indication

Melanoma
Bladder Cancer*
Prostate Cancer*
Colorectal Cancer*
Ovarian Cancer*
Lung Cancer*
Breast Cancer*
Myeloma*
Others*

End User

Hospitals
Specialty Clinics
Cancer Research Institutes

Region
Key Questions Answered in PMR's Oncolytic Virus Immunotherapy Market Report
Which variables could alter the demand and supply for oncolytic virus immunotherapy during the evaluated and forecast period?
What are the restraints that investors need to be aware of that they might need to tackle while investing in the oncolytic virus immunotherapy market?
How clinical trials are providing growth opportunities for oncolytic virus immunotherapy market?
What are the developmental trends in oncolytic virus immunotherapy sector that will impact the market?
Which category of virus is in the prime focus of the manufactures?
Which regions will stay the most lucrative markets for market participants in oncolytic virus immunotherapy?
How businesses in the oncolytic virus immunotherapy market can avail the growth opportunities in developed and emerging sectors?