Metal Powder Market Outlook (2022-2032)
According to the latest study conducted by Persistence Market Research on the metal powder market, worldwide sales of metal powder are expected to surge at 7.4% to increase from a market valuation of US$ 9.5 Bn in 2022 to US$ 19.3 Bn by the end of 2032.
Owing to the high demand for cutting-edge production technologies, North America is expected to dominate the global market for metal powder over the coming years.
| Attribute | Key Insights |
| --- | --- |
| Metal Powder Market Size (2021A) | US$ 8.9 Bn |
| Estimated Year Value (2022E) | US$ 9.5 Bn |
| Projected Year Value (2032F) | US$ 19.3 Bn |
| Value CAGR (2022-2032) | 7.4% |
| Collective Value Share: Top 3 Countries (2022E) | 53.2% |
Consumption Analysis of Metal Powder (2017 to 2021) Vs. Market Outlook (2022 to 2032)
Over the historical evaluation period of 2017–2021, metal powder sales increased significantly. Despite the COVID-19 crisis, the industry recorded a CAGR of 3.4% between 2017 and 2021. Demand for metal powder was mostly driven by the quick adoption of various additive manufacturing techniques.
Going forward, due to end users' preference for cutting-edge manufacturing methods to reduce time, cost, and labor while boosting productivity, demand for metal powder is anticipated to experience higher growth during 2022–2032.
Modern manufacturing techniques need metal in the powder form to mold it into desired designs. Adoption of such manufacturing processes across a wide spectrum of end-use industries will increase the consumer base of metal powder, and the market is expected to surge at 7.4% CAGR through 2032.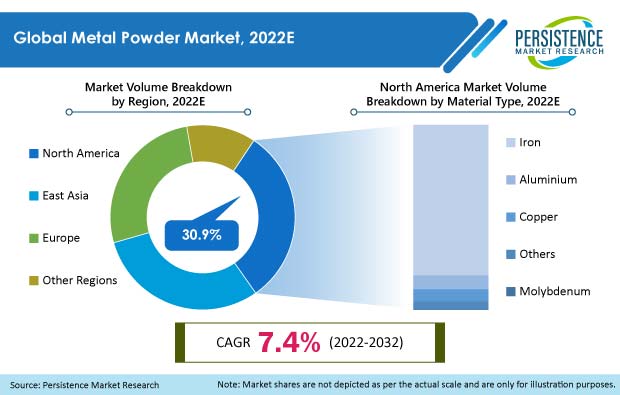 Why is Global Demand for Metal Powder Surging?
"Sustainability Trend Promoting Additive Manufacturing"
Market players are adopting green manufacturing to reduce overall operating costs by using energy-efficient processes that can drastically reduce energy and utility bills.
Green manufacturing is a common concern for all sectors such as aerospace, automotive, Viscosifiers, medical, building & construction, etc. Moreover, regional governments have also imposed regulations on the emission of carbon dioxide, which, in turn, increases the overall efficiency of a plant that is using metal powder to make customized products according to specific demand.
As such, medium- to large-scale industry owners are focusing on green energy in their metal powder businesses.
"Demand Rising Rapidly in Metal Fabrication Industry"
Growing demand for various metal-fabricated components across a wide spectrum of end-use industries such as automotive, aerospace, construction, and various others are compelling metal fabrication industries to expand their production capacities and relish the immense opportunity created in the market.
However, the longer lead time of traditional production processes has long been a barrier to the growth of the metal fabrication industry. To capture the opportunity offered by the market, the metal fabrication industry is relying on innovative production processes such as powder metallurgy, additive manufacturing, and a few others.
Owing to this such production processes and the raw materials required in these production processes, including metal powder, the target market is expected to gain immense traction during the assessment period of 20222-2032.
"Need for Lightweight Components Beneficial for Metal Powder Sales"
With a consistently intensifying competitive atmosphere worldwide, manufacturers need to invest a fair amount in research and development to innovate their products and survive in the competitive world. Manufacturers are paying attention to minor details that have been ignored in the past. Development and innovation have become key factors to grow in the market.
As a result, demand for high accuracy and lightweight components is growing fast across end-use industries. The automotive and aerospace sectors are at the forefront in elevating the demand for lightweight components to provide fuel-efficient solutions to their consumers. However, conventional production methods are unable to produce such lightweight components with the high accuracy required by end-use industries.
Cutting-edge manufacturing methods such as additive manufacturing, 3D printing, and laser cladding are developed in such a way that they are capable of producing such types of components with great ease, even at comparatively low production costs.
What's Hurting Metal Powder Industry Expansion?
"Presence of Low-Cost, Inferior Metal Powder Manufacturing in Asia"
The Asian market is characterized by the presence of a fair number of players offering customized products according to consumer demand with significantly developed sales and distribution channels across MEA, APEJ, and Latin America.
These regions are majorly driven by the SME sector, which generally seeks low-investment options. Due to high competition, availability of resources at low costs, and favorable trade policies, Chinese players often manage to offer relatively low-cost products.
Therefore, various European and American companies manufacturing high-quality metallic powder with high safety and operation parameters find it difficult to maintain a respective profit margin in these regions.
China manufactures metal powder at a low cost as compared to countries such as the U.S., Germany, and Japan. Therefore, most customers prefer importing components from China. This dominance of Chinese manufacturers compels international players to operate on low-profit margins, which hampers their overall, all of which are expected to hinder the sales of metal powder at the global level over the coming years.
Country-wise Analysis
Why is Demand for Metal Powder High in the U.S.?
The U.S. is a leading consumer of metal powder, followed by China. The United States is expected to attain a market value of US$ 2.7 Bn in 2022.
Various technological advancements and rapid adoption of cutting-edge manufacturing technologies in the country are expected to bolster the sales of metal powder in the country.
Robust rise in investments in research and development and nimble adoption of manufacturing technologies such as additive manufacturing, metal injection molding, powdered metallurgy, and various others that use metals in the powder form are driving market expansion.
Moreover, additive manufacturing is expected to experience high growth in the healthcare and defense sectors, owing to the requirement for highly precise, durable, and high-strength components.
What is the Market Outlook for Metal Powder Suppliers in China?
The economy of China is the second-largest in the world. The nation is also anticipated to be the world's second-largest user of metal powder. The extraordinary presence of end-use industries in the nation plays a major role in boosting metal powder sales.
China is regarded as a global manufacturing powerhouse and ranks among the top producers of electronics, automotive, infrastructure, manufacturing, and a select few other industries that are important powdered metal end-use markets.
Category-wise Insights
Metal Powder Material Widely Consumed across Industries?
Among the various materials of metal powder, demand for aluminum powder is expected to witness rapid growth over the forecast period. The segment is expected to exhibit a growth rate of 10% through 2032.
Growing demand for lightweight and highly precise objects is driving demand for aluminum metal powder. The need for lightweight, highly accurate components is swiftly expanding across a range of end-use sectors. To provide their customers with fuel-efficient solutions, automotive and aerospace industries need lightweight components. With the growing demand for lightweight and complex products, sales of aluminum powder are expected to grow at a fast pace over the coming years.
How Does Adoption of Additive Manufacturing Drive Demand for Metal Powder?
Additive manufacturing methods such as powder bed fusion, binder jetting, directed energy deposition, and various others have already created sensational waves in the manufacturing industry; however, the biggest wave is yet to come in the form of production complexity.
End-use industries are engaged in providing cutting-edge solutions to consumers, which is consistently increasing design complexity. Conventional subtractive manufacturing tools are not capable or require high production costs owing to scrap and waste. Luckily, the production of such a complex designs is possible with additive manufacturing.
With the growing demand for complex components, demand for additive manufacturing technologies along with metal powder is expected to grow rapidly over the decade.
Competitive Landscape
The global metal powder market is semi-consolidated where key players account for a high market share. Prominent metal powder manufacturers are emphasizing market expansion through strategic acquisitions, mergers, and capacity expansions.
Smaller market players are looking at strategic collaborations and mergers with leading players for the overall development of their companies.
For Instance,
In Dec 2020, Sandvik AB completed its acquisition of Miranda Tools Business, including the manufacturing of solid carbide round tools and high-speed steel.
In Dec 2020, Sandvik AB announced the acquisition of U.S.-based CG Tech, which is a global market leader in software for numerical control simulation, verification, and optimization.
Trends of strategic acquisitions and collaborations targeting forward integration have been traced in the market by Persistence Market Research in its latest report on the global metal powder market.
Metal Powder Industry Report Scope
Attribute
Details

Forecast Period

2022-2032

Historical Data Available for

2017-2021

Market Analysis

US$ Mn for Value
Tons for Volume

Key Regions Covered

North America
Latin America
Europe
East Asia
South Asia Pacific
MEA

Key Countries Covered

U.S.
Canada
Brazil
Mexico
Germany
Italy
France
UK
Spain
Russia
Poland
China
Japan
South Korea
GCC Countries
Turkey
Northern Africa
South Africa

Key Market Segments Covered

Material
Process
Application
End Use
Region

Key Companies Profiled

Sandvik AB
ATI Powder Metals
AMG Advanced Metallurgical Group
Rio Tinto Plc
American Axle & Manufacturing, Inc.
Carpenter Powdered Products
Showa Denko Materials
GKN Plc
Praxair Surface Technologies Inc.,
Aubert & Duval
Hoganas AB
voestalpine BÖHLER Edelstahl GmbH & Co KG
Royal Metal Powders
Australian Metal Powders Supplies Pty Ltd.
CNPC Powder Group Co., Ltd.

Pricing

Available upon Request
Key Segments Covered in Metal Powder Industry Research
Metal Powder Market by Material:
Aluminium Powder
Copper Powder
Iron Powder
Molybdenum Powder
Nickel Powder
Tungsten Powder
Titanium Powder
Others
Metal Powder Market by Process:
Atomization
Solid State Reduction
Electrolysis
Other
Metal Powder Market by Application:
Powder Metallurgy
MIM
Additive Manufacturing

Powder Bed Fusion
Directed Energy Deposition
Binder Jetting
Others

Others
Metal Powder Market by End Use:
Automotive
Aerospace & Defence
Medical
Building & Construction
Other