India Automotive Wiper Market Outlook (2021-2031)
The India automotive wiper market was valued at US$ 132.1 Mn in 2020, and is slated to surge at a CAGR of 7.3% to reach a valuation of US$ 284.9 Mn by 2031.
| | |
| --- | --- |
| India Automotive Wiper Market Size (2020A) | US$ 132.1 Mn |
| Projected Market Value (2031F) | US$ 284.9 Mn |
| Value CAGR (2021-2031) | 7.3% |
Standard wipers currently account for more than 50% share in the sales of automotive wipers in India. Wiper sales in India account for nearly 4% of the global automotive wiper market.
Sales Analysis of Automotive Wipers from 2016 to 2020 Vs Market Projections for 2021 to 2031
From 2016 to 2020, automotive wiper sales in India increased at 4.9% CAGR, which slowed down due to massive production shutdowns in 2020 due to COVID-19. West, South, and North India accounted for a large share of the demand for wipers in India.
Increasing average age of passenger cars is expected to result in higher use of automotive wipers over the decade. Wipers have a short lifespan, and therefore, the longer a vehicle is on the road, the more frequently the wiper will be replaced, creating a huge aftermarket/replacement market opportunity.
A good view of the road ahead is one of the most important requirements for safe driving in all sorts of weather and driving conditions. Windscreen wipers are essential in modern high-speed cars to maintain a clear enough view for the driver.
Windshield automotive wipers are a tiny part of the car, but they have a big impact on safety and driving. They quickly and cleanly remove snow, rain, pollen, snow, and other debris at the push of a switch. As a result, they give superior sight, contributing to the driver's and vehicle's overall safety, which is expected to boost the sales of automotive wipers in India.
What are the Key Opportunities for Automotive Wiper Manufacturers in India?
Growing demand for electric vehicles as a result of stricter pollution standards for automobiles is expected to result in significant growth of electric vehicles in India. Major automakers are working to extend the range of electric vehicles. Increased adoption of electric vehicles has resulted from factors such as increased demand for fuel-efficient, high-performance, and low-emission vehicles, as well as strict government rules and regulations regarding vehicle emissions, creating new opportunities for auto part manufacturers in the market, including auto wiper equipment manufacturers.
Adoption of EV-related replacement parts in the aftermarket will be gradual at first, but as the sector undergoes a paradigm shift, the rate is predicted to accelerate significantly within a few years. Because all electric vehicles come equipped with wipers, demand for wipers, both, OEM and aftermarket, is expected to rise.
What are the Restraints That Automotive Wiper Suppliers Face in India?
The aerodynamics of sedans have restricted the use of rear wipers in these cars. Rear wipers are used to keep the glass clear and simple to see through for safety reasons. In sedans and smaller cars, a slanted window eliminates this build-up.
Sedans and other small vehicles are designed to get good mileage, which is made possible by having an aerodynamic shape that reduces wind resistance. These little automobiles' windows are generally tilted as much as possible to increase aerodynamics, and, as a result, fuel consumption. A rear wiper is not necessary because the slanted glass does not collect dirt as easily.
Also, adding a rear wiper would increase wind drag, resulting in a modest reduction in fuel efficiency. As such, this is predicted to hamper demand growth of automotive wipers in India.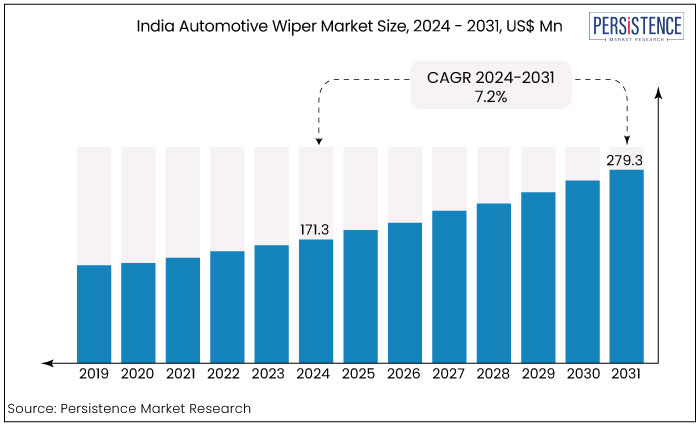 Country-wise Insights
Why Does West India Lead the Automotive Wiper Equipment Market?
West India held more than 31% share of the India automotive wiper market in 2021.
States such as Maharashtra and Gujarat account for a large share of vehicle car parks in this region, and hence, sales of wiper products have been predicted to rise in this region. The region is also home to many production plants of automotive wipers, which has boosted automotive wiper consumption.

Will South India Be a Lucrative Market for Automotive Wiper Manufacturers?
The South India wiper market is projected to expand at an impressive CAGR of 7.5% during the forecast period of 2021-2031. Chennai, being one of the most concentrated automotive manufacturing hubs, is expected to boost the sales of windscreen wipers.
In Chennai, four-wheeler vehicles account for 30% of India's automobile industry and 35% of its automobile component sector. In addition to the commercial sector, Avadi is home to a Heavy Vehicles Factory (HVF) that manufactures military vehicles. The Combat Vehicles Research and Development Establishment (CVRDE), a new engine testing facility, is also located in Avadi.
Category-wise Insights
Why are Sales of Flat Wipers Increasing at a Rapid Pace?
During the projected period of 2021 to 2031, flat wiper sales, also called boneless wipers, are expected to expand at an outstanding CAGR of 7.9%
Automobilists are increasingly opting for flat wipers, also called beam wipers. The design of a flat wiper creates a more streamlined aerodynamic shape, which decreases wind noise. The built-in spoiler on the inside metal strip properly distributes pressure along the blade's length.
Because it is smaller than a conventional wiper (standard wiper), it does not impair the driver's field of vision. The wiper arms of earlier car models that use traditional wipers can also be fitted with most flat wipers. On the demand side, as a result of these advantages, there has been a shift in product preference.
Which Vehicle Type Will Drive Highest Demand for Automotive Wipers in India?
Between 2021 and 2031, passenger cars are expected to generate an absolute dollar opportunity of more than US$ 124 Mn.
Retail sales of passenger automobiles have increased and are expected to continue to grow at a healthy rate due to sustained improvements in the Indian economy and growing preference for personal mobility. This is owing to rising demand in urban markets, particularly metro areas, as well as a shift in customer preference for personal transportation in order to prevent the infection of coronavirus.
Why is Popularity of Rear Wipers Rising Rapidly?
The rear wipers segment is estimated to expand at the fastest pace of 8.2% CAGR throughout the forecast period. The segment's share of the market is expected to grow in the coming years as the number of vehicles equipped with rear wipers increases.
Rear wipers are becoming more common by the day and are currently standard on a variety of hatchbacks and compact SUVs. Growing concerns for safety is one of the most fundamental factors driving demand for rear wipers.
Impact of COVID-19
COVID-19 had a significant impact on the automobile industry, as production was halted, resulting in a drop in car sales as well as aftermarket component sales.
Due to lower production and demand for autos, wiper manufacturers suffered losses. COVID-19 kept individuals at home, resulting in less vehicle utilization and a negative influence on automotive wiper usage.
As many production facilities have reopened, the industry is progressively recovering, resulting in positive sales of automotive wipers. The aftermarket has also grown due to an increase in online sales of wipers.
Competitive Landscape
In the automotive wiper industry in India, both, local and global enterprises compete, with local competitors focusing on price competitiveness and global players on brand value. Furthermore, market players profit from the ability to supply automobile OEMs.
Major firms are inventing advanced technology and generating new products to be competitive in the market. Other competitive strategies include mergers and acquisitions as well as the development of advanced automobile wipers.
In July 2020, Bosch introduced the Aerotwin windshield wiper, which has an improved wiper rubber profile with a proprietary coating.
In June 2020, Valeo announced its flat wiper blades for the Indian aftermarket. It includes a wide range of wiping system products designed to improve visibility and road safety at high speeds.
India Automotive Industry Report Scope
Attribute

Details

Forecast Period

2021-2031

Historical Data Available for

2016-2020

Market Analysis

USD Million for Value
Units for Volume

Key Market Segments Covered

Blade Type
Application
Sales Channel
Vehicle Type
Region

Key Companies Profiled

Syndicate Wiper Systems Ltd.
ITW
Denso Corp
Mitsuba Corporation
Doga, SA
DRiV Incorporated
TRICO Products Corp.
WIPE India
TVS Automobile Solutions Pvt. Ltd. (myTVS)
Spark Minda Group
Ultra Wiring Connectivity System Ltd.
Excelite
Camoflex Wiper Systems
New Max Auto Industries

Report Coverage

Market Forecasts
Brand Share Analysis
Competition Intelligence
DROT Analysis
Market Dynamics and Challenges
Strategic Growth Initiatives

Customization & Pricing

Available upon Request
Key Segments Covered in India Automotive Wiper Industry Survey
India Automotive Wiper Market by Blade Type

Inches

Flat Automotive Wipers
Hybrid Automotive Wipers
Standard Automotive Wipers

12"
14"
16"
18"
19"
20"
21"
22"
24"
26"
India Automotive Wiper Market by Application
Windshield Wipers
Rear Wipers
India Automotive Wiper Market by Sales Channel
Automotive Wipers Sold at OEMs
Automotive Wipers Sold in the Aftermarket
India Automotive Wiper Market by Vehicle Type
Automotive Wipers for Passenger Cars

Compact
Mid-sized
SUVs
Luxury

Automotive Wipers for Light Commercial Vehicles
Automotive Wipers for Heavy Commercial Vehicles
India Automotive Wiper Market by Region
North India Automotive Wiper Market
East India Automotive Wiper Market
West India Automotive Wiper Market
South India Automotive Wiper Market