Hydraulic Pumps Market – Key Research Findings
Global& hydraulic pumps market was valued at nearly US$ 6,535 Mn in 2017
The hydraulic pumps market is pegged to observe robust growth with a 5.4% CAGR over 2018 - 2028
South Asia and Europe are expected to remain the largest regional markets for hydraulic pumps throughout the forecast period
Economic growth, urban population and industrialization in South Asian countries such as India and the presence of one of the biggest manufacturing hubs in Europe are expected to be the main factors driving the demand for hydraulic pump
South Asia and East Asia regions are expected to create high growth opportunities for the manufacturers of hydraulic pumps over the forecast period
Rapid growth of end-use industries in the region, coupled with the thriving economy, is expected to be the key factor contributing to the growth of the hydraulic pumps market within these regions, particularly in rapidly growing economies such as China and India
Gear pumps is expected to remain as a high volume segment in the hydraulic pumps market, owing to the simple construction and wide applications of these pumps in end-use industries
Growing adoption of piston pumps in various pumping application is expected to drive the growth of different piston type pumps over other pumps in the product type segment in hydraulic pumps market.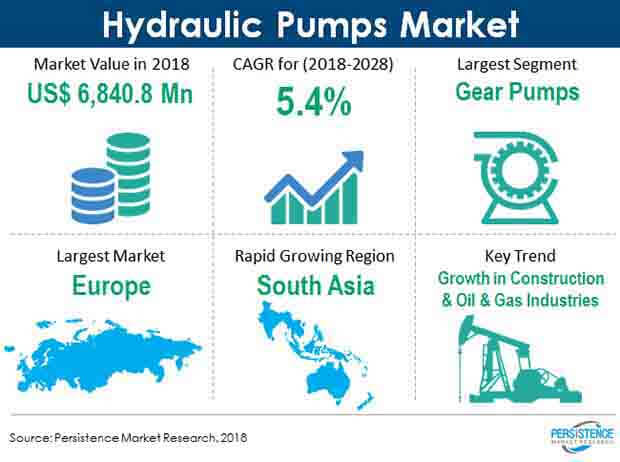 Top 3 Factors Shaping Hydraulic Pumps Market
End-use Industries' Growth Benefiting the Growth of Hydraulic Pumps Market
One of the key factors driving the growth of the hydraulic pumps market is rapid industrialization and urbanization in key developing countries such as China and India. These countries are in a phase of witnessing rapid industrialization due to growing urban population. This in turn has led to an increase in consumer needs and products, which has been affecting the growth of end-use industries.
The cumulative growth of end-use industries has directly impacted the demand for hydraulic pumps. With a large number of manufacturing industries being set-up, and planned expansions taking place across industries, the demand for hydraulic pumps is expected to witness robust growth during the forecast period.
Governments of emerging economies in Africa and Asia, particularly in countries such as India, China and South Africa, are increasing efforts to improve access to drinking water in rural as well as urban areas.
With the increased investments and activities undertaken by respective governments, the demand for hydraulic pumps is set to witness significant growth in the coming years.
Use of Fire-Resistant Hydraulic Fluids Gaining Traction Among End-use Industries
Fire-resistant hydraulic fluids are new hydraulic fluids that are gaining significant momentum in demand from key end-use applications. They possess a higher water content of up to 45%, which enables better lubrication, reduces wearing and offers better corrosion resistance to moving parts.
Hydraulic pumps tend to wear out easily as they are operated continuously for long stretches of time, which leads to an increased need for better hydraulic fluids to improve the life of hydraulic pumps.
Hydraulic Pumps Market Structure Analysis
The global hydraulic pumps market represents a fairly fragmented competition landscape wherein Tier-1 companies hold about a 35–40% revenue share.
The emergence of a large number of manufacturers of hydraulic pumps from China that offer low-cost hydraulic pumps has created a huge price variation in the hydraulic pumps market around the globe
Leading players in the hydraulic pumps market are concentrating on the expansion of their market footprint in key developing regions along with strategic collaborations with domestic players to maintain their position as market leaders
Important entrants in the hydraulic pumps market such as Optima Hydraulik Germany MARCH PUMPEN GmbH are focusing on domestic markets to hold a significant market share in the largely fragmented hydraulic pumps market.
Hydraulic Pumps Market: Segmentation
Product Type

Fixed Displacement

Gear Pumps
Screw Pumps
Gerotor Pumps

Variable Displacement

Rotary Vane Pumps
Radial Piston Pumps
Axial Piston Pumps
Bent Axis Hydraulic Pumps

Operation

Hydraulic
Electro Hydraulic

End Use

Oil & Gas
Chemical & Petrochemical
Water & Wastewater
Construction
Metals & Mining
Material Handling
Agriculture

Region

North America
Latin America
Europe
South Asia
East Asia
Oceania
Middle East & Africa
- Companies Covered in This Report -
Bosch Rexroth AG
Eaton Corporation
PARKER HANNIFIN CORP
Caterpillar Inc.
HYDAC
Danfoss A/S
Linde Hydraulics GmbH & Co. KG
Actuant Corporation
Flowserve Corporation
Kawasaki Heavy Industries, Ltd.
Mitsubishi Heavy Industries, Ltd.
Tuthill Corporation
Permco, Inc.