Increased convenience through virtual visits keeps Virtual Reality ahead in the healthcare AR VR market
VR technology is beneficial for not just doctors but also for patients; this technology offers great convenience to patients by enabling them to visit physicians virtually. This has driven the growth of the VR market in the healthcare industry to a large extent. According to this research report, Virtual Reality is ahead of Augmented Reality due to the advanced offerings of VR technology. VR allows a person to experience their presence inside a different world and interact with it in real time. Whereas AR is builds a visual world around but does not facilitate any interaction with this world.
The healthcare industry has accepted VR widely, thereby leading to significant growth of the VR technology segment, which is expected to reach a market value of over US$ 9,900 Mn by the end of 2026. On the other hand AR technology is expected to reach a market value of just 2,000 Mn by the end of 2026. In terms of growth rate too, VR is expected to witness a higher CAGR of over 50% during the forecast period 2018-2026.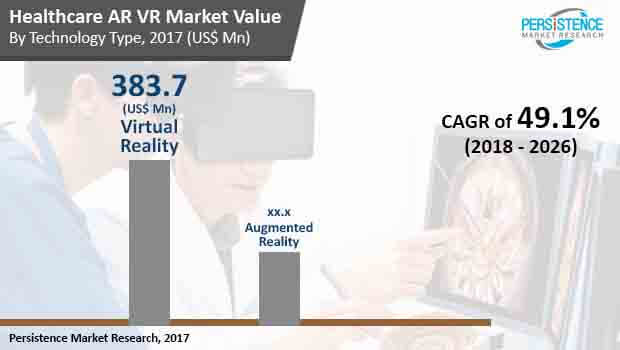 With a positive growth approach of the global market, many new start-ups likely to come up with innovative AR and VR products
There are a lot of factors contributing to the growth of the healthcare AR VR market including new start-ups that are inclined towards capitalizing on this highly prevalent technology. These start-ups are widening their scope of AR and VR applications by using this technology in new applications, providing new functionalities in their products. A similar case showed that a start-up company AccuVein has leveraged AR technology to develop the product that helps nurses scan veins in their patients' body in order to reduce the missing vein cases. Also, usage of stick has helped finding the vein on the first stick 3.5X more likely. As these start-ups continue to increase, new products will keep getting developed thereby increasing the market numbers in the near future.
The easy availability of VR and AR products and growing number of companies dealing with the technology has also lowered the prices of products. To gain competitive advantage, companies have lowered their prices and made it affordable for healthcare providers. Such moves will also help companies adopt these technologies.
Robust growth prospects exist for healthcare AR VR market over 2018-2026
Persistence Market Research expects exceptional growth prospects for the global healthcare AR VR market. Increasing adoption of advanced technologies by the healthcare industry in a bid to achieve maximum accuracy of a series of medical operations will play a key role in driving high growth of market. Growing efforts in enhancing the training experience of surgeons will be prove to be beneficial for market growth in near future.
The US$ 485 Mn market is anticipated to take a major leap by the end of 2026, reaching a value worth US$ 15 Bn. A CAGR value estimated for this market through the forecast period 2018-2026 is more than 49%, as indicated by a recent research report published by the company.
Segmental insights
AR VR services are likely to witness higher demand compared to hardware and software, and are expected to account for more than 42% share of the total revenue by 2026 end. Applications of healthcare AR VR in medical training segment will reportedly remain the highest, followed by surgery planning segment that is anticipated to present the most lucrative opportunities in coming years.
Hospitals and clinics are foreseen to retain the top end-user position with more than 40% value share estimated by 2026 end, followed by medical research organizations will also be a key end-user segment.
Regional analysis
North America and Europe are presumed to continue their dominance, despite a slight growth expected in North American market and a significant decline in European market. However, China, South East Asia, some countries within Asia Pacific are likely to exhibit significant growth in the next eight years.
Escalating use of virtual reality in healthcare for the treatment of various disorders, pain management, and specific types of phobia is pushing adoption rate among healthcare providers based in emerging economies. Moreover, entry of several AR VR startups is believed to be another strong reason to possibly drive the market developed regions such as SEAP and China.
Market Taxonomy
Attribute
Details

By Technology Type

(AR) Augmented Reality
(VR) Virtual Reality

By Component

Hardware
Software
Services

By Application

Patient Care Management
Medical Training
Surgery Planning
Rehabilitation
Others

By End User

Hospitals & Clinics
Medical Research Organizations
Diagnostic Centers
Others

By Region

North America
Latin America
Europe
China
Japan
SEA and Other
APAC
MEA
Key Questions Answered
How the market has performed over the past few years?
What have been the challenges for market participants and how did they overcome them?
How has the technology landscape evolved over the past years?
How the competitors have performed and what have been their growth strategies?
What is the market potential expected to look like in near future across the globe?
How to sustain and grow market share?
What should be the future course of action?
Where do I currently stand?
Which are the segments, factors, regions offering promising growth potential?
What are the trends in the market and am I ready for them?
- Companies Covered in This Report -
Microsoft Corporation
Samsung Electronics Co. Ltd
Google Inc.
DAQRI LLC
Oculus VR, LLC
Magic Leap, Inc.
ImmersiveTouch, Inc.
FIRSTHAND TECHNOLOGY INC.
HTC Corporation
SURGICAL THEATER, LLC.
Psious
EchoPixel, Inc.
Osso VR
AppliedVR, Inc.
Medical Realities Ltd
Others.