Introduction
Nowadays, consumers are spending a lot to keep themselves warm as well as properly insulated during the winters. There are various ways through which people can do this, and today, a new type of blanket is dominating the market – electric blankets.
Electric blankets can be warmed before use. Electric blankets are getting maximum attention among consumers owing to various benefits such as allowing consumers to access multiple features and delivering maximum comfort.
The global electric blanket market size is anticipated to witness increasing expansion from 2020 to 2030, owing to rising consumer awareness coupled with the various advantages associated with the product.
Electric Blanket Market Trends
High Demand for Under Blankets: Different types of electric blankets available in the market include over blankets, under blankets, and electric pads. As the name suggests, over blankets go over the body. Under blankets are also known as heated mattress pads or electric fitted sheets that fit over the mattress and below the bottom bed sheet, and provides heat from below, whereas, electric pads are heating pads used for warming parts of the body in order to manage pain. Among these, demand for under blankets will be the highest market during the forecast period.
Unique Features of Different Electric Blankets to Fuel Growth: When the warmness generated by a home heating system is not enough, an electric blanket helps in keeping the wearer warm and cozy, along with minimizing overall home heating costs. Electric blankets have various associated features, besides leading to lesser energy consumption.
Manufacturers are also continuing the process of innovation and coming up with new features such as waterproof blankets, battery-powered blankets with mobile chargeable sockets, lightweight, durable, machine washable, and water resistant blankets. Also, other features such as machine washable and stain resistant electric blankets make their usage clean and friendlier to consumers. Such features are attracting a large number of people.
Consumers aged above sixty are especially sensitive to harsh and bitter weather, and are thus giving electric blankets a try. Technology is helping revolutionize senior care, and electric blankets are proving to be an effective way of taking care of elder individuals. Senior consumers have expressed several advantages of electric blankets over traditional heating appliances; an extremely hot and stuffy room caused by the use of a room heater can be avoided.
Seasonality of Electric Blankets coupled to Restrict Revenue Growth: Investing in the electric blanket market can be a high risk business. Many companies invest substantial funds on the research & development, designing, packaging, and promotion of the product, which they only propose to sell for two to three months, because it is impossible to sell outside that time period.
Electric blankets are winter seasonal products, mainly sold to consumers from September through the end of January, making it a high risk business. Another aspect of electric blankets is cautious use. The improper use of an electric blanket may make it a dangerous addition to a bed. Overheating the body with an electric blanket when pregnant can be risky.
Pregnant women should not use electric blankets because they produce low frequency electromagnetic fields that enter the body. A higher core body temperature may cause harm to the fetus, mainly in the first trimester. These factors are likely to restrict revenue growth of the global electric blanket market.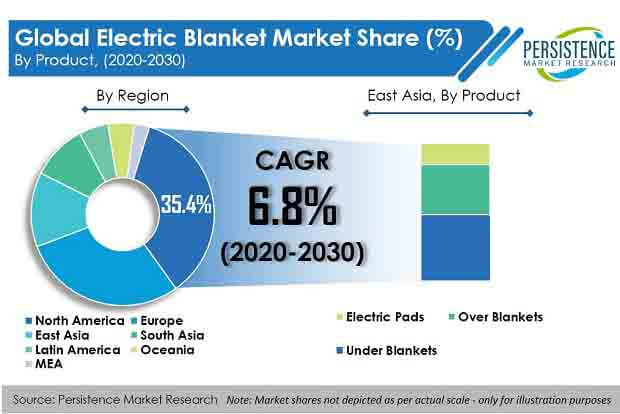 Regional Outlook of Electric Blanket Market
North America leads the global electric blanket market share, which is projected to be over 1/3 in 2020. Europe is expected to hold a market share of around 30% in 2020. With around 27%, Asia too holds a substantial market share, with the market in East Asia slated to expand at the highest CAGR over the next decade. The electric blanket market in MEA will have the smallest share in 2020 and throughout the forecast period.
COVID-19 Impact on Electric Blanket Market
The spread of COVID-19 across the world has hit nearly all market sectors, and the electric blanket market has not been immune from its adverse effects. With trade restrictions, lockdowns, and restrictions on manufacturing, demand for electric blankets has seen a downturn in 2020. The market will resume its original growth pace gradually with the containment of the virus across the world.
Analysts' Viewpoint
The global electric blanket market is projected to expand at a healthy CAGR of around 7% through 2020. Stakeholders can focus on under blankets, which are projected to hold the highest market share and also progress at the highest CAGR through 2030. North America will remain the most dominant electric blanket market over the period in question.
Electric Blanket Market: Segmentation
PMR's research study on the global electric blanket market offers a detailed market analysis, wherein, key segments have been discussed in detail. The segmentation of the electric blanket has been offered on the basis of product, end use, price range, size, material, sales channel, and region. Every segment has been analyzed in detail, and data pertaining to the growth of each segment has been included in the study.
Attribute
Details

Product

Over Blankets
Under Blankets
Electric Pads

End Use

Price Range

Economy
Mid-range
Premium

Size

Single Size
Full/Queen Size
King Size

Material

Wool
Cotton
Polyester
Acrylic
Other Materials

Sales Channel

Direct
Indirect

Hypermarkets/Supermarkets
Multi-brand Stores
Specialty Stores
Independent Small Stores
Healthcare Stores
Online Retailers
Other Sales Channels

Region

North America
Latin America
Europe
South Asia
East Asia
Oceania
Middle East & Africa
The electric blanket market research report includes a competitive landscape that provides a dashboard view of key competitors operating in the market.
Electric Blanket Market: Key Questions Answered
The research study offers inclusive insights about the growth of the electric blanket market in the most comprehensible manner for the better understanding of readers. Key insights offered in this report answer some of the salient questions that assist stakeholders in gauging all emerging possibilities.
How has rapidly changing consumer perspectives acted as a major growth engine for the electric blanket market?
How does e-Commerce boost the electric blanket market growth?
Do omni-channel concepts help companies grow in the global electric blanket market?
What are the key trends that are constantly shaping the growth of the electric blanket market?
Which are the prominent regions offering plentiful opportunities for the market?
What are the differential strategies adopted by key players to command a significant chunk of the global market share?
How has the COVID-19 pandemic affected the growth of the electric blanket market?