Control and automation – establishing a neural network with the user – basic concept of a connected home
Control and automation has enabled interoperability which is the key of success when it comes to home automation. Communication between the user and appliance regarding energy usage, as well as respond to demands as well as response commands is now possible with the advancement in automation and control. Home energy management, the main aspect of home automation has huge growth opportunity which is indeed pushing the market for connected homes.
Connected home concept emerged after the introduction of IoT (internet of things). The user can control his/her home with the help of a control hub which connects the user with his/her home and links the user with various household appliances through digital devices.
The users can get practically connected with their homes and hence the name connected home. The devices that the user can get connected to in a connected home range from automated doors, wall scones to heating systems and other appliances like televisions, thermostats and many more. To draft in a single line, connected home is a complete technology package of various solutions and services that together add huge value to end users/customers.
Persistence Market Research has underlined the fact that the global market for connected homes has a bright future ahead, with all new technologies and innovative products supporting its growth.
The rise in technology is inevitable that is pushing the growth of connected home market. It won't be long when each home would have a "Jarvis", except for the user without a suit. The global connected home market has been rising and is in limelight since past couple of years.
The global market in 2017 stood at around US$ 42 Bn and is anticipated to reach an estimate as high as US$ 140 Bn or even more by the end of the year of assessment (in this case 2026). This expansion in revenue is accompanied by a whooping growth rate reflecting a huge CAGR throughout the period of assessment (2017-2026).
Smart appliances have high demand, making living connected & easy
The growth of the global connected homes market is closely associated with the expansion of the smart appliances segment, a category in the functionality classification. The smart appliances segment is expected to largely contribute to the revenue of the global market throughout the forecast period.
This segment, during 2012-2016 reflected comparatively slower growth, however it picked up steam with the increasing awareness among population at a global level. In 2017, it reflected a value of around US$ 7 Bn but is estimated to reach a valuation of more than US$ 36 Bn by the end of 2026. This segment is also projected to grow at the highest CAGR during the period of assessment.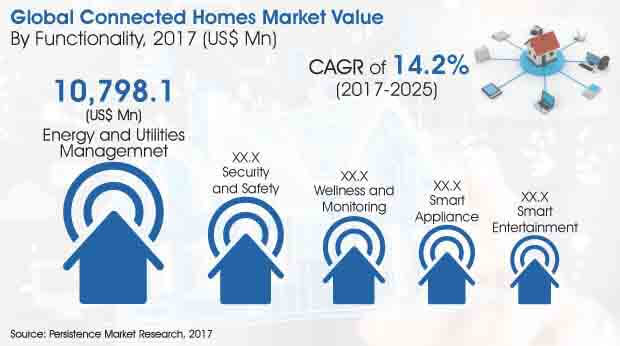 Competitive landscape of the global market
Persistence Market Research has included profiles of major companies involved in connected homes market. Key company details such as SWOT analysis, product and services platforms, strategies and key financials of major players such as Ericsson AB, Schneider Electric Se, Siemens AG, ABB Ltd., Honeywell International, Inc., General Electric Company, United Technologies Corporation, Johnson Controls, Inc., Legrand S.A., and Samsung Electronics Co., Ltd., are included in this research study.
Market Nomenclature
Attribute
Details

Region

North America
Latin America
Europe
Japan
APEJ
MEA

Functionality

Energy and Utilities Management
Smart Entertainment
Wellness and Monitoring
Security and Safety
Smart Appliance

Component

Lighting Control Solution
Security Solution
Entertainment Solution
Home Healthcare Solution
Energy Management Solution
Kitchen Solution
HVAC Solution
Professional Services
Managed Services

Platform

Smartphones
Laptops
Home Gateway
Other platforms

Type of Homes

Apartment
Villa/Bungalow
Other Homes
- Companies Covered in This Report -
Ericsson AB
Schneider Electric Se
Siemens AG
ABB Ltd.
Honeywell International, Inc.
General Electric Company
United Technologies Corporation
Johnson Controls, Inc.
Legrand S.A.
Samsung Electronics Co., Ltd.
Others