Connected Home Security Market
Global Market Study on Connected Home Security - Big Data to Drive Big Sales
Connected Home Security Market Segmented By Smart Home Security, Home Security System, Residential Security, Consumer Connected Home Security, Smart Home Security Solution
Connected Home Security Market
Introduction
As the technological meaning of security has changed from lock and key to systems such as smoke detectors, burglar alarms, and laser-based security, modern-day consumers evince marked penchant for advanced security systems. An upward movement observed in the adoption trend of connected home security market has instigated manufacturers to outdo their existing developmental competencies and leverage the prowess of IoT and artificial intelligence to foster innovation.
Competitive cost pressures encountered by manufacturers will drive down the prices, which is likely to route the predilection of consumers for these devices. Besides, sophisticated reimbursement policies will further cushion the blow pertaining to the high cost of home security devices.
Over the long-term, the seasoned analysts of Persistence Market Research (PMR) believe that the connected home security market will continue to spectate epochal scale of changes with technology sharpening its rough edges and introduction of hi-speed Internet.
The exclusive research of the connected home security market, encompassing broad scope and distinguished insights have been covered in a recently published report of PMR, which identifies historical, current, and futuristic trends for stakeholders to make well-informed business decisions.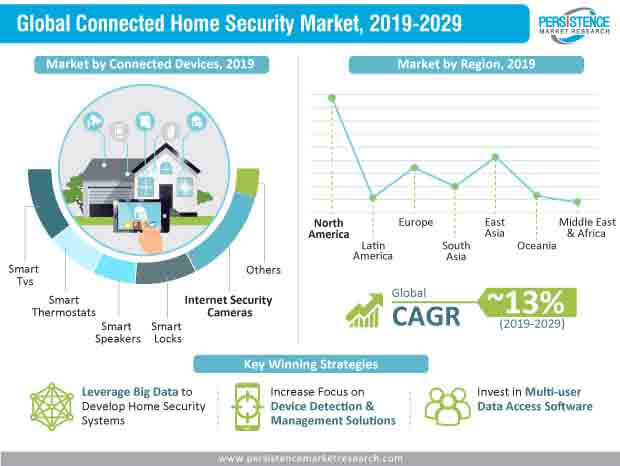 Find Out More about the Report Coverage
Companies
Company Profile
D-Link Corporation
Symantec Corporation
Commscop (ARRIS)
Cisco Systems, Inc.
F-Secure Corporation
Avast Software
Trend Micro
Honeywell International Inc.
McAfee, LLC
Bitdefender
Tracking the Evolution of the Connected Home Security Market
DIY Home security systems have come a long way from simple control panels and deadbolt locks to hi-tech products. Increasing cybercrime and hacking activities at an alarming rate have been routing sales from conventional systems to advanced systems for easy access using multiple screens.
With the fusion of IoT and cloud technology, consumers have the leeway to remotely control their connected devices - door locks, thermostats, smart speakers, and Internet security cameras - and reimbursements from insurance companies further influence the buying behavior of consumers. In light of such drivers, sales of connected home security systems recorded a value of ~US$ 365 Mn in 2018 and are anticipated to make strides with a CAGR of ~13% through to 2029.
In recent times, customizable connected home security systems have been defying the concepts of one-security-device-for-all-needs, which has been resonating well with consumers. In addition, availability of DIY and DIFM kits, installation of systems and services have been easier than ever and the same is being reflected on the sales of the connected home security systems.
Customize this Report
Explore Intelligence Tailored to Your Business Goals.
Internet Security Cameras to Gain Consumers' Liking, Smart Thermostats to Follow
Given the availability of robust broadband services and low cost wireless technology coupled with powerful mobile accessories and cameras, the connected home security systems are hosting automation features that were infeasible a decade ago.
While consumers have a broad array of security connected devices to choose from to meet their requirements, Internet security cameras are demonstrating high sales with their competencies to monitor a specific area with 'at-a-tap' ease.
Moving a step ahead, fusion of voice assistance devices and cameras aid users to switch watch list with voice command, which is likely to retain their popularity as effective connected home security systems. However, smart thermostats with their inherent capabilities of being able to communicate with IoT devices, their evolution with AI competencies, and active geo-fencing features have been influencing buying behavior among consumers.
Since consumers opt for devices that function on 'do more with less' concepts, technological leaps in cloud-integrated software and services have been gaining massive popularity in North America. A large number of players concentrated in the region leverage deep learning and cognitive learning abilities of devices and glean data, which further turns these security devices smarter and adds an extra layer of security.
While countries of East Asia have been witnessing the infiltration of connected home security, in light of governments' 'smart city' projects that are intended at evenly spreading the urban sprawl and touching their lives with technology.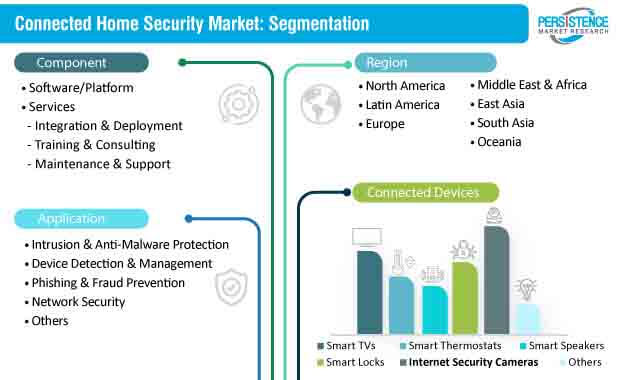 Market Research Methodology - Perfected through Years of Diligence
A key factor for our unrivaled market research accuracy is our expert- and data-driven research methodologies. We combine an eclectic mix of experience, analytics, machine learning, and data science to develop research methodologies that result in a multi-dimensional, yet realistic analysis of a market.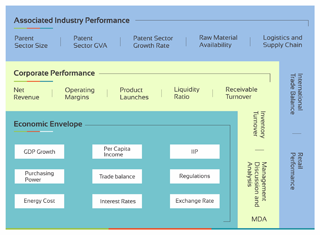 Connected Home Security Market: Key Winning Strategies to Secure Significant Share
Leverage Big Data to Develop Home Security Systems
The fusion of big data and IoT holds high potential to revolutionize the connected home security system landscape to the degree at which a home is secured and automated. Vendors can intertwine big data analytics with connected home security systems to recognize patterns, if any, which will facilitate decision-making process and offers insightful predictions to promote a secure home.
Increase Focus on Device Detection & Management Solutions
With the landscape witnessing high demand for next-gen security solutions, vendors focus on integrating numerous devices with IoT as the base. Numerous devices are likely to add to the complexity, which calls for robust device detection and management solution. Vendors of connected home security systems can focus on the development of such solutions to identify devices and handle multiple devices using voice commands and touch technologies.
Invest in Multi-user Data Access Software
As the popularity of connected home security devices grows at a significant pace, users demand data in a comprehensible manner. This has led to the quick syncing of data between devices and gadgets. However, to further differentiate their devices, vendors can integrate multi-user data access feature in their devices to augment their sales prospects.
Explore Persistence Market Research's expertise in promulgation of the business !
Multiple Players, One Aim - Secure High Share in the Connected Home Security Market
Connected home security businesses form a landscape, wherein the current potential of a single market player falls short of the required traction required to up the growth bars of the entire industry. Collectively, the leading players account for ~48% of the share in the fragmented landscape with productive partnership for growth and product innovation being the key strategies that gain them an upper hand over their regional contenders. These players include:
McAfee
F-Secure
Symantec Corporation
These players strive to expand their sales footprint, with the Americas, Asia Pacific, and EMEA being at the focal point of their radar. For instance, Symantec Corporation prioritizes its efforts on building strategic partnerships with the key market players
such as AWS, Box, and Microsoft, among others. In February 2019, it averred that over 120 companies have joined forces to drive down the cost and complexity of cyber security, while maintaining a focus on the response time.
The regional players account for a share of ~22% and scramble towards a higher market share by taking research and development initiatives for developing new products. For instance, in 2018, Cisco Systems, Inc. announced an increase in its R&D expenditure from ~US$ 1.5 billion to ~US$ 1.6 billion with an intent to broaden its product portfolio.
Analysts' Inference of the Connected Home Security Market
Authors of the connected home security market maintain a bullish perspective on the growth of the connected home security market during the forecast period 2019-2029 with rising concerns apropos of security and cyber threats among consumers being the primary driver.
Advent of big data, artificial intelligence, and IoT will hold enormous potential and robust broadband network coupled with attractive prices of these systems will incite consumers to opt for connected home security systems. Strategic partnerships and collaborations are likely to increase in the coming years, as vendors find the ease to leverage reciprocal advantage from the technological and commercial front.
Among the components, software/platform holds more sales potential as compared to services, owing to their competitive cost and ease of installation. However, cloud-based vulnerabilities remain a key challenge to tackle for connected home security systems vendors.
Connected Home Security Market – Segmentation
This comprehensive research report on the connected home security market offers an in-depth study of the market attractiveness by assessing the crucial market segments. The global study also encompasses a country-wise assessment for understanding the demand and supply ratio of the connected home security market.
The comprehensive report provides an assessment based on the connected devices, component, application, and region. Each of these segments is included and studied in this detailed guide, in order to obtain actionable intelligence apropos of the connected home security market.
This global study on the connected home security market offers historical, current, and futuristic trends influencing the growth of these segment, in particular, and the market, in general. In addition to this, it offers value chain analysis, Y-o-Y growth analysis, and supply chain analysis of the connected home security market.
Component

Software/Platform
Services

Integration & Deployment
Training & Consulting
Maintenance & Support

Connected Devices

Smart TVs
Smart Thermostats
Smart Speakers
Smart Locks
Internet Security Cameras
Others

Application

Intrusion & Anti-Malware Protection
Device Detection & Management
Phishing & Fraud Prevention
Network Security
Others

Region

North America
Latin America
Europe
Middle East and Africa
East Asia
South Asia
Oceania
Connected Home Security Market - Key Questions Answered
This comprehensive research report on the connected home security market offers a comprehensive overview that offers distinguished insights into the growth prospects during the forecast period. This comprehensive research report address the crucial concerns of stakeholders functioning in the connected home security market. Some of the key questions addressed in the report comprise:
What is the connected home security demand scenario in terms of value and volume?
What are the relevant drivers shaping the growth of the connected home security market?
How will the connected home security market evolve during the forecast period?
What are the key challenges and threats restraining the growth of the connected home security market?
What are the microeconomic and macroeconomic factors that are impacting the growth of the connected home security market?
Which application segment will remain a key contributor in terms of value and volume?
Our Clients