CIS Paints and Coatings Market Outlook (2022-2032)
Consumption of paints and coatings in the CIS region in 2021 was worth US$ 8.06 Bn. As per detailed industry research, the CIS paints and coatings market is expected to expand at 4.1% CAGR and reach a valuation of US$ 12.39 Bn by 2032, with Russia anticipated to remain a prominent market in this region.
| | |
| --- | --- |
| CIS Paints and Coatings Market Size (2021A) | US$ 8.06 Bn |
| Estimated Year Value (2022E) | US$ 8.27 Bn |
| Projected Year Value (2032F) | US$ 12.39 Bn |
| Value CAGR (2022-2032) | 4.1% |
| Collective Value Share: Top 5 Countries (2022E) | 53.4% |
Consumption Analysis of Paints and Coatings in CIS from 2017 to 2021 Vs Market Outlook for 2022 to 2032
Revenue from the sales of paints and coatings in the CIS region was US$ 8.06 Bn as of 2021. Substantial growth in end-use industries such as automotive and construction elevated the consumption of paints and coatings over the historical assessment period of 2022-2032.
Remarkable boom in the construction sector in CIS countries such as Russia, Belarus, Kazakhstan, and others has been observed over several years. Growth of the construction sector is directly related to demand for paints and coatings.
As such, CIS demand for paints and coatings is expected to rise at 4.1% CAGR over the assessment period of 2022-2032.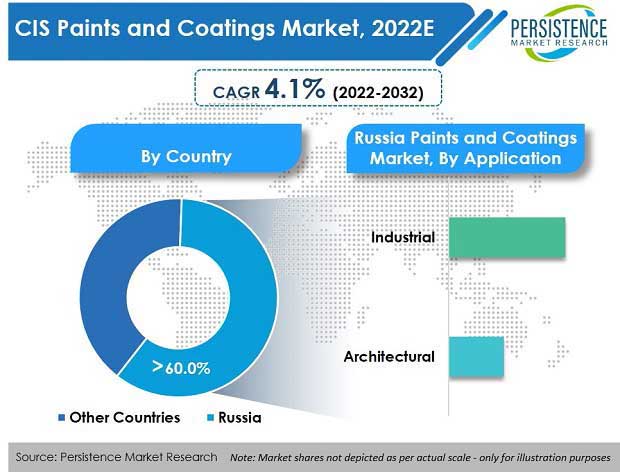 How Has the Russian Invasion of Ukraine Impacted the CIS Paints and Coatings Market?
"Supply Chain Disruptions, Plummeting Demand; Expected Future Demand Growth"
Owing to the ongoing Russian invasion of Ukraine, supply chain networks in Ukraine have been completely destroyed, which has resulted in high vulnerability of supply across Ukraine as well as countries depending on it for paint and coating supplies.
Demand for paints and coatings across the CIS region has been heavily impacted by the Russian invasion. Regional demand is anticipated to witness a downfall of around 2 to 3 percent by the end of 2022.
Moreover, as a result of the war, military expenditure defense spending is expected to increase in Ukraine, which is expected to hamper the facilities provided to manufacturers based in the country by governing bodies.
Further, per capita GDP and income of the population based in the country has also been impacted by the invasion, which is also expected to affect the number of consumers based in country
However, due to massive destruction of commercial, residential, and governmental buildings in Ukraine owing to Russian military operations, demand for paints and coatings is expected to rise at substantial rate over the forecast period. With the recovery of the construction sector in the country, consumption of paints and coatings is expected to gain traction. According to the most likely scenario, paint and coating demand is expected to gain normal traction by the second quarter of 2023.
What Lies Ahead for Paint and Coating Manufacturers across the CIS Region?
"Good Opportunities from Remodel/Repaint Segment"
The remodel/ repaint business has seen continuous demand for decorative paints over the years. In the residential building segment, sales of decorative paints for remodeling/ repainting are more as compared to new construction.
Similarly, in commercial buildings, sales are higher for remodeling/ repainting and significantly for new construction. Through specialized marketing, making direct contacts along with the use of digital technologies, paint and coating manufacturers can target the remodel/ repaint business segment to capitalize on existing opportunities in this business vertical.
"Rising Demand for Eco-friendly Water-based Paints"
In order to decrease the hazardous impact of solvent-based paints on the environment, various organizations across CIS are pushing manufacturers and consumers to go for water-based paints that emit lower VOC compared to their solvent counterparts.
The World Painting and Coating Industry Association (WPCIA), which includes Brazil, the U.S, Mexico, U.K, European Union, China, Canada, France, India, Japan, Germany, etc., closely monitors the hazardous waste released from decorative paint industries and also supports the use of green and environment-friendly products.
Governments across CIS also promote the use of eco-products by providing subsidies and discounts on their development and use. The share of water-based paints in the CIS decorative paints market has already risen to more than 50% in 2021, and is further expected to increase at a high CAGR over the forecast period.
What is Hindering Demand Growth of Paints and Coatings in CIS to Some Extent?
"Stringent Environmental Regulations to Curb Demand Growth"
Environmental regulations pertaining to the use of non-degradable materials and chemically-treated products that are associated with hazards generation in human proximity are getting more and more stringent. Manufacturers are being pushed to comply with new regulations, whether by changing their raw materials or their compositions, production processes, or by switching to environmental-friendly materials, including biopolymers, which, at times, may affect business margins.
Moreover, the supply of certain raw materials may get limited due to regulations in one or more countries through which the supply chain flows. All of these factors have the potential to cause an imbalance in supply to meet customer demands, thereby restraining CIS paints and coatings market growth to a certain extent.
Country-wise Analysis
What's Compelling Manufactures of Paints and Coatings to Expand in Russia?
Russia is expected to remain a prominent country in the CIS paints and coatings market. In 2022, Russia is expected to contribute more than 60% of the total revenue generated from the sales of paints and coatings across the CIS region.
Russia depends on imports to fulfil its demand for paints and coatings. Lack of production and supply of paint and coating products makes the country's market vulnerable to foreign exchange currency rates. However, there are growing investments by the Russian government to increase the domestic production of paints and coatings in order to reduce dependency on imports.
Key manufacturers are relishing these government investments to expand production in Russia in order to gain maximum opportunity in the CIS region.
What is the Paints and Coatings Market Outlook in Ukraine?
Ukraine has faced tremendous loss in infrastructure, scaling up to billions of dollars, due to the current invasion. The Russian invasion has destroyed and damaged many Ukrainian facilities, ranging from commercial buildings to dams.
In the foreseeable future, the construction sector can experience a bright future opening the way for construction chemicals such as paints and coatings. During the recovery phase, many regional manufacturers stand a chance to grow and establish their position in Ukraine.
Recently, many CIS countries have been pushing for paint and coating production by providing multiple provisions. Such activities strengthening export can positively impact the CIS paints and coatings industry.
However, disruptions in supply chain networks in Ukraine owing to the Russian invasion is anticipated to emerge as a key factor hampering the supply of paints and coatings in the country.
Category-wise Insights
Which is the Highest Selling Type of Industrial Paints and Coatings by Technology?
Pure acrylic and alkyd industrial paints and coatings are estimated to remain key segments in the market. Rapid growth in the industrial sector has been observed in the region.
Acrylic- and alkyl-based paints and coatings find a variety of applications in industries that are expected to grow at a rapid pace over the assessment period of 2022-2032.
Did COVID-19 Dent the Sales Prospects of Paints and Coatings?
Demand for paints and coatings across CIS declined in 2020 due to COVID, but is expected to recoup fast following the pandemic due to rising demand from end-use industries. The pandemic had a detrimental impact on all countries throughout the world, resulting in a negative impact on the global economy. Most were forced to impose shutdowns, impacting their industrial and commercial activities.
Competitive Landscape
Key paint and coating suppliers in CIS are expanding their production capacities, investments in R&D, and entering emerging markets in order to increase their share of the CIS market. Regional players are focusing on establishing long-term relationships with end users in order to maintain consistent revenue flow.
Some of the key developments are:
In March 2021, Akzo Nobel invested in a company from Qlayers that deals in coating application technologies. The company offers automated solutions that are safer and more consistent, and faster than the manual coating process.
In March 2021, Akzo Nobel acquired 100% share in Titan Paints. Through this acquisition, it will strengthen its presence to become a major market player in the region.
Similarly, other key developments related to companies manufacturing paints and coatings have been tracked by the team at Persistence Market Research, which are available in the full report.
CIS Paints and Coatings Industry Report Scope
Attribute

Details

Forecast Period

2022-2032

Historical Data Available for

2017-2021

Market Analysis

US$ Mn for Value
Tons for Volume

Key Countries Covered

Russia
Kazakhstan
Ukraine
Belarus
Azerbaijan
Turkmenistan
The Rest of CIS

Key Market Segments Covered

Technology
Base Type
Application
Country

Key Companies Profiled

Henkel Group
Akzo Nobel NV
Kansai Paint Co., Ltd
Jotun Group
Hempel A/S
DAW SE
Fosroc
Russian Coatings
Belzona International Ltd
Steuler-KCH GmbH

Pricing

Available upon Request
Key Segments Covered in CIS Paints and Coatings Industry Research
CIS Paints and Coatings Market by Technology:
Architectural

Pure Acrylic
Styrene Acrylic
Vinyl Acrylic
Polyester
Alkyd
Epoxy
Polyurethane
Others

Industrial

Pure Acrylic
Styrene Acrylic
Vinyl Acrylic
Polyester
Alkyd
Epoxy
Polyurethane
Others
CIS Paints and Coatings Market by Base Type:
Architectural

Water-Borne
Solvent-Borne
Powder Coating

Industrial

Water-Borne
Solvent
Powder Coating
CIS Paints and Coatings Market by Application:
Architectural
Industrial

Wood
Automotive (Refinish/OEM/Others)
Metal
General Industrial
Traffic Paints/Road Markings
Paper
Protective Coatings
Others
CIS Paints and Coatings Market by Country:
Russia Paints and Coatings Market
Kazakhstan Paints and Coatings Market
Ukraine Paints and Coatings Market
Belarus Paints and Coatings Market
Azerbaijan Paints and Coatings Market
Turkmenistan Paints and Coatings Market
Rest of CIS Paints and Coatings Market