Introduction
Cellulose gel helps health-conscious consumers with reduced fat and oil content, without compromising on the texture of food. Reduced calorie content of cellulose gel aids in creating healthy bakery and confectionery products for consumers demanding low-calorie and tasty food products. Cellulose gel is capable of emulsifying foods such as sauces, and also prevents the separation of water from the rest of the ingredients. Cellulose is also known to thicken food products. Demand for frozen food, dairy, and bakery products are stable, as these products are widely consumed, which is expected to aid the expansion of the global cellulose gel market size over the coming years.
Cellulose gel also has gelling and stabilizing properties, making it a functional and healthy substitute for synthetic additives. These benefits offered by cellulose gel over other additives in the food and beverage industry RE expected to drive increased demand. As such, the global cellulose gel market is set to experience a decent 1.9X volume growth over the forecast period of 2020 to 2030.
Cellulose Gel Market Trends
Shifting Consumer Preference for High Fiber Food Stimulating Demand for Food Grade Cellulose: Dietary fiber contains high disease protective properties, which are capable of fighting against heart diseases, diabetes, and some types of cancer. In addition, high fiber food comprises low calories, and can be favorable for consumers following healthy diets. Gut health, being one of the serious problems faced by many consumers, is leading to increased demand for high fiber food. Addition of cellulose gel in food products helps in increasing the fiber content, along with improved flavors, moist texture, and luscious mouthfeel to different food products. As such, food grade cellulose is set to experience a value CAGR of 6.5% in the global cellulose gel market during the forecasted period.
Increased Use of Cellulose Gel in Pharmaceutical Industry to Bolster Growth: Cellulose gel is insolvent in dilute acids, water, and most organic solvents, and hence, has a wide range of applications in the pharmaceutical industry for the tableting of dry powder. Due to the cellulose gel chemical formula, it is also used as a thickening agent; stabilizing, thickener, and viscosity builder; and compressibility enhancer for wet and dry granulation of tablets. It is also a great disintegrate and lubricant, and thus, useful in excipient formulations. In most excipient formulas, it is utilized in oral dosages requiring pellets, tablets, capsules, sachets, and others. Steady growth of the pharmaceutical industry is expected to propel the growth of the cellulose gel market, with an expected volume CAGR of over 7% through 2030.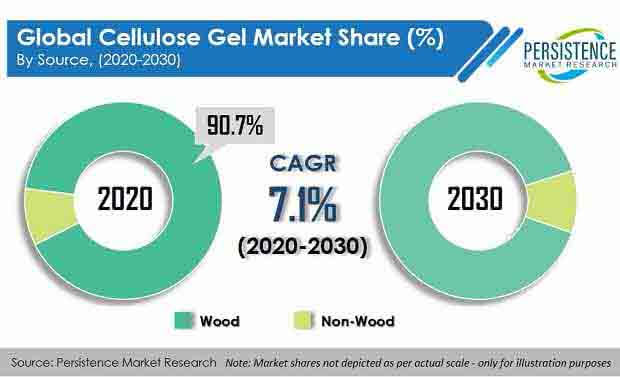 Regional Outlook of Global Cellulose Gel Market
The global cellulose gel market space is dominated by established markets of North America and Europe. These regions together account for more than 50% of the total cellulose gel market share as far as value is concerned. North America dominates the global cellulose gel market with the highest value share of 28. This is attributable to high demand for cellulose gel from the food & beverage and pharmaceutical industry.
With rising urbanization, disposable income, and population of in emerging economies such as India and China in Asia Pacific, market dynamics and consumer buying behavior have witnessed tremendous changes. Consumers are ready to spend hefty amounts on packaged good, bakery, and confectionery products. With the Westernization trend, consumers in Asian countries have shown increased inclination toward ready-to-eat foods. With cellulose gel having less side effects and being an essential ingredient in these food products, demand is expected to surge, with the cellulose gel market in South Asia expected to witness a significant value CAGR of 9% over the forecast period.
COVID-19 Impact on Cellulose Gel Market
COVID-19 has impacted numerous industries, and global economy is facing the aftermath of the pandemic. Trade barriers are likely to influence the supply of cellulose gel to different industries. However, government support for encouraging the production of essential food products, including bakery, confectionery, dairy, meat, and others, where cellulose gel is an essential ingredient, is expected to overall result in a low to moderate impact on the growth of the cellulose gel market in the near term.
Analysts' Viewpoint
Manufacturers operating in the cellulose gel market are complying with different international standards for assuring quality and safety to consumers. Quality certifications and standard operating activities are expected to give manufacturers an edge over others in the cut-throat competitive market of cellulose gel. Manufacturers' efforts in serving the food & beverage industry with gluten-free, non-GMO, and allergen-free cellulose gel is expected to further contribute toward high market growth, with an expected volume of 302KT in the year 2030.
- Companies Covered in This Report -
DuPont de Nemours, Inc..
Asahi Kasei Corporation
DFE Pharma GmbH & Co. KG, limited
Roquette Frères S. A.
Mingtai Chemical Co., Ltd.
J. Rettenmaier & Söhne GmbH + Co KG
Foodchem International Corporation
Sigachi Industries Limited
Libraw Pharma
Chemfield Cellulose
Accent Microcell Pvt. Ltd.
Godavari Biorefineries Ltd
Alfa Aesar
Spectrum Chemical Mfg. Corp.
BeanTown Chemical