Breast Implant Market
Global Market Study on Breast Implants: 'Silicone' and 'Lightweight' Represent the Evergreen Trends
Breast Implant Market Segmentated By  Silicone Breast Implants and Saline Breast Implants Product with Round Breast Implants Shape and Anatomical Breast Implants Shape by Reconstructive Surgery
Introduction
Breast augmentation is a surgical procedure used to augment the breast size and improve certain conditions such as sagging or drooping of breasts making them more proportional with the rest of the body. The American Society for Aesthetic Plastic Surgery (ASPS) reports that breast augmentation was the most common surgical procedure performed with 313,000 surgeries in 2018.
Silicone breast implants are a highly preferred choice among women seeking breast augmentation procedure, as they appear more firm and appealing in comparison to saline breast implants. These implants come in different sizes and shapes ranging from low profile to high profile breast implants. Round breast implants are more popular and remain the overwhelming choice of women undergoing breast augmentation procedure.
Anatomical shaped implants tend to give greater projection with same amount of volume than round implants. Breast augmentation procedures are gaining popularity in emerging economies. The primary reasons for the same are rising economic affluence, increasing awareness among people about latest products and procedures, and low costs of setting up businesses.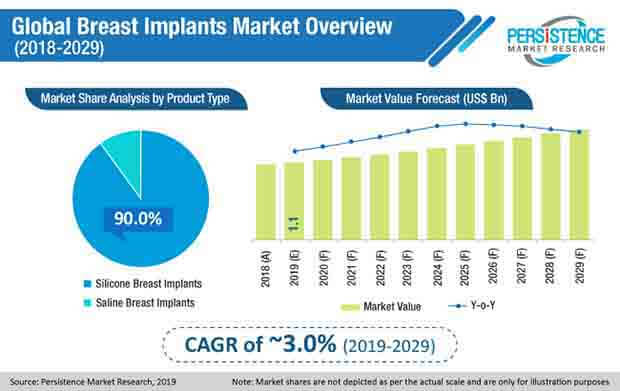 Find Out More about the Report Coverage
Companies
Company Profiles
Allergan, Plc (Actavis Plc)
Mentor Worldwide LLC. (Johnson & Johnson Services, Inc.)
GC Aesthetics plc
Sientra, Inc.,
Groupe Sebbin SAS
Polytech Health & Aesthetics GmbH
Establishment Labs S.A.
HansBiomed Co., Ltd
CEREPLAS
Increasing Prevalence of Breast Cancer to Fuel the Growth of the Breast Implants Market
Breast cancer treatment is a leading cause of mortality worldwide, particularly in low- and mid-income countries, mainly attributed to shifts in lifestyle and unavailability of adequate healthcare infrastructure as well as less penetration of clinical advancements to combat the diseases.
Rising prevalence of breast cancer is a major factor contributing to the revenue growth of the breast implants market across the globe. As per data released by the World Health Organization (WHO), in 2018, 2.1 million women were diagnosed with breast cancer, leading to approximately 627,000 deaths during the same year.
Rising prevalence of breast cancer has led to an increase in the number of women undergoing breast mastectomy i.e. surgical removal of one or both the breasts, resulting in more women undergoing breast augmentation procedures.
For instance, in 2018, American Society of Plastic Surgeons reported 101,657 breast reconstruction procedures. Prevalence of breast cancer is rising at an alarming rate, which is expected to fuel revenue growth of the global breast implants market over the forecast period.
Customize this Report
Explore Intelligence Tailored to Your Business Goals.
Preference for Silicone Implants over Saline Implants
Silicone breast implants with high strength silicone gel textured with silicone shell are gaining popularity among women seeking breast implants. Such implants are thicker and comprise more cohesive silicone gel, eliminating the possibility of filler leakage into the body.
Numerous studies have demonstrated the efficacy of cohesive gel implants in terms of producing a lower rate of capsular contracture and greater overall medical safety than previous generations of implants. Silicone breast implants are the most preferred breast implants worldwide. Rapid adoption of such value added silicone breast implants is expected to fuel the revenue growth of the global breast implants market over the forecast period.
For years, women in the U.S. had only one option i.e. implants filled with saline. Silicone implants were banned by U.S. FDA due to safety concerns. However, after FDA lifted the ban for silicone implants it resulted in its widespread utilization and popularity. Same year, FDA approved silicone gel implants manufactured by two popular breast implants giants in California, Allergen Inc. and Mentor LLC (a unit of Johnson & Johnson Services Inc.). Ever since, silicone implants are on the market place outpacing the market for saline breast implants.
For instance, in 2018, American Society of Aesthetic Surgery stated that 88% of women seeking breast augmentation used silicone gel implants whereas remaining 12% opted for saline implants.
Market Research Methodology - Perfected through Years of Diligence
A key factor for our unrivaled market research accuracy is our expert- and data-driven research methodologies. We combine an eclectic mix of experience, analytics, machine learning, and data science to develop research methodologies that result in a multi-dimensional, yet realistic analysis of a market.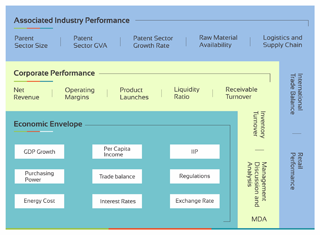 Popularity of Round Breast Implants Creating More Opportunities for the Market
Round breast implants are the traditional implants and have gained popularity across the world with time as they tend to increase volume of the breast and make them fuller. They are available in different sizes with either smooth or textured surface.
Due to their symmetrical shape they do not pose the risk of implant rotation. Smooth round breast implants can be placed either beneath or above the pectoral muscle of the chest with advantages of lower incidence of visible or palpable rippling and potential lower incidence of deflation thus, making it a good option for sub-glandular (above the muscle) placement.
In 2018, ASPS reported that approximately 80% of women in the U.S. opted for round shaped breast implants.
Explore Persistence Market Research's expertise in promulgation of the business !
Small-sized Implants the Upcoming Trend in the Breast Implant Industry
In recent years, the trend of wanting bigger breast implants has shifted to smaller and more modest, natural-looking breast implants. According to an independent survey, breast augmentation specialists noted that more than 40% of the women now opt for smaller breast implants than bigger implants. Many women have the feeling that large breasts interfere with an active lifestyle and thus are preferring smaller implants.
While the U.S. performs more number of breast implant procedures, Brazil is the leading competitor for most of the cosmetic procedures. Breast augmentation is one of the most commonly performed procedure in both countries, but the trend towards smaller implants is popularized by Brazilians.
Smaller breast implants can offer women many advantages such as they appear more natural and therefore may fit into an established lifestyle more easily. Smaller implants are less noticeable than bigger implants and are an ideal choice for those who are seeking a change without unwanted attention.
Lightweight Breast Implants- Future of Breast Augmentation
Breast augmentation has been in the marketplace for decades. While overall patient satisfaction with conventional silicone and saline implants is high, long term side effects such as breast pain, breast tissue atrophy, ptosis (breast sagging), and deflation result in tissue deterioration surrounding the implants will impede the market. Introduction of lightweight breast implants is a significant advancement in the breast implant technology that will help to reduce sagging of breasts and conforms to patient comfort.
Extended Product Line to Boost the Breast Implants Market Growth
Major market players in the global breast implants market are focusing on expanding their breast implants product portfolio in order to meet the desired need of customers to retain higher market share.
Expanding production of premium priced products and availability of expanded product range could help in enhancing future revenues for breast implants manufacturers. Various breast implants manufacturers offer similar product range with only difference in its surface and shape of implants resulting in price competition.
Reimbursement for Breast Reconstruction Procedures Expected to Fuel the Market Growth
Reconstructive breast surgery is usually performed in order to maintain structures of the body affected functionally. Breast reconstruction after mastectomy is generally covered under Medicare resulting in a rise in the number of breast reconstruction procedures worldwide.
For example, Women's Health and Cancer Rights Act (WHCRA) of 1998, include requirements for health insurance companies to cover breast reconstruction surgery following a mastectomy. The act also provides reasonable corrections to improve symmetry between differently sized or shaped breasts.
Factors Hampering the Growth of the Breast Implants Market
Breast implants are not lifetime devices and undergoing breast implant surgery may involve the risk of complications ultimately leading to breast implants removal at some point. Commonly observed complications include tightening of the area around the implant (capsular contracture), additional surgeries, and implant removal.
For instance, American Society of Plastic Surgeons reported 19,149 breast implants (reconstructive breast implants) removal procedures in 2018. Thus the increasing risk of developing serious complications are expected to limit the growth of the breast implants market.
Breast augmentation procedures are costly and is usually unaffordable to women of middle and lower income group. This deters women from undergoing breast implant procedures to a certain extent. In this regard, data from the American Society for Aesthetic Plastic Surgery (2018 statistics) revealed average procedure cost of breast augmentation was US$ 3,736, inclusive of physician charges. Affordability varies across the section of the society as per levels of personal disposable income. Thus the higher cost per procedure of breast implants is one of the major restraining factors hampering the growth of the breast implants market.
Analysts' Viewpoint
A comprehensive view of the breast implants market has led our analysts to conclude that, the market is growing at an impressive rate, with North America and Latin America holding a large chunk of the global demand for breast implants market and its applications.
Growing focus on physical appearance has led to growing number of breast augmentation procedures in developed countries such as the U.S., Brazil, and Mexico. The breast implants market is expected to have a robust growth over the forecast period in countries like India, South Korea, and Thailand due to increasing number of women seeking breast implants procedures.
Also the upcoming new and advanced breast implants products are anticipated to create more opportunities for market players. The growing demand for silicone breast implants due to their higher efficacy and increased medical safety are further expected to drive the growth of the breast implants market.
However, factors such as high cost of the procedures and increasing risk of complications associated with breast implants surgery are expected to deter the growth of the breast implants market in the future.
Key Segments of the Breast Implants Market
PMR's study on the breast implants market offers information divided into five important segments-product type, shape, application, end user, and region. This report offers comprehensive data and information about the important market dynamics and growth parameters associated with these categories.
Product Type

Silicone Breast Implants
Saline Breast Implants

Shape

Round Breast Implants
Anatomical Breast Implants

Application

Cosmetic Surger
Reconstructive Surgery

End User

Hospitals
Cosmetology Clinics

Region

North America
Latin America
Europe
Asia Pacific
Middle East & Africa
Key Questions Answered in PMR's Breast Implants Market Report
Which regions will continue to remain the most profitable regional markets for breast implants market players?
Which factors will induce a change in the demand for breast implants during the assessment period?
How will changing trends impact the breast implants market?
How can market players capture the low-hanging opportunities in the breast implants in developed regions?
Which companies are leading the breast implants market?
What are the winning strategies of stakeholders in the breast implants market to upscale their position in this landscape?
Our Clients