Bio Vanillin Market
Global Market Study on Bio Vanillin: Growing Awareness Regarding Health Benefits of Bio-based Products Supporting Market Growth
Bio Vanillin Market Segmented By Food, Beverages, Pharmaceuticals, Fragrances Application Used in Ice Cream, Baked Goods, Chocolates Food Type
Introduction
Increasing consumer preference for natural products in developed countries across the globe, such as the U.S. and the U.K., attributable to significantly high consumer awareness regarding the potential adverse effects of artificially-produced food additives, is a key factor that contributes to the growth of the global bio vanillin market.
Moreover, consumers around the world are becoming more aware of the various nutritional values of fruits and vegetables, as well as the benefits of including more vegetables and fruits in one's diet - increased antioxidant levels and reduced risk of metabolic diseases such as obesity and diabetes.
The availability of biotech processes such as plant tissue culture, microbial fermentation, and bio-conversion that enable the conversion of fruit and vegetable ingredients into flavors without affecting the nutritional value, and can be considered relatively more natural and healthy as compared to chemically-synthesized equivalents, is another factor that is boosting the growth of the global bio vanillin market.
Find Out More about the Report Coverage
Companies
Evolva Holding SA
Solvay SA
Borregaard
Camlin Fine Sciences Ltd.
Ennloys
Prinova Group LLC
Conagen, Inc.
Apple Flavor & Fragrance Group Co., Ltd.
Moellhausen S.P.A.
De Monchy Aromatics
Omega Ingredients Ltd.
Comax Flavors
Alfrebro, LLC
Axxence Aromatic GmbH
Increasing Focus on Formulation of Customized Flavors Promoting Use of Bio Vanillin
The main aim of major market players in the food industry is to design customized flavors with an aim to increase the sales of their products. Natural Flavor manufacturers across the world have identified beneficial opportunities in the formulation of customized flavors to provide a more vibrant flavored experience to their consumers.
Bio vanillin has the potential to be one of the major ingredients in customized flavor blends, as it offers a pure vanilla taste as well as a better mouth feel when used in food products. The emphasis of players in the food industry on unique natural flavors is anticipated to propel the growth of the global bio vanillin market over the coming years.
Solvay, a bio vanillin manufacturer, has developed a suite of vanilla-based products under the Vanifolia brand, which is a combination of Rhovanil, a natural vanillin, and other natural flavors.
Customize this Report
Explore Intelligence Tailored to Your Business Goals.
Fermentation-derived Bio Vanillin to Replace Synthetic Vanillin
Consumer shift toward healthier lifestyles has led manufacturers to adopt various methods for producing sustainable ingredients. Fermentation-derived bio vanillin is a suitable replacement for synthetic vanillin, and manufacturers are increasingly adopting the former.
Manufacturers in the bio vanillin market are utilizing rice bran as a feedstock, which is converted into ferulic acid, and further fermented by yeast to produce bio vanillin.
Furthermore, fermentation-derived bio vanillin is identical to natural or bio vanillin as per FDA and European regulations, and does not have negative health consequences. This factor is anticipated to bolster the growth of the bio vanillin market in the coming years.
In December 2019, Solvay SA, a leading bio vanillin manufacturer, doubled the production capacity of its natural vanillin product – Rhovanil - to reach 120 metric tons per year.
Market Research Methodology - Perfected through Years of Diligence
A key factor for our unrivaled market research accuracy is our expert- and data-driven research methodologies. We combine an eclectic mix of experience, analytics, machine learning, and data science to develop research methodologies that result in a multi-dimensional, yet realistic analysis of a market.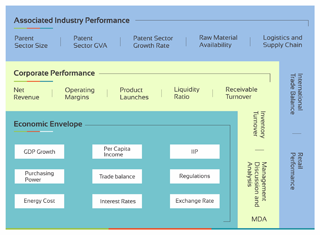 Manufacturers to Target Cosmetics and Personal Care Industry
Vanillin is also a major ingredient for the cosmetics and personal care industry, attributable to its excellent aromatic properties. The wide use of vanillin in perfumery is well known, as it offers a pleasant fragrance to the end product. Furthermore, vanillin is also used in the cosmetics and personal care industry to give an aroma with warm and floral notes to various end products.
The cosmetics and personal care industry is witnessing a change, as consumers demand natural cosmetics products and are avoiding the use of products that contain chemicals or synthetic ingredients.
Key players in the bio vanillin market can focus on the cosmetics and personal care industry and market their bio vanillin products accordingly, which will enable them to improve their market position as well as sales.
Explore Persistence Market Research's expertise in promulgation of the business !
Clean and Clear Labeling Practices Gaining Traction
Growth of the global bio vanillin market is anticipated to be supported by the imposition of stringent labeling regulations across the globe. Increasing consumer awareness regarding the health hazards of artificial substances makes consumers critical of artificial ingredients.
Moreover, rising concerns related to allergies caused due to added substances make it essential for manufacturers to follow labeling regulations, and include recognizable ingredients on labels that consumers can understand, in order to maintain transparency in labeling.
These practices help leading manufacturers add more value to their products, differentiate themselves from other brands, and attract more health-conscious consumers across the globe. Such manufacturers are anticipated to increasingly opt for the use of bio vanillin over synthetic alternatives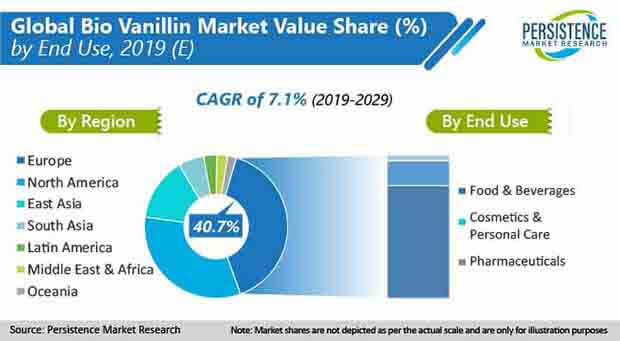 Regional Landscape of Global Bio Vanillin Market
The food and beverage industry in the Asia Pacific region is witnessing high growth, attributable to increasing per-capita expenditure on food products and the higher growth rate of the foodservice industry as compared to that of other regions. This factor contributes to the increased demand for flavored food products from Asia Pacific.
Rising consumption of flavored food and beverage products has led to an increase in the market size of the flavor industry in the region. Moreover, Westernization and premiumization are gaining traction in countries in Asia, offering lucrative market opportunities for manufacturers of bio vanillin, as vanilla is a widely used flavor in Western food products.
This contributes to the growth of the bio vanillin market in Asia Pacific, as consumers in this region are gradually avoiding the use of food products containing synthetic ingredients.
Analysts' Viewpoint
The global bio vanillin market has been witnessing significant growth over the past few years. The markets in East Asia and South Asia are anticipated to register the highest growth over the forecast period, while Europe and North America will remain top consumers in the global bio vanillin market.
Increasing production and presence in the emerging markets of East and South Asia will help players in the global bio vanillin market gain higher profits in the foreseeable future.
Global Bio Vanillin Market: Segmentation
PMR's study on the global bio vanillin market offers information categorized into three segments - source, end use, and region.
Source

End Use

Food & Beverages

Bakery & Confectionery
Dairy
Beverages

Cosmetics & Personal Care
Pharmaceuticals

Region

North America
Latin America
Europe
South Asia
East Asia
Oceania
Middle East & Africa
Key Questions Answered in Report
How much is the bio vanillin market worth?

The global bio vanillin market is expected to be worth US$ 680 Mn by the year 2031.

What will be the demand outlook?

The global bio vanillin market is expected to grow twice between 2021 and 2031.

What was the last 5 year market CAGR?

The bio vanillin market recorded a CAGR of 6.5% between 2015 and 2020.

What are the key trends of bio vanillin market?

The current trend is that of consumers undergoing a paradigm shift towards healthy lifestyles, which is compelling the manufacturers to produce various sustainable ingredients. As such, fermentation-derived bio vanillin is being looked upon as a suitable replacement to synthetic vanillin. Also, rice bran is being used as feedstock. It gets converted into ferulic acid and also fermented through yeast for producing bio vanillin.

What is driving the demand for bio vanillin?

With consumers turning towards natural cosmetics products, the personal care and cosmetics industry is witnessing an increase in demand for bio vanillin.

What is the market share of top 5 players?

The top 5 players in bio vanillin market include Evolva Holding SA, Solvay SA, Borregaard, Camlin Fine Sciences Ltd., and Ennloys. They account for more than 50% of the market share.

What are the top 5 countries driving demand?

The top 5 countries driving demand include the US, UK, China, India, and Brazil.

What is North America's market Outlook?

North America will continue holding the principal share in terms of revenue.

At what percentage bio vanillin market is going to register growth in Europe?

Europe is expected to register growth at the rate of 6% in the bio vanillin market between 2021 and 2031.

What is the key market statistics in Korea and Japan?

South Korea and Japan are expected to drive the major share of revenue in the market for Asia-Pacific.
Our Clients