Market Overview
The global automotive balance shaft market is likely to experience deceleration in the near-term amid the COVID-19 pandemic. With global automotive sales set to decline by nearly a quarter, the market for associated components and assemblies is bound to nosedive in the short-run.
However, demand is expected to rejuvenate post-2021, as automotive sales rebound. Balance shafts are instrumental in achieving vehicular weight optimization, eventually translating into greater fuel efficiency. This factor is expected to play an instrumental role in pivoting the expansion of the global automotive balance shaft market size over the coming years.
Automotive Balance Shaft Market Trends
Growing Need for Fuel Efficiency: As environmental concerns take precedence, automotive manufacturers are concentrating on achieving fuel efficiency by incorporating efficient combustion technologies. Government regulations to curb greenhouse gas emissions and reduce carbon footprint are providing impetus in this regard. Furthermore, the Global Fuel Economy Initiative (GFEI) is bolstering efforts to achieve fuel economy, by virtue of its '100 for 50 by 50' approach. Launched ahead of the COP-21, this forum intends to achieve at least 50% global fuel economy by 2050, achieving over 2 gigatonnes of carbon emission reduction.
Moreover, the U.S Environmental Protection Agency (EPA), in conjunction with the National Highway Traffic Safety Administration (NHTSA), has established fuel economy standards for light-duty vehicles in two stages (2012-2016 & 2017-25). Such provisions are expected to increase uptake of advanced balance shaft solutions across the automotive sector, thereby pushing the growth of the automotive balance shaft market.
Inline-4 Cylinder Engines Generate Massive Demand: Inline 4-cylinders are the most commonly mounted engines across all automobiles. Design simplicity is a major reason behind their enhanced uptake. Additionally, they are small and compact, thus rendering them easy to fit in any engine bay. They also require lower manufacturing costs.
Automotive giant Hyundai, for instance, equips its Tucson GLS and Limited models with the Theta II 2.4-liter inline-4 cylinder engine, offering 176 HP and 168 lb.-ft. of torque. The model is also certified as a Partial Zero Emission Vehicle (PZEV), making it as popular as hybrids.
On a similar plane, Chevrolet unveiled its Silverado 1500 fleet in 2019, equipped with a turbocharged 2.7 liter 4-cylinder engine, having a long stroke so as to deliver low-end torque.
Such extensive adoption of 4-cylinder engines is opening new growth avenues for the automotive balance shaft market.
Growing EV Popularity May Impede Growth: As the electric revolution deepens its roots, popularity of conventional fossil fuel-driven cars is set to decline eventually. Consequently, a dip is anticipated in the automotive balance shaft market growth prospects as well. It is predicted that, EVs shall represent more than 3 out of 10 automobiles by 2040, with over three-fifth comprising municipal buses, nearly a quarter LCVs, and approximately half of two-wheelers. Several manufacturers are foraying into the EV market with the objective of achieving environmental sustainability.
The International Energy Agency advocates that, 2.1 million electric cars were sold globally in 2019, up from 7.2 million in 2018. Besides reducing fuel emissions, growth in sales is attributed to the fact that, EVs offer greater torque and no warming up of engines on start-up.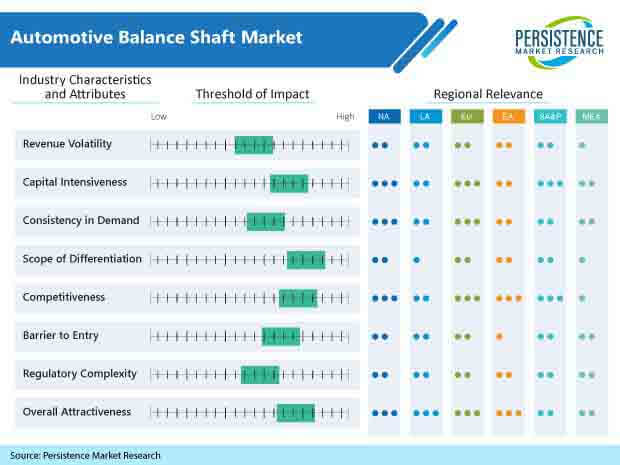 Regional Outlook of Automotive Balance Shaft Market
Asia Pacific promises to be the most lucrative region as far as automotive balance shaft market share is concerned, owing to a proliferating automotive industry. India and China represent the maximum opportunity, with numerous regional and global automotive manufacturers establishing their factories due to immense growth possibilities.
In 2019, India was the 4th-largest automotive market, with domestic production surpassing 26 million units for FY 2016-2020, while over 21 million vehicles were sold in the beginning of 2020. Likewise, China experienced an upsurge of over 12% in October 2020.
In spite of the coronavirus pandemic-induced recession, the Asian automotive industry is likely to thrive, thus keeping demand for the automotive balance shaft market sustained throughout its duration.
COVID-19 Impact on Automotive Balance Shaft Market
As the world braces for the 2nd stage of the COVID-19 pandemic, fears of another global financial glut is prompting the automotive industry to take proactive steps to ensure a minimal downturn in operations, including strengthening supply chains and securing factory premises. While production of new cars may have hit a wall, sales of automotive spare parts are expected to rise, with over 9 out of 10 consumers relying on private transportation modes over public ones. This trend is expected to prevail in the post-pandemic world.
Efforts to safeguard the automotive industry were underway since the initial months of the pandemic. For instance, in April 2020, the Chinese government issued the Notice on Measures to Stabilize and Expand Automobile Consumption, which provided for extending subsidies to automotive manufacturers until 2022.
While such measures may sustain demand for balance shafts, overall demand is likely to decline in the post-COVID world, as consumers increasingly shift towards hybrid and electric vehicles as an attempt to reduce vehicular emissions and achieve sustainability.
Automotive Balance Shaft Market: Prominent Players
Prominent automotive balance shaft market players profiled in PMR's report include SHW AG, Otics Corporation, Metaldyne LLC, Musashi Seimitsu Industry Co. Ltd., TFO Corporation, Sansera Engineering, Engine Power Components Inc., Ningbo Jingda Hardware Manufacture Co. Ltd., and others.
Vendors are conscious about carbon emission reduction objectives adopted by various countries, thus spurring them to develop innovative product lines. Besides, manufacturers in the automotive balance shaft market are also relying on acquisitions and collaborations to reach a wider target audience.
Analysts' Viewpoint
The global automotive balance shaft market is anticipated to embark on a largely positive growth trajectory, especially in the private vehicles segment. Reduced usage of public transport amid fears of contracting COVID-19 has increased reliance on private vehicles for travel, pushing up the need for constant engine maintenance, which bodes well for the growth of the automotive balance shaft market.
Key Segments of Global Automotive Balance Shaft Market
PMR's report on the global automotive balance shaft market offers information divided into four segments – manufacturing process, engine type, end user, and region.
Attribute
Details

Manufacturing Process

Forged Balance Shafts
Cast Balance Shafts

Engine Type

Inline-3 Cylinder Engines
Inline-4 Cylinder Engines
Inline-5 Cylinder Engines

End User

Commercial
Industrial
Defence
Others

Government
Retail
Entertainment
Transportation

Region

North America
Latin America
Europe
South Asia
East Asia
Oceania
Middle East Africa