Animal Stem Cell Therapy Market Outlook (2022-2032)
The global animal stem cell therapy market was valued at US$ 249.9 Mn at the end of 2021, with a projected CAGR of 5.2% for the next ten years, which indicates positive market growth.
Detailed industry analysis reveals that worldwide revenue from animal stem cell therapy is expected to surge to a market valuation of around US$ 437.3 Mn by the end of 2032.
According to Persistence Market Research, mesenchymal stem cell therapy accounted for a market valuation of around US$ 177.7 Mn at the end of 2021, which is around three-fourths of the overall market share. Hemopoietic stem cells accounted for 28.9% share in the global market, as of 2021-end.
| Attribute | Key Insights |
| --- | --- |
| Animal Stem Cell Therapy Market Size (2021) | US$ 249.9 Mn |
| Projected Market Value (2032) | US$ 437.3 Mn |
| Global Market Growth Rate (2022-2032) | 5.2% CAGR |
| Share of Top 5 Companies | 55.6% |
Animal Stem Cell Therapy Demand Analysis (2012 to 2021) Vs. Market Outlook (2022 to 2032)
The global market for animal stem cell therapy expanded at a CAGR rate of 4.7% over the historically analyzed years (2012-2021).
Expansion of the animal stem cell therapy market is directly linked to the rising prevalence of diseases in the growing population of animals. The approval of stem cell-based products is governed by several standard organizations, including the Food and Drug Administration (FDA), the Australian Pesticides and Veterinary Medicines Authority, the European Medicines Agency's (EMA) Committee for Veterinary Medicinal Products (CVMP), and others because these products have a substantial impact on animal health.
Increased spending on veterinary care also helps the animal stem cell therapy market grow. When pet owners hear how safe and beneficial these treatments are for their animals, they get inquisitive and strive to learn everything they can about animal stem cell therapies.
Because allogeneic stem cell therapy is safer and more effective for animals than autologous stem cell therapy, it is hifavoredoured across regions.
The global animal stem cell therapy market is predicted to expand at a CAGR value of 5.2% and record sales of US$ 437.3 Mn by the end of 2032.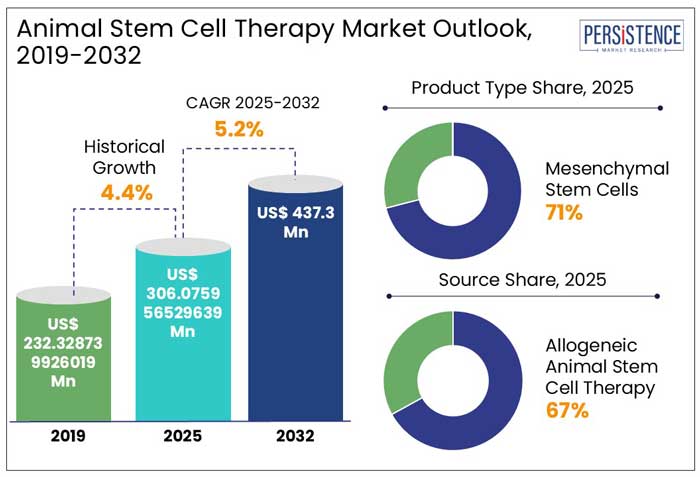 What Opportunities are on Offer for Animal Stem Cell Therapy Product Manufacturers?
"Pet Owners Well-informed and Expect Higher Level of Veterinary Care"
Many attractive prospects for manufacturers of animal stem cell therapy products in developed countries are expected over the forecasted period. Key players have numerous opportunities to expand their businesses in emerging markets as well.
According to the American Pet Products Association, in 2021, it was estimated that families in the U.S. owned 69.0 Mn dogs, 45.3 Mn cats, and 3.5 Mn horses. U.S. pet industry expenditure inflated from US$ 90.5 Bn in 2018 to US$ 123.6 Bn, as per their findings.
Veterinary treatments are fostered by a range of indicators, including the growing trend of pet humanization and an increase in the number of pet adoptions.
As a result, pet owners will drive positive demand for higher levels of veterinary care, which will increase market prospects. Moreover, a variety of research and development activities will provide manufacturers with attractive opportunities to expand their business in this domain.
What Hurdles Does Animal Stem Cell Therapy Face?
"High Costs Associated with Animal Stem Cell Therapy Procedures"
Because the cost of animal stem cell therapy is somewhat high, owners are hesitant to spend a substantial sum of money on their pet's treatment. Also, several standard veterinary hospitals lack the resources to provide stem cell therapy to animals.
Although pet insurance companies cover the cost of stem cell therapy, they do not cover the costs of follow-up operations such as retreatment. There are a large number of pet owners who do not have a pet insurance plan as well, which will have a negative impact on the future growth prospects of the animal stem cell therapy industry.
Country-wise Insights
Why are Animal Stem Cell Therapy Providers Targeting the U.S. Market?
"Greater Penetration of Pet Care Market in the U.S."
North America held a value market share of 28.5% in the global animal stem cell therapy market in 2021, of which, the U.S. accounted for a market share of 86.3%.
Increased pet adoption rates as a result of the widespread practice of adopting a pet in Western countries have enabled the U.S to become such a high-revenue-generating country. This has boosted the demand for high-quality care for animals such as dogs, cats, and horses.
According to the 2021-2022 American Pet Products Association (APPA) National Pet Owners Survey, around 90.5 million homes in the U.S. owned a pet, and this constitutes of 70% of the total households in the U.S.
How is Demand for Animal Stem Cell Therapy Shaping Up in Germany?
"Presence of Key Market Players in Germany"
Germany accounted for 26.5% share of the European animal stem cell therapy market in terms of value at the end of 2021.
This high market share percentage is attributed to the presence of numerous key participants in the market in Germany, such as Boehringer Ingelheim (Global Stem Cell Technology), Aratana Therapeutics, Inc (Elanco), and others, which boosts product availability.
Why is Australia Emerging as a Prominent Market for Animal Stem Cell Therapy?
"Higher Prevalence of Animal Degenerative Joint Diseases"
At the end of 2021, the Australia animal stem cell therapy market was valued at US$ 18.8 Mn and held a market share of 82.1% in Oceania.
The prevalence of osteoarthritis in dogs over the age of one is thought to be as high as 20% in Australia. The most prevalent joint condition identified in veterinary medicine is osteoarthritis, which poses significant obstacles to canine wellbeing.
Animal stem cell therapies for degenerative joint diseases have shown to have a beneficial impact on international market sales growth.
What is the Outlook for India Regarding Animal Stem Cell Therapy?
"Growing Investments in Animal Welfare"
In 2021, India accounted for around 37.9% of the overall value of the South Asian animal stem cell therapy market and is predicted to reach US$ 8.2 Mn in 2022, at a CAGR of 6.4% during the forecast period.
Growing attention toward animal welfare and increased spending on animal healthcare in the country should provide opportunities for industry players in the animal stem cell therapy market for the expansion of service, and comprehensive product portfolio offering.
Category-wise Insights
Which Animal Stem Cell Product is Driving High Market Growth?
"Available Therapies for Chronic Veterinary Arthritis"
Mesenchymal stem cells, among the two product types, accounted for the highest market share of 71.1% by revenue in 2021.
Adult stem cell therapy, in the form of mesenchymal stem (or stromal) cells (MSCs), has recently presented a new paradigm for treating chronic arthritic dogs, ranging from symptom control to bone and cartilage repair, resulting in significant quality-of-life improvements.
MSCs are recognized as a valuable new source of bioactive chemicals with a variety of therapeutic capabilities.
Which Source is Most Preferred for Animal Stem Cell Therapy?
"Allogeneic Stem Cell Therapy Continues to Remain Popular Choice"
The allogeneic source is mostly preferred for stem cell therapy. The allogeneic segment, by source, is driving demand in this market and accounted for around 66.9% of the global market share value at the end of 2021.
Use of invasive stem cell harvesting procedures is negligible in case of the allogeneic stem cell therapy because the stem cells are collected from a healthy donor. Since it is comparatively easy and safe, it holds a high market share.
For Which Indication is Animal Stem Cell Therapy Most Used?
"High Occurrence of Osteoarthritis Driving Demand"
Osteoarthritis accounted for the largest market share of 43.6%, by value, in the year 2021. This is due to the fact that a significant number of felines and canines suffer from osteoarthritis. Many veterinary medical cases have a higher prevalence of common joint ailments, as well as age-related veterinary disorders.
Although market players may aim to provide physical therapy services, the global market is expected to gain traction in terms of growth during the forecasted years as stromal cells used in animal stem cell therapy are able to secrete an array of bioactive factors that direct them to the injury site and aid in pain reduction and inflammation, thereby contributing directly to tissue repair.
The osteoarthritis segment is expected to expand at a CAGR of 4.7% over the forecast period (2022 to 2032).
Competitive Landscape
The market for animal stem cell therapy is moderately fragmented with the presence of well-established players. The market is subject to high competition, and market players actively seek collaborative approaches for new product development to ensure increased product outreach.
Acquisitions and mergers within the industry further promote the market presence of manufacturers, thus propelling the overall industry.
In 2019, Medrego launched a new stem cell therapy product for the well-being of dogs. CaniCell is used for the treatment of osteoarthritis and other degenerative diseases in canines.
In 2019, Elanco Animal Health Incorporated acquired Aratana Therapeutics. This acquisition was completed to develop and commercialize innovative therapeutics for canines and felines.
In 2021, Boehringer Ingelheim partnered with PetMedix, a U.K.-based company involved in the antibody research & development of animal health.
Animal Stem Cell Therapy Industry Report Scope
Attribute
Details

Forecast Period

2022-2032

Historical Data Available for

2012-2021

Market Analysis

US$ Million for Value

Key Countries Covered

U.S.
Canada
Brazil
Mexico
Argentina
U.K.
Germany Italy
France
Spain
Russia
BENELUX
Nordic Countries
India
Malaysia
Thailand
Indonesia
China
Japan
South Korea
Australia
New Zealand
Turkey
GCC Countries
Israel
South Africa
Northern Africa

Key Market Segments Covered

Product Type
Source
Indication
Species
End User
Region

Key Companies Profiled

Aratana Therapeutics, Inc.
VetStem, Inc.
Regeneus Ltd.
Magellan Stem Cells
PrimeGen Biotech, LLC
Vetbiologics (U.S. Stem Cell, Inc.)
Boehringer Ingelheim (Global stem cell technology)
Cell Therapy Sciences
VETherapy Corporation
MediVet Biologics LLC (Ardent Animal Health)
Animal Cell Therapies, Inc.
Medrego
AniCell Biotech

Report Coverage

Market Forecast
Competition Intelligence
DROT Analysis
Market Dynamics and Challenges
Strategic Growth Initiatives

Customization & Pricing

Available upon Request
Key Segments Covered in Animal Stem Cell Therapy Industry Research
Animal Stem Cell Therapy Market by Product Type:
Hemopoietic Stem Cells
Mesenchymal Stem Cells
Animal Stem Cell Therapy Market by Source:
Allogeneic Animal Stem Cell Therapy
Autologous Animal Stem Cell Therapy
Animal Stem Cell Therapy Market by Application:
Osteoarthritis
Soft Tissue Injuries
Traumatic Fractures
Tendonitis
Inflammatory Bowel Disease
Others
Animal Stem Cell Therapy Market by Species:
Animal Stem Cell Therapy Market by End User:
Veterinary Hospitals
Veterinary Clinics
Veterinary Research Institutes
Animal Stem Cell Therapy Market by Region:
North America Animal Stem Cell Therapy Market
Latin America Animal Stem Cell Therapy Market
Europe Animal Stem Cell Therapy Market
South Asia Animal Stem Cell Therapy Market
East Asia Animal Stem Cell Therapy Market
Oceania Animal Stem Cell Therapy Market
Middle East & Africa Animal Stem Cell Therapy Market