U.S. Respiratory Syncytial Virus Vaccines Market Outlook (2022-2032)
The U.S. respiratory syncytial virus vaccines market is predicted to be valued at US$ 320.3 Mn in 2022. In-depth industry analysis reveals that respiratory syncytial virus vaccine sales in the U.S. are expected to surge at 18.2% CAGR and reach a market valuation of US$ 1.7 Bn by the end of 2032.
| Report Attributes | Details |
| --- | --- |
| U.S. Respiratory Syncytial Virus Vaccines Market Size (2021A) | US$ 290.9 Mn |
| Projected Market Value (2032F) | US$ 1.7 Bn |
| Global Market Growth Rate (2022-2032) | 18.2% CAGR |
U.S. sales of respiratory syncytial virus vaccines accounted for nearly 1% share of the global vaccines market in 2021, which valued around 34 Bn.
Sales Analysis of Respiratory Syncytial Virus Vaccines in the U.S. from 2017 to 2021 Vs Market Outlook for 2022 to 2032
Respiratory syncytial virus is a common respiratory virus that generally causes mild, cold-like symptoms. Demand for respiratory syncytial virus vaccines is expected to surge owing to rising disease burden of the causal pathogen - the respiratory syncytial virus.
Infection by the respiratory syncytial virus may lead to severe respiratory diseases such as bronchiolitis and pneumonia, which can further progress into respiratory failure or death in rare cases. Respiratory Syncytial Virus (RSV) is also one of the major causes of hospitalizations and deaths in the elderly adult population in the U.S.
RSV vaccines for adults are gaining recognition for the prevention of pneumonia and exacerbations of chronic pulmonary or cardiac disease. Every year during fall, winter, and spring, RSV infections find prevalence within most regions of the U.S. It thus gives rise to the sales growth of RSV drugs to treat the large U.S. population from seasonal RSV.
According to data published by CDC in 2021, each year in the U.S., respiratory syncytial virus infection causes an average of 58,000 hospitalizations with an estimated range of 100-500 deaths among children younger than 5 years.
Among adults aged 65 years or older, the metrics display an estimate of 177,000 hospitalizations with 14,000 deaths due to RSV-related infections.
High rate of mortality associated with RSV has given rise to a surge in the demand for respiratory syncytial virus prophylaxis, which is set to drive the growth of the United States respiratory syncytial virus vaccines market, owing to rising prevalence of RSV-associated respiratory diseases.
Furthermore, RSV is a major cause of morbidity and mortality in premature infants and infants with bronchopulmonary dysplasia.
As per data published in the Nature publications (June 2020), hospitalization rates for RSV among children aged less than 1 year are around 16X greater than those for influenza. Incidence of RSV hospitalization is around 25.9/1000 infants at 1 month of age and 5.2/1000 among all infants in the age group younger than 2 years, in the U.S.
As such, increasing rate of premature births is contributing toward the rising demand for RSV prophylaxis owing to RSV being more commonly found in infants as compared to adults.
As per detailed analysis of the U.S. respiratory syncytial virus vaccines market by Persistence Market Research, the industry stood at around US$ 290.9 Mn in 2021, mainly on the back of high sales of Palivizumab for serious lower respiratory tract infections caused by the respiratory syncytial virus. Palivizumab is a humanized monoclonal antibody that provides protection from infection caused by respiratory syncytial virus.
Thus, demand for Palivizumab is expected to rise over the coming years owing to rising rate of respiratory tract infections in the U.S.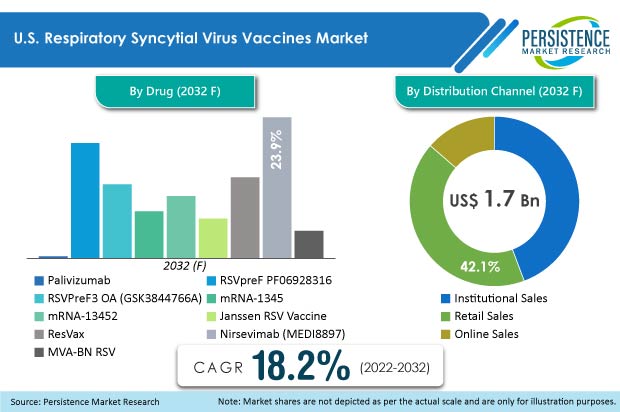 What are the Opportunities for Respiratory Syncytial Virus Vaccine Manufacturers in the U.S.?
"High Focus on Novel Therapeutics & Rising Government Support"
Collaborative efforts by key players aim toward launching an efficient and cost-effective molecule to prevent RSV disease. It is anticipated to positively affect market value during the forecast period. The healthcare sphere has considerably transformed owing to this collaborative approach between non-traditional and existing current players.
The U.S. government has displayed a working collaboration with the industry to support its growth. The federal government of the United States has played a crucial role in the early development of a number of industries, not only through research and development activities, but also through provisions of monetary support for dormant businesses and government accession. This approach is set to provide lucrative growth opportunities for respiratory syncytial virus vaccine suppliers.
Additionally, government agencies are now included within the list of pre-clinical vaccine developers along with existing pharmaceutical players. Funding and support from the government is expected to create lucrative opportunities for market growth.
Furthermore, key manufacturers of respiratory syncytial virus vaccines are focused on reducing the cost of treatment for RSV-associated infections by investing in the development of novel mechanisms to enhance drug efficacy and reduce vaccine cost.
For instance, Nirsevimab, for respiratory syncytial virus, is expected to be launched in 2023, and is projected to be priced at US$ 600 as compared to the high associated value of Palivizumab at US$ 6,000. Thus, demand for Nirsevimab is expected to show a rising trend during the forecast period of 2032.
Similarly, an F glycoprotein neutralizing monoclonal antibody under development called MK-1654 for respiratory syncytial virus, is claimed to prevent RSV infection in infants.
These rising trends in application of novel mechanisms for the treatment of RSV-associated infections is expected to propel the sales growth of respiratory syncytial virus vaccines throughout the forecasted years.
In addition, the chances of contacting RSV-associated infections are high in immunocompromised hosts and can be cured by ribavirin treatment for respiratory syncytial virus.
A collaborative approach toward discovering the therapeutics for RSV infection is a predominant trend experienced in the market space, which is set to enhance the sales of RSVC drugs and provide lucrative opportunities for market players.
"Strong Product Pipeline, Development of Online Platforms, and Increasing Rate of Premature Births"
Development of efficient, effective, as well as safe vaccines is a global health necessity, owing to the increasing disease burden of RSV. Growing number of RSV vaccine candidates in varied formats, such as subunit vaccines, live-attenuated vaccines, particle-based vaccines, and vector-based vaccines, are getting established and are currently present at different phases, many of them being in the clinical stage of development.
Advancements in online platforms, on the other hand, are also creating a lucrative outlook for the high sales of respiratory syncytial virus vaccines via online pharmacies because of ease in product delivery and attractive discount offers for customers.
RSV-associated infections are one of the major causes of morbidity as well as mortality among neonates. Causes of such infections include the presence of chronic lung disease of prematurity, hemodynamically significant congenital heart disease, and preterm birth, which is less than 35 weeks of gestational stage.
Attributed to these factors, demand for RSV vaccines in the U.S. is projected to stand at US$ 1.7 Bn by the end of 2032.
What Can Restrain Demand for Respiratory Syncytial Virus Vaccines Market?
"High Cost Associated With Development of Novel RSV Therapies & Disease Management"
High cost of management of RSV is expected to be a restraint to RSV vaccines market growth. Rising cases of RSV is leading to increase in the number of hospitalizations. Since there is no standard treatment for RSV, cost for hospitalization increases and imposes monetary constraints for patients, including the high cost of Palivizumab, which has a larger availability and higher rate of adoption, owing to its efficacy.
Additionally, the price of technology necessary for developing RSV therapies is high. This factor is expected to further hinder the growth of the RSV market in the U.S. Pharmaceutical companies have encountered major challenges in the development of vaccines for the prevention of RSV, which can be understood from the approval of only a single product, i.e. Palivizumab, in the past decade.
A large amount of vaccine and monoclonal antibody candidates have failed to meet the needed efficacy and suffered severe hindrances in the late stage of development, which has limited the sales of respiratory syncytial virus vaccines.
Category-Wise Analysis
Which Drug of Respiratory Syncytial Virus Vaccines is Bringing in Huge Revenue for Market Players?
"High Demand for Nirsevimab (MEDI8897) to Be Seen"
Nirsevimab (MEDI8897) is expected to lead RSV vaccine sales during the forecast period in the U.S. Nirsevimab (MEDI8897) is an immunization designed for direct prophylactic RSV protection delivery through an antibody for all infants for the prevention of lower respiratory tract infections (LRTI)-associated RSV.
This is expected to promote the market stance of Nirsevimab (MEDI8897) in terms of sales, assessing the vaccine as a leading product in the RSV vaccines market over the forecast period.
For instance, according to data provided by CDC, around 3,613,647 births took place in 2020 in the U.S. The birth rate in the country was 11.0/1,000 population.
Therefore, with increasing birth rates in the U.S., it has become important to prioritise the diseases associated with infants. Thus, the segment is projected to reach a market worth US$ 406.63 Mn by the end of 2032.
Which Channel is Most Preferred for Respiratory Syncytial Virus Vaccine Distribution?
"Institutional Sales - Most Replied-upon Distribution Channel for RSV Vaccines"
Institutional sales lead among all distribution channels in the market and show a promising growth at a CAGR of 13.7% during the forecast period. This is due to increasing number of research intuitions in the U.S. where various research scientists are involved in the discovery of ResVax, Nirsevimab (MEDI8897), MVA-BN RSV, and other RSV vaccines.
In addition, presence of leading research institutions in the country is contributing to the growth of the market, such as Harvard University, Stanford University, Massachusetts Institute of Technology (MIT), and others, where research related to vaccines and other drugs take place.
Attributed to the above factors, institutional sales are displayed as the most preferred form of distribution channel for respiratory syncytial virus vaccines, and is projected to reach US$ 754.3 Mn by 2032-end, in the U.S. market.
Competition Landscape
Pfizer Inc., Sanofi, Merck Sharp & Dohme, GlaxoSmithKline, SOBI, Johnson & Johnson, Bavarian Nordic, Novavax, AstraZeneca, Moderna, Inc., Codagenix Inc., Intravacc BV., and Alphavax, Inc. are established manufacturers of respiratory syncytial virus vaccines.
All these companies are committed to strategically capitalizing on growth opportunities by advancing their own product pipelines, maximizing the value of existing products, and indulging in various business development activities.
In September 2021, Pfizer Inc. commenced the Phase II clinical trial of its RSV vaccine candidate "RENOIR" in adults between the age group of 60 years or older. The trial aimed to evaluate the efficiency and immunogenicity along with the safety of its RSV bivalent, single dose, prefusion F subunit investigational vaccine candidate - RSVpreF.
In June 2020, Sanofi published comprehensive outcomes from its Phase IIb trial for Nirsevimab. The data presented substantial decline in Medically Attended Lower Respiratory Tract Infections (LRTI), chiefly with pneumonia and bronchiolitis. There was observed reduction in hospitalization rates in healthy preterm infants due to the respiratory syncytial virus.
U.S. Respiratory Syncytial Virus Vaccines Industry Report Scope
Attribute
Details

Forecast Period

2022-2032

Historical Data Available for

2017-2021

Market Analysis

USD Million for Value

Key Countries Covered

U.S.

Key Market Segments Covered

Drugs
Distribution Channel

Key Companies Profiled

Pfizer Inc.Pfizer Inc.
Sanofi
Merck Sharp & Dohme
GlaxoSmithKline
SOBI
Johnson & Johnson
Bavarian Nordic
Novavax
AstraZeneca
Moderna, Inc.
Codagenix Inc.
Intravacc BV.
Alphavax, Inc.

Report Coverage

Market Forecast
Competition Intelligence
DROT Analysis
Market Dynamics and Challenges
Strategic Growth Initiatives

Customization & Pricing

Available upon Request
Key Segments of U.S. Respiratory Syncytial Virus Vaccines Industry Survey
U.S. Respiratory Syncytial Virus Vaccines Market by Drug:
Palivizumab
RSVpreF PF06928316
RSVPreF3 OA (GSK3844766A)
mRNA-1345
Janssen RSV Vaccine
ResVax
Nirsevimab (MEDI8897)
MVA-BN RSV
U.S. Respiratory Syncytial Virus Vaccines Market by Distribution Channel:
Institutional Sales

Hospitals
Specialty Clinics
Academic and Research Institutes

Retail Sales

Retail Pharmacy
Drug Stores

Online Sales