Transformer Oil Market Outlook (2022-2032)
According to Persistence Market Research, the global market for transformer oil is worth US$ 4 Bn in 2022. By 2032, the market is anticipated to reach a value of US$ 8.7 Bn, expanding at a robust CAGR of 8%.
Over the assessment period, a significant rise in global energy consumption is anticipated to remain the key growth driver for transformer oil consumption. Transformer oil sales account for 5.4% share of the global speciality oils market.
| Report Attribute | Details |
| --- | --- |
| Transformer Oil Market Size (2021A) | US$ 3.75 Bn |
| Y-o-Y Market Growth (2021-2022) | 7.1% |
| Transformer Oil Demand (2022E) | US$ 4 Bn |
| Global Market Projections (2032F) | US$ 8.7 Bn |
| Value CAGR (2022-2032) | 8% |
| Collective Value Share: Top 3 Countries (2022E) | 34.7% |
Factors influencing the demand for transformer oil include increased usage to ensure the fault-free functioning of power transformers and rising demand for uninterrupted power supply from important end-user industries. Owing to rapid expansion of the manufacturing and industrial sectors, rising electricity demand and consumption, and growing number of power generating and distribution projects, East Asia continues to lead in the use of transformer oil.
Transformer Oil Consumption Analysis (2017-2021) Vs. Industry Projections (2022-2032)
The market for transformer oil witnessed a CAGR of 6.4% over the historic period between 2017 and 2021. As per current estimates, the forecast growth outlook for this market remains around 8% for the period of 2022 to 2032.
Significant increase in the growth rate for the forecast period is due to the increasing number of power generation and distribution projects across the world. The market was significantly impacted by the outbreak of the COVID-19 pandemic owing to country-wise shutdown of manufacturing and industrial industries, postponement of ongoing projects, and various other factors.
Due to the power sector's rapid progress, expansion of electric networks in developing nations, and the modernization of electric grids in industrialized economies, the market is anticipated to see high growth. Due to investments made by developing nations such as China, India, ASEAN, and Brazil for the expansion of T&D systems and grid networks, the market is likely to experience higher growth potential.
Despite a promising future, the sector will likely face several obstacles, including the move toward renewable energy sources, stringent environmental regulations, and the shift toward organic oils.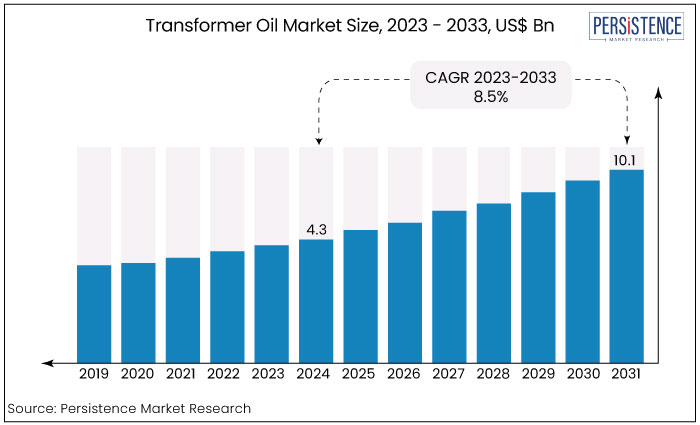 What are the Market Dynamics for Transformer Oil?
"Shift toward Sustainable Energy Resources to Influence Market Growth"
Demand for mineral oil is anticipated to grow over the coming years as a result of the increasing shift toward sustainable energy sources and strict rules and regulations established by governments regarding the environment. Several top players in the transformer oil industry are concentrating on making eco-friendly products. Additionally, there is high demand for bio-based transformer oil in the market.
Bio-based oils are thought to be more environment-friendly than mineral oils because they are completely biodegradable, non-toxic, and PCB (polychlorinated biphenyl)-free, which facilitates leak protection and subsequent disposal. Due to their higher flash and fire points (both larger than 300 °C), which make them less flammable dielectric liquids and negate the need for costly fire-related repairs, vegetable oils are also significantly safer than mineral oils.
The Environmental Protection Agency (EPA) and the Occupational Safety and Health Administration (OSHA) do not consider vegetable insulating fluids as hazardous. These oils are not corrosive to copper and extend the insulating life. Owing to the shifting trend in raw material selection, a shift in the production volume is expected in the near future.
"Expansion of Electric Grids across the World Driving the Market"
Expansion and development of electric grids in developing countries and the upgrading of electric grids in established economies, as a result of increased industrialization and urbanization, is one of the primary drivers of the global market.
Expansion of grid networks and T&D systems in developing countries is anticipated to accelerate the demand brought on by rapid industrialization and urbanization. Throughout the forecast period, the market for transformer oil will experience growth due to the installation of new transformers and switchgear as a consequence of the expansion of grid networks and transmission & distribution systems.
Technological advancements and increasing R&D efforts by leading industry players have also contributed to the market's recent success.
"Stringency in Environment Regulations to Adversely Impact Transformer Oil Demand"
Since paraffinic and naphthenic mineral oils are made from petroleum that has been thoroughly refined, purified, and processed, they are incredibly non-biodegradable. The biodegradability of mineral oil, which comes from a non-renewable resource, ranges from 0% to 40%.
Regulations to reduce industry volatile organic carbon emissions, the Registration, Evaluation, Authorization, and Restriction of Chemicals regulations or REACH regulations of the Europe Council, etc., address the production and use of chemicals such as mineral oils and their potential effects on people and the environment.
Mineral oil is an environmental pollutant since it is toxic in both soil & water and is not easily degradable. The market is also restricted by the erratic nature of crude oil prices. It is anticipated that the current volatility in crude oil prices will affect how quickly the white oil sector grows.
Both developed and developing economies are moving toward implementing green and ecological-friendly technologies. This makes leak protection and subsequent disposal easier. In the near future, this change might prevent the use of mineral-based transformer oils, and in the long run, it might limit the market for mineral oils.
"Geopolitical Tensions Can Be Problematic"
The ongoing conflict between Russia and Ukraine has impacted the global economy to a certain extent. A decrease in the supply of crude oil and gas owing to sanctions imposed on Russia has resulted in the higher price of oil and derivatives. This has resulted in a price hike in the raw materials for transformer oil, owing to which, various small-scale manufacturers are facing challenges in the procurement of raw materials for transformer oil.
Furthermore, Europe is facing power shortages owing to less supply of natural gas, which is also expected to slow down the growth of the market to a certain extent.
Country-wise Insights
Will Huge Infrastructure Projects in Transmission & Distribution Benefit the Market in China?
Due to the significant presence of end-use sectors, China is anticipated to continue to rank among the top global consumers of transformer oil. Between 2022 and 2032, the market in China is predicted to surge ahead at 8.9% CAGR.
A few of the important factors propelling the expansion of the transformer oil market in the country include the significant presence of major companies, accessibility of rich resources, and rising investments in product innovation.
Additionally, China recently began a number of major projects.
The State Grid Corporation of China, for instance, has announced that it will construct a 1.1 million volt transmission line that will be able to transport the output of 12 big power plants over 2,000 kilometres.
The initiative, which is the first of its sort in the entire world, is a significant development in the country's plans to link the grids of nearby countries into a supergrid.
Energy China invested US$ 3.6 billion in an integrated energy project in Erdos in December 2020.
Such investments are anticipated to have a positive impact on the transformer oil industry in China.
What is the Growth Outlook for the Indian Transformer Oil Market?
India is anticipated to continue to be the world's fastest-growing market for transformer oil. The nation is anticipated to be the third-largest global electricity consumer. Along with several government attempts to make electricity accessible to the populace, the nation is also seeing a marked rise in the number of public and private projects for the extension of electric grids.
For instance, increased demand necessitated stronger connections to the national electrical system in India's northeast. The Ministry of Power's reaction to this demand was the interstate transmission project NER-II. By July 2022, 53 million people in the region had access to a reliable and safe source of electricity because of this enormous power transmission project that traversed the borders of Assam, Arunachal Pradesh, and Tripura.
After being commissioned in March 2021, the project was sold to Ingrid, India's first and largest infrastructure investment trust (InvIT), for an enterprise value of INR 4625 crore (US$ 600 million).
These are important aspects that are anticipated to offer transformer oil suppliers in the country tremendous growth opportunities.
Category-wise Insights
Why is There Huge Demand for Mineral Oil?
Due to its high efficiency, low cost, outstanding thermal cooling capacity, good pouring point at low temperatures, and easy market accessibility, mineral oil has been the most popular liquid for power transformer insulation. The market for transformer oil is projected to continue to be dominated by this category, which is anticipated to rise at 8% CAGR during the forecast period.
The primary causes of this rise are increasing environmental concerns and the global demand for environment-friendly products. Increasing investments in the production of renewable and ecologically-friendly products are also anticipated to support segment growth.
Over the study period, the segment is anticipated to provide an absolute $ opportunity of US$ 459.6 Mn.
Which is a Key Application Transformer Oil?
Application of transformer oil is anticipated to increase at 8.2% CAGR in the transformer segment over the forecast period. In several industries, including power utilities, power generating, and railroads, transformers are used to transmit and distribute electricity from the place of generation to the end user.
Due to a sharp rise in the demand for transformers for transmission and distribution as well as power production applications around the world, the transformer industry is anticipated to remain one of the major consumers of transformer oil.
Competitive Landscape
Leading transformer oil manufacturers are concentrating on acquiring other market participants to increase their global presence and consumer base. To strengthen their position in the market, the strategy also involves regional and capacity expansions in emerging markets. Important firms are also making investments in research and innovation to develop sustainable products to reduce their carbon impact.
For instance:
In May 2022, Nynas AB collaborated with KONCAR, a top instrument transformer manufacturer in Croatia, to test its NYTRO® BIO 300X on KONCAR's instrument transformers.
A Memorandum of Understanding (MOU) for the construction of a transformer oil/white oil factory at LubeHub, which will assist the localization of speciality products in KSA, was signed in May 2022 by Saudi Aramco Base Oil Company - Luberef and APAR Industries Limited.
Transformer Oil Industry Report Scope
Attribute

Details

Forecast Period

2022-2032

Historical Data Available for

2017-2021

Market Analysis

USD Million for Value
Kilo Tons for Volume

Key Countries Covered

U.S.
Canada
Brazil
Mexico
Germany
Italy
France
U.K.
Spain
BENELUX
Russia
China
Japan
South Korea
India
ASEAN
ANZ
GCC Countries
Turkey
Northern Africa
South Africa

Key Market Segments Covered

Oil Type
Application
End-use Industry
Region

Key Companies Profiled

Royal Dutch Shell
Exxon Mobil Corporation
Repsol,
Nynas AB
Sinopec Lubricant Company
APAR Industries
PetroChina Company Limited
Savita Oil Technologies Limited
Chevron Corporation
M&I Materials Limited
Petro-Canada
Gandhar Oil
Lubrita
Phillips 66 Company
Ergon, Inc.
Others

Report Coverage

Market Forecast
Company Share Analysis
Competition Intelligence
DROT Analysis
Market Dynamics and Challenges
Strategic Growth Initiatives

Customization & Pricing

Available Upon Request
Transformer Oil Industry Survey Segmentation
By Oil Type:
Mineral Oil
Silicone Oil
Bio-based Oil
By Application:
Transformers
Switchgear
Reactors
By End-use Industry:
Transmission & Distribution
Power Generation
Railways & Metros
By Region:
North America
Latin America
Europe
East Asia
SAPeI
Middle East & Africa
India