Seaweed Cultivation Market Outlook (2022-2032)
The global market for seaweed cultivation is expected to increase from US$ 20.57 Bn in 2022 to US$ 43.66 Bn by 2032, expanding at a CAGR of 7.8% over the 2022-2032 study period. East Asia and South Asia account for a high share of global seaweed cultivation.
Seaweed cultivation by aquaculture accounts for 5%-10% of the world's aquaculture production. Furthermore, red seaweed and brown seaweed are the second- and third-largest species in the global aquaculture market.
| Attribute | Key Insights |
| --- | --- |
| Seaweed Cultivation Market Size (2022E) | US$ 20,567.1 Mn |
| Projected Market Value (2032F) | US$ 43,659.1 Mn |
| Value CAGR (2022-2032) | 7.8% |
| Value Share of Top 5 Countries (2021A) | 64.3% |
Seaweed Cultivation Demand Analysis (2017-2021) Vs. Market Estimations (2022-2032)
The global seaweed cultivation market expanded at a CAGR of 6.6% during 2017-2021.
Demand for products offering several health benefits is witnessing an upward trend across regions. Macro-algae, commonly known as seaweed, is one rich source of food antioxidants and vitamins.
Seaweeds are versatile ingredients that can be utilized in a broad range of food applications owing to their low-calorie content and nutrient-dense characteristics that they offer to food formulators. Despite this nutritional profile, demand for seaweed is still low outside Asia.
Seaweeds are also used in supplements by consumers who require alternative sources of proteins in their diets. Edible seaweed is a sustainable source and has the potential to provide micronutrients and macronutrients to humans.
The spotlight on the bioactive components of seaweed, which have probable applications in the functional food and nutraceutical industries, has led to the recent spike in the demand for seaweed.
As per Persistence Market Research's study on the global seaweed cultivation market, between 2022 and 2032, the market is expected to rise at a CAGR of 7.8%.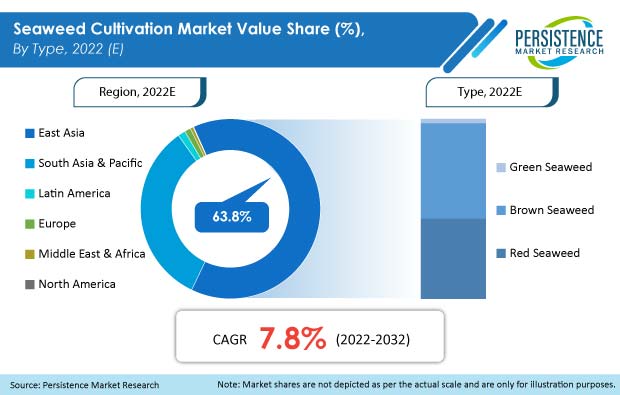 What's Driving Demand for Seaweed Cultivation?
"Seaweed Contributing to Food, Nutrition, and Other Industries"
Human consumption of seaweed dates back centuries, with around 700 edible seaweed species. Being naturally free of intrinsic toxins, seaweeds are considered edible and many coastal communities have a cultural tradition of consuming seaweed.
Seaweeds are nutritious aquatic foods that are generally rich in dietary fibers, micronutrients, and bioactive compounds, and are often treated as healthy, low-calorie food, particularly favored by people who prefer low-carbohydrate or plant-based diets.
A major portion of the cultivated seaweed is utilized for direct human consumption. In addition, seaweed is also processed into natural food additives as well as food supplements. Food Hydrocolloids made from seaweed hold significant importance in food, medicinal, and biotechnological industries.
Seaweeds have some important physicochemical properties such as thickening and gelling, which are appropriate for usage in the production of cheese, creams, desserts, and other dairy products. Seaweeds are also an important source of carbohydrates in the production of biofuels.
Many companies are also incorporating seaweeds in fertilizers, which activate beneficial microorganisms in the soil and increase crop yield.
Acadian Seaplants offers a product named Acadian Kelp, a nutrient-rich organic seaweed that improves soil health.
"Government Initiatives Supporting Seaweed Farming Practices"
In tropical developing countries, seaweed farming has now become an alternative livelihood option. Small-scale fishermen looking for alternative income sources to improve their socio-economic status are entering the seaweed cultivation market.
Seaweed farming is an economical harvesting practice combined with the ease of handling and technological advancements, which is encouraging people to consider this as a profession across countries. Seaweed cultivation is boosting the living standards of coastal populations and helping promote the use of coastal and marine resources in day-to-day activities among them.
Apart from this, many governments have set up policies and are offering funds to support seaweed cultivation practices. Evidence-based laws and regulations backed by science on seaweed farming play an important role in the sector's sustainable development.
The Indian government, as a part of its efforts to become a leading producer of seaweed, is making investments in this space. Under the Blue Revolution Scheme, India made an investment of US$ 86.8 Mn in 2020 with the vision to increase seaweed production to one million tons a year by 2025.
"Technological Advancement Aiding Seaweed Production"
Today's solutions for seaweed cultivation are time- and resource-demanding, yet yielding low volumes per year globally, while there is huge untapped potential. Standardization of equipment and automation can be one way to upscale production. The technology to scale seaweed production is progressing, making large-scale seaweed cultivation perfect to aim for sustainable harvesting of the canopy for food, fertilizer, pharmaceutical, and other industrial uses.
Seaweed farming is native to the Asia Pacific region, where companies are investing significantly in production and labor. Seaweed farming is a labor-intensive practice that raises a company's operating costs. As a result, several businesses are investing in technologies such as direct planting and automated harvesters.
Companies are also moving forward with the implementation of cutting-edge technologies such as machine learning, IoT (Internet of Things), and artificial intelligence to improve seaweed cultivation and monitor seaweed biomass.
In 2020, Seaweed Energy Solutions AS started working on the NTNU AMOS project on autonomous kelp farm monitoring.
An Indian company Sea6 is developing automated technology - 'sea combine - which makes seaweed cultivation less labor-intensive.
"Seaweed-based Innovations Reinforcing Market Growth"
Seaweed production, processing, and utilization have grown exponentially in recent years, which has fueled innovation in this sector. With the advent of new extraction technologies and enormous applications of seaweed, the opportunity for discoveries is even bigger.
For instance, there is a growing trend of 'plant-based' or 'meatless' foods among consumers around the world. However, plant-based burgers may not necessarily be better for the environment. Most plant-based products are still resource-intensive since they require lots of fresh water, land, and fertilizers to grow.
Taking this as an opportunity, Akua, a food start-up, has developed Kel- based burgers and jerky. The company is marketing these products as the most-sustainable meat alternative, produced using fewer resources.
Oceanium, a Scottish start-up, has developed seaweed-based and marine-safe bio-packaging. The products are made from farmed seaweed to meet the demand for sustainable packaging alternatives.
What's Curbing Market Growth of Seaweed Cultivation?
"Low Seaweed Consumption Outside East Asia"
A major factor confining market growth is limited or uncertain demand for seaweed across regions. Though in most East Asian countries seaweed is consumed directly as food, there is little or no exposure or preference to seaweed outside East Asia.
Consumption of aquatic foods is generally associated with food safety concerns. Consumption of wild-harvested and cultivated seaweed contributes to exposure to food safety hazards and also incurs health risks.
Uncertainties and concerns over the safety of seaweed products are posing challenges to the promotion of their consumption in new markets where food safety regulations are stringent.
Non-food applications of seaweed, including pharmaceuticals, nutraceuticals, animal feed, cosmetics, bio fertilizers/bio stimulants, bio-packaging, textiles, and biofuel, among others, are offering promising opportunities. Yet they face economic, technical, and other market constraints, making it unclear which of these applications will be a major driving force for further market growth.
Country-wise Insights
Which Country Shows Dominance in the South Asia Market?
ASEAN countries are major contributors to the seaweed cultivation market with a valuation of US$ 6.17 Bn in 2022.
Among these countries, Indonesia holds a major market share of over 80%. Indonesia is a major contributor of hydrocolloid seaweeds to the global market. The tropical climate and extensive coastline of Indonesia support seaweed farming; however, only 20% of the coastline available for marine cultivation has been explored, which leaves huge scope for further growth.
Why is South Korea a Favourable Country for Seaweed Cultivation?
Red and brown algae are the major varieties that represent over 90% of South Korea's seaweed production.
The country has developed highly advanced cultivation techniques along with a variety of cultivars using breeding and hybridization techniques that improve output.
The South Korea seaweed farming market is set to expand at a value CAGR of 8.3% to reach US$ 1.06 Bn by the end of 2032.
Category-wise Insights
Which Seaweed Form is Highly Preferred by Consumers?
Powder seaweed is most preferred for utilization in various applications. This powdered seaweed is easy to incorporate into a variety of food products and nutraceuticals, leading to an increase in demand.
Volume sales of powdered seaweed are pegged at 17,132 KT and are set to expand at a CAGR of 6.4% through 2032.
What Type of Seaweed is Mostly Cultivated around the World?
Brown and red seaweed together make up for a large portion of the global seaweed farmed. Red seaweed is the most produced type of macro-algae, accounting for over 50% share of the global seaweed farming market.
Competitive Landscape
Companies that are part of the seaweed supply chain are entering into meaningful partnerships with various stakeholders of the market. These partnerships are supporting them to ensure a traceable and transparent supply chain and gain access to continuous seaweed supply.
Market players are also prioritizing innovation and are investing in research and development activities.
In 2020, Algaia signed a collaboration agreement with the Institute Carnot I2C for natural cosmetics. The objective of this collaboration is to design new ingredients extracted from algae, such as seaweeds, to cater to the growing needs of the natural cosmetics market.
In 2020, Seaweed Energy Solutions AS completed the installation of a 19-hectare kelp farm with a capacity of 500 tons. The new farm increased its production capacity by 400 tons and helps the company cater to a larger market.
In 2019, Cargill started a new initiative called Red Seaweed Promise. This program is aimed at providing sustainable food ingredients to the food industry.
Seaweed Cultivation Industry Report Scope
Attribute
Details

Forecast period

2022-2032

Historical data available for

2017-2021

Market analysis

USD Million for value

Key regions covered

North America
Latin America
Europe
East Asia
South Asia & Pacific
The Middle East & Africa

Key countries covered

U.S.
Canada
Germany
U.K.
France
Italy
Spain
Russia
China
Japan
South Korea
India
ASEAN
Oceania
GCC Countries
Turkey
South Africa

Key market segments covered

Type
Method of Harvesting
Form
Application
Region

Key companies profiled

Acadian Seaplants
Algaia
Atlantic Mariculture
AtSeaNova
Cargill
Celtic Sea Spice Company
CP Kelco
DuPont de Nemours, Inc.
Irish Seaweeds
Maine Coast Sea Vegetables
Maine Fresh Sea Farm
Pacific Harvest
Qingdao Blue Treasure Seaweed Biotech. Co., Ltd
Qingdao Gather Great Ocean Algae Industry Group Co., Ltd
Qingdao Seawin Biotech Group Co. Ltd.
Seaweed Energy Solutions AS
The Cornish Seaweed Company
The Seaweed Company
VitaminSea Seaweed
Z Company

Report coverage

Market Forecasts
Company Share Analysis
Competition Intelligence
DROT Analysis
Market Dynamics and Challenges
Strategic Growth Initiatives

Customization & pricing

Available upon request
Seaweed Cultivation Industry Research by Category
Seaweed Cultivation Market by Type:
Red Seaweed
Brown Seaweed
Green Seaweed
Seaweed Cultivation Market by Method of Harvesting:
Aquaculture
Wild Harvesting
Seaweed Cultivation Market by Form:
Seaweed Flakes
Seaweed Powder
Liquid Seaweed
Seaweed Sheets
Seaweed Cultivation Market by Application:
Food Industry

Dairy
Meat & Seafood
Bakery & Confectionery
Salads, Sauces, & Dressings
Others

Animal Feed Industry
Agriculture
Pharmaceuticals
Others
Seaweed Cultivation Market by Region:
North America Seaweed Cultivation Market
Latin America Seaweed Cultivation Market
Europe Seaweed Cultivation Market
South Asia & Pacific Seaweed Cultivation Market
East Asia Seaweed Cultivation Market
Middle East & Africa Seaweed Cultivation Market