Introduction
Growing consumption of organic and health centric products is surging the demand for natural additives such as seaweed derivatives. The market for seaweed derivatives is receiving impetus from increasing application of organically produced seaweed derivatives as bio-fertilizers. High demand for Carrageenan in food and beverage products is another strong factor propelling seaweed derivatives market.
Besides these diverse applications, side-effects of chemical fertilizers such as reduced soil productivity is compelling the manufacturers of fertilizers to adopt seaweed derivatives as bio-fertilizer, creating new avenues of profitability in seaweed derivatives market.
Pharmaceutical Industry Generates New Application Prospects to Bolster Market Growth
Attributing to multiple applications of seaweed derivatives as food additives, particularly as a thickening, stabilizing, emulsifying, and gelling agent, adoption remains strong in the food & beverages industry.
It is projected that the F&B industry will maintain its lead in the market, with over half of revenue share during the forecast period. Besides this conventional application, manufacturers are seeking profitable prospects in other application areas, including pharmaceutical and agricultural products.
Utilization of seaweed derivatives in drug formulations, tissue engineering, and nanoparticle systems has been accentuating demand for seaweed derivatives, thereby positively influencing the market growth.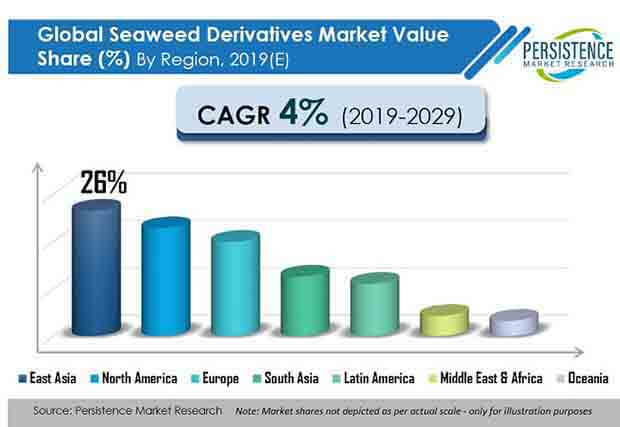 Asian Markets Reflect Lucrative Opportunities for Manufacturers
East Asia is projected to continue its lead in the foreseeable time period. Besides East Asia, South Asia is emerging as a hub of profitable opportunities for manufacturers.
The market in fast developing economies such as India and China are generating substantial revenue through sales of personal care products and ingredients owing to consistently growing demand of these products from a large working population.
With the rise of clean label trend, market players in seaweed derivatives landscape have intensified their organic farming ventures in Asian regions to explore untapped areas of application.
Innovations Key to Market Expansion
The health-conscious consumer population that opts for food products with natural additives is expanding at a rapid pace encouraging manufacturers of seaweed derivatives to expand their product portfolio. Private companies in the market are evaluating different extraction processes of seaweed additives, to come up with innovative procedures, creating employment in seaweed derivatives landscape.
These structural changes are bound to reward seaweed derivatives industry with new possibilities and strategies. Increasing demand for bio-fertilizers for improved crop yield and stress tolerance has been encouraging market players to invest efforts in strengthening their foothold the market.
Analyst's Viewpoint about the Competition Landscape-
Innovations by market players to gain competitive edge are intensifying the competitive landscape of seaweed derivatives. These players are further deepening their penetration in production of red seaweed to get an upper hand in carrageenan market.
Manufacturers in pharmaceutical industry are witnessing rapid developments owing to insurgence of a large number of competitors, seeking profits in seaweed derivatives infused drug delivery systems. In addition to these applications, use of seaweed as a bio-fertilizer is also garnering interest of market players on the back of increasing organic farming practices across the globe.
Key Segments of Seaweed Derivatives Market
PMR's study on seaweed derivatives market is divided into four major segments – Source, form, end use and region. Detail analysis of every segment along with the data pertaining to growth of each segment is included in the study.
Source

Red Seaweed
Brown Seaweed
Green Seaweed

Form

End Use

Food & Beverages
Agricultural Products
Animal Feed Additives
Cosmetics & personal care
Pharmaceuticals

Region

North America
Latin America
Europe
South Asia
East Asia
Oceania
MEA
Key Questions Answered in Report
How much is the seaweed derivatives market worth?

The global seaweed derivatives market is estimated to be worth US$ 2.35 Bn in the year 2021.

What will be the demand outlook?

The global seaweed derivatives market is expected to expand 1.4 times between 2021 and 2031.

What was the last 5 year market CAGR?

The global seaweed derivatives market witnessed a CAGR of 3.5% between 2021 and 2031.

What are the key trends of seaweed derivatives market?

The key trend is that of growing inclination towards ready-to-cook and ready-to-eat food products, thereby driving the demand for seaweed derivatives.

What is driving the demand for seaweed derivatives?

Incorporation of seaweed hydrocolloids like alginates and Carrageenan in personal care products and cosmetics like toothpaste, face masks, and creams is driving the demand for seaweed derivatives.

What is the market share of top 5 players?

The top 5 players such as Cargill Inc., Gelymar, DuPont de Nemours, Inc., Humates and Seaweeds Pvt. Ltd., and J.M. HUBER account for more than 60% of the market share.

What are the top 5 countries driving demand?

The top 5 countries driving the demand include the US, UK, Germany, India, and China.

What is North America's market Outlook?

North America holds more than 30% of the market share.

At what percentage seaweed derivatives market is going to register growth in Europe?

Europe is expected to grow at the rate of 3% in the seaweed derivatives market between 2021 and 2031.

What is the key market statistics in Korea and Japan?

Japan and Korea will witness a steady curve in the seaweed derivatives market between 2021 and 2031.
- Companies Covered in This Report -
DuPont de Nemours, Inc
Cargill, Incorporated
CP Kelco
Compañía Española de Algas Marinas S.A.
Gelymar S.A.
W Hydrocolloids, Inc.
ALGAIA
KIMICA Corporation
Arthur Branwell & Co Ltd
Irish Seaweed
Agarmex
New Zealand Manuka Group
Hispanagar
Industrias Roko, S.A.
Marcel Trading Corporation
TBK Manufacturing Corporation.
Sobigel
Iberagar
Shemberg
Humates and Seaweeds Pvt Ltd