Online Advertising Market
Global Market Study on Online Advertising: Rise in Adoption of Email and Content Marketing Positively Impacting Demand for Digital Advertising
Online Advertising Market Segmented By Social Media Advertising, Search Engine Advertising (including PPC), Email Marketing, Display Advertising, Native Advertising Ad Format on Mobile Advertising, Web/Desktop Advertising Platform
Online Advertising Market
About the Report
Growth of online advertising is attributed to rising adoption of artificial intelligence (AI) technology by advertisers to focus on digital advertising, and high usage of smartphones and E-commerce platforms such as Netflix, Amazon, and Sky, among others, for online selling and buying products. The global online advertising market is slated to surge ahead at an impressive CAGR of around 14% over the next ten years.
Persistence Market Research's new study covers comprehensive insights about the market trends, value (US$ Bn) projections, recent developments, and dynamics in the global online advertising space for the forecast period of 2021-2031.
The report tracks global value of online advertising in 10+ high-growth markets, with the regions of North America, Europe, and Asia offering the most opportunities to stakeholders. The report also analyzes the impact COVID-19 has had on the global economy in general, and online advertising in particular.
Find Out More about the Report Coverage
Companies
Microsoft Corporation
Amazon.Com, Inc.
Google LLC
Facebook, Inc.
Adobe Inc
LinkedIn Corporation
Twitter, Inc.
Baidu, Inc.
Criteo
Verizon Media
Gaie Inc.
Info Cubic Japan
Novicom Marketing Group
AOL Inc.
IAB Europe
Historical Trends Vs Future Market Projections
From 2016 to 2020, the market registered a CAGR of 10.4%. Increasing technological advancements coupled with growing digital spending by enterprises are expected to drive online advertising sales over the forecast period.
Over the years, rapidly growing number of Internet users worldwide and increasing commercial use of the Internet, combined with rapid technological developments, have not only produced and shaped the evolution and different forms of online advertising, but have also paved the way for new market players and emerging advertising business models.
Furthermore, many players in this market are engaged in significant development in the technology or software of online advertising for delivering better consumer satisfaction while offering several profitable, which is adding momentum to market growth across the globe. Overall, the market for online advertising is projected to fare even better over the coming years, expanding at an impressive CAGR of 14% through 2031.
Customize this Report
Explore Intelligence Tailored to Your Business Goals.
How Will Rising Adoption of Email and Content Marketing Impact Sales of Online Advertising?
Various advertising agencies/companies are focusing on indirect advertisement methods such as e-mail marketing and content marketing. These companies are creating content in the form of videos, info graphics, blogs, and others related to industry or product.
This is one of the most effective methods to reach target customers, as it supports other marketing approaches such as paid search, search engine optimization, and social media. Furthermore, email marketing is one of the most cost effective advertising techniques and also the oldest form of online advertising. Through email advertising, advertisers can earn ROI of ~US$ 44 for every US$ 1 spent on email.
Over the past few years, it has been observed that, companies posting content more than 16 times in a month have four times more traffic than advertisers who post few times in a month. Therefore, implementation of email marketing and content marketing by advertisers helps in increasing revenue, there by further amplifying online advertising sales.
Market Research Methodology - Perfected through Years of Diligence
A key factor for our unrivaled market research accuracy is our expert- and data-driven research methodologies. We combine an eclectic mix of experience, analytics, machine learning, and data science to develop research methodologies that result in a multi-dimensional, yet realistic analysis of a market.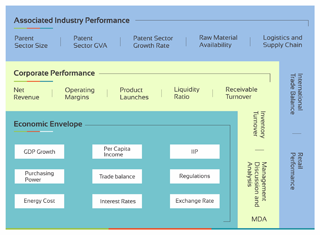 Why is There a Surge in Adoption of PPC (Pay Per Click) Method by Online Advertisers?
Many companies such as Alibaba, Amazon, and others are adopting the pay per click (PPC) approach, as they pay only when users click on their advertisements. Pay per click advertising is based on a bidding system that selects target keywords that compete with other advertisers to place advertisements in search engines for those keywords.
More than 35% of clicks go to the top three paid advertisements in search results. In addition, average cost-per-click across all industries in Google AdWords on search network is US$ 2.69. This is making online advertising providers prefer PPC for online advertisements.
Explore Persistence Market Research's expertise in promulgation of the business !
How Will Automation in Advertising Propel Demand?
The advertising sector is rapidly moving toward automation. Automated online advertising has provided benefits, such as scale, low cost, and efficiency to advertising, which is opportunistic for online advertising providers. Increasing acceptance of technological automation can be observed across several advertising platforms such as Facebook and Google.
For instance, Facebook automatically check ad sets and user campaigns, and helps them manage multiple ads that they are running at the same time. On the other hand, Google has integrated advertising automation through automated ad copy, automated PPC reporting, and automated bidding strategies.
It is estimated that nearly 80% of the online advertising process will be automated, and 20% will comprise other advertising approaches that would continuously need human intervention, such as brand value, storytelling, etc. Hence, the emerging trend of automation in online advertising is projected to create lucrative growth opportunities for market players.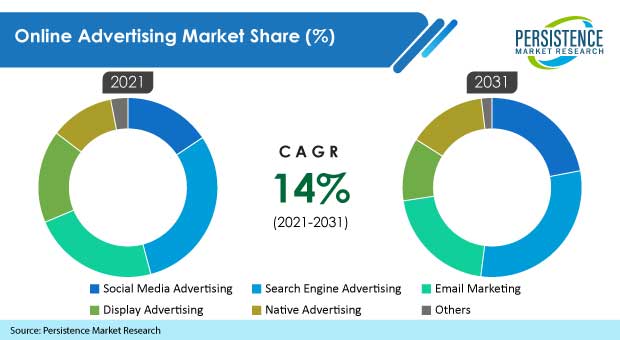 Which Factors are Affecting Adoption of Online Advertising?
The presence of ad blockers aimed at eliminating advertisements from users' webpages might limit market growth to some extent. As advertisements are often interruptive to web users, ad blockers avoid online advertisements from being visible on websites.
Thus, ad blocker applications such as Crystal, 1Blocker, AdBlock Plus, and others are gradually being deployed in order to prevent advertisements from appearing on web pages. This is hindering online advertising sales. Moreover, several companies are grappling with the problem of transitioning from desktop to smartphone ads. This might also impede market expansion to some level.
Country-wise Analysis
What's Driving Online Advertising Demand in the U.S.?
Online advertising revenue in the United States grew by 12.2% in 2020 as compared to 2019, owing to the emergence of new channels and formats, including podcasts and OTT content, virtual and augmented reality, and smartphones. Close to 63 percent of online ad revenue is generated via this type of pricing model, while 35 percent was priced based on cost-per-mille.
The largest revenue share came from the performance-based pricing model, where buyers pay for quantifiable user reactions to online advertising. Cost per click, leads, and sales are a few examples of such reactions. Thanks to rising Internet penetration rates and the ever-expanding popularity of digital platforms in the country, digital advertising has grown to become one of the most important forms of advertising.
The market in the U.S. is estimated to register a CAGR of nearly 10% from 2021 to 2031.
How is India Surging Ahead in the Online Advertising Landscape?
In India, the market for online shopping holds substantial opportunities as it has some of the largest consumer segments across each e-Commerce category, and it is focused on research & development and innovation, making it one of the prominent e-Commerce markets in the world.
Over the past couple of years, it has been observed that 57% of Indians like online ads for reminding them of products they're interested in, 51% like that online ads offer discounts for products, while 66% of Indians like that online ads can help them in discovering new products, with omnichannel discovery on Facebook and YouTube as the top channels. As a result, the Indian advertising industry has gradually evolved from being a small-scale business to a full-fledged industry.
Thus, significant growth is estimated in retail advertisement, backed by factors such as several players entering the e-Commerce and food & beverages industry. Given this, the market in India is estimated to cross a valuation of US$ 88 Bn by the end of 2031, registering a noteworthy CAGR of close to 22%.
How the U.K. Market Contributing toward Online Advertising?
The online advertising industry in the U.K. was valued at US$ 18 Bn in 2020, and is projected to witness significant growth of nearly 16% to reach a valuation of around US$ 90 Bn by 2031. Britain is racing ahead as one of the world's largest online advertising powerhouses, behind only the U.S. and China, with U.K. advertisers set to spend 62% of their budget online by 2021.
U.K. online advertising expenditure, relative to the size of the economy, is now the highest in the world at 0.63% of GDP. With the right conditions, advertising can play a fundamental role in the U.K.'s future growth, not just within its borders but also with people across the world.
What Makes Japan a Steady Demand Center for Online Advertising?
Although Japan consists of one of the most mature advertising sectors in the world, Japanese companies never seem to spend that much on digital-until recently. With the unavoidable dominance of social media platforms as well as growing recognition of PPC and search advertising methods of driving traffic and capturing audiences, online advertising spending is now anticipated to reach US$ 138 Bn in 2031.
In fact, in 2019, the Internet accounted for more than 30% of advertising expenditure, making it the leading medium for advertisements in Japan, with online ads overtaking television for the first time in history. Moreover, top digital trends in Japan include companies switching their focus to online marketing initiatives, increasing digital ad spend, rise in video content, and influencer marketing, thereby propelling market growth in the country.
Category-wise Insights
Why is there Huge Demand for Search Engine Advertising?
Among the ad formats, the search engine advertising segment registered the highest growth in 2020, and is expected to retain its dominance over the coming years, owing to growing requirement of multinational companies to become more reachable, searchable, and visible across the Internet.
Moreover, rising number of consumers who are researching and shopping for online products is propelling the growth of the search engine advertising segment. However, the social media advertising segment is likely to experience robust growth due to swelling demand from social media platforms.
Why are Mobile Online Advertising Platforms Register Highest Growth?
By platform, the mobile segment is expected to emerge as the highest growing platform over the coming years, due to various factors such as increase in mobile device and mobile Internet users, growth in popularity of social media, and increasing time spent on mobile devices.
Furthermore, key players operating in the mobile-based advertising industry are creating and developing mobile advertising content that can easily support mobile devices. Moreover, rise in trend of e-Commerce and m-Commerce is further propelling growth of Internet advertising on mobile platforms, as more and more people use their mobile phones to browse the Internet and enjoy Internet-based shopping services.
How will Travel & Hospitality Sector Push Demand for Online Advertising?
The Internet has become an extremely useful tool for travelers and tourists. It provides a wealth of information on destinations, resources for planning trips, and reviews from previous visitors. International tourism advertising campaigns can be highly effective promotional tools.
Web-marketing, online marketing, or e-marketing are crucial ways to promote a destination and market travel & tourism services. Also, in the travel sector, platforms such as Facebook, Instagram, and Pinterest help travelers find inspiration for their holiday destinations, choose the perfect hotel, and discover exciting activities and attractions.
How Has COVID-19 Impacted Online Advertising Sales?
The COVID-19 pandemic is having a big impact on various industries, and digital advertising is not an exception. With the COVID-19 pandemic, business owners are assessing their marketing efforts and wondering whether if it is the best time to run online ads.
For instance, according to a recent report by the Interactive Advertising Bureau, almost 24% of media buyers, planners, and brands paused ad spending until Q2 2020, while nearly 46% indicated they would adjust their ad spending across the same period.
As most end users are now operating online with digital gadgets and the uncertainty of pandemic of ending, many organization are planning to shift their advertising investments on digital platforms.
Furthermore, it is predicted that various brands may reduce their advertising spending given the economic impact of COVID-19; however, uptick in social media traffic has presented unique opportunities to engage with online audiences while keeping brand awareness high.
Coronavirus has spread uncontrollably and governments across the globe are still trying to contain it by closing public spaces, schools, and borders; this has transformed all businesses and marketers to update their online marketing strategies.
Market Share Analysis of Online Advertising Vendors
The global online advertising industry is moderately concentrated in nature, with a majority of share held by leading online advertising vendors. Companies holding a market share above 10% belong to the tier-1 group. Tier-1 vendors such as Amazon. Com, Inc., AOI Pro. Inc., Google LLC are the most experienced and predominant in the market, and possess substantial regional coverage, globally.
Companies with a market share of 5% to 10% are estimated to be promising players. These companies are expected to showcase a major growth trend and upscale the opportunities that the global market has to offer in order to accommodate business expansion and revenue generation.
Companies occupying a pretty low size with a share less than 5% are strategizing to attract new clientele in foreign markets. Companies in this group are Info Cubic Japan, Novicom Marketing Group, Baidu, Inc., and gaie Inc., among others.
Competition Landscape
Persistence Market Research has profiled the following prominent online advertising providers in its report:
Amazon.Com, Inc.
AOI Pro. Inc.
Baidu, Inc.
Facebook, Inc.
Google LLC
LinkedIn Corporation
Microsoft Corporation
Twitter
Adobe Inc
Verizon Media
IAB Europe
Criteo
Novicom Marketing Group
Info Cubic Japan
gaie Inc.
These above-mentioned players rely on various expansion strategies to make their presence felt across lucrative markets. These strategies include collaboration with key players, product launches, acquisitions, partnerships, and enhancement of distribution networks at regional and global levels.
For instance, in October 2020, Criteo. S.A. announced its newest data center in Tokyo. Criteo's newest data center aims at enhancing ads delivery and performance for its clients and partners in North Asia including Japan and Korea, showing its commitment to better serve the region. In the past 10 years, Criteo has expanded its global server pool from 150 to over 45,000 to meet the ad industry's growing needs.
In March 2021, Repsol and Microsoft Corp. had renewed their strategic collaboration focused on accelerating Repsol's digital transformation and the global energy transition. The companies will co-innovate to build new AI-powered digital solutions, and as part of a long-term cooperation, Repsol will provide Microsoft with renewable energy in Europe, including Spain.
Report Scope
Attribute

Details

Forecast Period

2021-2031

Historical Data Available for

2016-2020

Market Analysis

US$ Bn for Value

Key Regions Covered

North America
Latin America
Europe
East Asia
South Asia & Pacific
The Middle East & Africa

Key Countries Covered

U.S.
India
Canada
Germany
China
Italy
France
U.K.
Spain
GCC
South Africa

Key Segments Covered

Ad Format
Platform
Vertical
Region

Key Companies Profiled

Amazon. Com, Inc.
AOI Pro. Inc.
Baidu, Inc.
Facebook, Inc.
Google LLC
LinkedIn Corporation
Microsoft Corporation
Twitter
Adobe Inc
Verizon Media
IAB Europe
Criteo
Novicom Marketing Group
Info Cubic Japan
gaie Inc.

Customization & Pricing

Available upon Request
Key Questions Answered in Report
How will the market expand until 2031?

Persistence Market Research projects the market to register a CAGR worth over 14% across the 2021-2031 assessment period. Market growth is driven by increased focus on digital media, cost effectiveness, smartphone penetration, advertising by content providers, and rising number of advertisers on social networking sites.

How are online advertising sales faring?

The global online advertising market continues to rise with an increasing global Internet user base, social networking websites, and widespread adoption of broadband.

Who are the leading providers of online advertising?

Prominent players providing online advertising solutions include Amazon. Com, Inc., AOI Pro. Inc., Baidu, Inc., Facebook, Inc., and Google LLC, among others.

Which vertical is driving online advertising sales?

The travel & hospitality segment is expected to emerge as the leading industry vertical for online advertising. The focus on providing travelers with information on destinations and resources for planning trips has resulted in higher uptake of online advertising for this sector.

How are key market players strategizing to establish their market presence?

Major online advertising solution providers rely on various expansion strategies to make their presence felt across lucrative markets. These strategies include collaboration with key players, product launches, acquisitions, partnerships, and enhancement of distribution networks at regional and global levels.
Enquiry before Buying
Is the market research conducted by Persistence Market Research?

Yes, the report has been compiled by expert analysts of Persistence Market Research, through a combination of primary and secondary research. To know more about how the research was conducted, you can speak to a research analyst.

What research methodology is followed by Persistence Market Research?

Persistence Market Research follows a methodology that encompasses the demand-side assessment of the market, and triangulates the same through a supply-side analysis. This methodology is based on the use of standard market structure, methods, and definitions.

Who are the respondents for primary research?

Persistence Market Research speaks to stakeholders across the spectrum, including C-level executives, distributors, product manufacturers, and industry experts. For a full list of primary respondents, please reach out to us.

What are the sources of secondary research?

Persistence Market Research conducts extensive secondary research through proprietary databases, paid databases, and information available in the public domain. We refer to industry associations, company press releases, annual reports, investor presentations, and research papers. More information about desk research is available upon request.

Is a sample of this report available for evaluation?

Yes, you can request a sample, and it will be sent to you through an email.

How can I buy this report?

Persistence Market Research provides a secure online payment system to buy reports seamlessly. You can buy the report securely and safely.
Key Market Segments Covered
Ad Format
Social Media Advertising
Search Engine Advertising (including PPC)
Email Marketing
Display Advertising
Native Advertising
Others
Platform
Mobile Advertising
Web/Desktop Advertising
Vertical
Automotive
Healthcare & Medical
Retail & CPG
Education
Media & Entertainment
BFSI
Travel & Hospitality
Telecom
Others
Region
North America
Latin America
Europe
East Asia
South Asia & Pacific
Middle East & Africa (MEA)
Our Clients