Introduction
The oat flour industry, globally, is expected to grow at a CAGR of 5% during the forecast years. Revenue obtained from the global oat flour market is projected to reach US$ 2,970.5 Mn by 2026.
Oat flour is manufactured by grinding oats to form a fine powder. There are various end-use products of oat flour, such as bakery products, confectioneries, breakfast cereals, etc. Other flours are also being replaced in households with oat flour so as to find a healthy and more nutritional alternative to the food that is consumed. Oat flour is also mainly used as a feed additive for horses, pigs, chickens, and other pet animals. The benefits of oat flour on humans and animals is so extensive, that it is also used in the personal care cosmetics industry in moisturizers and creams because of its benefits.
Research and development regarding oat flour is widely being carried out by companies that are manufacturing oat flour. This is due to the wide applications and health benefits of oat flour, and thus, companies are trying to create new products that could increase the sales of their products.
Oat flour is more preferred than other processed oat products
Oat flour is high in dietary fiber and nutrition as compared to other processed oat products. This is because other products go through various heat treatments and unnecessary compounds being removed from those processed foods. This makes them more appealing, but the nutritional value goes down.
This is the reason why many consumers include oat flour in their diets. It is also used as a supplement for muscle building, as it contains high protein and starch that are essential nutrients. Oat flour is known to have been used more lately, due to its ready-to-drink factor, which has become a necessity nowadays. Also, the addition of oat flour in products has become a new trend.
Dairy replacement for lactose-intolerant people
Oat flour has been proved to be a good substitute for dairy, especially in making ice cream. This is due to the creamy texture of it when heated, and also in terms of nutrition, oat flour is high in carbohydrates, fats, and protein. These is the nutrition that is present in milk or milk products. The demand for oat flour thus increases, as the manufacture of such products increase. Oat flour is also used in dairy products to bring a creamier consistency to them.
An increase in the addition of oat flour in dairy products such as yogurts, smoothies, milk, etc., has been observed lately. The incorporation of oat flour in dairy products is projected to have a CAGR of 6.3% in the forecasted period.
Healthy eating is promoting the consumption of oat flour in diets
Oat flour contains beta-glucans, sugars that are responsible for reducing the bad cholesterol in the body, and also lowering blood sugar. The health benefits of oat flour are also for people that are working on muscle-building. Healthy eating is a trend that is growing among people, which has resulted in many people opting for incorporating oat flour in their food products or eating it along with water or milk. It also keeps the stomach full, thus helping in maintaining weight. It can also be consumed by all age groups.
Organic oat flour has been promoted among health conscious people, due to no-chemicals added during production. It has been priced higher by almost 40% than that of the conventional oat flour. Also, the organic oat flour segment is expected to grow at CAGR of 7.3% in terms of volume by 2026.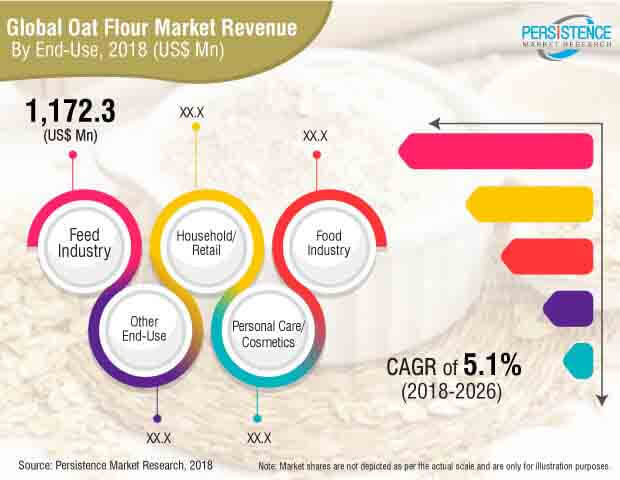 A section of the report highlights the global demand for oat flour. It also provides the market outlook for 2018–2026, and sets the forecast within the context of the dates. This study discusses the key drivers and opportunities contributing to the growth of the global oat flour market, as well as analyses the degree at which the drivers are influencing the global market. In the final section of the global oat flour report, a competitive landscape has been included to provide report audiences with a dashboard view. Key categories of providers covered in the report are global oat flour key players. Detailed profiles of the providers are also included in the scope of the report to evaluate their long-term and short-term strategies, key product offerings, and recent developments in the global oat flour space.
Market participants in the global oat flour market include Grain Millers, Inc., Richardson International, Ltd., Hain Celestial Group, Inc., Bob's Red Mill Natural Foods, Inc., Blue Lake Milling Pty Ltd., Swedish Oat Fiber AB, Bagrry's India, Ltd., Unigrain Pty Ltd., Anson Mills, Helsinki Mills Ltd., Morning Foods Ltd., and Avena Foods Ltd., among the other oat flour manufacturers.
Market Segment
Attribute
Details

Nature

End Use

Breakfast Cereals
Bakery Products
Confectioneries
Dairy Products
Feed Industry
Personal Care Cosmetics
Households/ Retailers
Other End Uses

Distribution Channel

Direct
Supermarkets
Convenience Stores
Specialty Stores
Online Retail

Region

North America
Latin America
Western Europe
Eastern Europe
APAC
MEA