Mineral Salt Ingredients Market Outlook (2022-2032)
Global mineral salt ingredient sales are estimated to reach US$ 10.85 Bn at the end of 2022. Detailed industry analysis reveals that the global mineral salt ingredients market is projected to expand at a CAGR of 5.4% and top a valuation of US$ 18.34 Bn by 2032.
| Attribute | Key Insights |
| --- | --- |
| Mineral Salt Ingredients Market Size (2022E) | US$ 10.85 Bn |
| Projected Sales of Mineral Salt Ingredients (2032F) | US$ 18.34 Bn |
| Value CAGR (2022-2032) | 5.4% |
| Value Share of Top 5 Countries (2021A) | 42.9% |
Worldwide mineral salt ingredient sales will account for around 5% to 8% value share of the global food additives market in 2022.
Consumption Analysis of Mineral Salt Ingredients (2017-2021) Vs Market Projections (2022-2032)
The global market for mineral salt ingredients increased at an annual growth rate (CAGR) of 4.1% during the historical period of 2017-2021.
Mineral salt ingredients are anticipated to see optimistic growth trends because of several factors such as rising consumer awareness regarding natural food additives, increasing consumer awareness regarding the benefits of micro- and macro-minerals, and many more.
Additionally, factors such as deficiency of mineral salt ingredients, increasing prevalence of chronic diseases, increasing elderly population, rising demand for mineral salts from the cosmetics & personal care industry, and growing popularity of nutrient and mineral salt ingredient-rich diets are anticipated to fuel demand growth of mineral salt ingredients over the coming years.
The global market for mineral salt ingredients is expected to expand at 5.4% CAGR over the forecast period of 2022 to 2032.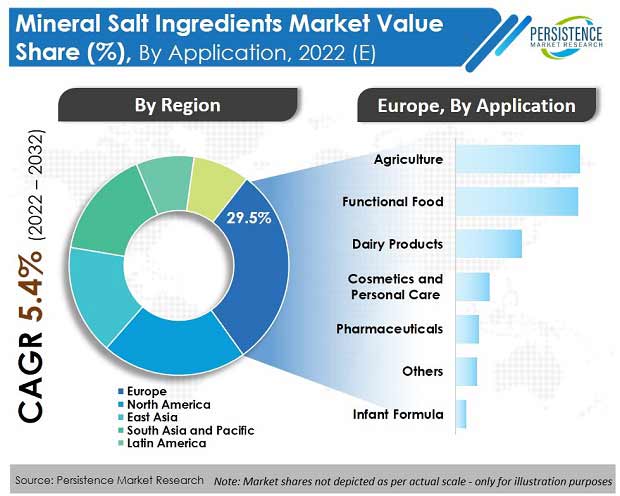 What's Aiding Consumption Growth of Mineral Salt Ingredients?
"Increasing Emphasis on Food Fortification"
Food fortification helps in increasing the nutritional value of commonly consumed food products, thereby supporting consumers with improved diets. The food fortification process involves the addition of micronutrients to food items in order to enrich them.
Fortified food products have added nutrients in them that do not occur naturally in food. These food products help in improving nutritional content along with added health benefits. Fortification of foods also helps in preventing diseases that are caused due to nutrient deficiencies, such as rickets, pellagra, and others.
Children and aged people are prone to nutrient deficiencies since they do not meet the daily nutrient requirements. Fortified foods help them fill the gap of nutrient deficiency. These fortified food products contain the macro- and micro-minerals that are essential for the proper and healthy functioning of the body. As such, increasing food fortification would parallelly drive the sales of mineral salt products.
"Rising Global Demand for Dietary Supplements"
Rising awareness regarding preventive healthcare along with increasing healthcare costs and need for alternatives in order to cure specific health-related problems are factors driving the market for dietary supplements.
Dietary supplements are marketed by companies as products that aid in living a healthier and longer life. With growing awareness regarding a healthy life, utilization of minerals and vitamins as supplements in food products has increased over the years.
Though dietary supplement utilization is still strong in affluent regions such as Europe and North America, inclination toward a healthier lifestyle has also spread to developing nations around the world. This, combined with prescribed supplements by doctors in major developing economies, has led to rising demand for the utilization of mineral salt ingredients in dietary supplements.
Easy availability of minerals and vitamins drives demand for dietary supplements, which is pushing expansion of the mineral salt ingredients market as well.
"Growing Need for Micronutrients in Agriculture & Fertilizer Industry"
Micronutrients are essential vitamins and minerals that are needed by plants in small quantities. With increased application of micronutrients in the agriculture and fertilizer industry for plants, yield and quality of agricultural-based products have also expanded drastically across the world.
Application of micronutrients in agriculture helps farmers and producers provide products for humans and animals that are enriched with vitamins and minerals. Micronutrients also help farmers keep plants healthy by ensuring that the soil is loaded with essential plant nutrients.
Micronutrients include micro-minerals along with other essential elements for plant nutrition, and these micronutrients are increasingly being used by farmers all over the world in order to increase yield and product quality. Thus, high usage of micronutrients in the fertilizer and agriculture industry would provide growth opportunities for mineral salt ingredient suppliers.
"Increasing Utilization of Micro- and Macro-minerals in Animal Feed"
Micro-minerals are also defined as trace minerals, and are needed in animal diets. These trace minerals include iron, copper, zinc, manganese, iodine, and many more, and are needed in very small volumes or traces in animal feed. Health issues in animals pertaining to the deficiencies of trace minerals occur more frequently than identified by a majority of livestock producers. Acute mineral deficiencies pose a bigger threat, since farmers do not see any specific indications that are characteristics of trace mineral deficiency.
Feed producers, especially in North American and Western European countries, have started procuring such minerals for adding to the feed, thus unfolding new opportunity pockets for mineral salt suppliers. Though this trend is very limited in developing countries of Asia Pacific and Latin America, it is likely to amplify over the coming years.
Which Factors Might Restrain the Mineral Salt Ingredients Market from Reaching its Full Potential?
"Environmental Concerns Regarding Mining to Act as Main Hurdle"
Environment-related aspects have been of major concern for mining and mineral processing companies. Mining causes loss of biodiversity, contamination of soil, etc., and rising pressure from the media and environmentalists has led to the setting up of stringent rules by governments to reduce the harmful effects of mining on the environment.
Due to environmental policies, many salt ingredient manufacturers have been facing challenges for facility expansion, which is relatively restricted by certain governments owing to environmental policies.
Governments in countries such as China have set up regulations to control emissions through industry consolidation and closure of certain factories. This is likely to have a negative impact on the mineral salt components market in China, which is among the largest producers of chemicals and has a significantly high share in the global market.
Moreover, the global fortification initiative has still not succeeded in decreasing micronutrient deficiency, even with high proactive programs by governments. Iron deficiency still remains high, and this is attributed to factors such as lack of awareness, poverty, etc.
Supply is not just linked to direct demand from consumers but induced demand, which is from the global burden of mineral deficiencies. This cannot be solved by supplying more mineral salts but simply by tackling the underlying conditions first, which possess a major challenge.
As a result, players involved in mineral salt ingredients might target the rural and other remote regions with marketing campaigns and eye-catching advertisements to raise awareness. This strategy would aid market participants in expanding their client base and raising brand awareness.
Country-wise insights
Which Country is Showing Promising Growth in the European Market?
"U.K. Mineral Salt Ingredients Market to Have Bright Outlook"
The U.K. market for mineral salt ingredients is anticipated to experience a growth rate of 6% during the forecast period (2022-2032) and reach a market valuation of around US$ 690.8 Mn by 2032.
Demand for mineral salt ingredients in the U.K. will continue to rise due to increasing usage of minerals for the fortification of foods in the country.
Which Country Accounts for Highest Market Share in North America?
"U.S. to Remain Profitable Market for Mineral Salt Ingredient Producers"
In the North American market, the U.S. holds the highest market share of around 63.9%. The U.S. market is currently valued at US$ 1.48 Bn, and is anticipated to reach to US$ 2.5 Bn by the end of 2032.
Market share of the U.S. is relatively higher than that of Canada due to the fact that the U.S. sees more demand for mineral salt ingredients across numerous end-use sectors such as agriculture, food & beverages, and others.
Category-wise insights
Which Types of Mineral Salt Ingredients are Highly Sought-after?
"Macro-mineral Sales to Remain High through 2032"
The types of mineral salt ingredients considered in the report scope include micro- and macro-minerals. Among these two types of minerals, macro-minerals hold a larger market value share of around 88.3%, and the segment is anticipated to top a market value of US$ 16 Bn by the end of 2032.
Macro-minerals have a larger market share as compared to micro-minerals since they are needed in more quantity and also widely utilized by several industries such as pharmaceuticals and food & beverages.
COVID-19 Impact
Several governments were obliged to impose strict lockdowns and restrictions on mobility and business during the pandemic outbreak. This significantly impacted the mineral salt ingredient trade, and, as a result, impeded market expansion to some extent.
Closure of hotels, restaurants, offline retail shops, and others impacted the sales of mineral salt ingredients. Individual firms, particularly those in the food and beverage industry, suffered setbacks as a result of the shutdown of production lines. Supply chain disruptions resulted in a scarcity of raw materials as well as a decrease in finished product output.
As a result of changes in consumer behavior and their limited buying capacity during COVID-19, demand for a variety of products decreased. However, with the easing of restrictions on travel and the opening of economies, the worldwide market for mineral salt components is expected to increase at a significant rate over the coming years due to the nutritional value from micro- and macro- minerals.
Competitive Dashboard
Manufacturers of mineral salt ingredients are emphasizing expanding their product outreach by increasing their product lines through facility expansions. Companies are also strategizing on offering various types of mineral salt ingredients that are suited for different applications across end-use industries such as food and beverages, pharmaceuticals, cosmetics, and others.
In June 2020, Gadot Biochemical Industries Ltd. announced the expansion of its capacity for magnesium citrate ingredients. The company also focuses on launching new products to provide a calmative effect and sleep benefits through essential minerals.
Dr. Paul Lohmann GmbH & Co. KGaA focuses on providing different mineral salt types for various applications. Recently, the company introduced magnesium, zinc, and selenium salts, which act as natural mood enhancers.
Jungbunzlauer Suisse AG has a fairly large portfolio of mineral salts, and offers numerous types for diverse industrial and pharmaceutical applications. This approach enables the company to increase its customer base across different industries.
American Elements emphasizes on driving its growth through research and development activities. The company also holds various science research and development programs to drive its new product development strategy.
Mineral Salt Ingredients Industry Report Scope
Attribute
Details

Forecast period

2022-2032

Historical data available for

2017-2021

Market analysis

US$ million for value

Key regions covered

North America
Latin America
Europe
East Asia
South Asia and Pacific
The Middle East & Africa

Key countries covered

U.S.
Canada
Germany
U.K.
France
Italy
Poland
Spain
Russia
China
Japan
South Korea
India
Israel
Australia
New Zealand
GCC Countries
Turkey
South Africa

Key market segments covered

Key companies profiled

Corbion N.V.
Albion Laboratories, Inc.
Dr. Paul Lohmann GmbH KG
K+S AKTIENGESELLSCHAFT
Gadot Biochemical Industries Ltd.
ISALTIS
DuPont
Jungbunzlauer Suisse AG
SEPPIC
Koninklijke DSM N.V.

Report coverage

Market Forecast
Company Share Analysis
Competition Intelligence
DROT Analysis
Market Dynamics and Challenges
Strategic Growth Initiatives

Customization & pricing

Available upon request
Mineral Salt Ingredients Industry Research by Category
Mineral Salt Ingredients Market by Type:
Micro-minerals
Macro-minerals

Sodium
Potassium
Chloride
Calcium
Phosphorus
Magnesium
Mineral Salt Ingredients Market by Application:
Dairy Products
Infant Formula
Functional Food
Cosmetics and Personal Care
Pharmaceuticals
Agriculture
Others
Mineral Salt Ingredients Market by Region:
North America Mineral Salt Ingredients Market
Latin America Mineral Salt Ingredients Market
Europe Mineral Salt Ingredients Market
South Asia and Pacific Mineral Salt Ingredients Market
East Asia Mineral Salt Ingredients Market
Middle East and Africa Mineral Salt Ingredients Market