Introduction
Key players are intent on offering new wound protection products, for example, wound healing or dressing products that are sensitive to skin, encourage natural healing, as well as provides room for the wound to heal. Meanwhile, increasing number of Healthcare Acquired Infections (HAIs) is driving manufacturers and hospitals to seek newer methods for reducing infection.
Hence, the use of medical tapes is rising that can help reduce the incidence of infections. Key players in the market are focusing on strengthening their medical bandages and medical tapes product portfolio. Hence, companies are launching new products with unique features for specific purposes.
Growing concern about patient safety is also resulting in the use of better products enhancing the wound healing process. Also, increasing prevalence of chronic diseases directly related to the chronic wounds such as cardiovascular disease and diabetes mellitus are likely to boost the growth of the global medical tapes and bandages market. The demand for multi-layer adhesive tapes is also gaining traction in the neonatal units. However, lack of proper guidelines on using medical tapes and bandages is restricting the market growth.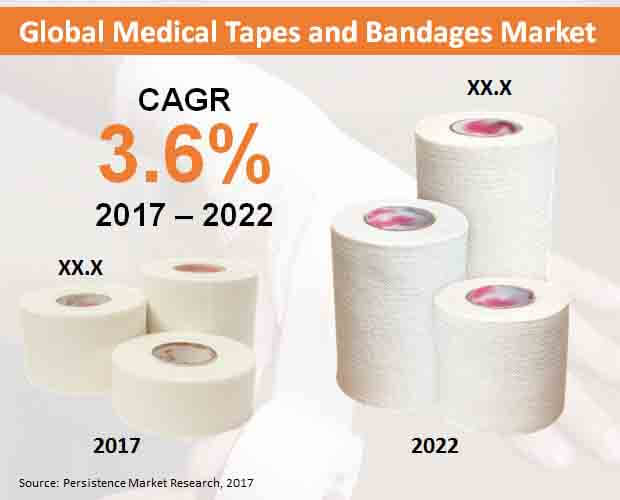 Medical Bandages to Emerge as the Highly Preferred Product in the Global Market for Medical Tapes and Bandages
Medical Bandages are likely to emerge as one of the top-selling products in the global market for medical tapes and bandages. Medical bandages are projected to surpass US$ 5,800 million revenue by 2022 end. Meanwhile, medical tapes are also likely to witness growth during 2017-2022.
Hospitals to Account for Maximum Revenue Share
Compared to the various end users, hospitals are likely to gain nearly three-fourth of the revenue share by 2017 end. Hospitals are also estimated to bring in nearly US$ 4,100 million revenue towards 2022 end. Increasing number of treatments and surgeries being conducted in hospitals is one of the factors leading to the rise in the use of bandages and medical tapes.
Medical Tapes and Bandages Likely to Find Largest Application in Surgical Wound Treatment
Medical bandages and tapes are likely to find the largest application in surgical wound treatment during 2017-2022. Surgical wound treatment is projected to create an incremental opportunity of more than US$ 500 million during 2017-2022. Meanwhile, bandages and medical tapes are also likely to be used for traumatic wound treatment.
North America to Remain Dominant in the Global Market for Medical Tapes and Bandages
North America is likely to be the largest market in the global market for medical tapes and bandages. By 2022 end, North America is projected surpass US$ 2,200 million revenue. Increasing number of orthopedic procedures being carried on in the U.S. is driving the demand for bandages and medical tapes. There has also been a shift from traditional wound dressing process to the advanced dressing process using new types of bandages and tapes, resulting in quick healing.
Presence of key players launching innovative products is also one of the factors fueling growth in the region. The government in the U.S. and Canada have also introduced various regulations and initiatives in healthcare sector helping in the establishment of new healthcare practices, development of advanced technology and better healthcare infrastructure.
Competitive Landscape
Some of the key market players in the global market for medical tapes and bandages are Medtronic plc, 3M Company, B. Braun Melsungen AG, Johnson & Johnson, Smith & Nephew Plc, Nitto Denko Corporation, Cardinal Health, Inc., Beiersdorf Aktiengesellschaft, Lohmann & Rauscher International GmbH & Co. KG, Paul Hartmann AG, and Medline Industries Inc.
Global Medical Tapes and Bandages Market: Segmentation
Attribute
Details

Region

North America
Latin America
Europe
Japan
APEJ
MEA

Product Type

Medical Bandages
Medical Tapes

End User

Clinics
Hospitals
Ambulatory Surgery Centers
Home Care Settings

Application

Surgical Wound Treatment
Traumatic Wound Treatment
Ulcer Treatment
Sports Injury Treatment
Burn Injury Treatment
Other Applications
- Companies Covered in This Report -
Medtronic plc
3M Company
B. Braun Melsungen AG
Johnson & Johnson
Smith & Nephew Plc
Nitto Denko Corporation
Cardinal Health Inc.
Beiersdorf Aktiengesellschaft
Lohmann & Rauscher International GmbH & Co. KG
Paul Hartmann AG
Medline Industries Inc.
Others.