Introduction
Due to the high level of pH in soaps, consumer attention is shifting toward low pH containing products such as liquid soap. The natural type is becoming increasingly popular as more brands enter the liquid soap market. Evolving and rapidly changing consumer demand has forced manufacturers to offer better products such as natural/ organic liquid soaps.
PMR has found that, at present, manufacturers are focusing on the texture of liquid soaps, which is in the form of jelly. Innovations are directed toward convenience and profitability; innovative formulation development remains one of the key priorities of companies in this space. Companies are also focusing on the development of liquid soaps that can be used a facial cleanser.
COVID-19 Impact on Liquid Soap Market
With the COVID-19 outbreak spreading to all corners of the world, personal hygiene has become more important than ever. Besides households, demand has been increasing even from commercial and government institutions.
Along with this, prestige brands, especially in the U.K., have experienced a sudden spike in demand for liquid soaps. In the first week of March 2020, prestige brand sales grew 102%, which reflects the growing interest of consumers in the liquid soap market during these tough times.
Liquid Soap Market Trends
Increasing Demand for Natural Products Creating New Line of Opportunities: The demand for natural/ organic liquid soaps is rapidly increasing, especially in urban areas across the world. Consumption patterns have changed over the years with lifestyle changes.
Growing awareness regarding health & personal hygiene and the benefits of natural products have shifted consumer attention towards natural/ organic products.
Growing demand for medicated liquid soaps is being witnessed. High demand is being seen for natural or botanical-based medicated liquid soaps which are paraben-free. Natural, medicated liquid washes are gaining traction owing to their natural healing anti-fungal properties.
Consumer Demand for Flavored Variants Rising: According to PMR, consumers across the globe are open to experimenting with flavored options. The market for non-medicated liquid soaps is higher (~62% in 2020) as compared to medicated, due to higher variety of product availability in terms of flavor.
Lavender experiences most sales for liquid hand wash as compared to its counterparts such as rose, lemon, etc. Body wash liquid soaps are mostly a concentration of lavender, aloe vera, coconut, and vanilla flavor.
Companies are launching new products to appeal to the varied tastes and preferences of consumers. Certain flavors, especially botanical or natural flavors, are witnessing higher demand than conventional-flavored liquid soaps.
Increasing Use in Hotel & Restaurants Boosting Demand: Hotels and restaurants, a highly profitable and lucrative business vertical, has been facing significant challenges with lockdowns due to the COVID-19 pandemic. However, as things start opening up gradually, the hotel & hospitality industry is set to serve its customers with an increased hygiene parameter.
Large chain hotels have the tendency of offering their own soaps to customers as a method of promoting their brand. Private level liquid soap manufacturing companies develop collaborations with such hotel chains to offer hotel branded toiletries. In 2018, Delta Hotels (Marriott) entered into a partnership with Soapbox in order to get a supply of premium liquid body wash.
PMR believes that developing regions will play a major role in the revival of the hospitality industry, which will bode well for the growth of the liquid soap market size. Growth of hotels & restaurants is expected to be high (6.5%) during the forecast period.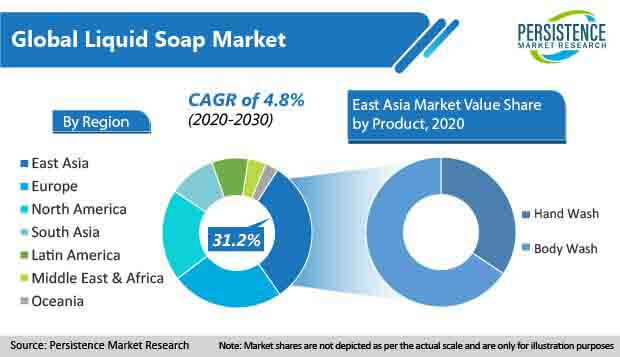 Liquid Soap Market Regional Overview
According to PMR's report, the liquid soap market is estimated to register a CAGR of around 5% during the forecast period of 2020-2030. East Asia held the largest market share for liquid soap in 2019, followed by Europe. China is the key country that accounted for the highest sales in the region, and is expected to drive the market forward.
However, the South Asia liquid soap market share is anticipated to grow at the highest rate (8%) during the forecast period, owing to increasing hygiene practices among consumers, high penetration of online platforms, and growing number of competitive products across the region.
Liquid Soap Market Competitive Landscape
The global liquid soap market represents a highly consolidated competition landscape, where new formulation development remains the top priority for companies. To gain a competitive edge over rivals, companies are launching new products more frequently, and are even adopting unconventional strategies to market their products.
Colgate-Palmolive adopted a strategy of patenting the dispensing pump of the liquid soap bottle. Without the access of the pump, other competitors could not launch their products for two years, which gave a clear edge to Colgate-Palmolive (Softsoap brand) in the market space.
In April 2020, Stephenson, a U.K.-based soap base manufacturer, launched a natural liquid soap made of vegetable oil.
Analysts' Viewpoint
A brief overview of the changing landscape of the liquid soap market has led our analysts to conclude that, the market is gaining momentum. Key manufacturers in the liquid soap market such as Procter & Gamble Company, Unilever Plc, and Kao Corporation are prioritizing innovation and new formulation development to gain a competitive edge in this space. Most companies, are at present, focusing on botanical-based liquid soaps. Companies can get an edge over their rivals by increasing their focus on natural, medicated liquid soap with skincare properties.
Liquid Soap Market: Segmentation
PMR's research study on the global liquid soap market offers a detailed market taxonomy, wherein, key segments have been discussed in detail. The liquid soap market is segmented on the basis of product, source, function, end use, price range, sales channel, and region. Every segment has been analyzed in detail, and data pertaining to the growth of each segment has been included in the study.
By Product

By Source

Natural/ Organic
Conventional

By Function

Medicated
Non-medicated

Lavender
Rose
Lemon
Others

By End Use

Residential
Commercial

Hotels & Restaurants
Corporates/ Offices
Schools/ Colleges/Universities
Others

By Price Range

High/ Premium
Mass/ Economy

By Sales Channel

Direct
Indirect

Hypermarkets/Supermarkets
Speciality / Multi-brand Stores
Drug Stores
Online Retailers
Convenience Stores
Others

By Region

North America
Latin America
Europe
South Asia
East Asia
Oceania
Middle East & Africa
The liquid soap market research report includes a competitive landscape that provides a dashboard view of the key competitors operating in the market. Some of the market players included in this section are Procter & Gamble Company, Cleenol Group Ltd, Premier English Manufacturing (PREMCO), Unilever Plc, Amway Corporation, 3M(US), Lion Corporation, Medline, Vi-Jon, Henkel, Chattem Inc., Colgate-Palmolive Company (Softsoap), Kao Corporation, and Bluemoon, among others.
Liquid Soap Market: Key Questions Answered in the Report
The research study on the liquid soap market offers inclusive insights about the growth of the market in the most comprehensive manner. Key insights offered in the liquid soap market report answer some of the most salient questions that assist stakeholders in gauging all the emerging possibilities.
How is the rapidly changing business environment impacting the growth of the liquid soap market?
What are the key trends that are constantly shaping the growth of the liquid soap market?
Which are the prominent regions that offer plentiful opportunities for players in the liquid soap market?
What are the differential strategies adopted by key players to hold a significant share in the global liquid soap market?