Diversifying Logistical Operations and e-Commerce Boom Contributing to Market Growth
The global industrial racking system market is inextricably linked with trade volumes, manufacturing sector, and e-Commerce. The material handling industry and industrial racking systems continue to be highly correlated with the overall economy: if the GDP is growing, then the overall storage demand in the supply chain should rise as well.
According to our market estimates, the global industrial racking system market is foreseen to reach ~US$ 22 Bn by the end of the forecast period, registering a CAGR of ~7%. Attempting to keep up with the growing storage demand, new warehouse construction spending by e-Commerce firms continues to rise.
Therefore, the global industrial racking system market for e-Commerce appears promising, growing at a CAGR of ~9%, mainly driven by India and countries of South East Asia & Pacific. Companies have created a balance between e-Commerce and 3PLs, along with a broad vertical strategy, ensuring strong growth potential for the industrial racking system market.
Growing 3PLs Market Set to Augment Sales of Industrial Racking Systems
The global logistics industry mainly comprises a complex range of freight and cargo-related transportation sectors. Logistics is one of the most important basic industries in any economy as it deals with the management of the flow of products from the place of origin to that of their consumption; thus, the industry involves integration of material handling, warehousing, packaging, transportation, inventory management, supply chain management, procurement, and shipping security aspects.
According to our analysis, the total global logistics market is set to reach a value of ~US$ 8 Trillion by 2020, representing ~9% of the global GDP. The logistics sector is expected to grow at ~10-15% in the forthcoming years, largely due to growth in retail, e-Commerce, and manufacturing sectors.
Shortage of Modern Warehousing Spaces Forcing New Constructions
Warehouse construction and U.S. freight are skyrocketing, pointing to a growing and stronger U.S. economy. Furthermore, shortage of modern warehouse facilities will lead to tough competition for space among e-Commerce players in the U.S. Given the lack of modern warehouse space and the rise of e-Commerce in the U.S., there is a huge opportunity to develop new warehouses and rebuild old ones to ensure that they meet modern requirements.
There is a shortage of warehouse space across global cities due to surging demand from e-commerce giants, translating to positive growth trend for industrial racking systems.
The total U.S. warehouse inventory, which is increasingly becoming obsolete at an average age of 34 years, will proliferate the development of new warehouses spaces and augment the sales of industrial racking systems. This trend to invest in the development of better urban warehouses is also significant in Europe.
The industrial racking systems market benefits from key drivers of economic activity, including household consumption, e-Commerce, supply chain modernization, and urbanization. In developed markets of U.S., Europe, and Japan, the reconfiguration of supply chains (strongly influenced by e-Commerce trends) is a strong factor impacting the market.
On the other hand, in emerging markets such as Brazil, China, India, and Mexico, affluence and the rise of a new consumer class have increased the need for modern distribution networks, subsequently, mirroring a robust viewpoint for the industrial racking system market.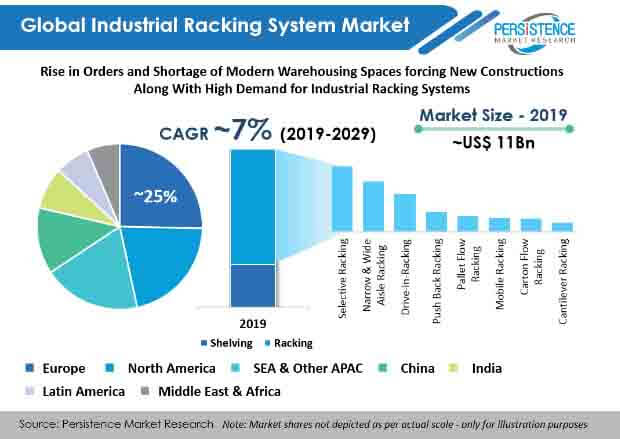 India to Steer Global Industrial Racking System Market Growth in Near Future
India, being at the forefront in terms of growth rate, is set to observe substantial investments in e-Commerce and manufacturing sectors. Importantly, initiatives being taken by regional governments are likely to encourage the movement of low-cost manufacturing towards parts of South East Asia and Africa, while new transport corridors will provide significant opportunities in the logistics sector as supply chains are upgraded.
Portfolio Rationalization and Focus on New Geographies
The global industrial racking system market is highly fragmented where tier-3 players account for a dominant share. The presence of a large number of players is intensifying competition at a country level. In the recent past, the industrial racking system market has witnessed significant developments from a competitive perspective.
Product innovations, such as inclusion of IoT, and ready-to-build products, as well as mergers and acquisitions are some of the preferred strategies for key players to sustain and enter the global industrial racking system market. Wide number of market stakeholders are focused on expanding product portfolios and portfolio rationalization.
Prominent players covered in the industrial racking system market report include
Kardex AG, Daifuku Co., Ltd.
SSI Schaefer
Foothills Systems
Hannibal Industries
Cornix SA
Gonvarri Material Handling
ARPAC
AK Material Handling Systems
North American Steel Equipment Inc.
EMRACK International, PROMAN, s.r.o.
Nedcon B.V.
Averys SA
Jungheinrich AG
Mecalux, S.A.
AR Racking,
Ridg-U-Rak Inc., among others.
Analyst's Comment
Companies engaged in developing industrial racking systems need to proactively invest in growing markets such as Mexico, Indonesia, and India. Increasing sales and earnings through multi-brand, global/local strategies for expanding markets, strengthening product businesses, and differentiating through advanced technologies that anticipate megatrends are some of the business plans being adopted by the players involved in the industrial racking systems market.
Industrial Racking System Market: Segmentation
Attribute
Details
Carrying Capacity

Light Duty
Medium Duty
Heavy Duty

Design

Racking

Selective Racking
Cantilever Racking
Push Back Racking
Narrow & Wide Aisle Racking
Drive-in-Racking
Pallet Flow Racking
Carton Flow Racking

Mobile Racking

Shelving
Boltless Shelving
Open & Closed Shelving
Single & Multi-Tier Shelving
Drawers & Cabinets
Mobile, Pigeon Hole, Mezzanine Shelving

End Use

Automotive
Construction
Chemical & Pharmaceutical
Food & Beverage
Retail & General Purpose
e-Commerce
3PLs
Textile & Other Manufacturing

Region

North America
Latin America
Europe
SEA & Other APAC
MEA
China
India
Subsequent sections of the report provide value (Mn US$) and volume ('000 Tons) projections for the industrial racking system market on the basis of the aforementioned segments at a global level.
Global industrial racking system market values have been agglomerated by collecting data and information at regional levels. The industrial racking system market information, along with key facts and insights, covers unique analysis frameworks such as absolute $ opportunity analysis, year-on-year growth trend comparison, market share, and attractiveness analysis for each of the sub-types covered in each segment of this industrial racking system market report.
The next section of the report presents a summarized view of the global industrial racking system market based on seven prominent regions considered in the study. The section includes regional market position, growth potential, trends, and attractiveness analysis for each of these regions.
All the above sections evaluate the present market scenario and growth prospects in the global industrial racking system market, while the forecast presented in these sections assesses the market size in terms of volume and value. In order to offer an accurate forecast, we started by sizing the current market, which forms the basis of how the global industrial racking system market is expected to develop in the future.
Given the characteristics of the industrial racking system market, we triangulated the outcome of three different types of analysis- primary research, secondary research, and our own analysis. However, forecasting the market in terms of various segments and regions is more a matter of quantifying expectations and identifying opportunities rather than rationalizing them after the completion of the forecast exercise.
All the industrial racking system market segments and sub-segments have been analyzed on basis point share (BPS) to understand each individual segment's relative contribution to the industrial racking system market growth.
Another key feature of the industrial racking system market report is the analysis of all the key segments in the industrial racking system market, sub-segments, and regional adoption and revenue forecast in terms of absolute dollar opportunity. This is traditionally overlooked while forecasting the market; however, absolute dollar opportunity is critical in assessing the level of opportunity that a provider can look to achieve, as well as to identify potential resources from a sales and delivery perspective in the industrial racking system market.
In the final section of the industrial racking system market report, a competitive landscape of the industrial racking system market has been included to provide report audiences with a dashboard view categorized on the basis of providers present in the value chain, their presence in the industrial racking system market, and key differentiating factors and strategies.
This section is primarily designed to provide clients with an objective and detailed comparative assessment of the key providers, specific to a market segment in the value chain of the industrial racking system market. Report audiences can gain segment-specific vendor insights to identify and evaluate key competitors on the basis of the in-depth assessment of their capabilities and success in the industrial racking system marketplace.
Detailed profiles of the providers have also been included under the scope of the report to evaluate their long- and short-term strategies, key offerings, and recent developments in the industrial racking system market.