Introduction
Over the past decade, India has witnessed notable increase in urbanization. As per the World Bank data collection of development indicators released in 2017, around ~34% of the Indian population resides in urban areas in India.
Rapid industrialization has resulted in increasing number of recreational projects, hi-tech smart housing projects, and several developments such as amusement and theme parks. Proliferation in aforementioned factors is expected to push the demand for golf carts during the forecast period.
Growth in urban population will further create demand for internal transportation to carry luggage and people, thus, positively impacting the demand for golf carts in India. In addition to this, growth of tourism, hospitality, and transportation industries has further created significant demand for golf carts in India.
Apart from India, China and the U.S. also contribute sufficiently towards the golf cart market growth owing to factors such as increasing urbanization and high disposable incomes of majority of the population.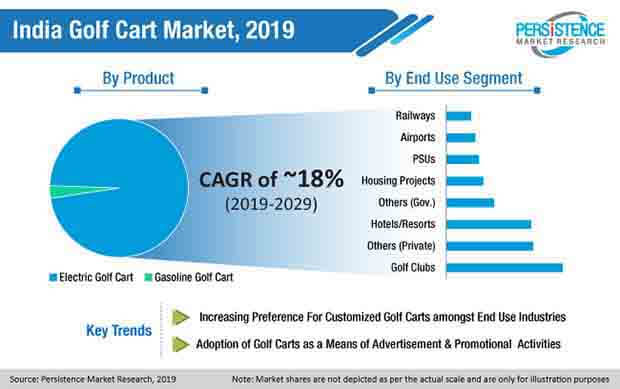 Ease of Operations & Uncomplicated Manufacturing to Drive Market Growth
Golf carts are battery-operated vehicles, simple to manufacture, and offer a maximum speed limit of 31 Kmph, making them safe and favourable vehicles to be used at public places such as railway stations, airports, and tourist spots.
Further, golf carts are easy to operate and do not require trained people to operate them. Also, golf carts fall under electric vehicles, which have power of less than 250 W and are generally not categorised as motor vehicles. Hence, no transport rules are applicable to golf carts in India.
Leniency in Governmental Regulations to Lift Production of Golf Carts
Mild governmental policies and regulations regarding manufacturing of golf carts have intensified the production of golf carts in India. Moreover, demand for customization in golf carts, such as addition of specific accessories, features or customization in accordance to end-use industries, for e.g., ambulance carts, patrolling carts, trash carts, and food carts has fueled market growth.
Demand in customization is due to factors such as increasing leisure activities by urban population, hype of an amusing lifestyle, and evolution in standards of livings.
This factor is expected to create heavy surge in the growth of the India golf cart market in the coming years.
Adoption of Golf Carts as Neighborhood Electric Vehicles (NEVs)
Golf carts are being adopted rapidly in India, owing to factors such as decreasing battery costs. However, golf carts are still not used as a substitute for gasoline-fueled vehicles. Declining battery costs can create ample number of opportunities for golf carts as these are completely electric vehicles.
This factor is expected to positively affect the growth of the India golf cart market. Moreover, presence of small and large market players, collaborations, and divestures for effective functioning will positively affect market growth. Furthermore, entry of new players in the India golf cart market, as well as expansion of production base and capacities will further drive India golf cart market growth.
High Maintenance Costs Pose a Threat to Market Growth
Golf carts, in general, come under lavish vehicles and are similar to motor vehicles. However, they require relatively higher maintenance for smooth operation and effective functioning. In India, golf carts are equipped with larger set of lead acid batteries. These batteries require periodic water level check/change, battery terminal corrosion check, shedding, and internal shorting.
Also, lead-acid batteries are relatively less efficient and require frequent recharging. Golf cart motor is another component with high maintenance requirement. These factors escalate maintenance costs to around 8–10% of the original golf cart price per annum and the cost increases significantly with replacement of parts.
As most golf carts in India are imported, end users have to bear high maintenance costs by hiring maintenance professionals. This restrains some end users from procuring golf carts.
Analysts' Viewpoint
An extensive view of the India golf cart market has led analysts to believe that the market is growing at an impressive rate with India emerging as an important market in the global golf cart market. Increasing number of key market players, adoption of golf carts, and widespread applications across different end-use industries will positively impact the India golf cart market .
The India golf cart market is characterized by the presence of few big players and local players. The impact of other market restraints will remain steady in the India golf cart market and is projected to grow vividly over the forecast period. Technological innovations along with collaborations, mergers & acquisitions by market participants, and innovations and customizations available in product offerings owing to increasing competitiveness, will also give impetus to the India golf cart market.
India Golf Cart Market: Key Segments
PMR's study on the India golf cart market is divided into three significant segments- product type, seating capacity, and end user. This report offers comprehensive data and information about the important market dynamics and growth parameters related to these categories.
Product Type

Electric Golf Carts
Gasoline Golf Carts

Seating Capacity

Small (2-4)
Medium (6-8)
Large (10+)

End User

Golf Clubs
Hotels/Resorts
Housing Projects
Others
Airports
Railways
PSUs
Others
Key Questions Answered in PMR's India Golf Cart Market Report
Which region is anticipated to hold a prominent market share over the forecast period?
What will be the key driving factors prompting the demand for golf carts during the forecast period?
How current trends will impact the India golf cart market?
Who are the significant market participants in the India golf cart market?
What are the crucial strategies of prominent players in the India golf cart market to upscale their positions in this landscape?