Introduction
The food & beverages market is primarily influenced by consumers demanding a variety of food and beverages, which are not only appetizing but also align with 'health consciousness' trend. Innovations in the food and beverages industry have led to the development of ingredients such as food acidulants that offer excellent functional properties to meet consumers' healthier demands, in addition to enhanced taste.
Food acidulants are additives that help in reducing spoilage from air, bacteria, fungi, and yeast which in-turn increases the shelf-life of food products. These additives further help in stabilizing, preserving, maintaining the pH level, and enhancing the property food.
Acids have been used for centuries due to their functional characteristics. In recent years, the packaged food industry has been growing significantly in tandem with the growth of urbanization, increasing consumer spending, and expansion of food retail. As a result, enhancing the product shelf-stability remains a crucial step in the industry, thereby potentially raising the demand for food acidulants.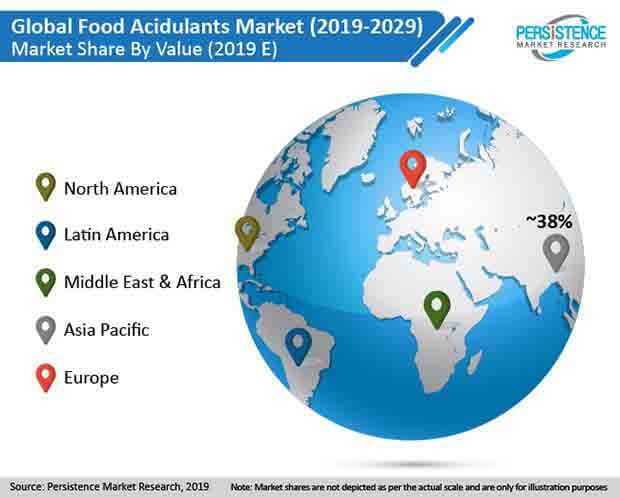 Increasing Use of Fumaric Acid in Bakery Products Stimulating the Market Growth
Fumaric acids are widely used in bakery and confectionery products. These additives have been identified for their individual roles in enhancing the organoleptic properties and shelf life of different products. The acid protects end-use products from spoilage by pathogens and microorganisms, and in turn, improves their shelf life.
Nowadays, in the food industry, fumaric acids are added especially in bakery and confectionery products to improve organoleptic properties and shelf-life. Furthermore, fumaric acids are perfect alternatives to preservatives such as sorbic acid, benzoic acid, erythorbic, and other artificial preservatives. Hence, wide functionality of fumaric acid is creating more demand for food acidulants in the food and beverages industry.
Longer Taste Retention of Lactic Acid Helps to Mask the Bitter Aftertaste of Many Artificial Sweeteners
Lactic acid is used as an acidulant, flavoring agent, pH buffering agent, or inhibitor of bacterial spoilage in a wide variety of processed foods. It is non-volatile, odorless, and classified as GRAS (generally regarded as safe) by FDA in the U.S. Widely prevalent in natural foods, lactic acid is supplemented as an additive in many foods products.
Natural fermentation of milk-based products such as cheese, yogurt, soy sauce, meat products, etc., yields lactic acid and hence, it is widely used in food applications such as confectionery, bakery products, meat products, beverages, dairy products, salads, dressings, ready-to-eat meals, etc.
Organic Acidulants Gaining Extensive Acceptance
More and more consumers are aware of the need for health management. Organic acidulants such as citric acid and others, are gaining wide application in beverages and food products as additives, since they are naturally-derived preservatives.
They naturally exist in nearly all citrus fruits. Owing to the growing awareness about the harmful and ill-effects of artificial and synthetic acids on health, consumers are increasingly shifting towards beverages and food products that contain naturally-derived additives.
Enhancement of Functional Properties of Food Products through the Use of Acidulants
The food and beverages industry has revolutionized in the last few years, in the view of effective trends coming up to enhance the properties of food. Food enhancement is creating a buzz around the world as consumers are preferring food products with longer shelf life, and presence of different flavors and colors.
Acidulants are beneficial due to their functions such as flavor enhancement and shelf life extension. These properties can provide an advantageous situation to acidulants, as the trend of enhancement of food characteristics is increasing the demand for various food acidulants.
Growing Consumption of Convenience Food Products – A Kay Growth Promoter
Rapid changes in lifestyles of consumers are minimizing the availability of time in their day-to-day life, which is further influencing the consumer towards convenience food. Consumption of ready-to-eat, ready-to-cook, and ready-to-drink food and beverages is on the rise as saving time is the prime objective of today's consumers.
Food acidulants are increasingly being adopting by food manufacturers to extend the shelf life of convenience food products, as well as to enhance the flavor. Therefore, consumer behavior towards convenience food products will be more stable in the future, which can provide beneficial opportunities to food acidulant manufacturers.