Global Flavor Carriers Market: Overview
Flavor carriers are naturally or artificially derived solvents for extracts and flavors. Flavor carriers are used by food technologists and flavor consultants to enhance sweetness, shelf life, and texture of food and beverages.
These provide solubility to flavoring compounds. Flavor carriers are also used as a processing aid in humectant processing. Flavor carriers work as food additives, processing aids, humectants, carriers, and solvents which replace maltodextrin in non-soluble applications.
Flavor carriers are a good alternative for petroleum-based additives and carriers, as they lower water activity, improve humectancy, and most importantly have anti-bacterial properties. Flavor carriers can be used as a heat stabilizers in food and beverages products. Main sources of flavor carriers are acacia gum and modified starch.
Acacia gum is extracted from natural resources, especially plants, and modified starch is prepared by treating native starch enzymatically, physically, or chemically. These properties allow technological consultant to conserve the flavor balance among active chemicals in a preparation to ensure a fresh, authentic sensory experience. The maximum use of flavor carriers is in alcoholic and non-alcoholic beverages.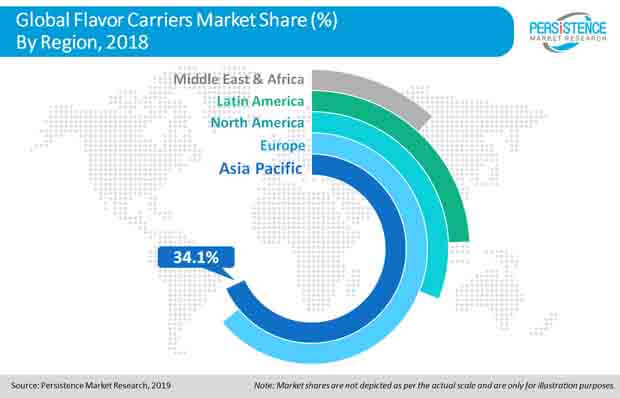 Global Flavor Carriers Market: Drivers
Changing food consumption standards and preferences of global consumers are surging the demand for flavor carriers
The increasing consumption of beverages, changing food consumption standards, and changing taste preferences of consumers have led to the demand for new tastes and quality products from the market. Growing technological advancement & innovation by food & beverages ingredients manufacturers is driving the market growth.
Flavor carriers are the key ingredients used in food and beverage products used to enhance taste, texture, and color. The beverages industry is high on growth. New products are launched in the market every day. Most of the alcoholic and non-alcoholic beverages contain flavors, which are driving the flavor carriers market.
Energy drinks, soft drinks, fruit juices, and alcoholic drinks contain high amount flavor carriers. Flavors such as meat flavors, vegetable flavors, clean-label flavors, and ultra clean flavors are used in the food industry in large amounts, which boosts the demand for flavor carriers.
Increasing demand for convenience food products, growing demand for ready to drink beverages, and spending power of consumers on healthy and tasty food products
With the growing purchasing power of consumers, coupled with busier lifestyle patterns, the demand for convenience food has been on a constant rise. This increased demand for convenience food can also be observed in the increased demand for bakery food products, fast food products, and desserts.
The increase in demand for convenience foods can be observed more prominently in European countries and Asia Pacific, as the per capita expenditure on food increases with increased per capita income in this region. A major part of convenience foods are desserts, especially ice creams.
Ice creams are one of the majorly consumed products and the demand for flavored ice creams and related products is increasing globally. Thus, dessert and ice cream industries are boosting the demand for flavor carriers.
Increasing demand for flavored alcoholic-beverages fuels the flavor carriers market
The demand for alcoholic beverages is growing at a fast rate throughout the globe, and the increasing trend of consuming flavored alcoholic drinks is creating demand for flavors and subsequently propelling the flavor carriers market. Developing countries like China, India, Singapore, and Indonesia have the highest demand for alcoholic drinks.
Alcoholic drinks contain fruit flavors such as white grape, banana, pineapple, coconut, melon, rose lemon, lime, lemon-lime, orange, grapefruit, raspberry, blueberry, teaberry, vanilla, currant, chili pepper, cherry, apple, cinnamon, coffee, and others. The alcoholic beverages industry is one of the biggest drivers for the flavor carrier's demand.
The increasing contribution of small and mid-sized food and beverage manufacturers is driving the demand for flavor carriers
Private label manufacturers, mostly domestic, medium-sized, local or small food manufacturers, constitute a growing segment in the flavor carriers market. Over the last decade, with the growing number of supermarket chains and growing consumer price consciousness, demand and consumption of private label products have grown at a faster rate than the brand food industry rate.
Small-scale manufacturers have strong manufacturing capacity and have prominent business presence in certain geograhies. These manufacturers are creating huge opportunities for the flavor carriers market.
Rising demand for natural and organic food and beverages boosting the growth of the flavor carriers market
Increasing health consciousness among global consumers is resulting in the consumption of natural, as well as organic food and food products. The growing awareness about the benefits of organic and natural food products is enabling food manufacturers to experiment with natural and organic flavors. The growth of natural food products has increased dramatically in the past few years, which is boosting the demand for natural flavor carriers.
Global Flavor Carriers Market: Segmentation
basis of type

Flavor Emulsion
Cloud Emulsion

basis of source

Acacia Gum
Modified Starch

basis of application