Europe Gift Card Market Outlook (2022-2032)
The Europe Gift Card market is projected to swell at 12.4% CAGR and reach a valuation of US$ 497.2 Bn by 2032. The market was valued at US$ 140.1 Bn at the end of 2021.
Gift card sales in Europe account for 28%-30% share of the global gift card market.
| | |
| --- | --- |
| Europe Gift Card Market Size (2021) | US$ 140.1 Bn |
| Projected Sales of Gift Cards (2032) | US$ 497.2 Bn |
| Market CAGR (2022 to 2032) | 12.4% |
| Share of Top Market Players | 35% to 45% |
Demand Analysis of Gift Cards in Europe (2017 to 2021) Vs, Market Projections (2022 to 2032)
From 2017 to 2021, the use of gift cards across Europe increased at a significant rate.
The European gift card market is expected to witness significant growth through 2032. This high growth is expected to be driven by rising demand for gift cards in the corporate sector as well as an increase in e-Commerce and m-Commerce adoption in developed countries due to the popularity of smartphones.
Gift card sales across Europe are being driven by technological innovations to create an environment loaded with captivating customer attractions and discount offers and entice more customers to buy gift certificates.
Besides this, extensive use of gift cards in the retailing industry is further expected to scale up the demand for gift cards in Europe. All such factors are expected to play a key role in driving up the European gift card market over the forecast period.
Over the next ten years, European gift card sales are projected to increase faster as compared to the historical years at a CAGR of approximately 12.4% through 2032.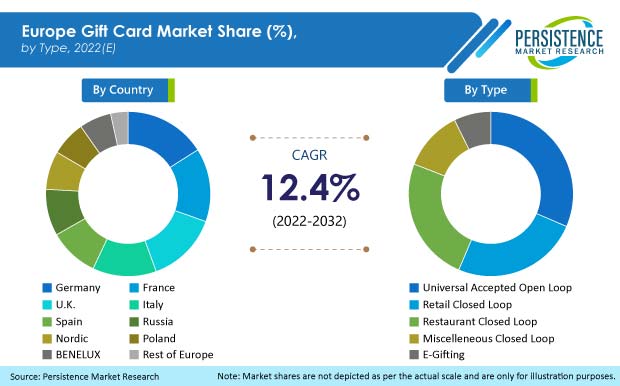 Why is the Europe Gift Card Market Expanding Rapidly?
"Increasing Penetration of Retail Gift Card Providers"
Initially, the options for gift cards to be sold by retailers were largely limited to large supermarkets or departmental stores. However, these retailers have since started offering gift cards in the form of loyalty cards or enticing customers with large meal or other card offerings.
Moreover, movie theaters, top food and beverage chains, and other related entertainment establishments have further engaged in offering gift cards, and such factors are likely to play a key role in facilitating growth in the European market for gift cards over the coming years.
"Growing Consumer Interest in Closed Loop Gift Cards"
Despite the widespread availability and utilization of universal or open loop gift cards, consumers typically still prefer to opt for closed-loop exclusive gift cards.
Gift cards are not typically used merely as a convenient gifting option during peak shopping months, but customers are also buying gift cards for personal use. These also include specialty cards that allow users to budget their spending in the stores that they visit.
"Concept of Card to Cloud Gaining Traction"
As for the future, Europe is working in the direction of seamless payments, contactless cards, and e-Wallets. This initiative is being adopted across the region at a significant rate, and most developed cities have moved toward the cloud model.
This has positively affected the demand growth of gift cards, as companies are more interested in offering them digital rather than physical products.
"Surging Use of Gift Cards as Employee Incentives in Corporate Sector"
Significantly high demand for corporate gift cards has been witnessed in Europe.
Companies are offering incentives to employees in the form of gift cards to recognize their contributions and achievements. Gift cards are convenient & safe and have proven to be a novel way for companies to recognize their employees and reward their excellent performance.
Country-wise Insights
How is the U.K. Gift Card Market Faring?
"Innovative Card Features Driving Sales of Gift Cards in the U.K."
Gift cards are increasingly being preferred over gift vouchers in the U.K., as most gift cards feature several redeeming options.
Gift card balances can be carried over for future purchases; however, vouchers cannot be partially redeemed. Companies such as Amazon also provide top-up gift cards that can be recharged with funds or cash and are valid before the specified expiration date.
Why is Italy a Prominent Gift Card Market in Europe?
"Switch from Traditional to Online Purchasing Habits"
Online shopping is gaining popularity among consumers in Italy as it makes purchasing easier and more customized. Consumers can opt for digital and physical gift cards when buying online. They can select from different price denominations as well as personalize their messages.
In addition, there are a ton of design selections that make the gift cards look more attractive and appealing. Consumers also take into account the instant availability of gift cards as a substantial factor. Additional reasons for purchasing gift cards online are that these cards can be bought faster, are easier to ship, and do not get lost as easily as physical gift cards.
What are the Gift Card Trends in France?
"Use of AI to Revolutionize Market Offerings"
The use of artificial intelligence is likely to accelerate the adoption of gift cards due to the advantages offered by companies for predicting customer buying patterns.
Companies are expected to provide customer-specific gift cards according to their requirements, moving forward. More than 60% of all transactions in department shops are expected to be supported by artificial intelligence by 2032.
Market value for gift cards in France is projected to increase at 13.5% CAGR during the forecast period (2022-2032).
Category-wise Insights
Which Type of Gift Cards are Extremely Popular across Europe?
"Universal Accepted Open Loop Cards – Top-Selling Category"
Among the card type segments, universal accepted open loop gift cards are estimated to dominate the European gift card market with 30.8% share in terms of revenue by 2022-end.
However, the e-gifting segment is expected to gain significant traction over the coming years and substantially contribute to market expansion.
Which Price Range of Gift Cards Will Account for Higher Market Growth?
"Low-priced Gift Cards Dominate; Medium Range to See Higher Growth"
Among the price range segments, revenue contribution from medium (200-400 US$) gift cards is anticipated to increase at a high CAGR of 16.3% during the forecast period.
However, in terms of value share, low (0-200 US$) gift cards have been the dominant segment accounting for 70.5% share of market revenue in Europe at the end of 2021.
Impact of COVID-19 on Market
The COVID-19 pandemic had a mixed effect on gift card demand and sales in Europe. Widespread lockdowns, travel restrictions, and closed businesses led to a decline in market growth.
Worldwide card sales went down, but retail sales showed strong growth. Besides this, many of the gift card providers largely supported reviving the economic slowdown in a few of the largely affected countries in Europe.
As detailed above, over the next ten years, the market is predicted to expand at a substantial rate across the European region.
Competition Landscape
Digital gift certificates can be purchased on the Internet, which gives businesses significant potential to create a larger customer database. These digital gift certificates allow companies to track the buying behavior of shoppers and observe how many gift cards customers redeem, which helps them understand accurate metrics.
All of such efforts on the part of market players are helping them offer personalized gift card solutions in the market as per specific consumer needs.
For instance, Blackhawk Network Holdings, Inc. has largely extended its portfolios to offer personalized gifting solutions. The company has further undertaken acquisitions to strengthen its customized gift card solution offerings.
Europe Gift Card Industry Report Scope
Attribute

Details

Forecast Period

2022-2032

Historical Data Available for

2017-2021

Market Analysis

US$ Mn for Value

Key Region Covered

Europe

Key Market Segments Covered

Type
Price Range
Sales Channel
End User
Type of Program
Merchant Type
Country

Key Companies Profiled

Sodexo Group
Amazon.com, Inc.
Appreciate Group Plc
Epipoli SA
Wishcard Italy
GiftChill Ltd.
InComm Payments
Blackhawk Network Holdings Inc.
Groupe Up
Edenred
Amilon Srl
Others

Pricing

Available upon Request
Key Segments Covered in Europe Gift Card Industry Research
Europe Gift Card Market by Product Type:
Universal Accepted Open Loop Cards
Restaurant Closed Loop Cards
Retail Closed Loop Cards
Miscellaneous Closed Loop Cards
E-Gifting
Europe Gift Card Market by Price Range:
High (Above 400 US$)
Medium (200-400 US$)
Low (0-200 US$)
Europe Gift Card Market by End-User:
Gift Cards for Businesses

Small & Medium Enterprises
Large Enterprises

Gift Cards for Individuals
Europe Gift Card Market by Type of Program:
Employee Rewards
Sales Incentives
Channel Incentives
Customer Rewards
Europe Gift Card Market by Sales Channel:
Online Sales of Gift Cards
Offline Sales of Gift Cards
Europe Gift Card Market by Merchant Type:
Restaurants
Department Stores
Grocery Stores
Hypermarkets/Supermarkets
Discount Stores
Coffee Shops
Entertainment
Salons/Spas
Book Stores
Home Décor Stores
Gas Stations
Electronics
Sporting Goods
Clothing Apparel
Travel
Accessories & Jewelry
Europe Gift Card Market by Country:
Germany Gift Card Market
France Gift Card Market
Italy Gift Card Market
Spain Gift Card Market
U.K. Gift Card Market
Nordic Gift Card Market
Russia Gift Card Market
Poland Gift Card Market
Benelux Gift Card Market
Rest of Europe Gift Card Market