Europe Automotive Aluminum Extruded Parts Market Outlook (2022-2032)
Revenue from the Europe automotive aluminum extruded parts market was registered at US$ 9 Bn at the end of 2021 with the top 4 manufacturers accounting for 58% market share. As per detailed analysis, sales of automotive aluminum extruded parts in the region are expected to reach US$ 16.7 Bn by 2032, increasing at a healthy CAGR of 5.9%.
Strict government emission norms, increased vehicle production, and growth of the automotive sector in Europe are majorly driving market growth. As such, rising adoption of lightweight vehicles is likely to increase the use of aluminum in their manufacturing.
Around 5%-7% fuel savings can be achieved for every 10% of weight reduction when steel is substituted with aluminum in vehicle production.
| | |
| --- | --- |
| Europe Automotive Aluminum Extruded Parts Market Size (2021A) | US$ 9 Bn |
| Estimated Market Size (2022E) | US$ 9.4 Bn |
| Projected Market Value (2032F) | US$ 16.7 Bn |
| Value CAGR (2022-2032) | 5.9% |
| Collective Value Share: Top 3 Countries (2022E) | 52.5% |
Vehicle manufacturers can employ smaller & more efficient engines and smaller fuel-efficient multi-speed gearboxes by using aluminum material to reduce vehicle weight. Also, because 90% of aluminum is recycled at the end of a vehicle's life, vehicle manufacturers are increasingly using aluminum in their vehicles.
The European market for automotive aluminum extruded parts accounts for around 19.1% share of the global automotive parts/components market.
Sales Analysis of Automotive Aluminum Extruded Parts in Europe (2017 to 2021) Vs. Market Projections (2022 to 2032)
Historically, between 2017 and 2021, sales of the automotive aluminum extruded parts in Europe decreased by 8.4% due to a decline in vehicle production during the same period, primarily in 2020 due to the impact of the COVID-19 pandemic.
However, the situation is better now, and automotive and transportation industries are seeing a growth in aluminum parts in both, internal combustion and electric vehicles, which can be linked to increased R&D spending by major companies in the industry. Automobile manufacturers are increasingly under pressure to meet regulatory norms relating to vehicle environmental impact.
The EEA, the European Commissions, and the European Transport Safety Council have all implemented regulations governing greenhouse gas emissions. In 2009, the European Commission established required emission reduction targets for new car manufacturers to lower the automotive sector's average carbon footprint by 35% by 2030.
Several innovative features of aluminum extruded parts, such as reducing overall vehicle weight by using aluminum components, are expected to attract more automobile firms, thereby driving demand for automotive aluminum extruded parts. Companies across Europe are following these trends to keep up with the fast-paced market climate.
Considering all these factors, the market for automotive aluminum extruded parts in Europe is expected to grow at a healthy CAGR of 5.9% over the next 10 years.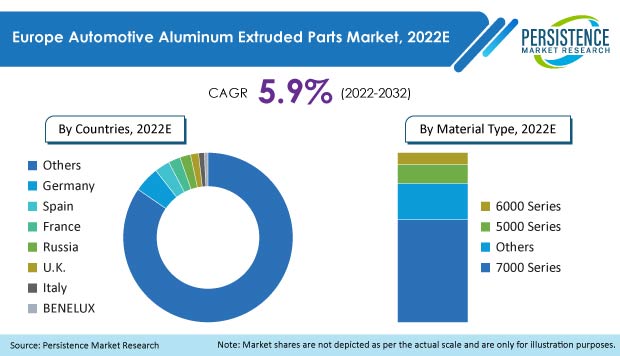 Image presents the share of material types and countries. 7000 series automotive aluminum extruded parts hold a larger share, whereas, usage of automotive aluminum extruded parts is highest in Germany, closely followed by Spain.
What are the Key Opportunities for Automotive Aluminum Extruded Part Manufacturers in Europe?
"Aluminum Allows Weight Reduction in EVs – Crucial for Increasing Operating Range"
Increasing demand for electric vehicles owing to stricter emission standards is expected to result in a significant expansion of the electric vehicles industry in Europe and also across the world.
Major automakers are working to extend the range of their electric vehicles. Due to the requirement for lower vehicle weight, using aluminum material components in electric vehicles can extend the vehicle's operating range.
A body frame made of aluminum can withstand a higher energy crash impact than one made of mild steel. As aluminum can provide weight savings of up to 50% as compared to traditional mild steel structures, this increases the fuel efficiency of the vehicle.
Vehicles having aluminum material have a 20% less lifetime CO2 footprint as compared with steel-made vehicles. These aspects of aluminum are expected to create several opportunities for automotive aluminum extruded part manufacturers over the coming years.
What Issues Can Dent Market Growth Prospects to Some Extent?
"High Cost of Aluminum & Complexity in Vehicle Production"
Aluminum is an expensive material and comes at a cost 2-3 times as much as steel. Aluminum frames and body parts are considerably more difficult to weld than steel frames and body components, posing a barrier for the automotive aluminum extruded components market.
The fact that combining aluminum requires a distinct set of technologies and methods than joining steel, is a major issue. Welding is more challenging with aluminum material due to its characteristics. Furthermore, increasing use of aluminum and other lightweight materials necessitates the adoption of procedures to combine incompatible elements, which adds to the complexity and cost of production.
Furthermore, several of the proposed joining technologies are incompatible with high-volume manufacturing. Major body shops and even dealer service centers are currently equipped with facilities for steel work. The expense of transitioning to an infrastructure developed exclusively for all aluminum vehicles or mass manufacture of aluminum vehicles and components would be costly, putting the automotive aluminum extruded parts market at a disadvantage.
Country-wise Insights
Why is Germany a Lucrative Market for Automotive Aluminum Extruded Part Suppliers in Europe?
Demand for aluminum extruded parts in Germany is projected to increase at a CAGR of 6% over the forecast period. The government supports the country's urban transportation system, which is backed by well-developed infrastructure. As a result, Germany has the highest level of spending in Europe.
Road transport accounted for roughly 1,750 billion ton-kilometers of inland commodities transported inside the European Union, according to Eurostat. This ratio can reach 90% or higher in several European countries.
Demand for commercial vehicles has been continuously increasing as a result of the region's growing logistics industry and greater use of light commercial vehicles such as vans.
Rising preference for small vans and pick-up trucks over heavy-duty trucks and trains for logistics is the underlying cause driving the expansion of the light commercial vehicle market in Europe. As a result, during the forecast period, demand for lightweight vehicle components to be installed into LCVs is expected to rise significantly.
According to Persistence Market Research, Germany is a leading market for automotive aluminum extruded parts in Europe, and demand is likely to remain high over the coming years as well.
Increased research activities on efficient automotive components, presence of major companies, and increased investments in product pipelines are all pointing to a bright future for the country's automotive aluminum extruded parts industry.
Why is Spain Evolving as a Prominent Market for Automotive Aluminum Extruded Component Suppliers?
Spain is one of the most lucrative markets in Europe after Germany for automotive aluminum extruded components. By 2032, Spain is expected to account for 15.1% of the European market share.
Due to the potential of the country's manufacturing industry, demand for aluminum extruded components is increasing in Europe, which is projected to drive market expansion.
In the next few years, changing economic norms in terms of vehicle manufacturing to reduce pollution and carbon emissions would benefit the regional market for automotive aluminum extruded parts, with greater investments in the automotive sector to meet the demands of the country's massive population.
Category-wise Insights
Why are Most Automakers Preferring Aluminum Sub-structures?
The sub-structure is a leading product category and is expected to account for nearly 41.1% of the market by the end of 2032.
Aluminum sub-light structure's weight and good strength-to-weight ratio make it ideal for automobile manufacturing since it adds strength while reducing overall vehicle weight.
Due to its high corrosion resistance and the fact that sub-structure is the heart of any vehicle to sustain on the roads and it is better than steel sub-structures, prominent automotive manufacturing companies are using aluminum sub-structures in their vehicles, which is expected to fuel segment demand over the coming years.
Which Material Type is Used Most in Automotive Aluminum Extruded Parts?
Based on material, 7000 series automotive aluminum extruded parts are used the most and are expected to account for over 65% market share by the end of 2032.
7000 series alloys are mostly employed in the automotive and aerospace industries due to their high strength, which results in fuel cost savings as well as a decrease in the load against global warming through weight reduction, which is likely to drive segment demand across the projection term.
Will Passenger Cars Continue Seeing Highest Usage of Aluminum Extruded Parts?
Based on vehicle type, the passenger cars segment accounts for the highest sales of aluminum extruded parts and the segment is projected to account for a high revenue share of more than 83% in the European market by 2032.
This can be attributable to the growing number of people who use vehicles for personal transportation, and today's consumers want lightweight vehicles to save money on gas while also increasing the load-carrying capability of passenger cars.
Competitive Landscape
Lightweight materials are driving market expansion. Automobile manufacturers are constantly under pressure to lower vehicle weight to improve fuel efficiency and performance by using aluminum extruded parts.
With several prominent players working in the landscape, the European automotive aluminum extruded parts market is relatively competitive. Major players are taking steps to grow their businesses and gain a larger piece of the market pie.
Europe Automotive Aluminum Extruded Parts Industry Report Scope
Attribute

Details

Forecast Period

2022-2032

Historical Data Available for

2017-2021

Market Analysis

Units for Volume
USD Million for Value

Key Region Covered

Europe

Key Countries Covered

Germany
Italy
France
the U.K.
Spain
BENELUX
Russia
The Rest of Europe

Key Market Segments Covered

Product Type
Material Type
Vehicle Type
Type of Extrusion Press
Country

Key Companies Profiled

Novelis Inc.
Benteler International
CAPALEX
Constellium SE
Kobe Steel Ltd.
Norsk Hydro ASA
ProfilGruppen Extrusions AB
Walter Klein GmbH & Co. KG
Gestamp Automoción, S.A.
STEP-G
RusAL
AMAG Austria Metall AG
Apt Extrusions GmbH & Co. K.
Ashfield Extrusion Limited
Arconic Corporation

Report Coverage

Market Forecast
Brand Share Analysis
Competition Intelligence
DROT Analysis
Market Dynamics and Challenges
Strategic Growth Initiatives

Customization & Pricing

Available upon Request
Key Segments Covered in Europe Automotive Aluminum Extruded Parts Industry Analysis
By Product Type:
Sub-structures
Door Beams
Bumpers
Pillars
Sub Frames
Seat Back Bars
Front Side Rails
Space Frames
Body Panels
Others
By Material Type:
5000 Series
6000 Series
7000 Series
Others
By Vehicle Type:
Passenger Cars

Compact Cars
Mid-sized Cars
Luxury Cars
SUVs

Light Commercial Vehicles
Heavy Commercial Vehicles
By Type of Extrusion Press:
Direct Drive Oil Press
Accumulator Water Drive Press
Hydrostatic Extrusion Press
By Country:
Germany Automotive Aluminum Extruded Parts Market
Italy Automotive Aluminum Extruded Parts Market
France Automotive Aluminum Extruded Parts Market
U.K. Automotive Aluminum Extruded Parts Market
Spain Automotive Aluminum Extruded Parts Market
BENELUX Automotive Aluminum Extruded Parts Market
Russia Automotive Aluminum Extruded Parts Market
Rest of Europe Automotive Aluminum Extruded Parts Market