Introduction
Consumers are demanding branded body shaper products, as they are getting influenced by commercial advertisements, entertainment channels, and movies, due to which, branded products are considered as higher quality products.
Companies are also focusing on adopting various marketing strategies, such as celebrity endorsements, new product launches, marketing campaigns, events, and the expansion of their digital presence, to connect directly with customers. In addition, companies are also launching products that are inspired by celebrities, such as waist shapers.
These factors are likely to accelerate the demand for tummy slimmer products, which, in turn, is increasing the sales of waist shapers around the world. Moreover, desire for being attractive and the common habit of posting pictures on social media are also driving the necessity of such tummy flatter products, thereby surging the growth of the global body shape market.
Manufacturing Innovation and New Product Launches to Remain Key Success Factors
Advancements in technology in the manufacturing sector since the past many years are resulting in high quality production of goods, including body shapers. Advancements in material & fiber technology such as advanced circular knit technology and improved overall product quality through non-vacuum based cooling or easy dry technology have led the industry to new heights.
Hence, manufacturers are able to produce consumer-driven body shapers. In Sept. 2019, popular socialite Kim Kardashian launched a shapewear line – SKIMS - as a range of body shaper products. In Nov. 2018, British brand Heist launched a body shaper - The Outer Body.
Sales through e-Commerce Gaining Traction
Rising adoption of the Internet and increase in the global penetration of e-Commerce are expected to fuel revenue growth of the body shaper market. Consumers are getting more inclined toward convenience shopping, which has increased the number of people using digital technology for mobile transactions and the purchasing of various products online, which include consumer goods, electronic devices, and others.
Furthermore, as millennials are tech-savvy, companies are engaging with their consumers through social media and other digital avenues to advertise their body shaper products and increase their market share via online sales revenue. This is among the major factors projected to accelerate the growth of the body shaper market during the forecast period.
Growing consumer inclination toward online purchasing has significantly increased due to multi-vendor or seller availability, which eases product comparison, price comparison, consumer reviews, doorstep delivery, and easy exchange or return policy.
Covid-19 Impact on Body Shaper Market
The body shaper market is expected to see a lower sales in 2020 due to the adverse impact of the current Covid-19 pandemic. During the ongoing outbreak, most cities and countries across the world are under complete or partial lockdowns.
This has resulted in temporary closures of physical and distributional sales platforms such as hypermarkets, supermarkets, multi-brand stores, etc. Even in supermarkets and hypermarkets, only essential goods are allowed to be sold. e-Commerce companies are operating and providing their services for essential goods only.
However, at present, China has just entered into the recovery mode from the pandemic. Thus, the body shaper market is expected to see lower sales in the 1st quarter of 2020, and is expected to be back on track from the starting of the 3rd quarter in 2020.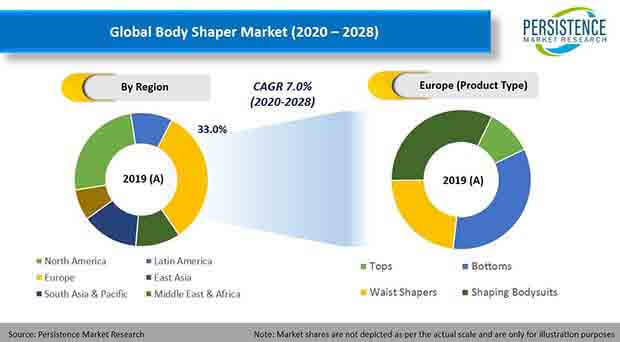 Body Shaper Market: Competition and Regional Overview
The global body shaper market represents a fairly consolidated competition landscape, where, a majority of key players maintain their strategic focus on product development, frequent product launches, and mergers & acquisitions.
In 2019, Page Industries Ltd's extended its license agreement with Jockey International Inc. till December 31, 2040, in order to grow its revenue in the coming years
In 2018, through a series of acquisitions, Under Armour spent more than US$ 700 million on connected-fitness companies such as MapMyFitness and Endomondo, to strengthen its brand portfolio.
In 2017, Spanx, Inc. launched a collection of shapewear (body shapers) for brides. The company introduced products in different sizes to target each segment. The collection ranges from sizes XS to 2X.
Global sales of the body shaper market reached US$ 2.2 Bn in 2019. According to PMR's report, the body shaper market is estimated to register a CAGR of 7% during the forecast period of 2020-2028. Europe held the largest market share for body shapers in 2019, followed by North America, owing to the higher demand for tummy slimmer products in the region.
Moreover, product launches by celebrities and commercial advertisements also drive the sales of body shapers. South Asia and Pacific holds the third-largest market share, owing to the large consumer base in the region.
Latin America also holds a significant market share, and is expected to witness a growth rate more than 5% during the forecast period. The Middle East & Africa holds the lowest share in the global body shaper market.
Analysts' Viewpoint
A brief overview of the changing landscape of the body shaper market has led our analysts to conclude that, the market is gaining momentum. Key manufacturers in the body shaper market, such as PUMA NA, Ann Chery, and Annette International Corporation are prioritizing innovation and new product developments to gain a competitive edge in the landscape.
Most companies are currently focusing on waist shapers with medium control. However, companies can also focus on new dimensions, such as organic products, which are trending in the market. Cotton-based body shapers could be a game changer for companies, especially in developed regions.
Body Shaper Market: Segmentation
PMR's research study on the global body shaper market offers a detailed market taxonomy, wherein, key segments have been discussed in detail. The body shaper market is segmented on the basis of product, control, material, sales channel, and region. Every segment is analyzed in detail, and data pertaining to the growth of each segment has been included in the study.
Product

Tops
Bottoms
Waist Shapers
Shaping Bodysuits

Control

Firm Control
Light Control
Medium Control
Tummy Control

Material

Cotton
Polyster
Nylon
Mix

Sales Channel

Hypermarkets/Supermarkets
Specialty Stores
Multi Brand stores
Company Website
3rd Party Online Sales

Region

North America
Latin America
Europe
East Asia
South Asia & Pacific
Middle East & Africa
The body shaper market research report includes a competitive landscape that provides a dashboard view of the key competitors operating in the market. Some of the market players included in this section are Spanx Inc., Jockey International, Inc., Belly Bandit, Wacoal, Nike Inc., Under Armour Inc., PUMA NA, Ann Chery, Annette International Corporation, Corset Story UK, Fájate Diseño de Prada, Hanesbrands Inc., Tolbert Yilmaz Manufacturing, Inc. (EuroSkins), Rago Shapewear, Calzificio Pinelli Srl. (SOLIDEA), Body Hush, Lytess, and others.
Key Questions Answered in the Report
How much is the body shaper market worth?

The global body shaper market is estimated to reach US$ 3.1 Bn in the year 2021.

What will be the demand outlook?

The global body shaper market is expected to witness a CAGR of 7.5% between 2021 and 2031.

What was the last 5 year market CAGR?

The global body shaper market witnessed a CAGR of 6% between 2015 and 2020.

What are the key trends of body shaper market?

The ongoing trend pertains to increase in demand for body fitting garments, thereby driving the body shaper market.

What is driving the demand for body shapers?

Growing inclination towards shapewear in developing economies like India and Brazil is driving the demand for body shapers.

What is the market share of top 5 players?

The top 5 players such as Adidas AG, Spanx, Inc., Nike, Inc., Triumph International Corp., and Leonisa SA hold more than 50% of the market share.

What are the top 5 countries driving demand?

The top 5 countries driving the demand include the US, UK, Brazil, India, and China.

What is North America's market Outlook?

North America holds more than 40% of the market share due to the US.

At what percentage body shaper market is going to register growth in Europe?

Europe is expected to register growth at the rate of 5.5% in the body shapers market between 2021 and 2031.

Which countries are key producers of body shapers?

The US is the key producer of body shapers.