Bicycle Components Market: About the Report
Demand for bicycle components is expected to grow at a steady rate due this being an economical investment compared with other modes of transportation. Economic developments in emerging markets and global megatrends such as climate change, which necessitate environment-friendly transport solutions, are also aiding market expansion. These factors have also created new avenues for product development.
Moreover, fuel prices will continue to rise in the future, which will further promote bicycle usage. PMR's report also talks about how material science study, innovation, and incorporation of digital technologies will help players on the fragmented bicycle components marker space move ahead. Region that will offer lucrative opportunities to stakeholders in the global bicycle components market are East Asia, North America, and Europe.
Bicycle Components Market Trends
Technological Advancements in Bicycle Components Pushing Growth: Technological advancements are a prime source of economic development and vital for economic growth. Different bikes used across the globe continue to evolve and improve with rapidly evolving technology and changing consumer demand. To impart maximum safety and enhanced riding performance, manufacturers focus on different production methodologies and introduce new systems in the bicycle components market. Components produced now have advanced materials, high rigidity, less weight, and improved aerodynamics. Major share of increased productivity is due to such advancements in technology. These innovations in bicycle components are creating ample opportunities for market growth and positively driving the expansion of the global bicycle components market size.
Investments in Bicycle Component Materials Aiding Market Expansion: As the use of smart and innovative materials has grown, manufacturers in the bicycle components market are devising different usages of materials, such as composites that help improve the performance characteristics of these components. Industry participants across the bicycle components market are seeking these opportunities to invest in material science, for product designing and catering to different consumer demand. These initiatives are augmenting the growth of the bicycle components market in developed countries of Europe and North America.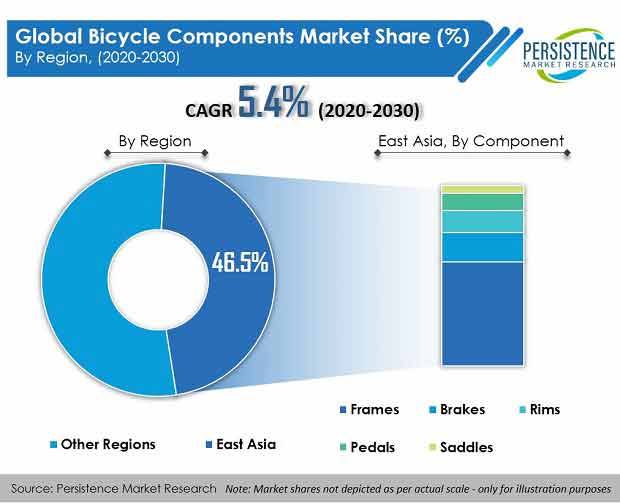 Manufacturers' Focus: Rapid Developments and Brand Agility
To be able to cater to different bicycle requirements, such as mountain bikes, road bikes, and electric bikes, manufacturers have arrived at a comprehensive perspective toward their products. Bicycle components manufactured today have to adhere to critical performance standards, material adaptability, and ensure optimum product functioning in various riding conditions. Since these characteristics determine the functionality all the bicycle components, the supply side is being more vigilant toward the market. This has given rise to competitive factors, brand agility, and led to the development of manufacturing and collaborative initiatives between different players.
Engaging in Partnerships with Key Players to Create Mutual Benefits
Key players in the bicycle components market are looking for collaborative efforts to meet common goals. This trend has led to the development of products with improved performance due to combined technology from partnerships. Such efforts save time and unnecessary investment. Collaboration helps companies address market demand trends quicker than if done individually. It enables them to track market response and alter product specifications with ease. Such trends are gaining importance over the past few years, and they have been able to create a positive impact on the global bicycle components market space.
COVID-19 Impact on Bicycle Components Market
The COVID-19 pandemic has adversely affected most economies and sectors. This is true for the manufacturing sector too, including the bicycle components market. With lockdowns and trade restrictions still in place, the supply chain and logistics of the bicycle components market has been severely affected, which has impacted production activities. As a result, small to medium players have become more reliant on local suppliers. The market is expected to gradually get back on a recovery trend in 2021.
Analyst's Viewpoint
The global bicycle components market is estimated to witness steady growth owing to increasing demand from a rising population base. East Asia is expected to dominate the global bicycle components market, followed by South Asia Pacific, due to high share in the global market. As more people across countries are adopting bicycles as a mode of transport, it will create increased opportunities for players in the bicycle components market.
Key Segments of Bicycle Components Market
PMR's study on the bicycle components market is divided into four significant segments - component, bicycle, sales channel, and region. This report offers comprehensive data and information about the important market dynamics and growth parameters related to these categories.
Attribute
Details

Component

Frames
Saddles
Rims
Brakes
Pedals

Bicycle

Mountain Bikes
Hybrid/Cross
Road
Comfort
Youth
Cruiser
Electric

Sales Channel

Region

North America
Latin America
Europe
East Asia
South Asia & Pacific
Middle East & Africa
- Companies Covered in This Report -
SRAM LLC
KMC Group
Shimano Inc
Giant Manufacturing Co. Ltd
Campagnolo S.r.l
Atlas Cycles Ltd
Hayes Bicycle Group
Dorel
Industries Inc
Tektro Technology Corporation
Merida Industry Co. Ltd