North America Leading Way in Automotive Exterior Accessories Market, Asia Pacific Flourishes
Vehicle owners prefer high-quality automotive exterior accessories, which improve the performance and safety of the automotive, along with adding an aesthetic appeal to it. The global automotive exterior accessories market will reach the value of US$ 51.6 Bn by the end of 2029, expanding at a moderate CAGR during 2019 - 2029.
Leading share of market growth is anticipated to be driven by the strong demand for automotive exterior accessories from North America, followed by Europe and East Asia. Spending on automotive exterior accessories, increasing automotive fleet, and E-commerce expansion in fast developing economies such as India, and Russia would pose a strong collective impact on the demand for automotive exterior accessories.
Comfort and Safety Decisive in Consumer's Buying Decision
Automotive exterior accessories such as nerf bars, hard & soft tops, etc., are add-on auto components utilized by vehicle owners to ensure convenience in driving. Some automotive exterior accessories such as tonneau covers, bull bars, runner bars, grille guards, etc., ensure maximum level of safety to vehicle body, along with improved aesthetics of the vehicle.
Rising Emphasis on Vehicle Aesthetics
Automotive exterior accessories such as spoilers and grille guards improve the look of the vehicle up to a substantial extent. Apart from good looks, certain automotive exterior accessories also increase vehicle performance.
Rear spoilers are used for vehicle stability and reduced back-lift in sports cars. However, these are extensively utilized on passenger cars accessories as well, for added appeal.
Advanced Materials with High Strength and Lighter Weight Penetrating Faster
Manufacturers are utilizing composites and automotive lightweight materials such as carbon fiber, boron carbide, etc., for designing automotive exterior accessories, to improve the performance of the automotive and ensure optimum fuel efficiency. Carbon fiber has 5 - 10 times more strength than steel, which improves durability of exterior accessories.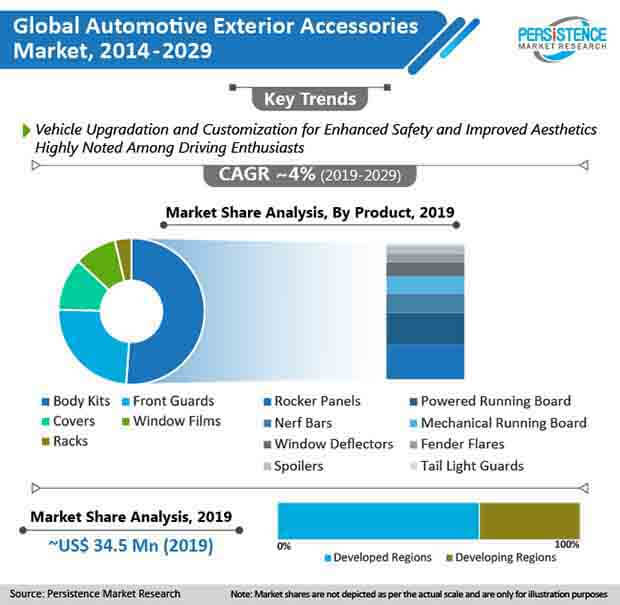 Brand-owned E-commerce Platforms New Market Trend
Wide-ranging automotive parts and accessories are sold through automotive aftermarket e-retailers such as AutoZone, Pep Boys, and Carid.com, as well as through mass e-retailers such as Amazon and eBay.
Additionally, manufacturers are launching their own online e-commerce platforms to effectively reach vehicle owners. Market players such as Curt Manufacturing Llc and Husky Liners, Inc. have launched their own e-Commerce portals for effective supply chain management. Launching of self-E-Commerce platforms by market participants also increases the recall value for the product and is a key trend shaping the growth of the global market.
Vehicle Modification Trend in Vogue
Vehicle owners worldwide - mostly aged around 25 - 30 years - are more inclined towards customizing the exterior aesthetics of their vehicles. In recent years, consumers have been focusing more on various automotive exterior accessories, ranging from front guard to body kits such as rocker panels, spoilers, bumper kits, and fender flares.
Bumper kits are preferred by consumers who are looking for a tough look. Fendar flares are fitted over wheels to prevent rotating wheels from throwing mud or sand into the air. However, these enjoy considerable demand for aesthetic reasons. Available in varied colors and shapes, fender flares provide an edgy look as well as elegance, depending on the chosen style.
Increasing Popularity of Amateur Races
Amateur races and drag races are becoming more popular across the globe, especially in the Americas. National Hot Rod Association, the largest auto racing organization from America, organizes amateur and drag races such as Chevrolet Performance U.S. Nationals. These races require customized vehicles with optimum performance as well as additional safety.
In recent years, old European and American muscle cars have been restored by vehicle enthusiasts by completely modifying their exteriors. Such modifications require different types of automotive exterior accessories to attain desired design structures.
Analysts' Viewpoint
As per our analysts' review, the automotive exterior accessories market is growing at a significant rate in the global market. The study has noticed that vehicles with a lifespan of less than 5 years have significant sales opportunities than that of vehicles with life span of more than 5 years.
The market has witnessed use of advanced materials for the manufacturing of high strength, lightweight, and durable automotive exterior accessories. The market is projected to extend beyond established regions such as North America towards emerging regions such South Asia
. Global manufacturers are focusing on expanding their businesses by increasing sales offices & distribution centers. The Latin America automotive exterior accessories market is estimated to create a significant market opportunity in terms of sales in the near future.
Key Segments of Automotive Exterior Accessories Market
PMR's study on the automotive exterior accessories market is divided into four significant segments- product type, sales channel, vehicle type, and region. This report offers comprehensive data and information about the important market dynamics and growth parameters related to these categories.
Product Type

Covers

Car Body Covers
Tire Covers
Tonneau Covers

Front Guards

Bull Bars
Grille Guards
HD Bumpers

Racks

Bike Racks
Roof Racks
Cargo Box/Racks
Sports Bars/Headache Racks

Body Kits

Rocker Panels
Spoilers
Fender Flares
Nerf Bars
Powered Running Board
Mechanical Running Board
Soft Tops & Hard Tops
Tail Light Guards
Window Deflectors

Window Films

Sales Channel

Online
Offline

Authorized Retailers
Independent Retailers

Vehicle Type

Passenger Cars

Compact Cars
Mid-Sized Cars
Luxury Cars
SUVs

LCVs
HCVs

Region

North America
Latin America
Europe
East Asia
South Asia
Oceania
Middle East & Africa
Key Questions Answered in PMR's Automotive Exterior Accessories Market Report
Which region is anticipated to hold a prominent market share over the forecast period?
What will be the key driving factors propelling the demand for automotive exterior accessories during the forecast period?
How current trends will impact the automotive exterior accessories market?
Who are significant market participants in the automotive exterior accessories market?
What are the crucial strategies of prominent players in the automotive exterior accessories market to upscale their positions in this landscape?