Air Purifier Market Outlook (2022-2032)
The global air purifier market is projected to expand rapidly at 13.6% CAGR and reach a market valuation of US$ 51.38 Bn by the end of 2032, up from US$ 14.31 Bn in 2022.
Worldwide sales of air purifiers account for 2%-7% share of the global consumer appliances market at present.
| Attribute | Key Insights |
| --- | --- |
| Air Purifier Market Size (2021) | US$ 12.73 Bn |
| Estimated Market Value (2022) | US$ 14.31 Bn |
| Projected Sales of Global Air Purifiers (2032) | US$ 51.38 Bn |
| Market CAGR (2022 to 2032) | 13.6% |
| Market Share of Top 5 Air Purifier Manufacturers | 5% to 10% |
Demand Analysis of Air Purifiers (2017 to 2021) Vs. Market Projections (2022 to 2032)
From 2017 and 2021, global demand for air purifiers increased at a noteworthy CAGR of 9.6%, with the U.S., India, China, U.K., and Japan holding a significant share of the global market.
In the air purifier market, sales are projected to increase significantly over the forecast period thanks to a growing number of online platforms for business deliveries. Households and other business sectors such as schools, hospitals, and commercial businesses are predicted to contribute greatly to this development.
More than 80% of overall revenue from air purifiers is expected to be generated by the commercial sector. This is because suppliers have developed their products accordingly. Airborne toxins such as dust, germs, mold spores, vapor ingredients, pet dander, and smoke particles are removed by air cleanliness products such as air purifiers and greatly help improve indoor air quality.
Air purifying devices have gained significance as a result of rising pollution levels and rising health-related conditions that are influenced by air pollution. Over the next ten years, global sales of air purifiers are anticipated to surge faster than the historical period at 13.6% CAGR.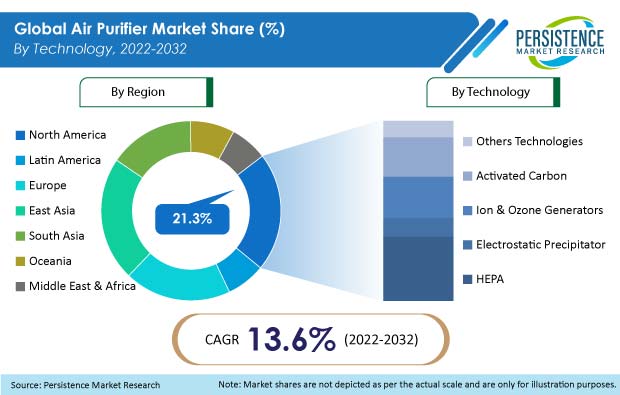 Which Market Dynamics are Driving Demand for Air Purifying Units?
"Surge in Adoption of Energy-efficient Air Purifiers across the World"
The growing populace and rising demand for energy are the main culprits behind global warming. Biomass fuels such as coal and oil are also being misused due to this. In addition, CO2 produced by burned carbon-based fuels can manifest itself in several ways, such as being psychologically taxing.
Energy supply approaches, such as the utilization of automobile fuel or coal, cause air pollution and unstable compounds, including carbon dioxide, nitrogen fumes, and sulfur dioxide. The only possible solution for minimizing carbon-containing atmospheric contaminants is to create a shift to machines and hardware that produce lower quantities of environmental debris.
Further, the necessary energy rules for home devices are changing. Home devices such as refrigerators, ovens, heaters, stoves, blenders, toasters, and others consume over 81 percent of total household energy consumption.
This is one of the key reasons for the growing energy standards for home devices. DOE-recognized ENERGY STAR air purifiers represent over 81 percent of family energy use.
"Increasing Global Air Pollution & Deteriorating Air Quality"
Levels of remote airborne substances have risen globally in recent years because of industrialization and urbanization. According to WHO epidemiologists, more than 80% of individuals inhabiting metropolitan cities were exposed to air contamination levels exceeding the threshold as defined by the association.
Populations in low- and middle-income countries located in the Eastern Mediterranean and Asian-Oceania regions experienced the greatest degree of pollutant airborne metal. These countries recorded annual mean levels over five to 10 times over the highest altitude possible for air pollution.
Country-wise Insights
Which Factors are Expected to Drive the U.S. Market for Air Purifiers?
"High Awareness about Clean Air Quality & Related Products"
The global air purifier market is dominated by North America with a market share of 21.2% in 2022, and further led by the United States.
Rising product demand is a result of heightened pollution levels and escalating instances of airborne diseases in the U.S. Air purifiers are becoming progressively more popular among Americans for improving indoor air quality.
There is an increase in demand for air purifiers that drain infection-laden particles from the dwelling. Groundwater contamination caused by rapid urbanization and industrialization is also contributing significantly to the rise in public demand for air purifiers.
Will the U.K. Continue Exhibiting High Demand for Air Purifiers?
"Increased Urbanization & Higher Brand Penetration in the U.K."
The U.K. air purifier market occupies a leading position in Europe, with the country holding 19.5% revenue share at the end of 2021.
Due to increased urbanization, rise in air pollution in urban areas, and toxic emissions from industrial vehicles, the air purifier market in the country will continue to expand rapidly.
The daily lives and electronic lives of people in Britain are considerably more entwined right now. Gadgets and advanced gadgets are widely utilized by individuals every day. New technology is playing a crucial role in driving demand growth for smart air purifiers. With the fast pace of everyday life, interest in automation for achieving daily jobs is growing markedly.
Why is the Air Purifier Market Expanding across South Asia?
"Rise in Consumer Health Consciousness to Boost Product Sales"
During the forecast period, the South Asia air purifier market is anticipated to expand at a high rate of 15.8%.
Rise in airborne illnesses and consumer health consciousness is driving market growth in the region. Air pollution produced by industries has developed into a dominant risk to both, human and environmental health.
Air purifiers are in high demand as the quality of the atmosphere is deteriorating and diseases are spreading rapidly. Despite the burst of technological advancements, air purifiers have typically been considered a carry-over from the well-developed to developing or middle class.
Category-wise Insights
Which Air Purifying Technology is Expected to Dominate the Market?
"HEPA Technology Air Filters Highly Preferred across Regions"
The HEPA technology segment of the global market accounted for a value share of 35.6% in 2021.
HEPA air filters are a primary component of most air purifiers. HEPA filters serve as a strong filter against large particulate matter, including pollen, pet dander, and dust mites.
A growing number of market players selling HEPA air purifiers is an important contributing factor to rising HEPA filter air purifier sales.
Where are Air Purifiers Used the Most?
"Commercial Sector to Account for Higher Sales of Air Purifying Units"
The commercial end-use segment accounted for around 56% value share of the global air purifier market value at the end of 2021 and is expected to exhibit faster growth, registering a CAGR of 13.7% over the forecast period.
The study indicates that air purifier suppliers will see commercially lucrative opportunities from the commercial industry. From hospitals to theaters, academic facilities, hotels, shopping malls, conference rooms, and other areas, there are many places where air purifiers are widely used commercially.
Food and restaurant businesses use purifiers with activated carbon and high-efficiency particulate air (HEPA) to remove harmful substances.
Which Type of Air Purifier is Expected to Exhibit High Sales Growth?
"Dust Air Purifiers Gaining High Prominence"
Dust air purifiers are estimated to account for 57.2% of the market share by the end of 2022. Global sales of dust air purifying units are expected to increase at a CAGR of more than 15% over the next ten years.
Smart homes have grown in popularity over the past few years, especially as devices become more advanced and the demand for more comfortable and convenient living increases. In the future, the adoption of ion & ozone generator devices is predicted to rise, which reflects the preferences and ever-changing demands of consumers.
Competition Landscape
Key air purifier manufacturers are competing with one another by focusing primarily on R&D for the development of cutting-edge services and products. Brand recognition and competitive marketing are obstacles for new entrants into this marketplace.
In 2020, Koninklijke Philips N. V. announced 'The Urban Living Series', a new line of air purifiers in India. These air purifiers feature VitaShield and AeraSense Intelligent technologies for superior indoor pollutant class filtration.
Air Purifier Industry Report Scope
Attribute
Details

Forecast Period

2022-2032

Historical Data Available for

2017-2021

Market Analysis

US$ Mn for Value
Units for Volume

Key Regions Covered

North America
Latin America
Europe
East Asia
South Asia
Oceania
MEA

Key Countries Covered

United States
Canada
Brazil
Mexico
Germany
U.K.
France
Spain
Italy
South Africa
Northern Africa
GCC Countries
China
Japan
South Korea
India
Thailand
Malaysia
Indonesia
Australia & New Zealand

Key Market Segments Covered

Technology
End Use
CADR
Coverage Area
Sales Channel
Region

Key Companies Profiled

Honeywell International Inc.
Whirlpool Corporation
Alen Corporation
AllerAir Industries Inc.
Koninklijke Philips N.V.
Dyson Limited
Unilever plc
The Camfil Group
IQ Air
WINIX Co. Ltd.
Sharp Corporation
Daikin Industries Ltd.
Samsung Electronics Co. Ltd.
LG Electronics Inc.
Xiaomi Corporation
HSIL Limited
Panasonic Corporation
Kent RO Systems
Others (on request)

Pricing

Available upon Request
Segmentation of Air Purifier Industry Research
Air Purifier Market by Technology:
HEPA
Electrostatic Precipitator
Ion and Ozone Generators
Activated Carbon
Other Technologies
Air Purifier Market by End Use:
Residential
Commercial
Industrial
Air Purifier Market by CADR:
Air Purifier Market by Coverage Area:
Below 250 Sq. Ft.
250-400 Sq. Ft.
401-700 Sq. Ft.
Above 700 Sq. Ft.
Air Purifier Market by Sales Channel:
Direct Sales
Hypermarkets/Supermarkets
Discount Stores
Specialty Stores
Online Retailers
Other Sales Channel
Air Purifier Market by Region:
North America Air Purifier Market
Latin America Air Purifier Market
Europe Air Purifier Market
East Asia Air Purifier Market
South Asia Air Purifier Market
Oceania Air Purifier Market
MEA Air Purifier Market