Introduction
Business expansion is one of the prime strategies of enterprises to grow rapidly. Businesses are tuning to managed services for short-term tactical and long-term strategic considerations. The main component to be taken care of in expanding a business is safe communication, which can be implemented by a secured network.
This factor is fuelling the adoption of virtual networking concepts, where enterprises can have a private international network to communicate and access data across all branch offices and subsidiaries, securely. Organisations are also adopting virtual networking solutions and services to monitor and manage their entire global and local communication networks centrally, which is further anticipated to expand the virtual networking market size over the coming years.
Consumers are moving toward the deployment of hybrid networks in their working environment. With increasing expansion of businesses, demand for flexibility in networks is increasing.
This is driving service providers to design and implement networks that will be able to integrate different networks, such as Ethernet, multiprotocol label switching, Internet, and others, to cater to consumer demand and provide them with greater network scalability and flexibility.
Therefore, service providers are delivering multiprotocol label switching (MPLS) IP VPNs (Virtual Private Networks) that will give any-to-any connectivity and fully-managed services, including monitoring of network and application performance.
Virtual Networking Market Trends
Ease in Network Management to Spur Market Growth: Virtual networking enables end users to monitor and manage their company's network, and provides complete access of the network. Solution providers help organisations by notifying users and managing the end-points of the network, in case of threat detection.
Also, organizations can gain access to a portal where all network activities, such as service management, SLA management, mobile health monitoring, and performance reporting, are reported, which makes network management much easier.
In addition, managed network services help enterprises in the optimum utilization of all resources, which increases the efficiency of enterprises. Thus, ease in network management is a significant factor anticipated to drive the growth of virtual networking market.
For instance, in February 2019, Vmware Inc. integrated its SD-WAN with ADVA Optical Networking and Telco Systems to deliver universal customer premise equipment (uCPE) solutions. Through this integration, it will be able to consolidate multiple services onto a single platform, and simplify the delivery and management of virtual services and applications.
Integration of Cloud and Managed VPN to Create Opportunities: Advancements in technology have led to innovation in the cloud. Factors such as scalability, mobility, flexibility, and high availability of data have led to tremendous growth in the cloud-based market.
Increase in the number of cloud service providers creates numerous opportunities for virtual networking solution providers to integrate the cloud with their services, by entering into partnerships with these cloud service providers. These collaborations also help resolve the problem of cyber security threats and breaches, since virtual networking provides secure access to a network.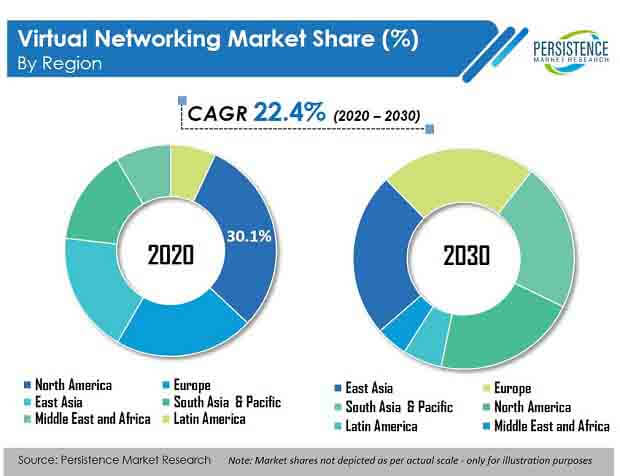 Regional Outlook of Virtual Networking Market
In terms value, North America accounted for largest virtual networking market share in 2019, owing to growing network infrastructure. However, the virtual networking market in South Asia and Pacific is anticipated to progress at the highest CAGR during the forecast period (2020-2030).
Most enterprises in South Asia & Pacific need economical services and solutions for managing their enterprise networks. This has led to the wider adoption of services such as managed virtual private networks, which eliminates the cost of managing a network and reduces in-house IT costs significantly.
Steady Growth of Market under COVID-19 Pandemic Impact
Although a majority of industries have been impacted by the COVID-19 pandemic, some of the IT solution and service providers are well positioned. Due to the lockdowns in many countries, the usage of social media, multimedia services, and mobile applications has increased significantly, which is further expected to propel the growth of the virtual networking market.
Also, virtual networking solution providers are playing an important role in supporting enterprises, customers, and governments in these trying times. In such a situation, cloud-based virtual networking solutions facilitate a more rewarding customer experience, and are anticipated to grow significantly (5-10%) in the coming period.
Players in the virtual networking market are rapidly responding to the economic and social impact caused due to pandemic. Owing to these factors, the market is anticipated to expand 3-4% in Q3 and Q4 of 2020.
Analysts' Viewpoint
A comprehensive view of the virtual networking market has led our analysts to conclude that, the market is escalating at a significant rate. The BFSI sector holds a significant share of the market, because of the high adoption of virtual networking services by this vertical, as these services provide high-speed network connectivity, reliability, and the security features required by this sector. Partnerships and collaborations with other virtual networking solution providers along with regional expansion are some of the strategies being opted by key players the global virtual networking market to fuel their sales growth.
Virtual Networking Market: Segmentation
PMR's research study on the global virtual networking market offers a detailed market taxonomy, wherein, key segments have been discussed in detail. The segmentation of the virtual networking market has been offered on the basis of component, enterprise size, end user, and region. Every segment has been analyzed in detail, and data pertaining to the growth of each segment has been included in the study.
Component

Solutions
Virtual Machines
Virtual Network Switches
Cloud NAS (Network Attached Storage)
Virtual WAN Optimization Controllers
Others

Services

Professional Services

Business Consulting Services
Network Integration & Optimization Services
Network Virtualization Services
Support & Maintenance

Managed Network Services

Enterprise Size

Small & Medium Enterprises
Large Enterprises

End User

Network Service Providers
Telecom Service Providers
Managed Service Providers
Cloud Service Providers
Data Centers Providers
Enterprises

BFSI
Manufacturing
Retail
Healthcare
Others

Region

North America
Latin America
Europe
East Asia
South Asia & Pacific
Middle East and Africa
Virtual Networking Market: Key Questions Answered in the Report
The research study on the virtual networking market offers inclusive insights about the growth of the market in the most comprehensible manner for the better understanding of users. Insights offered in the virtual networking market report answer some of the most salient questions that assist stakeholders in gauging all the emerging possibilities.
How are small and medium enterprises creating new opportunities for the virtual networking market?
What are the key trends that are constantly shaping the growth of the virtual networking market?
Which are the prominent regions offering plentiful opportunities for the virtual networking market?
What are the key differential strategies being adopted by key players to command a significant chunk of the global market share?