Viral Vector Manufacturing Market Outlook (2022-2032)
The global market for viral vector manufacturing recorded a historic CAGR of 12.8% in the last 9 years from 2012 to 2021. In 2022, global revenue from viral vector manufacturing reached US$ 624.7 Mn, with the worldwide market estimated to surge ahead at a CAGR of 18.7% to reach a valuation of US$ 3.46 Bn by the end of 2032.
According to Persistence Market Research, adeno-associated viral vectors secured a market value of US$ 209.6 Mn in 2021.
Infectious diseases are illnesses caused by bacteria, viruses, fungus, or parasites. The growing understanding of virus biology has supported the development of therapeutic viral delivery vectors. As a result, viral vectors have emerged as one of the most effective gene delivery vehicles. Viral vectors are widely used for medicinal applications as well as basic biology research because of their particular properties.
As per findings from the National Ambulatory Medical Care Survey, in 2018, there were around 7,196 visits for the primary diagnosis of certain infectious and parasitic diseases in the U.S., which portrays the rising prevalence of infectious diseases.
Both in-vitro and in-vivo viral vectors can be used for the activation of cellular immunity and humoral responses because they mediate lasting and effective antigen expression and presentation in dendritic cells. As such, viral vectors are an excellent choice for vaccines against several malignancies and infectious disorders.
Furthermore, due to the increasing number of patients suffering from chronic and hereditary diseases, the demand for gene therapy is consistently increasing, which impacts viral vector manufacturing in a positive way.
As per WHO, ten in every thousand individuals encounter some kind of genetic disease, increasing the demand for gene therapy and eventually the demand for viral vectors.
Apart from gene and cell therapy, viral vectors are profoundly used in vaccine development. There are various characteristics of viral vectors that help in utilizing them as vaccine delivery systems as well. These include low pathogenicity, genetic safety, great efficacy in getting transferred to the dendritic cells, ability to induce long-lasting antibody-mediated immunity, and lack of integration in the host genome. Therefore, viral vectors can be easily used for expressing and presenting pathogenic antigens to induce an immune response by imitating a natural infection.
| Attribute | Details |
| --- | --- |
| Viral Vector Manufacturing Market Size (2022) | US$ 624.7 Mn |
| Projected Market Value (2032) | US$ 3.46 Bn |
| Global Market Growth Rate (2022-2032) | 18.7% CAGR |
| Market Share of Top 5 Countries | 57.7% |
Why is Demand for Viral Vector Manufacturing Skyrocketing?
"Increased Use of Viral Vectors for T-Cell Engineering in Cancer Treatment"
One of the major driving factors for viral vector manufacturing is the use of viral vectors in gene and cell therapy. Viral vectors are specially designed tools that help in effective gene transfer, which helps them modify specific tissue or cell types and can cause therapeutic effects. Viral vectors can favorably be used for delivering functional genes in the place of defective genes so that effective treatment can be provided to patients suffering from various genetic disorders. Viral vectors are also used for the development of vaccines, including COVID-19 vaccines, and this is one of the key drivers for the market.
During the anticipated period, there will be numerous lucrative opportunities for viral vector producers all around the world. Key players have several opportunities to grow their enterprises in emerging economies. The development of gene-modified cell-based therapeutics, notably T-cell therapies, has already benefited from viral vectors. Such vectors are also employed to deliver cloned T-cell receptors or chimeric antigen receptors (CARs) to mature T cells to induce anti-cancer immunity.
FDA approved the first genetically engineered cellular therapy utilizing lentiviral vectors when CAR T-cell therapies created with viral vectors such as lentiviral vectors showed clinical efficacy and safety in patients with B-cell malignancies. With CAR T-cell therapy, lentiviral vectors have changed and evolved, and they are now exhibiting their full utility as a complementary therapeutic treatment and a vaccine. Apart from this, increased research and development activities for the development of novel viral gene therapies point to the growth of viral vector manufacturing.
Are There Any Barriers That Can Affect Viral Vector Manufacturing in Any Way?
"Challenges in Viral Vector Manufacturing Capacity"
There are three key problems with respect to viral vector manufacturing, all of which have an impact on the various stages of viral vector development. These include the criticality in choosing the production system, the development of quality assays, and the capability to optimize downstream processing. All these factors may hamper the growth of the viral vector manufacturing market to some extent.
Other than this, the high cost of gene therapies is another factor that can restrain the demand growth for viral vector manufacturing over the forecast duration.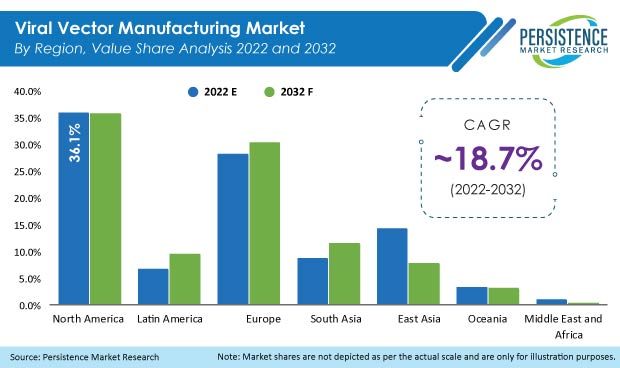 Country-wise Insights
Why is the U.S. a Prominent Viral Vector Manufacturing Market?
"High Number of Industry Players in the U.S."
The U.S. accounted for 92.1% share in the North American region in 2021 and a similar trend is expected over the forecast period as well.
The presence of various manufacturers such as ThermoFisher Scientific Inc., Waisman Biomanufacturing, Creative Biogene, Sirion Biotech GmbH, Charles River (Cobra Biologics), and others is quite high in the U.S. This has boosted the availability of viruses in the viral vector manufacturing space.
In June 2021, Charles River Laboratories acquired Vigene Biosciences, Inc. so that it can focus on improving viral vector-based gene delivery solutions.
How is the U.K. Market Expected to Shape Up?
"Increase in Research Activities Related to Cancer Treatment"
The U.K. held 22.9% share of the European market in 2021 and was valued at US$ 35 Mn.
To find new cancer treatment options, researchers in the U.K. are continuously examining the use of lentiviral vectors for T-cell engineering. These retroviral vectors, which are a safe and efficient approach for gene transfer, have been used in many of the development procedures necessary for the current advancement of CAR T cell therapy. As a result, the market for viral vector manufacturing in the United Kingdom is growing rapidly.
Why is China Emerging as a Prominent Market for Viral Vector Manufacturing?
"Expansion of Manufacturing Units in China"
China held the largest share of 48.2% of the East Asia market in 2021 and will exhibit a growth rate of 12.7% through 2032.
The growth of medical infrastructure and collaborative strategic planning for expansion are key factors that will favorably affect viral vector manufacturing in China.
On January 19, 2022, GenScript ProBio started the construction of its new plasmid and viral vector manufacturing facility, a 34,000 square meter GMP manufacturing facility, in Zhenjiang, Jiangsu.
Category-wise Insights
Which Virus Type is Driving Global Market Growth?
"Increased Utilization of Adeno-Associated Viral Vectors"
The adeno-associated viral vectors segment held 38.9% share of the global market in 2021. These are quite effective with respect to gene therapies and thus hold a dominant market share.
The transduction of a large range of cell types is possible using these viral vectors, including both dividing and non-dividing cells. Additionally, post the in-vivo gene delivery process, a long-term expression of that of transgenes can be obtained using these vectors. These factors have made adeno-associated viral vectors an important tool for gene therapy.
Which Expression System is Most Popular in the Market?
"High Availability of Stable Expression Systems"
The stable expression system segment held 85.1% share of the global market in 2021. The availability of stable expression systems in viral vector manufacturing is more than compared to transient expression systems.
A stable expression system implies a stable, large-scale synthesis of recombinant proteins. Stable gene expression is mostly preferred as it allows for the large-scale manufacture of therapeutic antibodies because it provides better process consistency and control over the quality of the final product.
Which Application Benefits the Most from the Employment of Viral Vectors?
"Increased Adoption of Gene Therapy"
The gene therapy segment held 56.7% share of the global market in 2021. The segment is expected to surge at a CAGR of 16.5% over the period of 2022 to 2032.
Patients are inclined toward the adoption of gene therapy for the treatment of various genetic disorders and cancers. Various research activities have proved the potential of viral vectors in the delivery of gene therapies – efficiently and safely. Furthermore, factors such as the large capacity of packaging, cell type infection at large quantities, and efficient transduction capability have all supported the usage of viral vectors in gene therapy.
Competitive Landscape
Major viral vector producers are concentrating on strategic alliances, product launches, and acquisitions to increase their market presence. Apart from this, one of the key strategies of manufacturers is expansion - the opening of new facilities to expand their viral vector manufacturing capability.
For instance:
In February 2022, SIRION Biotech and the Centre for Genomic Regulation formed a partnership to create novel adeno-associated virus vectors for type 1 and type 2 diabetic gene therapy.
Thermofisher Scientific Inc. constructed a brand-new, cutting-edge manufacturing facility for viral vectors in Plainville, Massachusetts, in August 2022. The company's ability to provide cell and gene therapy would benefit from this.
Viral Vector Manufacturing Industry Report Scope
Attribute
Details

Forecast Period

2022-2032

Historical Data Available for

2012-2021

Market Analysis

USD Million for Value

Key Countries Covered

U.S.
Canada
Brazil
Mexico
Argentina
U.K.
Germany
Italy
France
Spain
Russia
Nordic Countries
BENELUX
India
Indonesia
Malaysia
Philippines
Thailand
Vietnam
China
Japan
South Korea
Australia
New Zealand
GCC Countries
Israel
Turkey
South Africa
Northern Africa

Key Market Segments Covered

Virus Type
Expression System
Application
End User
Region

Key Companies Profiled

Thermo Fisher Scientific Inc
Charles River
(Cobra Biologics)
NOVASEP
uniQure N.V
Waisman Biomanufacturing
Creative Biogene
GenScript Biotech Corporation
Novartis AG
Merck KGaA
Takara Bio, Inc.
FUJIFILM Diosynth Biotechnologies
LONZA
Danaher Corp. (Aldevron)
Sirion Biotech GmbH
AGC Biologics

Report Coverage

Market Forecast
Competition Intelligence
DROT Analysis
Market Dynamics and Challenges
Strategic Growth Initiatives

Customization & Pricing

Available upon Request
Key Segments of Manufacturing of Viral Vector Industry Research
By Virus Type:
Lentiviral Vectors
Adenoviral Vectors
Adeno-Associated Viral Vectors
Retrovirus
By Expression System:
By Application:
Gene Therapy
Vaccines
Cancer Therapy
Others
By End User:
Biotechnology Companies
Pharmaceutical Companies
Contract Research Organizations (CROs)
Academic and Research Institutes
By Region:
North America
Latin America
Europe
South Asia
East Asia
Oceania
Middle East & Africa (MEA)