Lentiviral Vectors Market Outlook (2022-2032)
The global lentiviral vectors market was valued at US$ 127.6 Mn in 2021, with a projected CAGR of 11.4% for the next ten years, which indicates highly positive market growth. Detailed industry analysis reveals that revenue from sales of lentiviral vectors will surge to a market valuation of US$ 411.2 Mn by the end of 2032.
According to Persistence Market Research, kits, as a product segment, enjoyed a market value of US$ 91.6 Mn in 2021, accounting for nearly three-fourths of the global market share. Consumption of lentiviral vectors accounted for 20.1% share of the global viral vectors manufacturing market, which was valued at approx. US$ 636 Mn in 2021.
| Attribute | Key Insights |
| --- | --- |
| Lentiviral Vectors Market Size (2021) | US$ 127.6 Mn |
| Projected Market Value (2032) | US$ 411.2 Mn |
| Global Market Growth Rate (2022-2032) | 11.4% CAGR |
| Market Share of Top 5 Countries | 54.0% |
Sales Analysis of Lentiviral Vectors from 2017 to 2021 Vs Market Outlook for 2022 to 2032
The global market for lentiviral vectors expanded at a high CAGR of 9.2% over the last five years (2017-2021).
Gene therapy using lentiviral vectors is a method by which genes can be modified, deleted, or inserted in organisms using lentivirus. The capacity of lentiviral vectors to infect both, dividing and non-dividing cells, as well as their low cytotoxicity rate, has gained prominence throughout the global market.
Due to their great efficacy in transferring dendritic cells and inducing long-lasting antibody-mediated immunity, CD8+ T cells, and excellent protection in a variety of preclinical animal models of infection and malignancies, lentiviral vectors have emerged as strong vectors for vaccination purposes.
In recent years, demand for lentiviral vectors has increased because researchers are using them for the development of COVID-19 vaccines. As such, wide use of lentiviral vectors for the development of various vaccines will drive growth of the market.
Creation of medical lentiviral delivery vectors has been aided by increasing understanding of lentivirus biology. Lentiviral vectors have thus become one of the most efficient gene delivery vehicles. They are frequently used for therapeutic purposes as well as fundamental biology research due to their unique features.
Lentiviral vectors have been utilized to mediate long-term and effective antigen transcription and delivery in dendritic cells, resulting in the activation of cellular immunity and humoral responses in both, in vitro and in vivo studies.
Viruses have evolved to be extremely efficient at delivering nucleic acids to specific cell types while avoiding detection by an infected host's immune system. Viruses are promising gene-delivery vehicles or vectors for gene therapy because of their features. Several viruses have been modified in labs for use in gene therapy applications, including retrovirus, adenovirus, adeno-associated virus (AAV), herpes simplex virus, and lentivirus.
Since the mid-1990s, lentiviruses have been widely utilized as gene delivery vectors. They mediate effective gene transfer to non-dividing cells, such as neurons and glia in the adult mammalian brain, and are usually derived from the human immunodeficiency virus genome.
The global lentiviral vectors market is predicted to surge ahead at a CAGR of 11.4% and record sales worth US$ 411.2 Mn by the end of 2032.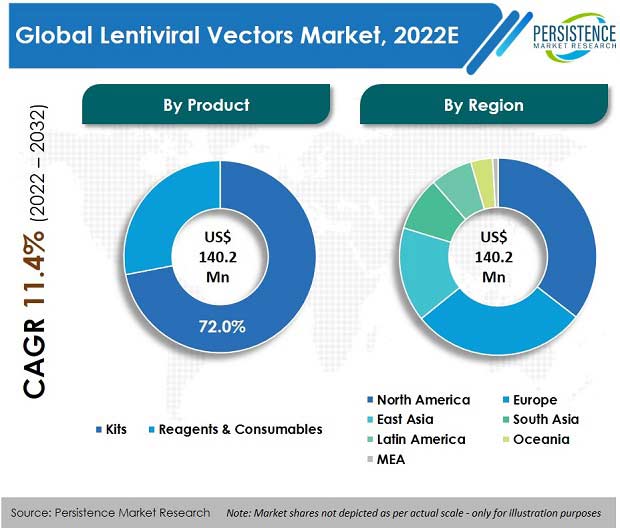 What Opportunities Await Lentiviral Vector Manufacturers?
"Lentiviral Vector Demand for T Cell Engineering for Cancer Treatment Surging"
Many attractive prospects for lentiviral vector makers around the world are expected during the predicted period. Emerging economies provide key players with numerous opportunities to expand their businesses.
Lentiviral vectors have already been helpful in the formation of gene-modified cell-based therapies, particularly T cell therapies. In order to create anti-cancer immunity, such vectors are also used to convey Chimeric Antigen Receptors (CARs) or cloned T-cell receptors to mature T cells.
The first genetically-engineered cellular therapy employing lentiviral vectors was approved by the FDA after CAR T-cell therapies generated with lentiviral vectors showed notable clinical effectiveness in patients with B-cell malignancies.
Lentiviral vectors have changed and evolved with CAR T-cell therapy, and they are now demonstrating their full usefulness as an alternative therapy and a potent, supplementary tool in the treatment of a broader range of malignancies.
What Can Slow Down Demand for Lentiviral Vector Products to Some Extent?
"High Cost of Gene Therapy May Dent Market Expansion Potential"
By replacing a genetic defect or adding a new gene, gene therapy aims to cure an illness or improve the body's ability to resist the disease. Gene therapy could help people with heart disease, cancer, cystic fibrosis, AIDS, haemophilia, and diabetes, among other disorders.
The cost of gene therapy is at the heart of the problem. Drug prices are controlled and subject to existing legislation in many countries; however, gene therapy pricing is mainly unregulated and determined on a case-by-case basis, with focus on a single upfront payment.
Drug makers examine development costs, specific characteristics of the condition, and associated expenses such as hospitalizations and lost productivity that might possibly be avoided by reducing the disease burden when deciding the price.
Prices for gene therapies are also influenced by lack of competition, with only a few companies developing gene therapies for rare diseases, as well as the fact that only a small number of patients can benefit from a given treatment, resulting in a situation where profits from a small number of doses must cover the entire drug development and manufacturing costs.
Country-wise Insights
Why are Lentiviral Vector Providers Targeting the U.S. Market?
"Strategic Acquisitions & Mergers between Industry Players High in the U.S."
In terms of value, the U.S. accounted for 82% of the North America lentiviral vectors market. High market share is due to the existence of major players in this industry in the U.S., which increases the availability of products in the country.
Key players are focusing on strategic acquisitions and mergers, which is boosting the growth of the market.
In June 2021, Charles River Laboratories International, Inc. acquired Vigene Biosciences, Inc. to improve its viral vector-based gene delivery solutions.
How is Consumption of Lentiviral Vectors Shaping Up in the U.K.?
"High Level of Research Activities Ongoing in the U.K. for Cancer Treatment"
In 2021, the U.K. lentiviral vectors market was valued at US$ 9.1 Mn and held a market share of 25.2% in Europe.
Researchers in the United Kingdom are constantly investigating the use of lentiviral vectors for T cell engineering in order to discover cancer therapeutic options. These retroviral vectors have been used in many of the development processes required for the current advancement of CAR T cell treatments, and are a safe and effective method for gene transfer.
As a result, the market for lentiviral vectors is expanding rapidly in the U.K.
Why is China Emerging as a Prominent Market for Lentiviral Vectors?
"Rapid Expansion of Product Manufacturing Units in China"
East Asia held a market share of 16% by value in the global lentiviral vectors market in 2021, of which, China accounted for a market share of 37.1%.
Rapid development of medical infrastructure as well as strategic planning to collaborate for expansion are crucial variables that will help this industry flourish in China.
For example, GenScript ProBio began construction on its newest plasmid and viral vector manufacturing plant, a 34,000-square-meter GMP manufacturing facility in Zhenjiang, Jiangsu, on January 19, 2022.
Category-wise Insights
Sales of Which Product are High in the Lentiviral Vectors Market?
"High Demand for Lentiviral Vector Kits across the World"
The kits segment amongst all products accounted for the highest market share of 71.7% by revenue in 2021.
Lentiviral vector kits include lentiviral packing systems, lentiviral expression systems, lentiviral promoter kits, and lentiviral fusion tags, among others.
Expression kits, for example, allow the development of a homologous recombination HIV-1-based lentivirus, which is used for delivering and expressing a gene of interest in dividing or non-dividing mammalian cells. As a result, they are frequently used in research, assisting in the expansion of the lentiviral vectors market.
Which Disease Indication Benefits the Most through the Employment of Lentiviral Vectors?
"Lentiviral Vectors Most Commonly Used for Treatment of Cancer"
The cancer segment, by indication, is driving demand in this market and accounted for more than 65.4% market share in 2021.
Lentiviral vectors have been helpful in the formation of gene-modified cell therapies, particularly T cell therapies. In order to create anti-cancer immunity, these vectors have also been used to convey chimeric antigen receptors (CARs) or cloned T-cell receptors to mature T cells.
After CAR T-cell treatments created with lentiviral vectors showed considerable success in patients who had B-cell malignancies, the FDA approved the foremost genetically-engineered cellular therapy using lentiviral vectors. Therefore, researchers are focused on the development of anti-cancer treatments based on lentiviral vectors.
Competitive Landscape
Strategic collaborations, product launches, and acquisitions for increasing market presence are focused on by key lentiviral vector manufacturers. Market players are focused on developing combinations of novel lentiviral vectors with lower pricing to increase their market shares.
Companies are entering into mergers and acquisitions to expand their product portfolios and market presence globally.
SIRION biotech established a partnership with the Centre for Genomic Regulation in February 2022 to design novel version AAV vectors for type 1 and type 2 diabetic gene therapy.
In April 2022, Charles River announced the acquisition of Explora BioLabs.
Takara Bio USA, Inc. announced a quick test in April 2018 that uses a smartphone as a diagnostic reader to evaluate recombinant lentivirus titers.
Lentiviral Vectors Industry Report Scope
Attribute
Details

Forecast Period

2022-2032

Historical Data Available for

2017-2021

Market Analysis

US$ Million for Value

Key Countries Covered

U.S.
Canada
Brazil
Mexico
Argentina
Germany
U.K.
France
Italy
Spain
BENELUX
Russia
China
Japan
South Korea
India
Thailand
Malaysia
Indonesia
Australia
New Zealand
GCC Countries
Turkey
South Africa

Key Market Segments Covered

Product
Indication
End User
Region

Key Companies Profiled

Thermo Fisher Scientific
PerkinElmer Inc. (Sirion-Biotech GmbH)
GENEMEDI
Takara Bio, Inc.
Charles River Laboratories
Sino Biological Inc.
OriGene Technologies, Inc.
Cell BioLabs, Inc.
Applied Biological Materials Inc.

Report Coverage

Market Forecast
Competition Intelligence
DROT Analysis
Market Dynamics and Challenges
Strategic Growth Initiatives

Customization & Pricing

Available upon Request
Key Segments Covered in Lentiviral Vectors Industry Survey
Lentiviral Vectors Market by Product:
Lentiviral Vector Kits

Lentiviral Packing Systems
Lentiviral Expression Systems
Lentiviral Promoter Kits
Lentiviral Fusion Tags

Reagents & Consumables
Lentiviral Vectors Market by Indication:
Cancer
Genetic Disorders
Infectious Diseases
Veterinary Diseases
Others
Lentiviral Vectors Market by End User:
Biotechnology Companies
Pharmaceutical Companies
Contract Research Organizations (CROs)
Academic and Research Institutes
Lentiviral Vectors Market by Region:
North America Lentiviral Vectors Market
Latin America Lentiviral Vectors Market
Europe Lentiviral Vectors Market
South Asia Lentiviral Vectors Market
East Asia Lentiviral Vectors Market
Oceania Lentiviral Vectors Market
Middle East & Africa Lentiviral Vectors Market