Multi-Brand Boutiques and Online Retailing to account for more than 75% of distribution channels
In the year 2016, the Multi-Brand Boutiques segment accounted for a market share of nearly 45% and the Online Retailing segment held a share of 33% in the distribution channels category in the U.S. costume jewelry market. These statistics imply jewelry makers will have to target either one or both of these distribution channels to ensure that their products reach end consumers.
e-Commerce boom is seen everywhere including the U.S. costume jewelry market
With the proliferation of smartphones, 4G connectivity and a strong distribution infrastructure, e-commerce enables customers in even smaller American towns to access the very best available in the U.S. costume jewelry market. Online retailers now provide a diverse selection of products through dedicated catalogues for both international patterns as well as designs.
In addition, online stores provide costume jewelry at highly competitive prices along with offering various coupons, offers or instalment schemes to encourage purchases. All these factors are anticipated to positively impact the U.S. costume jewelry market and drive growth till the end of the forecast period.
Online retail is typically much more convenient in terms of both easy access and payment options, home delivery that may even be free or a much more flexible return or exchange policy than traditional single or multi-brand boutiques.
Changing lifestyles should benefit the Online Retailing segment immensely
Women are no longer confined to their homes and have joined the workforce in droves by becoming completely independent. Working women are a major segment that contribute substantially to the U.S. costume jewelry market as they are either employed in high jobs or run their own businesses. This leads to a higher disposable income but these women are usually pressed for time and cannot visit boutique stores as frequently as they would like.
Online retailing is essentially their saving grace as the choice and convenience it offers is simply unbeatable. Women can shop when they want and where they want at the mere click of a button. Another factor that cannot be ignored is the importance given to personal appearance in the corporate world today. There is a growing desire among women to both look and feel good and this should make them look more closely at the U.S. costume jewelry market.
The entry of high-profile players should boost Online Retailing
In March 2016, Chanel S.A. launched its inaugural e-Commerce website to boost its reach and expand its target audience. At the end of the same year, its rival Gianni Versace Spa transformed its website and combined it with the brand's e-Commerce platform. This should almost certainly raise awareness about the importance of Online Retailing and other key companies in the U.S. costume jewelry market are expected to follow suit in the near future.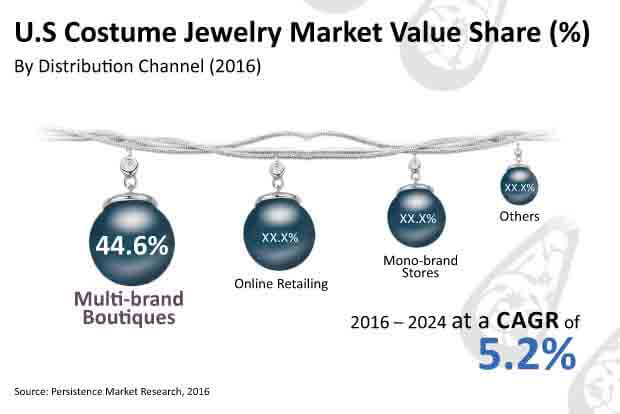 Online Retailing is here to stay and stakeholders would do well to adapt
The almost universal penetration of internet access throughout the U.S. has allowed the emergence of e-Commerce as a convenient and comfortable sales channel for a number of products in the U.S. costume jewelry market. This includes bracelets, bangles, earrings, finger rings, necklaces, pendants, anklets, brooches and much more.
Purchasing costume jewelry online is a newfound trend observed among a number of customers in the U.S. costume jewelry market. This can be largely attributed to big fashion brands providing their products via online channels along with the increase in brand-conscious customers.
Online Retailing allows a greater degree of transparency
The internet, e-Commerce, numerous online portals and review websites have made it extremely easy for customers to compare not just products and prices, but also design, service level, product origin and even manufacturer or supplier details. The amount of information available along with the relevant details have helped make the U.S. costume jewelry market far more transparent. Therefore, an increasing number of customers are opting for the online route to cater to all their jewelry shopping desires.
- Companies Covered in This Report -
Chanel S.A
Guess Inc.
Gianni Versace S.p.A
Alex and Ani, LLC
Pandora A/S
LVMH Moët Hennessy Louis Vuitton SE
Hermes International SA
Hennes & Mauritz Ab
Zara Espana SA
Gucci
Others