Introduction
Brisk rate of industrialization, buckling international trade activities, and considerable increase in disposable income in emerging economies such as India, China, and Brazil, collectively continue to offer an indirect push to the trailer axle market. Increasing demand for durability of automobiles is anticipated to drive the global automotive trailer axle market.
By the end of 2019, the market value of trailer axles is set to reach US$ 6.5 Bn and is expected to witness 5% CAGR through 2029. With a sizeable incremental $ opportunity facing trailer axle market over the projection period, major opportunities are expected to be emerging through strong demand for heavy-duty trailers in developing economies of Latin America, followed by Russia and China.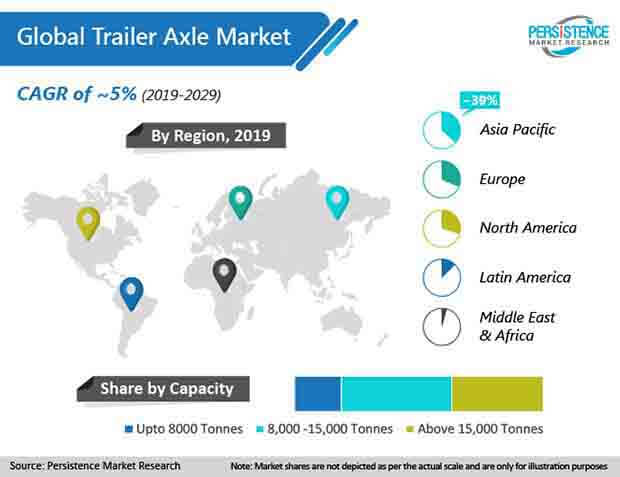 Trailer Axle Sales to Accelerate with Growth of Construction Industry
Trailers find a wide range of applications in the construction industry and are used for transportation of machinery, equipment, and raw materials. The growing construction industry output is expected to be one of the most significant drivers assisting the growth of trailer axle market.
Construction industry is likely to hit the US$ 15 Trn mark by the end of 2025 which will create significant opportunity for manufacturers of trailers and thus, trailer axles. High load bearing capacity that facilitates transportation will remain the strongest factor influencing demand for trailer axles within the construction industry.
Construction and urbanization are expected to have a moderate impact on the trailer axle market at a CAGR close to or below the global GDP growth over the forecast period.
Significant R&D Investments and Strategic Alliances
Prominent market participants are investing heavily in R&D with an intention to implement new features in cng lng commercial vehicles for advanced and efficient trailer axles all over the globe. Incorporation of new technologies in various products is another prominent trend in the global trailer axle market in recent years.
Market Players Focused on Cost Optimization
Cost sensitivity and increasing operational expenses are forcing manufacturers to reduce production, maintenance, and repair costs, which are higher for conventional and older versions of trailer axles. The complexity of axles with breaking and suspension systems makes them relatively difficult to handle and maintain. That apart, they demand high maintenance, including but not limited to regular lubrication.
Manufacturing and installation costs of a trailer axle vary based on its potential application. Customized trailer applications require more resources and raw materials. Owing to the high input cost, the cost of a customized trailer axle is more than that of an ordinary trailer axle.
Manufacturers are thus focusing on providing the best quality products with maximum efficiency at minimal costs which mark one of the prominent trends and drivers associated with the global trailer axle market over the forecast period.
Manufacturers have the pressure of continuously upgrading trailer axles as these are helpful in reducing transportation costs & time, as well as increasing the load-carrying capacity of the whole system. Therefore, manufacturers aim to launch trailer axles with higher efficiency, which are easy to maintain, and turn out to be cost-effective solutions for operators.
Analyst's Viewpoint
The trailer axle market is growing at a significant rate and remains a fairly consolidated competition landscape. Characterized by the presence of a limited number of international and domestic players, the global market for trailer axle will witness prominent opportunities of growth across the Asia Pacific region.
Leading manufacturers are investing in R&D activities to achieve more efficient and reliable product developments. The market has been observing a visible shift of trailer axle manufacturers towards high-strength, sturdier material alternatives to deliver highly durable trailer axles.
Additionally, a notable increase in global freight transport through trailers is expected to boost the demand for trailer axles in the near future.
Key Segments of the Trailer Axle Market
PMR's study on the trailer axle market is divided into three significant segments- capacity, sales channel, and region. This report offers comprehensive data and information about the important market dynamics and growth parameters related to these categories.
Attribute
Details
Capacity

Upto 8000 Tonnes
8,000 -15,000 Tonnes
Above 15,000 Tonnes

Sales Channel
Region

North America
Latin America
Europe
Asia Pacific (APAC)
Middle East & Africa (MEA)
Key Questions Answered in PMR's Trailer Axle Market Report
Which region is anticipated to hold a prominent market share over the forecast period?
What will be the key driving factors propelling the demand for trailer axles during the forecast period?
How current trends will impact the trailer axle market?
Who are significant market participants in the trailer axle market?
What are the crucial strategies of prominent players in the trailer axle market to upscale their positions in this landscape?