Skin Imaging Systems Market Outlook (2022-2032)
Global revenue from the skin imaging systems market reached US$ 203.5 Mn at the end of 2021, with the market predicted to expand at a high CAGR of 7% to reach a valuation of US$ 427.6 Mn by 2032.
As assessed by Persistence Market Research, skin imaging system products are expected to account for a market value of US$ 217.6 Mn in 2022. Overall, skin imaging system sales accounted for approximately 1.6% revenue share of the global dermatology diagnostic devices market in 2021.
| Report Attribute | Details |
| --- | --- |
| Skin Imaging Systems Market Size (2022) | US$ 217.6 Mn |
| Projected Market Value (2032) | US$ 427.6 Mn |
| Global Market Growth Rate (2022-2032) | 7% CAGR |
| Market Share of Top 5 Countries | 57.2% |
Increase in cases of skin disorders, growing consumer awareness about skin problem diagnosis, and technological advancements within product categories are acting as major drivers for market growth. Increased focus on skincare diagnostics has led to the acceleration in the adoption of skin imaging systems.
Rising cases of skin complexities such as acne, skin cancer, psoriasis, etc., which can affect the physical appearance of a person, will promote the use of face imaging devices.
Sales Analysis of Skin Imaging Systems (2012 to 2021) Vs. Market Outlook (2022 to 2032)
The global market for skin imaging systems recorded a CAGR of 6% in the last 9 years (2012 to 2021).
Skin problems are one of the primary contributors to the global disease burden, affecting millions of people across the world. Rising prevalence of permanent scars is indirectly supporting market growth.
In the U.S., acne is the most common skin problem affecting over 50 million people yearly. People aged 12 to 24 years experiencing acne constitute nearly 85% of the overall population in the country.
The non-invasive diagnostic treatment for acne, warts, and other skin disorders for early detection is the commonly used treatment option.
For instance, as per recorded data by the National Psoriasis Foundation in 2020, more than 8 million Americans have psoriasis, and 125 million people worldwide—2 to 3 percent of the total population have psoriasis.
Thus, increased incidence of such skin problems is triggering the growth of the global skin imaging systems market, which is expected to grow further over the forecast period because of the increased adoption of skin imaging systems by end users.
The influence of social media also has improved beauty standards, resulting in growing treatment adoption rates. Video content is helping skin imaging system brands harness the power of visual experiences that can help end users gain better usability and increase the adoption rate – a strategy that has proven profitable for cosmetic manufacturers.
Most market players promote their technological advancements through online campaigns to attract more consumers. This factor is expected to help drive market growth over the forecast duration.
The global skin imaging systems market is likely to exhibit high growth over the decade a value CAGR of 7% and reach a global market size of US$ 427.6 Mn by 2032.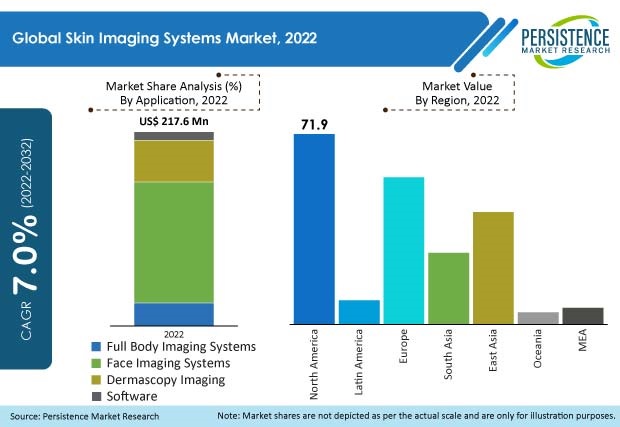 How Can Skin Imaging System Manufacturers Grow in the Market?
"Technological Advancements in Skin Imaging Devices"
The advancement of technology provides new avenues for disease detection as well as a better understanding of skin disease pathophysiology. Demetra, a fast and intelligent skin lesion screening methodology, handles every task, thereby improving efficiency and dependability.
The most recent advancement in imaging technology is artificial intelligence in skin diagnostic devices, which is a breakthrough technology. Advancements in computer processing speed and increased demand for quick, precise, and non-invasive diagnostic tests are increasing the utility of skin imaging systems.
For example,
In 2021, Courage Khazaka Electronic GmbH launched sophisticated new software, which also covers C+K wireless probes for skin imaging.
Companies are also involved in technological developments to introduce more cost-effective skin imaging systems. Increasing innovation and development activities by manufacturers will result in the introduction of more advanced and new technologies. These factors are expected to improve the acceptance and adoption of skin imaging systems, resulting in rapid market growth in the years ahead.
Can Adoption of Skin Imaging Systems Be Affected in Any Way?
"Dearth of Trained Professionals to Handle Systems"
It is essential to have trained and expert professionals to handle skin imaging systems. Accuracy and precision are highly required in these systems. Due to the lack of experience and training for handling and usage of these devices, hospitals are facing a lack of experts who can deal with advanced and precise skin imaging systems.
Globally, the demand for skilled specialists and professionals is increasing at a rapid pace due to the increasing prevalence of skin disorders and the rising geriatric population. However, the limited number of skilled professionals and operators will hamper the growth of the skin imaging systems market to some extent.
Also, the high cost of whole body skin imaging systems as compared to face imaging or dermascopy can hamper market growth as it restrains some of the end users from adopting these devices.
Country-wise Insights
Why is the U.S. Skin Imaging Systems Market Stance?
"Increasing Consumer Awareness about Skin Problem Diagnostics"
The U.S. is expected to account for around 91% share of the North American skin imaging systems market in 2022.
People in the U.S. are more aware of their health and aesthetic appearance these days, and are looking for alternative methods to pre-diagnose their problems and take prevention measures.
As such, skin imaging systems are the perfect tool for them, because the problem is diagnosed by a non-invasive method and provides a clear depth image of the skin.
The American Academy of Dermatology Association undertakes awareness campaigns in the U.S. about taking good care of the skin to avoid the risk of developing early signs of skin cancer and skin aging. People have been educated about the importance of early cancer detection and sun protection through this program.
Thus, with the increased adoption of skin diagnostic tests, there will be continuous growth in the U.S. skin imaging systems market over the coming years.
Why is Germany an Attractive Market for Skin Imaging System Providers?
"High Number of System Manufacturers and Skin Clinics"
Germany holds around 25.8% share of the European skin imaging systems market in 2022.
Germany will also continue to be a lucrative market for skin imaging system suppliers because of the growing number of independent dermatology & aesthetic clinics and the increased number of manufacturers of skin imaging devices in the country.
Companies are more focused on the development of their product portfolios to improve overall skin imaging system sales. There are some companies headquartered in Germany that sell products in the country as well as globally.
For instance,
Courage Khazaka Electronic GmbH, based out of Germany, is a market leader in this arena offering a complete range of skin measurement parameters.
FotoFinder Systems GmbH, headquartered in Germany, is specialized in digital dermascopy and skin cancer diagnosis through automated total body mapping (ATBM) and psoriasis imaging and documentation in aesthetics.
How is China Emerging as a Prominent Market for Skin Imaging Systems?
"Growing Adoption Rates in China Due To Large Patient Pool with Skin Concerns"
China is expected to hold a market share of 44.1% of the East Asia skin imaging systems market in 2022.
The large patient population base, coupled with an increase in the incidence of skin diseases due to unhygienic conditions, enables lucrative growth opportunities for companies to record high sales in the market.
Many small players are from China and manufacture these systems and export them to developed nations. Currently, skin diagnostics is gaining popularity in the country due to rising awareness about external appearance.
Category-wise Insights
Which Type of Skin Imaging Systems Will Exhibit High Demand Growth?
"Rapidly Rising Demand for Face Imaging Systems"
Face imaging systems are estimated to hold 62.3% share of the skin ultrasound imaging systems market in 2022.
Wide adoption of face imaging systems is being observed globally. Face imaging can be used to detect skin disorders and improve appearance with early detection. It can detect the smallest fine lines of the face and neck area.
Moreover, these devices are cost-effective as compared to full body imaging systems. They can detect severe aging symptoms such as wrinkles, acne, dark spots, pores, scars, and discoloration.
For Which Indication Will the Need for Skin Imaging Systems Rise the Fastest?
"Skin Cancer Diagnostics Driving Demand for Skin Imaging Equipment"
Skin cancer diagnostics holds the largest market share, under indication, at around 15% in 2022.
Rising incidence of skin cancer is a major driving factor for skin analysis imaging systems market growth owing to rising incidence rates, majorly due to ozone layer depletion, high exposure to ultraviolet (UV) or sunlight, immune suppression, and increased outdoor activities, and genetics.
According to the Skin Cancer Foundation, by the time an individual reaches the age of 70, they are more likely to develop skin cancer, with 1 in every 5 Americans getting affected. Every hour, nearly 2 people die due to skin cancer in the U.S. whereas, the risk for melanoma increases twice if one has 5 or more sunburns.
Competitive Landscape
Leading manufacturers of skin imaging systems are constantly working to improve and develop technologically-innovative products to enhance their product range. Top contenders in the skin imaging systems market are engaged in consolidation strategies, mergers, and acquisitions.
For instance:
March 2022: Barcos partnered with Elecom Systems to expand its diagnostic portfolio across the U.S. to nearly 1,500+ radiologists.
Dec 2021: Canfield Scientific, post acquiring Medici Medical s.r.l., launched Canfield Scientific s.r.l. Medici Medical has produced numerous innovations and technologies in dermascopy for years and has been the preferred choice amongst dermatologists in Italy.
March 2021: BOMTECH ELECTRONICS CO., Ltd acquired Digital Hand NW Medical CE.
Skin Imaging Systems Industry Report Scope
Attribute

Details

Forecast Period

2022-2032

Historical Data Available for

2012-2021

Market Analysis

USD Million for Value

Key Countries Covered

U.S.
Canada
Brazil
Argentina
Mexico
Germany
France
U.K.
Italy
Spain
Russia
BENELUX
Nordic Countries
India
Thailand
Malaysia
Indonesia
China
Japan
South Korea
Australia
New Zealand
Turkey
GCC Countries
Israel
South Africa

Key Market Segments Covered

Product
Indication
Technology
End User
Region

Key Companies Profiled

Canfield Scientific Inc.
Barcos
Cortex Technology ApS
FotoFinder Systems GmbH
Macquarie Medical Systems
Courage Khazaka electronic GmbH
QUANTIFICARE
Clarius
Emage Medical LLC
Pixience
FUDE MEDICAL INSTRUMENT LIMITED
BOMTECH ELECTRONICS CO., Ltd
tpm taberna pro medium GmbH
3dMD
Longport Inc
Miravex
DermSpectra
SkinLabs

Report Coverage

Market Forecast
Competition Intelligence
DROT Analysis
Market Dynamics and Challenges
Strategic Growth Initiatives

Customization & Pricing

Available upon Request
Key Segments Covered in Skin Imaging Systems Industry Research
Skin Imaging Systems Market by Product Type:
Full Body Imaging Systems

Whole Body Imaging Systems
Height Adjustable Image Scanners
Portable Table-Top Image Scanners

Face Imaging Systems

Height Adjustable Image Scanners
Portable Table-Top Image Scanners
Hand-held Image Scanners

Dermascopy Imaging

Digital Dermascopes
High-Resolution Dermascopes

Software
Skin Imaging Systems Market by Indication:
Skin Cancer Diagnostics
Wart
Hair Health and Removal
Psoriasis
Dark Spots
Wrinkles and Pores
Injectable
Face Lifts
Rhinoplasty
Surgical Planning
Pigmented Lesions
Plastic and Reconstructive Surgery
Vitiligo
Others
Skin Imaging Systems Market by Technology:
Ultrasound Imaging
Optical Coherence Tomography
Confocal Microscopy
Dermascopy
Total Body Photography
Others
Skin Imaging Systems Market by End User:
Hospitals
Independent Dermatology Clinics
Dermatology Clinic Chains
Aesthetic Clinics
Skin Imaging Systems Market by Region:
North America Skin Imaging Systems Market
Latin America Skin Imaging Systems Market
Europe Skin Imaging Systems Market
South Asia Skin Imaging Systems Market
East Asia Skin Imaging Systems Market
Oceania Skin Imaging Systems Market
The Middle East & Africa Skin Imaging Systems Market