Ship Hull Inspection Services Market Outlook (2022-2032)
According to Persistence Market Research, revenue from the global ship hull inspection services market totaled US$ 2.73 Bn at the end of 2021. Ship hull inspection services demand is predicted to accelerate at a CAGR of 7.2% to reach a market valuation of US$ 5.84 Bn by 2032.
The top 5 ship hull inspection service providers in the world accounted for a combined market share of 5%-6% at the end of 2021.
South Asia & Pacific is witnessing a rapid increase in sea trade and demand for new ships. Owing to this, the South Asia & Pacific ship hull inspection services market is estimated to hold 26% share of the global market.
| Attribute | Key Insights |
| --- | --- |
| Ship Hull Inspection Services Market Size (2021A) | US$ 2.73 Bn |
| Estimated Market Value (2022E) | US$ 2.9 Bn |
| Projected Market Value (2032F) | US$ 5.84 Bn |
| Value CAGR (2022-2032) | 7.2% |
| Collective Value Share: Top 3 Countries (2021) | 44.7% |
The ship maintenance market is expected to grow even faster as ship inspection supply chains expand. With rising trade agreements, expanding marine routes, and recent economic expansion around the world, ship hull inspection service providers can expect numerous opportunities to come their way.
Revenue from ship hull inspection services currently accounts for around 11.6% share of the global ship repair and maintenance services market.
Demand Analysis of Ship Hull Inspection Services (2017 to 2021) Vs. Market Projections (2022 to 2032)
From 2017 to 2021, the market for ship hull inspection services expanded at 5.4% CAGR and is anticipated to increase by 6.5% in 2022. This significant increase in Y-o-Y growth in 2022 is due to the cruise industry's globalization, which is benefiting ship hull inspection service companies.
Cruising is a rapidly rising and expanding segment of the worldwide tourism sector, drawing a broader spectrum of clients than in the past when it was primarily reserved for the wealthy and upper crust. The cruise business is a relatively new and undoubtedly developing component of the tourism industry. Although markets in Europe, Asia, and the rest of the world are displaying excellent growth possibilities, North American passengers continue to dominate the cruise business.
Shipyards around the world are seeing an increase in the number of cruise ship overhauls and revitalizations. As cruise lines move to upgrade older ships and incorporate contemporary amenities into their existing fleets, the scope of work has grown, contributing to the increase of ship hull inspection services.
Importantly, cruise travel is predicted to continue to rise, with over 25.3 million passengers traveling in 2019. In 2015, there were 62 cruise lines with a fleet of over 471 cruise ships, according to the supply side.
Due to the huge number of cruise ships in Europe, the market for ship hull inspection services appears to be promising. For example, Germany, the United Kingdom, and Ireland are the two most prominent European cruise source markets, accounting for 28% and 26& of European demand, respectively.
Overall, global demand for ship hull inspection services is expected to grow 2X by the end of 2032.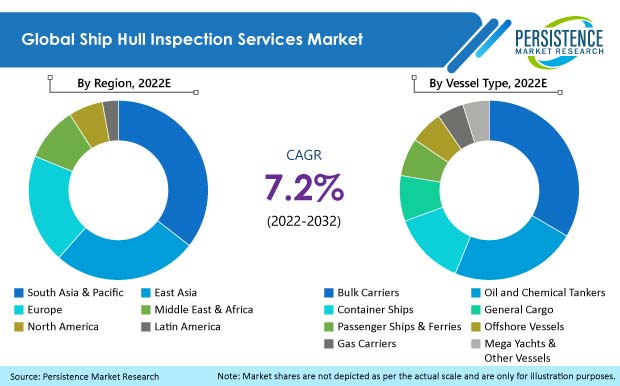 The image above presents the share of vessels and regions in the ship hull inspection services market. Bulk carrier vessels account for a larger market share, whereas, demand for ship hull inspection services is the highest in South Asia & Pacific, closely followed by East Asia.
Which Market Trend Should Ship Hull Inspection Service Providers Capitalize On?
"Trend Shifting to Environment-friendly Ship Servicing Techniques"
Environmental-friendly techniques are being incorporated to promote ship hull inspection services. In light of growing global environmental concerns about greenhouse gas emissions, as well as the global environmental impact of industrial production, shipbuilding and ship inspection industries must now adhere to a slew of international, national, and regional regulations.
Importantly, ship inspection and repair yards are given the perception of being a potentially hazardous work environment. Yards, on the other hand, are more focused on environmental issues, both to comply with rules and to maintain a good reputation as a marketing tool. Many of the techniques used by providers of ship inspection services are environment-friendly.
A rapidly growing fleet of container ships, as age increases, augments the demand for inspection and repair services. In this scenario, it is expected that low-cost facilities in China, the Baltic region, East Mediterranean, and the Black Sea will maintain their competitive pressure on higher-cost yards.
What are the Factors Restraining the Ship Hull Inspection Services Market?
"Dearth of Skilled Ship Hull Inspectors"
Skilled labor shortage has put the industry under immense pressure. One of the major issues that ship hull inspection service yards will face in the future will be the rising shortage of skilled workers.
Many ship inspection and repair companies are having difficulty in attracting skilled personnel from their nations, such as yards in Northern Europe that must recruit workers from Eastern Europe and Turkey, resulting in an exodus of their finest workers to higher-paying opportunities offshore.
A region's strength is its labor force for this particular market. However, given the current trend, the ship hull inspection services market is likely to face a labor shortage to maintain operations. Ship inspection work is not amenable to automation, implying that a high number of laborers will be required for carrying out ship hull inspection services.
Country-wise Insights
Where Does the U.S. Stand in the Aftermarket for Ship Hull Inspection Services?
The United States ship hull inspection services market is projected to expand at 4.6% CAGR during the forecast period of 2022-2032.
Over the last three years, the earnings of shipping companies in the U.S. have increased by 50% each year. Business revenues have increased by 34% per year. This indicates that these businesses are generating more sales, and their earnings are rising as a result, which bodes well for ship hull inspection companies.
Why is China a Huge Market for Ship Hull Inspection Services?
China is expected to account for more than 58% of the East Asia ship hull inspection services market. China has more shipping ports than any other country, including seven of the world's top ten busiest ports. China has over 100 ports in 63 nations, in addition to its huge domestic shipping infrastructure.
According to the United States Office of Naval Intelligence, China has the world's second-largest fleet of commercial maritime boats and has outnumbered the United States as the world's largest navy in terms of overall battle force ships.
Why is Germany a Lucrative Market for Ship Hull Inspection Servicing Companies?
Over the forecast period of 2022 to 2032, the Germany ship hull inspection services market is projected to create an incremental opportunity of nearly US$ 37 Mn.
Germany is one of the world's largest seafaring nations. Germany leads the league table in container transportation, with a market share of roughly 30% on an international level. The German maritime industry earns more than 50 billion euros in annual revenue, which makes it a lucrative pocket for ship hull inspection providers.
Category-wise Insights
Will Bulk Carrier Owners Continue to Account for Highest Requirement of Ship Hull Inspection Services?
Bulk carriers are estimated to create more than US$ 1.3 Bn in incremental opportunities by 2032.
Unpacked bulk cargo such as grains, coal, ore, and cement is transported by bulk carrier ships. Consequently, the cargo segment makes up for a sizable share of the revenue generated by ship hull inspection services. The number of these ships has increased rapidly in recent years as global economic activity has increased.
Why are Contract-based Ship Hull Inspection Services Popular?
Contract-based ship hull inspection services are projected to account for nearly 63% of the global market share by the end of 2032.
Ship owners prefer offering contract-based examinations for ship hull inspection to improve ship reliability, reduce costly emergency dry-docks, and ensure cargo and crew safety.
Will Navy Ship Hull Inspection Services Bring in Higher Business Opportunities?
As per analysis, ship owners are estimated to hold nearly 46% by 2032. Demand from navy vessels is estimated to increase at a significant CAGR of 8.1% during the forecast period.
As geopolitical tensions and maritime disputes between countries worsen, countries are attempting to improve their naval capabilities. Several countries are modernizing or replacing their outdated naval fleets with newer generation boats that have more advanced features.
The industry has seen large-scale procurement and development operations as a result of various countries boosting their defense spending during the last decade. Due to strict regulations to keep these vessels in proper condition, demand for ship hull inspection services is expected to rise rapidly in this end use
Impact of COVID-19 Crisis
Ports were closed due to quarantine periods to protect workers' safety, and other conditions were enforced, such as the ban of marine vessels from arriving in specified countries, which required these vessels to be in the water and without a destination port. Certain countries' vessel admissions were restricted or prohibited, wreaking havoc on the world's maritime transit infrastructure.
The added issues of quarantine periods resulted in a further decline in demand for cargo, causing shipping delays. Perishable products could not be transported due to the 14-day waiting period or the waiting period established by respective authorities in each country. This posed a significant challenge for ship hull inspection service providers.
However, the market is back on track and is expected to expand as per its full potential over the coming years.
Competitive Landscape
To provide timely inspection services, companies offering ship hull inspection services are focusing on technical advancements and enhancing overall operations.
"K" Line, a Japanese shipping firm, has teamed up with Technos Mihara Corporation, a "non-destructive testing" company, on a research project that would use an innovative way for ship hull inspection and repairs by employing a drone and image processing system.
Due to the numerous obstacles connected with standard hull corrosion assessment, a new solution to this problem is being considered. The technology is gaining traction in the naval and maritime industries, thanks to the recent advent of more sensitive Pulsed Eddy Current sensors and array sensors.
PEC is the optimum screening method for identifying areas of corrosion in ship hulls, thanks to its excellent productivity and coverage, as well as its great durability in harsh surface conditions and liftoff.
Ship Hull Inspection Services Industry Report Scope
Attribute
Details

Forecast Period

2022-2032

Historical Data Available for

2017-2021

Market Analysis

USD Million for Value

Key Regions Covered

North America
Latin America
Europe
East Asia
South Asia & Pacific
The Middle East & Africa

Key Countries Covered

U.S.
Canada
Mexico
Brazil
Germany
France
Italy
Spain
U.K.
Russia
China
Japan
South Korea
India
ASEAN
Australia & New Zealand
GCC
Turkey
South Africa
Northern Africa.

Key Market Segments Covered

Vessel Type
Service Type
End User
Region

Key Companies Profiled

Royal Marine Management Pte Ltd
Inuktun Services Ltd.
Marine Inspection Services Ltd
NIPPON KAIJI KENTEI KYOKAI.
Norwegian Marine & Cargo Survey
Overseas Merchandise Inspection Co., Ltd.
SolidTech
TECHNOS MIHARA Co., Ltd.
Ultramag
AIM Control Group
Blueye
Commercial Diving Services Pty Ltd

Report Coverage

Market Forecast
brand share analysis
competition intelligence
DROT analysis
Market Dynamics and Challenges
Strategic Growth Initiatives

Customization & Pricing

Available upon Request
Key Segments Covered in Ship Hull Inspection Services Industry Research
Ship Hull Inspection Services Market by Vessel Type:
Oil and Chemical Tankers
Bulk Carriers
General Cargo
Container Ships
Gas Carriers
Offshore Vessels
Passenger Ships and Ferries
Mega Yachts and Other Vessels
Ship Hull Inspection Services Market by Service Type:
Contract-based
One Time Service
Ship Hull Inspection Services Market by End User:
Ship Owners
Ship Manufacturers
Navy Vessels
Ship Hull Inspection Services Market by Region:
North America Ship Hull Inspection Services Market
Latin America Ship Hull Inspection Services Market
Europe Ship Hull Inspection Services Market
East Asia Ship Hull Inspection Services Market
South Asia & Pacific Ship Hull Inspection Services Market
Middle East & Africa Ship Hull Inspection Services Market