Propylene Plycol Methyl Ether Acetate (PGMEA) Market: About the Report
Propylene glycol methyl ether acetate is a P-type glycol ether derivative, which is used as a solvent and surfactant, and in inks, coatings, and cleaners. As such, players in this space are leveraging these various uses to target the electronics & semiconductor and chemical manufacturing sectors. East Asia is set to be the most lucrative market for PGMEA, with thriving end-use industries in the region. The report by PMR also talks in some detail how the COVID-19 pandemic is having an effect on the propylene glycol methyl ether acetate (PGMEA) market, and what the short-term and long-term future will look like.
Increased Focus on Research & Development Aiding PGMEA Market Growth
Over the last few years, there has been an increase in investments by key market participants for the development of products to meet demands of specific applications, and players are trying to produce innovative and efficient products in order to have a better hold in regional markets as well as the global propylene glycol methyl ether acetate (PGMEA) market. To aid such as optimistic approach, key players are investing around 3-5% of their revenue on innovating new products so as to invent new applications, which is a factor that is expected to aid the expansion of the global propylene glycol methyl ether acetate market size over the coming years.
Adoption of Business Integration Models in PGMEA Market
The supply chain of the PGMEA market is highly unreliable, owing to raw material prices and supply fluctuations. Thus, key manufacturers are focusing on having an agile and flexible supply chain network of the business integration model so that they do not have to depend on third-party vendors for business integration. Few of the key players in the propylene glycol methyl ether acetate market are inclined toward the adoption of various such types of business models, such as backward integration, forward integration, and downward integration models.
Exploration of New Application Areas in Field of Electronics
PGMEA finds many applications in simplifying next generation electronics technologies, such as connectors, circuits, and chips for wired and wireless data communication. With the shrinking sizes of devices, connectors or other circuits require more specific products to increase the efficiency of end-use products. Popylene glycol methyl ether acetate has those properties that can make electronics products be suitable to end users for a long period of time with high efficiency.
Growing Demand from Paints & Coatings Industry
PGMEA is used as a solvent in chemical intermediates, such as in the paints and coatings industry. Due to growth of construction activities across the globe, the paints and coatings market has been expanding at a strong pace from the last couple of years, and is expected to move significantly during the forecast period. This, in turn, is expected to drive the market for PGMEA. In addition to the construction industry, paints and coatings are primarily used in the automotive industry, which, in recent years, has reported strong growth figures. Increasing production of automobiles in emerging and developing countries is expected to lead to an increase in the use of paints and coatings, thereby catalyzing the growth of the global propylene glycol methyl ether acetate market.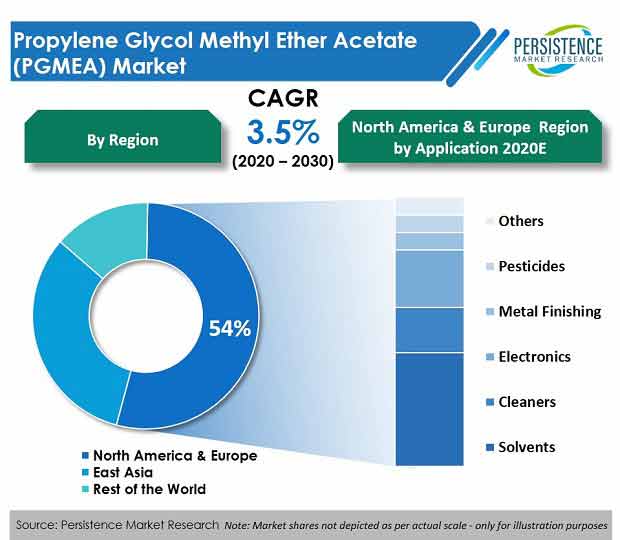 Customizing Product Portfolio as per Specific Applications
PGMEA is considered as a key solution for several applications across various industry verticals. Unique properties as compared to other substitutes make PGMEA more economical. Furthermore, some end-use industries, especially the electronics industry, require high grade/ purity of PGMEA for their applications. Hence, product differentiation and customization are expected to create new growth avenues in the propylene glycol methyl ether acetate market across the globe, especially in East Asia, owing to the presence of major electronics manufacturers.
PGMEA Market Manufacturers' Focus: Economic Range Products
Manufacturers in the propylene glycol methyl ether acetate market are continuously planning to increase production and similarly focusing on developing innovative technologies to reduce environmental footprint and operational costs, and simultaneously increase product yield.
With major key players based in East Asia, especially China. In order to meet overall demand for propylene glycol methyl ether acetate, manufacturers are developing high quality/ purity grades products. This factor is also responsible for product innovation, which increases demand and sales in the propylene glycol methyl ether acetate market across the world.
PGMEA Market: Fairly Competitive Space
The global propylene glycol methyl ether acetate market is a consolidated one, with a few number of global as well as medium-scale players operating in the market. Owing to the presence of a number of regional & domestic players, the PGMEA market is competitive in nature. Some of the key players in the global propylene glycol methyl ether acetate market are LyondellBasell Industries Holdings N.V, Royal Dutch Shell plc, Dow Chemical Company, BASF SE, Eastman Chemical Company, Chang Chun Group, Manali Petrochemicals Limited, KH Neochem Co., Ltd, Shiny Chemical Industrial Company Limited, Jiangsu Baichuan High-tech New Materials Co., Ltd, Jiangsu Hualun Chemical Industry Co., Ltd, Jiangsu Dynamic Chemical Co., Ltd, and others.
COVID-19 Impact on Propylene Plycol Methyl Ether Acetate Market
As a result of the wide spread of COVID-19, numerous economies and sectors have been adversely affected. The pandemic has disrupted the supply chain of the propylene glycol methyl ether acetate market. It has also led to decreased demand from end-use industries. The PGMEA market slowed down in the first two quarters of the year, and will continue to be sluggish over the next two quarters too.
Analysts' Viewpoint
PGMEA is expected to be a key substitute for many solvents and for chemical intermediates due to its significant properties, economic price, and easy availability as compared to others. Globally, key players in the PGMEA market space are focused on strengthening their global supply chains in a more agile and flexible way to continue meeting robust demand. The positive economic outlook of various emerging and developing countries and increasing investments are expected to create numerous opportunities for the growth of the propylene glycol methyl ether acetate market over the coming time period.