PET MRI Market Outlook (2022-2029)
The global PET MRI market is slated to witness aa remarkable CAGR of 9.8% between 2022 and 2029, reaching US$ 338.9 Mn by the year 2029.
| Report Attribute | Details |
| --- | --- |
| PET MRI Market (2022) | US$ 176.3 Mn |
| Projected Market Value (2029) | US$ 338.9 Mn |
| Global Market Growth Rate (2022-2029) | 9.8% CAGR |
| Share in Medical Imaging Equipment Market | 0.4% |
PET (Positron Emission Tomography) basically caters to neurological applications as it makes provisions for high-resolution and 3D imaging of physiological, functional, and molecular targets. PET is used in conjunction with MRI (Magnetic Resonance Imaging) to mitigate PET's lacking spatial resolution, insufficient attenuation, low sensitivity, and need for scattering correction. As such, PET MRI facilitates correspondence to the anatomic structures and various pathologic changes.
PET MRI Demand Analysis (2014 – 2021) v/s Market Outlook (2022 – 2029)
Neurology has, of late, seen landmark hybrid imaging systems in the form of PET MRI. Effectiveness on the part of MRI in imaging the brain's morphology along with modalities of MRI to assess metabolic and physiological parameters like edema, perfusion, functional activation, and vascular supply is expected to drive the PET MRI market crazy in the forecast period.
PET MRI systems have actually opened a new arena in multiparametric neuroimaging by observing biochemical as well as physiological processes simultaneously. The US alone is home to around 50 PET MRI scanners.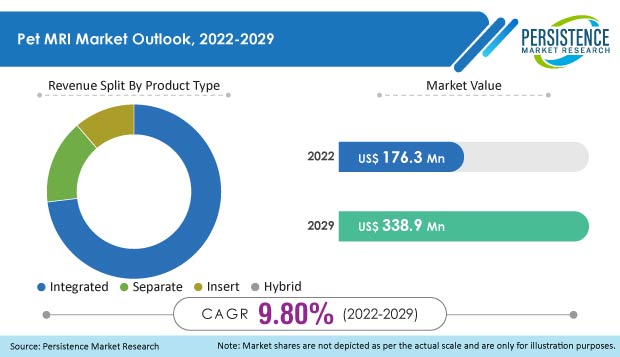 PET MRI Systems to be used for Preclinical Imaging?
"Preclinical Imaging to dominate the PET MRI Market"
Preclinical imaging has taken the centre-stage, as far as PET MRI market is concerned. This could be attributed to the fact that key players are engaging in inorganic modes of expansion herein. Companies like Aspect Imaging are already into partnership with Seoul National University, as an outcome of which the World Molecular Imaging Congress (WMIC) could see Preclinical PET MRI Complete Solution. It exists since the year 2017.
What are the Restraints to PET MRI Market?
"Need of higher Magnetic Field to restrain the Market"
Development of PET MRI systems involves placing them with PMTs (photomultiplier tubes) into a strong magnetic field and development of attenuation maps for the PET images. It has been observed that PET detector elements do create obstacles around magnetic field, thereby impacting performance of the device. As of now, various steps are being taken for curbing this issue.
Pre-clinical PET MRI systems to dominate?
Out of pre-clinical and clinical PET MRI systems, pre-clinical PET MRI systems dominate the market. They, in fact, hold more than 50% of the overall market share. This could be credited to pre-clinical studies conducted at a large scale on this count. Plus, the key players are working towards formation of alliances for expanding reach of pre-clinical PET MRI systems. Aspect Imaging offers SimPET insert to the researchers in preclinical MRI. Compatibility with MRI machines having borne size between 16 and 40 cm with field strength between 3.0 T and 11.74 T is ascertained.
Helium-free PET MRI systems to overpower the Conventional ones?
Helium-free PET MRI systems are expected to witness the fastest growth in the years to come. Helium-free MRI machines could be integrated with PET systems for developing Helium-free PET MRI machines. MR Solutions has its dual field 3T/7T PET MR scanner – a helium-free machine to enable molecular research. Mallinckrodt Institute of Radiology (MIR) at Washington University School of Medicine has installed the device for conducting research pertaining to neurology, cardiology, and oncology. The company has spread its distribution network all across China, Australia, Korea, and Japan as well.
Diagnostic Imaging Centers to Tower?
Diagnostic Imaging Centers are expected to eat the pie in the forecast period as patients suffering from neurological disorders opt for diagnostic imaging centers for avoiding longer wait times and extra costs related to hospitals. Along these lines, House of Diagnostics Center has come up in India that basically emphasizes on provision of PET MRI scan services. They are inclusive of brain PET MRI, DOTA whole body PET MRI, whole body FDG PET MRI, head and neck FDG PET MRI, breast only FDG PET MRI, and whole body FDG PET MEI for cancer screening.
How has Covid-19 affected the PET MRI market?
The outbreak of Covid-19 did shift priorities of the healthcare vertical towards combating the pandemic from March 2020 to September 2021. However, the post-Covid era has brought in normalcy, with demand for PET MRI on an unusual rise, with those suffering from chronic ailments showing extra cautiousness regarding the diagnosis.
Competitive Landscape
The key players are going for partnerships, collaborations, joint ventures for expanding their reach.
Cubresa, in February 2019, did ink a distribution agreement with Worldwide Technology (S.H.) Co., Ltd. For distributing NuPET preclinical imaging products all across China, so as to improvise on research of PET MRI systems in oncology, cardiology, and neurology in China.
The same Cubresa, in January 2019, entered into joint venture with various private investors and GaoXin Group for forming SCHERI (Sino-Canadian Health Engineering Research Institute). The basic objective was to table clinical products by making use of advanced BrainPET insert by Cubresa.
PET MRI Industry Report Scope
Attribute
Details

Forecast Period

2022-2029

Historical Data Available for

2014-2021

Market Analysis

US$ Mn/Bn for Value

Key Regions Covered

North America
Latin America
Europe
Japan
APEJ
The Middle East & Africa

Key Countries Covered

U.S.
Canada
Brazil
Mexico
Germany
U.K.
France
Italy
Spain
Benelux
Russia
China
Japan
South Korea
India
Thailand
Indonesia
Malaysia
Singapore
China
Japan
South Korea
Australia
New Zealand
Turkey
Egypt
North Africa
South Africa
GCC Countries

Key Market Segments Covered

Product Type
PET Imaging Technology
Image Acquisition
Applications
End-user
Region

Key Companies Profiled

GE Healthcare
Siemens AG
Koninklijke Philips N.V.
United Imaging
Bruker
Mediso Ltd.
Aspect Imaging
Cubresa Inc.
Inviscan SAS
MR Solutions

Pricing

Available upon Request
Key Segments Covered in PET MRI Market
PET MRI Market by Product Type
Integrated
Separate
Insert
Hybrid
PET MRI Market by PET Imaging Technology
Conventional
Time of Flight
PET MRI Market by Image Acquisition
Sequential PET MRI Scanners
Simultaneous PET MRI Scanners
PET MRI by Application
Pre-clinical PET MRI Systems
Clinical Pet MRI Systems
PET MRI Market by End-user
Hospitals
Diagnostic Laboratories
Research Institutes
Biopharmaceutical Co.
PET MRI Market by Region
North America PET MRI Market
Latin America PET MRI Market
Europe PET MRI Market
Japan PET MRI Market
APEJ PET MRI Market
Middle East & Africa (MEA) PET MRI Market