Optical Transceivers Market Outlook (2022-2032)
Revenue from the global optical transceivers market totals US$ 8.73 Bn in 2022, and the market is expected to cross a value of US$ 34 Bn by the end of 2032, surging ahead at a CAGR of 14.6% over the next ten years.
Optical transceivers currently represent around 45% share of the global transceivers market.
| Report Attribute | Details |
| --- | --- |
| Optical Transceivers Market Size (2022) | US$ 8.73 Bn |
| Projected Market Value (2032) | US$ 34.1 Bn |
| CAGR (2022-2032) | 14.6% |
| Top 5 Vendors' Market Share | 36% |
The deployment of 5G wireless technology is expected to provide new services to high-speed optical networks, such as industrial IoT and augmented reality. As a result, transceiver makers are capitalizing on the advancement of self-driving vehicles and innovative drones, along with rising prospects in machine learning.
Increasing demand for 5G in cloud data centers is fueling the need for high-speed optical connectivity. As such, the market for optical transceivers is anticipated to gain rapid traction in terms of revenue over the coming years.
Quantum dot technology is being used by transceiver manufacturers to produce small devices. They are putting more emphasis on developing cost-effective miniaturized optical transceivers that support the sub-assemblies of transmitter receivers for application in inter-data centers.
Sales Analysis of Optical Transceivers (2017-2021) Vs. Market Outlook (2022-2032)
The optical transceivers market is estimated to balloon at 14.6% CAGR between 2022 and 2032 in comparison with 10.6% CAGR during the historical period of 2017-2021.
In the previous decade, there have been significant changes in infrastructure investments in the communications business. Over the past few years, enterprise networks reduced investments in traditional hardware, information technology, and software, preferring to outsource to cloud service providers.
However, investments in data center infrastructure are fast increasing. Data center development is predicted to rise at a rate of more than 20% over the next few years.
Furthermore, fast-fixing broadband speeds, high-bandwidth apps, proliferation of connected devices, rising mobile Internet users, and increasing online video content are key factors driving the growth of Internet traffic, which, in turn, is surging the demand for optical transceivers across the world. The introduction of novel wireless technologies has increased Internet traffic by allowing easy connectivity to a wide range of devices.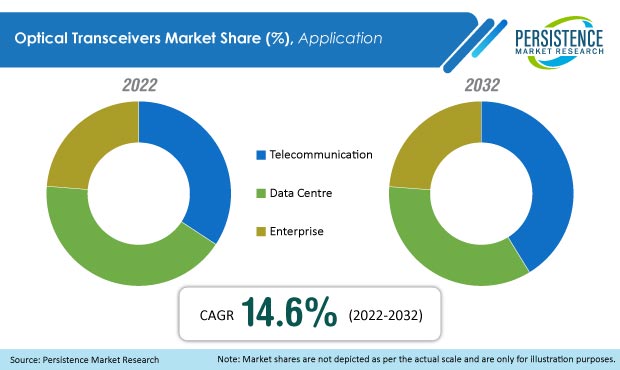 How is Increasing Adoption of Advanced Communication Driving Optical Transceivers Market Growth?
As 5G technology advances and base stations are deployed, demand for optical communication network equipment will rise due to improved development and improvement of bearer networks. A fiber optic network enables technology to power utilities such as electricity, water, sewerage management, and wastewater, as well as their communication and security.
Furthermore, governments are launching various smart city projects with fiber optic-rich networks to facilitate the continuous flow of IoT equipment. According to the United Nations, more than 68% of the world's population is expected to live in cities by 2050, fueling global smart city projects.
Which Regional Optical Transceivers Markets are Considered Highly Lucrative?
South Asia & Pacific is estimated to be the fastest-growing regional market for optical transceivers at 19% CAGR during the forecast period of 2022-2032.
Because of the growing demand for advanced communication networks, North America is considered a highly appealing market for optical transceivers. Furthermore, increasing adoption of 100G transceivers for high-speed networks is driving demand for optical transceivers in the region.
In terms of revenue, Europe follows North America for optical transceivers and is as quick to embrace 100G transceivers. Furthermore, across Europe and North America, the combined usage of 100G and 40G modules is likely to result in healthy demand growth for optical transceivers over the coming years.
China is predicted to be the fastest-expanding market for optical transceivers in East Asia, owing to increased demand for 100G equipment in the country. Updating present communication networks in East Asian countries is another element that is predicted to drive revenue growth in the East Asian optical transceiver market in the near future.
Growing 5G technology and LTE penetration in South Asia & Pacific, expansion of telecom infrastructure, increased adoption of smart devices, and development of data centers are likely to boost the sales of optical transceivers in the region.
Country-wise Insights
Why is the Adoption of Optical Transceivers Surging in Canada?
The optical transceivers market in Canada accounts for nearly 25.3% of the North America market share in 2022. Owing to the rapid inclination toward cloud computing and the rise of big data applications, data centers need to manage increasing traffic, which doubling every 12-24 months. As a result, high bandwidth data transmission is required while keeping power consumption, costs, and data center size under control.
It is vital that optical transceiver speeds be raised to meet these crucial needs. This will mostly be accomplished through advancements in optical interconnect technologies, with silicon-photonic being a critical technology in addressing this issue.
How Big is the Opportunity for Optical Transceivers Suppliers in China?
East Asia is estimated to be one of the significant optical transceivers markets after South Asia & Pacific. According to this study, China is estimated to dominate the market with a significant share of 47.7% in 2022.
Rising adoption of optical transceivers by data center operators is significantly driving East Asia's market growth. Demand is especially strong in China, where local governments are promoting a strategy centered on 5G deployment and the expansion of cloud data centers.
In May 2020, the Chinese government declared that it would invest approximately US$ 1.4 trillion between now and 2025.
The central government urged local governments and tech titans such as Huawei to accelerate the deployment of 5G wireless networks. This is predicted to greatly increase the country's demand for data centers and telecommunication infrastructure. This is yet another important factor driving the growth of the Chinese optical transceivers market.
Will Demand for Optical Transceivers Increase in GCC Countries?
The market in GCC countries is estimated to expand at 13.5% CAGR during the forecast period. Increasing smart device use and growing data traffic are two significant factors driving market expansion in the region.
Furthermore, rising demand for energy-efficient and compact transceivers, as well as the increased relevance of huge data centers for high data transmission rates and extended reach with low power consumption, has been driving market expansion.
The presence of cloud corporations such as Microsoft, Google, and Amazon in the Middle East has accelerated the use of optical transceivers to attain larger bandwidth and faster data rates. Despite the COVID-19 pandemic in GCC countries, intensive R&D activities and the advent of 800G optical transceivers are expected to augment industry growth.
Category-wise Insights
Why is Demand for QSFP Form Factor Surging across Regions?
The QSFP form factor is predicted to showcase a considerable market share in by 2032. The segment is predicted to offer an absolute opportunity of US$ 9.1 Bn by the end of 2032.
Quad small form-factor pluggable (QSFP) optical transceivers are designed for low power consumption along with high performance, making them suitable for data center applications. QSFP optical transceivers have strong data transmission capabilities and are utilized in backplane applications and data aggregation, router connections and datacom/telecom switch, density applications, and customized protocol.
Because of its low power consumption, this form factor has gained popularity among 800G transceivers, and its pluggable form factor is seen as an appropriate choice for data center connectivity.
Is the Adoption of Multimode Fiber Expected to Rise in the Future?
The multimode fiber segment is expected to surge at 15.9% CAGR during the forecast period.
In data centers, multi-mode fiber is widely used to connect network elements. Even though multimode fiber is expensive as compared to single-mode fiber and has a lower transmission bandwidth, the overall cost of an indoor multi-mode optical fiber communication system is less than that of single-mode optical fiber owing to the low cost of multimode fiber transceivers.
Furthermore, multimode fiber has been enhanced to OM5 in recent years. As a result, multimode fiber is expected to be the ideal transmission channel for inter-data center optical interconnection in the future in terms of return on investment, risk control, and overall investment cost.
Why is the Application of Optical Transceivers in Data Centers Rising Rapidly?
The data center segment is expected to hold a major market share of 42% in 2022.
Segment growth can be attributed to rising technological advancements such as artificial intelligence, machine learning, and deep learning, coupled with the shift to cloud storage, which increase data traffic across networks and created strong demand for high-speed transceivers for efficient data communication.
Furthermore, the rise of hyperscale data centers has fueled the demand for optical transceivers with high data rates, such as 200G, 100G, 800G, and 400G for channeling enormous packets of information across shorter distances. High data rate optical transceivers are being installed in data centers by prominent cloud service providers such as Amazon, Google, and Microsoft.
With the expected expansion in the number of OTT platforms such as HBO, Netflix, Amazon Prime, and Disney, the number of data centers and reliance on cloud computing will only expand in the years ahead.
Competitive Landscape
Due to the existence of several competitors with a strong influence on the market in terms of R&D and consolidation activities, the optical transceivers market is extremely competitive and fragmented. With new product launches, collaborations, and partnerships with significant industry players, key market participants are working on strengthening their regional and global product networks.
In July 2021, Furukawa Electric Co. Ltd partnered with Fujitsu Optical Components Limited to create next-generation integrated devices. Furukawa Electric and Fujitsu seek to develop high-performance devices for next-generation communication networks by combining technology to address the massive increase in communications traffic and the desire for lower power consumption.
Optical Transceivers Industry Report Scope
Attribute

Details

Forecast Period

2022-2032

Historical Data Available for

2017-2021

Market Analysis

USD Million for Value

Key Regions Covered

North America
Latin America
Europe
East Asia
South Asia & Pacific
The Middle East & Africa

Key Countries Covered

US
Canada
Brazil
Mexico
Germany
U.K.
France
Italy
Spain
BENELUX
Russia
China
Japan
South Korea
India
Malaysia
Indonesia
Singapore
Australia & New Zealand
GCC Countries
Turkey
Northern Africa
South Africa

Key Market Segments Covered

Form Factor
Fiber Type
Data Rate
Application
Region

Key Companies Profiled

Accelink Technologies
Arista Networks Inc.
Fujitsu Optical Components Limited
NEC Corporation
ZTE Corporation
Sumitomo Electric Industries
Infinera
Eoptolink
Perle Systems
Fiber Optic Communications, Inc. (FOCI)

Report Coverage

Market Forecast
Company Share Analysis
Competition Intelligence
DROT Analysis
Market Dynamics and Challenges
Strategic Growth Initiatives

Customization & Pricing

Available upon Request
Optical Transceivers Industry Research Segmentation
Optical Transceivers Market by Form Factor:
SFF & SFP
CFP
QSFP
XFP
CXP
Others
Optical Transceivers Market by Fiber Type:
Single Mode Fiber
Multimode Fiber
Optical Transceivers Market by Data Rate:
Less than 10 Gbps
10 Gbps to 40 Gbps
41 Gbps to 100 Gbps
More than 100 Gbps
Optical Transceivers Market by Application:
Telecommunications
Data Centers
Enterprises
Optical Transceivers Market by Region:
North America Optical Transceivers Market
Latin America Optical Transceivers Market
Europe Optical Transceivers Market
East Asia Optical Transceivers Market
South Asia & Pacific Optical Transceivers Market
Middle East and Africa (MEA) Optical Transceivers Market